This definitive guide for making bacon in the oven will have you wondering why you ever dealt with splattering oil on the stovetop. For all you bacon lovers out there, this one is for you!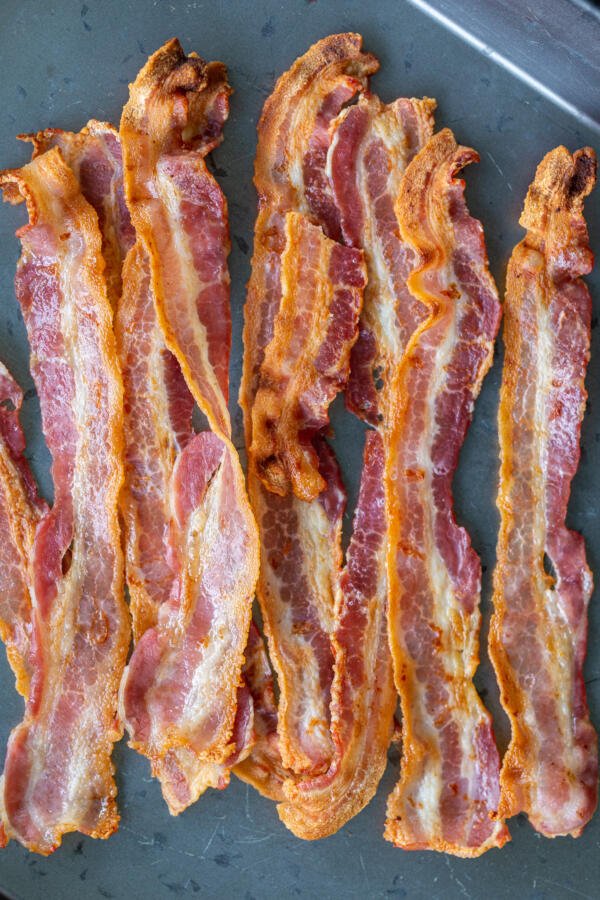 I used to hate making bacon until I discovered the wonders of oven-baked bacon. I can't even remember the last time I tried to pan-fry bacon! In just 20 minutes and with a few simple steps, this recipe will teach you everything you need to know about making the crispiest, most mess-free bacon ever.
So why is baked bacon better? First off, baked bacon doesn't curl up as pan-fried bacon does. You get symmetrical, straight pieces every single time. It also cooks much more evenly, requires no babysitting, and you don't even have to flip it over halfway through!
It also tastes better and is less greasy. Placing bacon atop of a wire rack to bake allows all the excess bacon fat to drip off versus soak into the slices as it world in a skillet.
How to Bake Bacon Video
How to Cook Bacon in the Oven
Making bacon only requires three simple steps. Find an overview of the recipe below before you dive in.
Turn the Oven to Broil: Preheat the oven to a low broil.
Line the Baking Sheet: Top a baking sheet with an oven safe wire rack or metal cooling rack to elevate the bacon (you could also cover the baking sheet with foil or parchment paper). Place the bacon slices on the baking sheet in a single layer.
Bake the Bacon: Broil the bacon on low (450°F broil) until it turns crispy (about 15 – 20 minutes). Enjoy!
Using a thick-cut bacon? Increase the baking time by 3-4 minutes.
Tips for Making Baked Bacon
Below, find a collection of tips and tricks to help you make perfect bacon each time.
Watch the bacon closely the first time you bake it. Every oven is a little different so keep a close eye on the bacon the first time you bake it. You may need to adjust the baking time a couple of minutes in either direction.
Pull the bacon out right when it turns golden brown. Once your bacon turns golden brown, pull it out! Any longer and you'll risk it turning too crunchy.
Place cooked bacon on paper towels right away. To remove excess grease and prevent the bacon from overcooking, immediately remove it from the baking sheet when it's finished and place it on a plate lined with paper towels. If you leave the bacon on the baking sheet, it will continue to cook from the heat and hot grease.
Experiment with different seasonings. Bacon is delicious plain and simple, but feel free to seasoning it to your liking. Add some fresh cracked pepper for a hint of spice or sprinkle on brown sugar/drizzle maple syrup on for sweet breakfast bacon.
Save the bacon grease. Saving the bacon grease is always a good idea! It is packed with flavor and can be used anywhere you would use butter or oil to pan-fry. To do so, allow it to cool completely, transfer it to a glass jar, and store it in the refrigerator. Add it to mashed potatoes, cook an omelet in it, or use it to fry a grilled cheese.
Cooling Rack Hack: If you don't have a wire rack or cooling rack, here's a great wire rack to get you started! Lifting the bacon off the bacon sheet allows the bottom to turn ultra crispy and it allows the grease to drip off for even crispier bacon.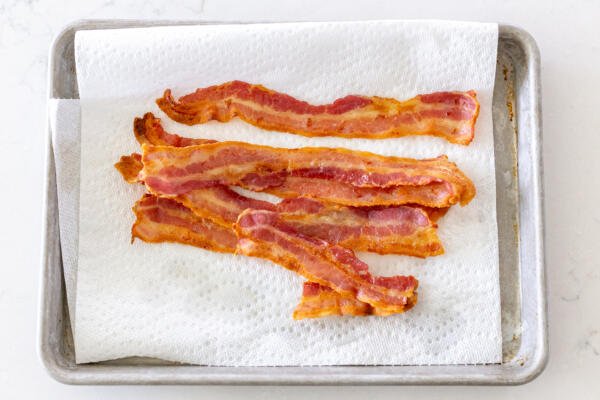 Ways to Serve Bacon
Serve bacon alongside any of your favorite breakfast or brunch foods. Buttermilk waffles immediately come to mind. Who doesn't like sandwiching a little bacon between a syrupy waffle? You can also stuff bacon inside a hearty breakfast burrito or quesadilla. If you're cooking for a large crowd, you can also whip up a couple sheets of baked bacon for a BLT sandwich or classic club sandwich bar. Chop up the bacon to top a twice baked potato casserole with.
Storing Baked Bacon
Batch cooking bacon and storing it for use throughout the entire week is a great idea for meal prepping.
Refrigerator: To store leftover bacon, place it in an airtight container in the refrigerator. It should keep for up to a week.
Freezer: If you're going to freeze bacon, plan to undercook it by a couple of minutes. Place it in a single layer on a baking sheet lined with parchment paper. Pop the entire baking sheet in the freezer. Once the bacon strips are completely frozen, transfer them to a freezer-safe plastic bag for up to 6 months.
Reheating Tip: You can always reheat bacon in the microwave, but it will always turn out a bit soggy. The absolute best way to reheat bacon is in an air fryer (the COSORI Air Fryer XL is my latest obsession). If you don't have an air fryer, pop the bacon back in the oven for a couple of minutes until warmed through.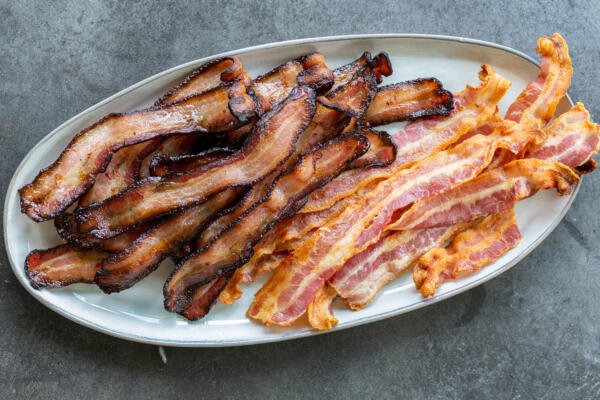 FAQ
Will bacon splatter in the oven?
Bacon typically doesn't splatter when you bake it in the oven. If it's thicker cut, it might release more grease but laying down aluminum foil, parchment paper, or a wire rack will prevent a huge mess.
Why does my bacon turn out chewy?
Your bacon turned out chewy because you likely cooked it at too high of a heat. Frying bacon over too high of heat typically results in crispy edges and an undercooked center.
What is the healthiest way to cook bacon?
The healthiest way to cook bacon is to bake it in the oven. This method allows for a good amount of the fat to cook and drip off. If you want to remove even more grease, you can transfer cooked bacon onto paper towels to soak up any excess.
How long should I cook bacon on each side?
You actually don't have to flip bacon when you're baking it. That's the beauty of this no-fuss, no-mess method!
Is it better to cook bacon fast or slow?
It's better to cook bacon slowly over low-heat. This helps it crisp up and prevents it from turning soggy and limp.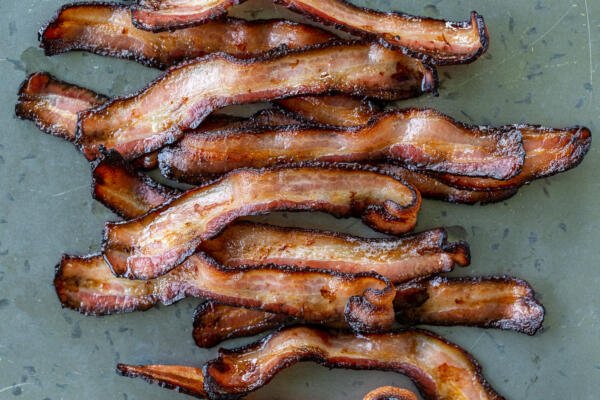 Recipes to Make with Bacon
Recipe
This definitive guide for making bacon in the oven will have you wondering why you ever dealt with splattering oil on the stovetop.
Instructions
Nutrition Facts
How To Bake Perfect Bacon Every Time
Amount Per Serving
Calories 189
Calories from Fat 162
% Daily Value*
Fat 18g28%
Cholesterol 30mg10%
Sodium 300mg13%
Potassium 90mg3%
Carbohydrates 1g0%
Protein 6g12%
Vitamin A 17IU0%
Calcium 2mg0%
Iron 1mg6%
* Percent Daily Values are based on a 2000 calorie diet.