Juicy grated apples melt into every bite of these classic buttermilk apple pancakes. They're sweet, fluffy, and sure to become your new breakfast staple!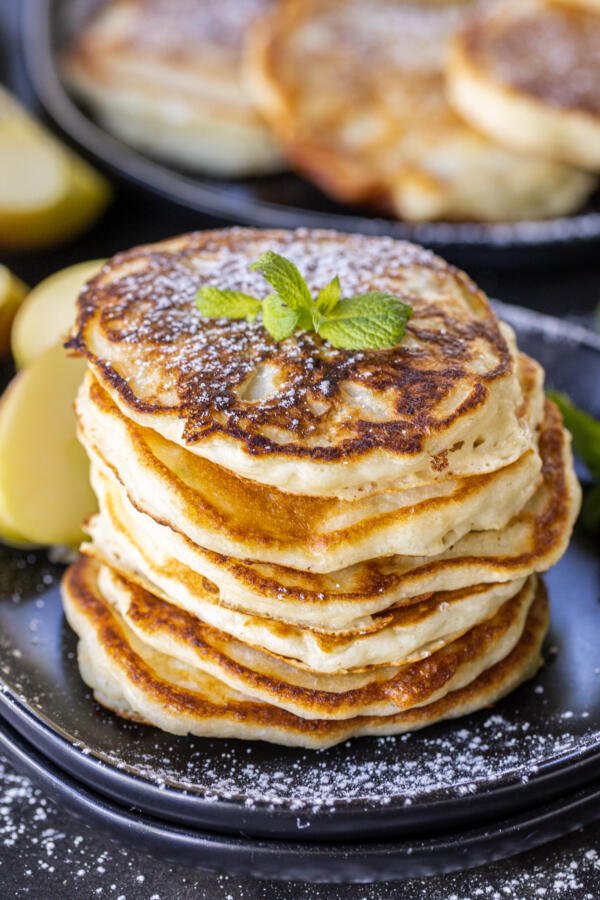 Growing up in a small Ukrainian village, apples were one of my favorite treats. The scarcity of ingredients, however, meant that we had to be resourceful and appreciative of everything. My mom loved to make desserts with apples, like these apple pancakes or sharlotka, a soft apple sponge cake. Every time I make these pancakes for my kids, I think of my mom and the sweet delights she made for us as children.
What Are Apple Pancakes?
Apple pancakes are pancakes made with the addition of grated apple filling. Depending on the variety of apples used, these pancakes have a slight tang and fruity sweetness. Buttermilk produces a fluffy texture and helps the pancakes rise. These apple pancakes are airy on the inside with crispy edges and pockets of sweet apple goodness — a delicious switch-up for your next breakfast.
How To Make Apple Pancakes
Have you ever tried our beloved buttermilk pancakes? These apple pancakes follow a similar process: mix up the batter, heat the pan, and fry away!
Make the batter: Peel and grate the apples. Combine the dry ingredients in a large bowl. In a separate bowl, whisk together the buttermilk and eggs. Add in the grated apples, then gently fold in the dry ingredients.
Heat the pan: Pour the oil into a large skillet and place over medium heat. Once hot, turn down the heat to medium-low.
Fry the pancakes: Drop in a few tablespoon-sized amounts of pancake batter. Fry each side of the pancake until golden brown, adding more oil in between each batch. Serve the pancakes while hot!
Hot tip: Shorten your time in the kitchen by frying the pancakes on a griddle. The larger surface fits more pancakes at once than a skillet.
Picking the Right Apples
Everyone has a favorite variety of apples — crispy and sweet, tangy and sharp, or soft and mild. Let's look at a few popular options to help you choose the best apples for these pancakes.
Granny Smith: Granny Smiths are understandably one of the most popular baking apples. They're firm enough to hold their shape, and they have a pronounced tartness. If you love a tang in your pancakes, then go with Granny Smiths.
Honeycrisp: For a crisp, sweet apple that bursts in your mouth with juice, pick Honeycrisp. This variety is bred to contain larger cells that contain more juices.
Golden Delicious: Golden Delicious apples are true to their name — mildly sweet, juicy, and delicious to eat or bake with. They are prone to bruising though, so handle them carefully.
Pink Lady: These apples have a beautiful pink marbled skin and tart-sweet taste. They are notably the first apples to blossom and the last to be harvested, giving them extra time in the sunshine to soak up nutrients and flavor.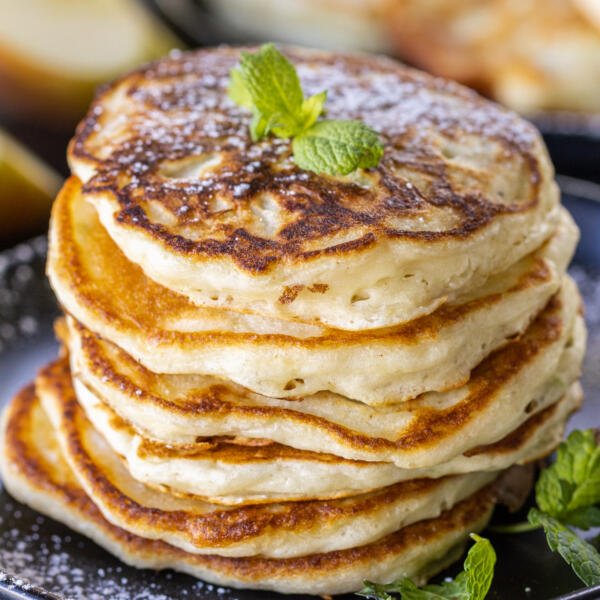 Ingredient Variations
These apple pancakes are immensely tasty just as they are, but who doesn't love a little extra flavor? Amp up the taste of your pancakes with any of these additions.
Vanilla: For a hint of caramelized sugar flavor, add in a splash of vanilla extract to the batter. If you're feeling fancy, scrape the beans of one vanilla pod into the batter.
Cinnamon: What could be a more perfect pairing than cinnamon and apples? Sprinkle in a teaspoon of cinnamon for a sweet spiced taste.
Nutmeg: A little nutmeg goes a long way — add in 1/4 teaspoon of this warming spice for an apple pie flavor.
Brown sugar: Swap the white sugar for brown sugar if you like the taste of molasses.
Oil/butter: Avocado oil or canola oil are our go-tos for frying pancakes, since they have a mild flavor and high heat tolerance. If you want to infuse more flavor into your pancakes, opt for coconut oil or butter.
Toppings
Imagine a steaming stack of apple pancakes loaded with your favorite toppings… mmm. Are you ready to turn those dreams into reality? Here's a bit of inspiration to get you started.
Butter: Top your warm pancakes with a slice of butter, allowing it to melt and infuse wonderfully rich flavor into your stack.
Syrup: Drizzle on maple syrup for a classic pancake breakfast taste. Maple is a lovely flavor complement to apples.
Applesauce: If you want more apple flavor, spread applesauce on your pancakes. Chunky or smooth, it's the perfect topping for apple pancakes.
Yogurt: Add a dollop of yogurt for a tang. Plus, it also adds extra protein!
Jam: Spread on strawberry jam or raspberry jam for fruity sweetness.
Tips for Fluffy Apple Pancakes
If you want to make perfectly fluffy apple pancakes every time, pay attention! We've compiled a few of our favorite tips to help you out.
Drain the liquid from the apples. Pour out any extra liquid after grating the apples, as it can change the consistency of the batter and affect the rise.
Toss the apples in lemon juice. To prevent browning, squeeze lemon juice over the grated apples.
Mix the batter gently. Fold the dry and wet ingredients together gently to prevent gluten formation, which may lead to tough pancakes.
Fry the pancakes immediately. Avoid letting the batter sit, as the chemical reaction between the leavening agents and buttermilk is most powerful right away. A freshly mixed batter produces the fluffiest pancakes.
Serve the pancakes hot. To enjoy deliciously crispy edges, eat the pancakes while they're hot.
Ways To Serve
Apple pancakes are an absolute treat for breakfast or brunch. Serve them on their own with your favorite toppings, like maple syrup or jam. If you want a heartier meal, then serve these pancakes with classic crustless quiche, bacon, and a breakfast charcuterie board.
Storing & Reheating
Do you have leftover apple pancakes? Lucky you! Follow these tips for proper storage and you'll be savoring them again soon.
Refrigerator: To store for up to three days, place the leftover cooled pancakes into an airtight container or bag and refrigerate.
Freezer: To store for up to two months, freeze the leftover cooled pancakes in a freezer-safe container or bag. Wrap each pancake in plastic wrap or layer them with wax paper to prevent sticking. Thaw the pancakes in the fridge before reheating them.
Reheating: The best way to reheat leftover pancakes is in the oven. Place the pancakes on a baking sheet, cover with foil, and bake at 350℉ for 5-10 minutes. For a quicker option, pop the pancakes in the microwave until warmed through.
FAQ
What is the secret to fluffy pancakes?
The secret to fluffy pancakes is in the chemical reaction between the buttermilk and leavening agents. When baking powder/baking soda is combined with acidic buttermilk, gas is formed and enables the rise of the pancakes.
Can you add applesauce to pancakes?
You can definitely add applesauce to apple pancakes, but it may create a more dense texture. For egg-free apple pancakes, substitute 1/4 cup applesauce for every egg.
Are homemade apple pancakes healthy?
Apple pancakes are a healthier breakfast option compared to pancakes made from a pre-made mix. They are homemade, which means you skip out on preservatives and artificial additives. Apples are also a great source of fiber and antioxidants.
More Apple Recipes
Recipe
Juicy grated apples melt into every bite of these classic buttermilk apple pancakes. They're sweet, fluffy, and sure to become your new breakfast staple!
Nutrition Facts
The Best Apple Pancakes Recipe
Amount Per Serving
Calories 50
Calories from Fat 9
% Daily Value*
Fat 1g2%
Cholesterol 16mg5%
Sodium 69mg3%
Potassium 77mg2%
Carbohydrates 9g3%
Protein 2g4%
Vitamin A 49IU1%
Vitamin C 0.5mg1%
Calcium 34mg3%
Iron 0.4mg2%
* Percent Daily Values are based on a 2000 calorie diet.