This apple cobbler is made with a perfectly spiced apple filling baked under a fluffy buttermilk biscuit topping. It's guaranteed to remind you of all the things you love about autumn.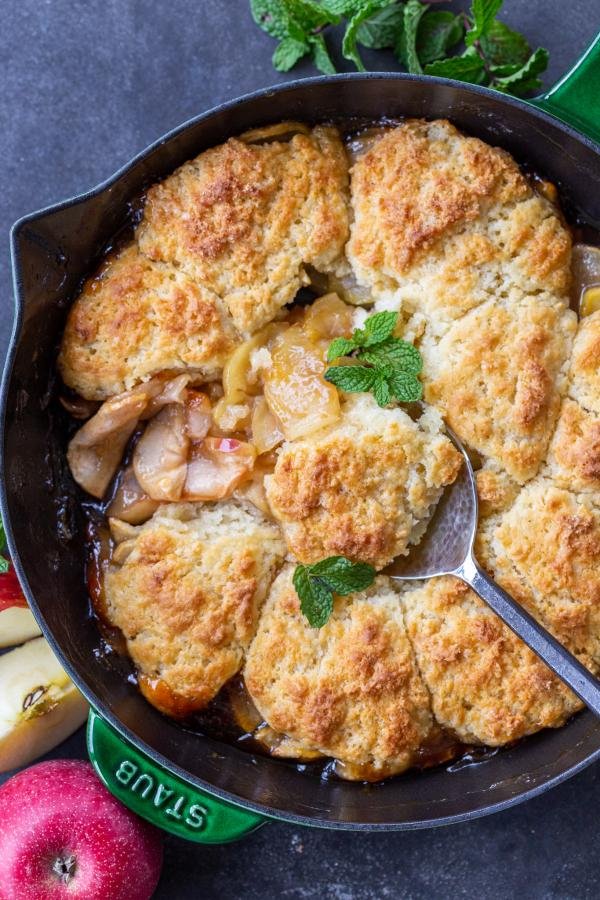 If you've tried our other cobbler recipes, you'll know you need to try this easy apple cobbler recipe, too. Nothing screams fall quite like a warm apple dessert with a cup of tea or coffee.
What is an Apple Cobbler?
Apple cobbler is a dessert with a cinnamon-apple filling topped with a fluffy, buttermilk biscuit-like topping. It's a close cousin to the beloved apple pie.
Taste: The taste of apple cobbler is a mixture of sweet apple filling with a pop of cinnamon spice.
Texture: The texture is a combination of soft dense apple filling with a crumbly buttermilk biscuit topping.
Time: Preparation for apple cobbler takes only 25 minutes, with another 45 minutes to bake.
Did you know? "Cobblers" are named as such due to the biscuit topping resembling a "cobbled" street.
Apple Cobbler vs Apple Crisp
Apple cobblers and Apple Crisp are two common fall desserts. They taste similar and both take about an hour to make. So what's the difference?
The difference lies in the topping. Apple cobbler has a buttermilk biscuit topping that is flakey and buttery, whereas apple crisp has a more crunchy, oat based topping.
What are the Best Apples for Cobbler?
Did you know there are over 7,500 different varieties of apples in the world? Of course not all of them will be readily available in your grocery store (thank goodness!), but even with the 5-10 most common varieties, it can be hard to know which to pick for the best cobbler.
The best apples for a baked dessert like cobbler are Gala, Honey Crisp, Golden Delicious, Granny Smith, or any other tart apple. Baking apples need to be firm enough to hold their own during the cooking process, so you don't end up with a mushy or watery dessert.
To further simplify the process, look for the firmest apples without bruises or other imperfections. Keep in mind that the freshest and most ripe apples will have the strongest apple aroma.
Preparing the Apple Filling
For the best cobbler, the apples and the apple filling should be properly prepared. Here are a few pointers to make the process easy and quick.
Use a vegetable peeler: Peel the skin of an apple before baking as the skin can become tough when baked. The easiest way to peel an apple is with a vegetable peeler. Compared to a knife, a vegetable peeler is faster and it removes less flesh.
Use a mandolin slicer: After peeling and coring the apple, slice the remaining pieces with a mandolin slicer. This will help ensure each slice of apple is evenly cut, and it'll save you so much time!
Vary the amount of sugar: Feel free to put less (or more) sugar in the apple filling as you wish. If the apples you use are already sweet, consider less sugar. If they are tart, add more sugar.
Hot tip: Do you like cinnamon? Add a teaspoon of cinnamon to the filling before baking for a slight woody, spicy flavor!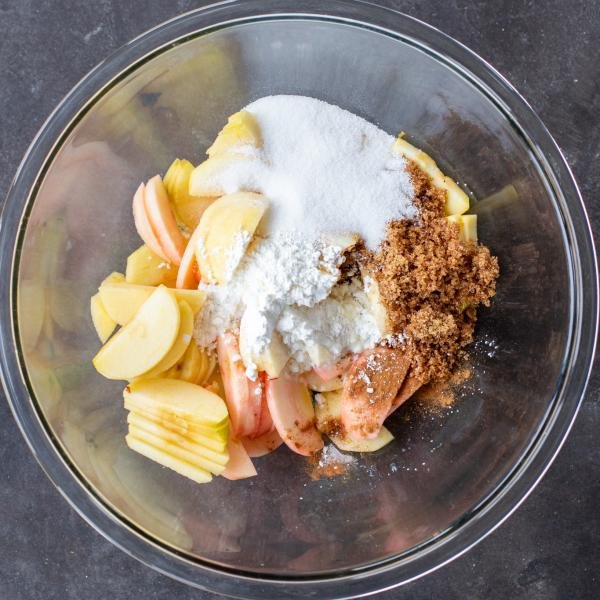 How to Make Apple Cobbler
Apple cobbler is so easy to make that you'll have the recipe memorized before you know it. The main takeaway? Keep the ingredients as cold as possible. Now, let's get baking!
Make the filling: Combine apple filling ingredients together and set aside.
Combine dry ingredients: In a separate mixing bowl, combine cold all-purpose flour, sugar, baking powder, baking soda, and salt.
Cut cold butter: Grate or cut in small pieces of cold butter into the flour mixture. Combine until it resembles course crumbles.
Stir in wet ingredients: Combine buttermilk with vanilla extract in a medium bowl. Pour into the flour mixture. Stir to combine, not over-mixing. It is ok for the mixture to be lumpy.
Fill baking dish with apple filling: Place apple filling on the bottom of a baking dish.
Add the topping: Coat apple filling with 6-8 spoonfuls of the topping mixture. Sprinkle with more sugar.
Bake: Bake uncovered until the top is golden brown. Serve with your favorite ice cream and caramel sauce.
Hot Tip: Add a splash of lemon juice and a dash of nutmeg to the apple filling for extra tart and nutty flavor! Or, add one additional teaspoon of vanilla extract to the biscuit topping for more vanilla flavor.
Tips & Tricks for the Best Apple Cobbler
For the best apple cobbler, follow these tried and true tips and tricks.
Use cold butter, flour, and buttermilk: When combining ingredients, make sure the butter, flour, and buttermilk are extra cold. Place flour into the freezer for about 10 min before starting on the recipe. The cold ingredients help make the cobbler topping flaky!
Prepare the apples correctly: Wash, peel, and slice the apples evenly for the best cobbler. Additional apple-specific tips are mentioned above.
Avoid overcrowding the topping: Leave space between the spoonfuls of the biscuit mixture to allow for steam to escape the filling when baking. This will help the apples and apple juices to caramelize and thicken rather than bake into a soggy, soft mess.
Keep cold in the fridge: If making ahead, keep the assembled cobbler in the fridge. Even if it's for only twenty minutes, it'll be worth it!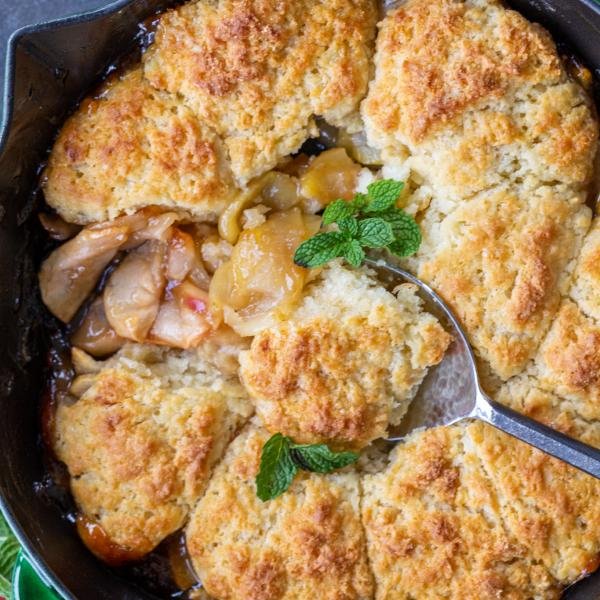 Serving Apple Cobbler
Apple cobbler is best served hot and fresh out of the oven with a scoop of vanilla ice cream and caramel sauce drizzle on top. There's something so comforting about the warmth of the cobbler mixed with the cold and sweet toppings.
Want to make individual cobblers? Divide the apple filling among ramekins and then top with batter. Bake until golden brown and the center of the biscuit topping reaches 200°F, about 15-20 minutes.
Storing Apple Cobbler for Later
You may be tempted to make extra apple cobbler to enjoy for later, and we are tempted, too! Though apple cobbler is definitely at its best when fresh, store extra cobbler to enjoy later with these tips.
Refrigerate: To store for up to three days, place cobbler in the refrigerator in an airtight container. Keep in mind, the consistency of the apple filling and biscuit topping will likely change the longer it sits in the fridge. The juices in the cobbler may cause the cobbler to become softer with each day.
Reheat: Apple cobbler can be enjoyed cold, but to enjoy warm reheat in the oven at 375° for about 20 minutes or until warmed through.
Make ahead tip: To make apple cobbler in advance, prepare as instructed. Instead of baking, place the cobbler into the refrigerator until ready to bake. Easy as pie – I mean, cobbler!
FAQ
Are cobblers and pies different?
A cobbler and pie differ in the type of crust or topping used. Cobblers have a fruit filling with a flakey buttermilk biscuit topping whereas pies have a fruit filling between a smooth pastry crust.
Should you bake apples before using them for apple cobbler?
No, you do not need to bake the apples before using them for apple cobbler. Baking them twice may result in a softer-than-desired texture.
Should leftover apple cobbler be refrigerated?
Leftover apple cobbler should be refrigerated once it has cooled to room temperature. This will help keep the cobbler fresh and limit any spoiling that may occur if left out.
More Apple Desserts
Recipe
This apple cobbler is made with a perfectly spiced apple filling baked under a fluffy buttermilk biscuit topping. It's guaranteed to remind you of all things autumn.
Instructions
Apple Filling
Nutrition Facts
The Easiest Apple Cobbler Recipe
Amount Per Serving
Calories 477
Calories from Fat 153
% Daily Value*
Fat 17g26%
Cholesterol 45mg15%
Sodium 193mg8%
Potassium 340mg10%
Carbohydrates 77g26%
Protein 5g10%
Vitamin A 588IU12%
Vitamin C 5mg6%
Calcium 140mg14%
Iron 2mg11%
* Percent Daily Values are based on a 2000 calorie diet.