This savory french toast is made with only 5 simple ingredients. You'll never grow bored with this easily customizable, delicious breakfast choice.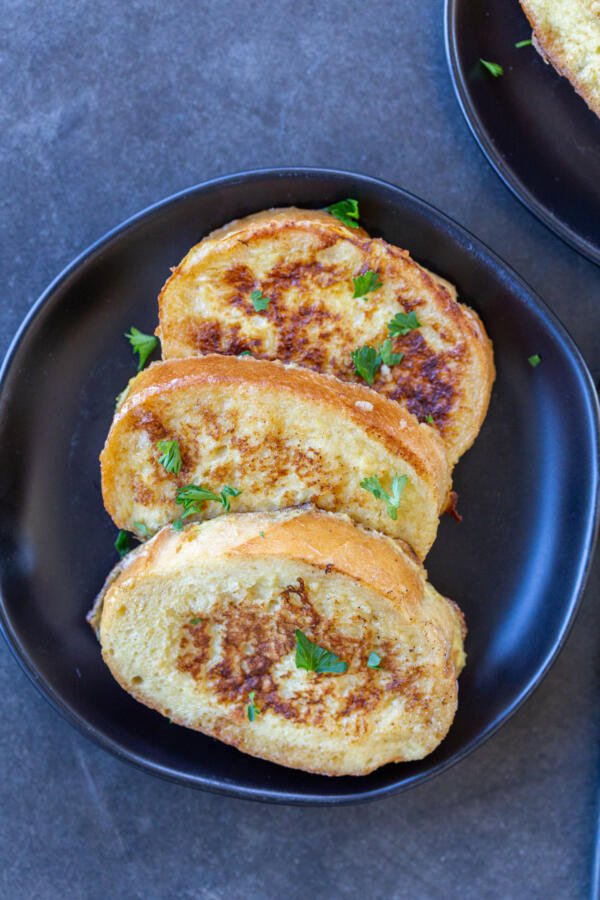 Imagine this — it's morning and you're trying to think of what to make for breakfast. You see a loaf of bread on the counter that has been out a little too long and has become dry and stale. This probably happens to all of us more often than we would like to admit. But never fear! Savory french toast to the rescue!
Growing up, my mom would frequently make this savory toast with any extra stale bread. We would call it "grenki", and it was a favorite weekly breakfast entree in our house.
This easy savory french toast recipe is the absolute perfect way to use up any stale bread that may be in your kitchen, waiting for a second chance at life. Add a few staple ingredients from the fridge and you have yourself a warm, delicious, and easy breakfast or brunch.
What is Savory French Toast (Grenki)?
Savory french toast, also known as "grenki" in Russian (or "grinki" in Ukrainian), is a dish consisting of slices of bread that are dipped into an egg and milk mixture, and fried in a skillet. It can be made with stale bread and is especially tasty with leftovers from our challah bread, French bread, or sourdough bread.
Savory french toast is crispy and, you guessed it, savory. It differs from regular french toast in its flavor profile. Since it is savory, it is often eaten as a main dish, similar to scrambled eggs.
Hot Tip: Looking for more ways to use your stale bread? Make some fresh homemade croutons!
4 Quick Steps to Make Savory French Toast
Savory french toast requires only five simple ingredients and four quick steps to make.
Whisk the eggs: In a medium-sized bowl, whisk the milk, eggs, and salt.
Dip the bread: Soak the bread slices in the egg mixture until the bread is fully softened by the liquid.
Fry the toast: Add one to two pieces of toast to a buttered pan and fry on low until golden brown. Flip and repeat for both sides.
Serve: Add any additional toppings of choice and serve!
Customizing Savory French Toast
Savory French toast is great for using up multiple kinds of leftovers that may be lingering in the fridge, not just bread. Here are some ideas on using what you have in your fridge or pantry.
Add cheese: Cheese lovers unite! Parmesan, mozzarella, goat cheese, or your favorite other kind of cheese go great in savory french toast. Grate the cheese and mix it with the egg mixture or top the fried toast with cheese at the end.
Top with vegetables: If you're looking to add more vegetables to your breakfast diet, sautéed mushrooms or tomatoes work well.
Season with favorite spices: Add garlic powder or fresh herbs (parsley, thyme, basil) for a natural, herby flavor. Alternatively, use spices like black pepper, paprika, cayenne pepper, or red pepper flakes for a kick of heat.
Hot Tip: Make the savory French toast into a grilled cheese breakfast sandwich. Place your favorite cheese between two soaked slices of bread and fry like a grilled cheese sandwich. Yum!
Tips for the Best Savory French Toast
This savory French toast is so simple. Follow this checklist to get the most of the recipe. some more tips for the best results.
Keep French toast warm: The savory french toast is best enjoyed warm, so keep it warm in the oven as you fry subsequent slices.
Preheat the pan: Preheat the pan before adding french toast. When the pan is preheated, the toast will start cooking and becoming crispy as soon as it hits the pan.
Fry on low heat: To avoid burning your french toast, fry on low heat with ample butter.
Slice the bread evenly: Slice the bread into thick, even slices. Thick slices will give you a crispy outer layer and a soft, tender center. Thin slices may result in soggy french toast.
Use whole milk: The fattier the milk, the creamier the egg batter will be. Use just the right amount of milk or your toast may turn out too soggy or too eggy.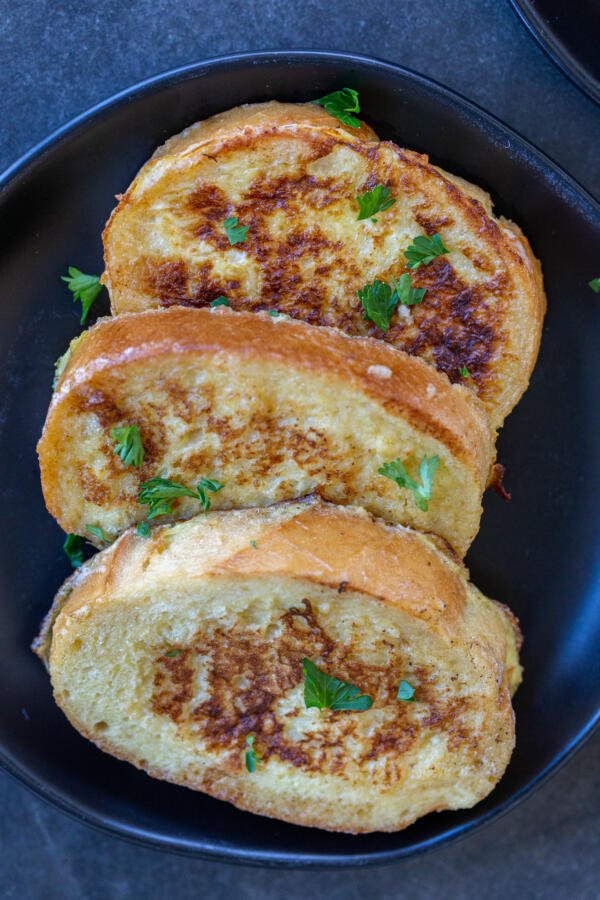 Serving Savory French Toast
Savory French Toast is best when it's served fresh and warm. For spread or sauce lovers, serve with our avocado spread, avocado hummus, or sour cream. To further satisfy the savory craving and the need for protein for breakfast, top the toast with air fryer bacon or ham.
If you're looking to add some sweetness to the savory toast, add fresh fruits and berries on the side. Or, dip small pieces of toast into maple syrup. Sweet and savory? Sold!
Storing and Reheating Savory French Toast
Savory French toast stores perfectly. Make large batches in advance for an even quicker and easier breakfast in the future.
Refrigerator: To store for up to five days in the fridge, allow french toast slices to cool and store in an airtight container.
Freezer: To freeze for up to two months, flash freeze slices on a baking sheet before transferring to a freezer bag or airtight container.
Best Methods to Reheat Savory French Toast
Savory French toast also reheats perfectly! Here are four recommended methods to best reheat savory French toast. If reheating from frozen, first defrost overnight in the refrigerator.
Microwave: For the quickest and easiest reheating method, use a microwave; however, the toast will not be as crispy again.
Oven: Place toast in a single layer on a baking sheet. Warm in the oven at 400°F for about 3-4 minutes per side.
Toaster: Place toast in a toaster or toaster oven and set to medium-low heat. This works best for pieces that are still firm and not too crumbly.
Pan: Heat slices on medium heat until fully warmed through. To regain crispiness, add a tablespoon of unsalted butter and fry over medium-high heat.
FAQ
How do I attain the perfect texture in savory French toast?
To get the perfect texture in French toast, use the right ratio of milk and egg, evenly slice and soak the bread, fry using butter, and fry on low heat.
Why is French toast "French"?
According to some sources, the name french toast came from an innkeeper named Joseph French who mistakenly left an apostrophe off his menu when he wrote "French's Toast".
What are good toppings for savory French toast?
There are many great toppings for savory french toast such as cheese, bacon or ham, salsa, and/or avocados. For a sweet topping, use fresh fruits and berries and a drizzle of maple syrup.
More Egg Breakfast Recipes
Recipe
This savory french toast is made with only 5 simple ingredients. You'll never grow bored with this easily customizable, delicious breakfast choice.
Ingredients
10

bread slices

5

large eggs

1

cup

milk

1

tsp

salt

adjust to taste

5

tbsp

unsalted butter
Nutrition Facts
Savory French Toast (Mom's Grenki Recipe)
Amount Per Serving
Calories 288
Calories from Fat 144
% Daily Value*
Fat 16g25%
Cholesterol 166mg55%
Sodium 677mg28%
Potassium 180mg5%
Carbohydrates 24g8%
Protein 11g22%
Vitamin A 556IU11%
Vitamin C 0.1mg0%
Calcium 132mg13%
Iron 2mg11%
* Percent Daily Values are based on a 2000 calorie diet.