Life is too short for a plain noodle dinner. Make it more exciting with this lemon chicken pasta. It's packed with fresh herbs, spices and topped with bright lemon flavor, making it a delightful meal for everyone!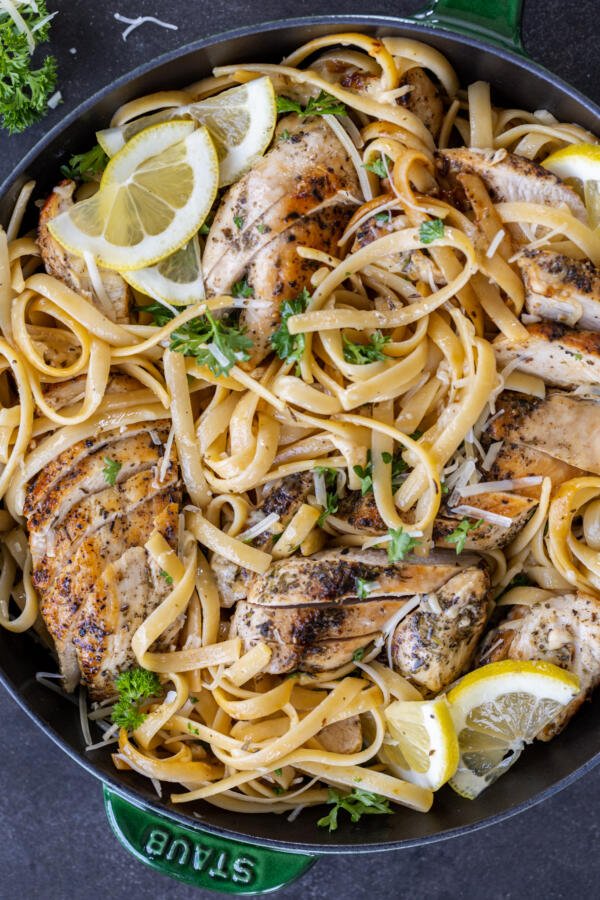 What is Lemon Chicken Pasta?
Lemon chicken pasta is an (almost) one pan pasta dish made with two main ingredients: chicken breast and your choice of pasta. The uniqueness of this dish stems from the combination of fresh herbs, cheese, and lemon juice that permeate into the chicken and pasta as it cooks on the stove. This dish is the perfect way to elevate a regular weeknight meal.
Lemon Chicken Pasta Video
A Brief Outline on Making The Dish
This lemon chicken pasta recipe has only a few steps. To save time, cook the pasta in a medium pot while making the rest of the dish in a separate pan. It'll be ready before you know it!
Cook the pasta: Cook your favorite pasta al dente. Reserve a cup of pasta water and drain the remainder.
Season the chicken: Preheat a large skillet on medium high heat with olive oil. Coat the chicken breast with Italian seasoning, salt, and pepper.
Brown the chicken: Place seasoned chicken onto the hot pan and sauté on both sides until golden-brown and internal temperature reaches 165°F. Remove from the pan and set aside. Let it rest slightly before slicing it into bite-sized pieces.
Sauté the garlic: Reduce heat, add butter and minced garlic to the frying pan and sauté until fragrant.
Combine all ingredients: Combine the pasta, chicken, lemon juice, fresh parsley, and cheese in the pan and stir together. Serve while warm!
Craving an uber creamy pasta? Add 1/4 cup of heavy cream as soon as the garlic becomes fragrant, then simmer and whisk. Once the sauce is creamy and thickened, add all remaining ingredients.
Tips and Tricks for the Best Lemon Chicken Pasta
We love lemon pasta for its fresh flavor and ease of cooking. Follow these pointers for a restaurant-worthy entree.
Reserve pasta water: Pasta tends to absorb juices, so be prepared to fix dry pasta by reserving a cup of pasta water. Add one tablespoon of pasta water at a time to make the pasta creamier (especially when reheating).
Choose your favorite pasta: Any type of pasta works beautifully. Other than our all-time favorite homemade pasta, penne, fettuccine, farfalle, rigatoni, and rotelle are fantastic.
Cook pasta al dente: Pasta will continue to cook slightly when added back into the pan with the lemon sauce. Cook it just until al dente (firm to the bite) in the pot when boiling, then quickly remove from water to avoid a mushy pasta.
Avoid overcooking the chicken: Overcooked chicken is dry. Cook it just until it reaches 165°F, checking the temperature with a meat thermometer.
Rest the chicken: Once the chicken has just cooked through, remove from the pan and rest on a cutting board. Loosely cover the meat with a sheet of foil to lock in even more juiciness. Slice after the chicken has rested for a few minutes.
Substitute the chicken: If you are out of boneless skinless chicken breast, substitute it with chicken thighs or chicken tenderloins.
Use freshly grated parmesan cheese: For the best taste, use freshly grated parmesan cheese. Pre-grated cheese may be more convenient, but it's also more expensive. It also has less flavor compared to freshly-grated cheese.
Change up the seasoning: For a more personalized flavor profile, add your favorite spices/herbs. Onion powder and paprika are great additions.
Garnish the dish: Add a special touch by garnishing the dish with sliced fresh lemons, lemon zest, extra cheese, and/or fresh basil.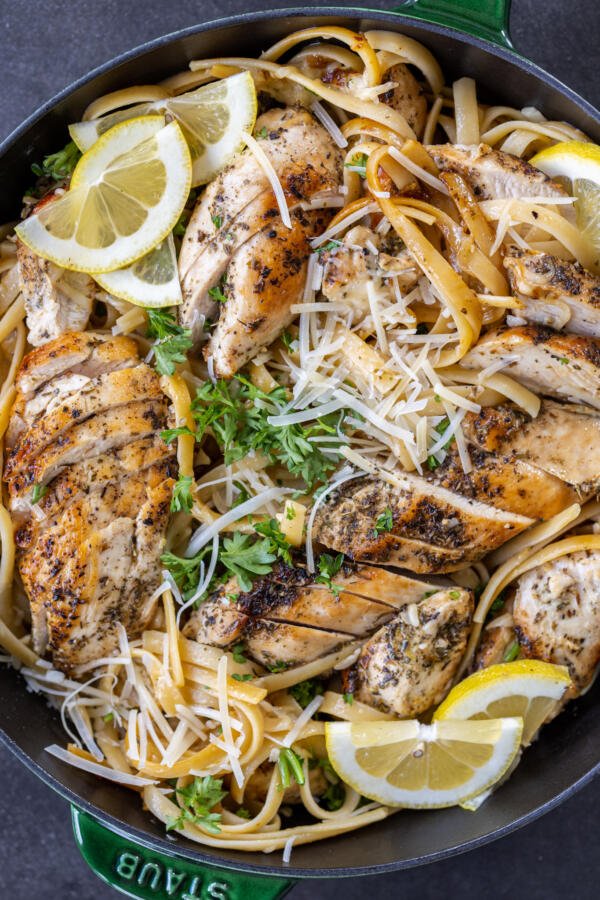 Veggie Additions to Fine-Tune Your Chicken Pasta
Lemon chicken pasta addresses almost all of the food groups — protein, grain, dairy. Add a fourth food group, vegetables, to the dish with these excellent additions.
Leafy greens: Add spinach and kale along with the minced garlic cloves and cook until the leaves are wilted.
Zucchini: Cut zucchini into bite-sized pieces and roast in the oven or saute on the skillet after the chicken. Add to the pasta at the end.
Tomatoes: Finely dice a roma tomato and saute with the garlic and butter mixture just after the garlic becomes fragrant.
Serving Ideas
Chicken pasta dishes are usually served as a main dish because they're already so filling. To add even more veggies and visual variety to your dinner ensemble, serve this pasta dish with broccoli cucumber and tomato salad or fresh avocado salad. A simple bowl of air fryer asparagus or brussels sprouts also goes a long way. But don't forget a side of garlic knots or cheesy bread to soak up all the extra lemon cream sauce!
Storage and Reheating Tips
What do you do with lemon chicken pasta leftovers? Follow these tips to best store and reheat the pasta. Avoid freezing it as cooked pasta and creamy sauces don't tend to thaw very well.
Refrigerator: To store for up to three days, place pasta in an airtight container in the fridge. Here's a tip — if you know ahead of time there will be lots of leftovers, keep the pasta separate and refrigerate in a different container to prevent it from soaking up all the juices.
Reheating: Reheat lemon chicken pasta on medium-high heat in a skillet, stirring to warm evenly. If the pasta is already combined with the chicken and cream and you notice the dish is dry, add reserved pasta water, chicken broth, or water to moisten it up.
FAQ
Why use lemon juice with chicken pasta?
Fresh lemon juice gives flavor and acidity to the chicken while tenderizing the meat. The result is a flavorful, juicy, and tender chicken, perfect for a tasty dinner.
Should I marinate the chicken before cooking it for lemon chicken pasta?
You do not need to marinate the chicken breast before cooking it in this dish. However, if you prefer even juicier chicken breast, use a marinade that pairs well with lemon and herb flavors.
How do I make the lemon chicken pasta more flavorful and juicy?
The best way to make lemon chicken pasta the juiciest and most flavorful is to use fresh ingredients, avoid overcooking the pasta and chicken, and reserve extra pasta water. Additionally, after the chicken is cooked in the pan, remove and cover it in foil. Slice it only after it has rested a few minutes.
More Pasta Recipes to Dig Into
Recipe
Don't settle for plain noodles when you can have this lemon and herb-flavored chicken pasta instead. It's crazy easy and cooks in only 30 minutes!
Ingredients
10

oz

pasta

any of your favorites

1 1/2

lbs

chicken breast

boneless & skinless

3

tbsp

olive oil

1

tbsp

Italian seasoning

1/2

tbsp

salt

1

tsp

ground black pepper

4

tbsp

unsalted butter

3

garlic cloves

minced

1/3

cup

lemon juice

freshly squeezed

4

tbsp

fresh parsley

chopped

1

cup

Parmesan cheese

freshly grated
Nutrition Facts
Lemon Chicken Pasta (30 Minute)
Amount Per Serving
Calories 508
Calories from Fat 207
% Daily Value*
Fat 23g35%
Cholesterol 104mg35%
Sodium 986mg41%
Potassium 592mg17%
Carbohydrates 38g13%
Protein 37g74%
Vitamin A 639IU13%
Vitamin C 11mg13%
Calcium 238mg24%
Iron 2mg11%
* Percent Daily Values are based on a 2000 calorie diet.