These buttermilk biscuits are unbelievably soft, tall, flaky and buttery. Double up on the recipe, you won't regret it!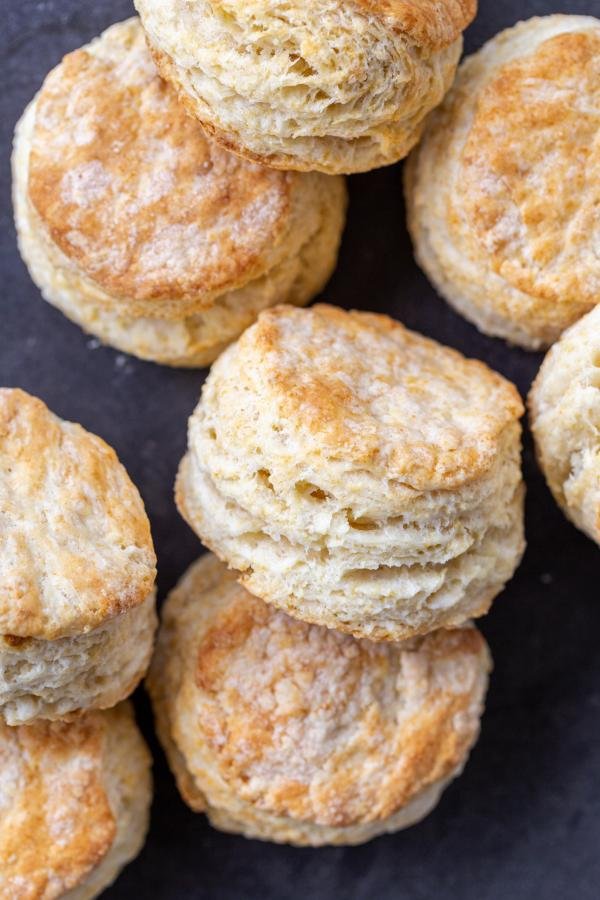 Buttermilk biscuits are a staple in the southern United States. You may find them on the menu in any restaurant, at any time of day. Usually, they are served with a fruity jam or even a sausage gravy, but they are actually quite versatile.
Buttermilk biscuits are best known for their golden brown look and flaky texture. Surprisingly, they are quite simple to prepare. So, bring the charm and flavor of this southern biscuit to your home. With the perfect combination of flavor, flakey, soft and light texture, these little morsels will disappear before you know it.
How To Make Extra Flaky Buttermilk Biscuits
These extra flaky buttermilk biscuits take a mere 20 minutes to prep. Here's an overview of the steps to get you ready for these delicious biscuits.
Combine dry ingredients: In a large bowl, combine all the dry ingredients together.
Grate butter: Grate butter and add to dry ingredients, tossing butter in the dry mixture to coat well.
Add buttermilk: Add cold buttermilk to bowl.
Stir without over-mixing: Stir quickly with a spatula to combine, but don't over-mix.
Fold dough: Lay dough onto floured surface and begin folding it over a few times. Roll out the dough.
Bake and serve: Cut out circular biscuits, and place them onto a lined baking sheet. Bake until they are golden brown.
Troubleshooting Common Problems with Buttermilk Biscuits
It can be challenging to get perfectly flaky buttermilk biscuits. We have a few of our favorite tips to make your journey easier.
How to make biscuits more fluffy and flakey: Cold (the colder the better) unsalted butter is the key for the most fluff and flake. Avoid softened or melted butter. Cold butter melts and creates steam as the biscuit bakes, making air pockets in the dough. These air pockets make the fluffy, flaky layers. The higher the fat content in the butter (and less water) also makes biscuits more flaky.
How to make biscuits rise: A good rise in the biscuit is largely associated with cold butter. The same air pockets that make the fluffy, flaky layers will make the biscuits rise. Additionally, make sure baking soda and baking powder are fresh as they help the biscuit rise.
How to achieve a softer texture: Stir and fold dough gently until dry bits are mostly all incorporated and dough is uniform. Don't overwork the dough too much or the biscuits will be tough. Knead gently and sparingly.
How to make the biscuits light: When rolling out the dough, press lightly with a rolling pin and only roll out as needed. Pressing down too hard or rolling out too much can give biscuits a dense, tough texture. As much as possible, use a spatula to combine or mix, as a stand mixer can easily overwork the dough and your hands can warm up the ingredients quickly. Also, measure your flour correctly. Too much flour can lead to dense biscuits.
Hot Tip: The correct way to measure flour is to first fluff it up, spoon it into a measuring cup, and then level off with a knife. Avoid over-packing the measuring cup.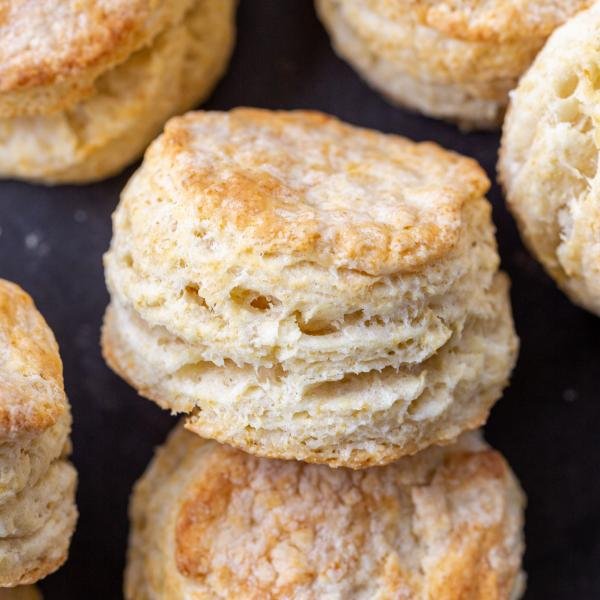 How to Fold and Cut the Biscuit Dough
Correctly folding and cutting the dough is vital to ensure your biscuits are perfect when they come out of the oven. Follow these steps and tips to correctly fold your biscuit dough.
Use a spatula to mix: After the buttermilk is added, quickly use a spatula to combine everything together. Don't over-mix or the dough can get tough. Also, work quickly so the ingredients stay cold.
Dump mixture onto a floured surface: Once combined, put dough onto lightly floured surface. If the dough appears dry and crumbly, that is ok. Don't add more buttermilk.
Fold the dough: Using your hands, fold the dough on top of itself a few times. The dough will become more uniform as you fold, but if the texture of the dough is still coarse after a few folds, that is ok! Avoid over-folding.
Roll out the dough: Gently roll out the dough into about 1 1/2 inch thickness, and then cut into 2-3 inch circular biscuits with a biscuit cutter.
Hot Tip: If you don't have a biscuit cutter, use an upside-down cup or glass or a cookie cutter to cut biscuits.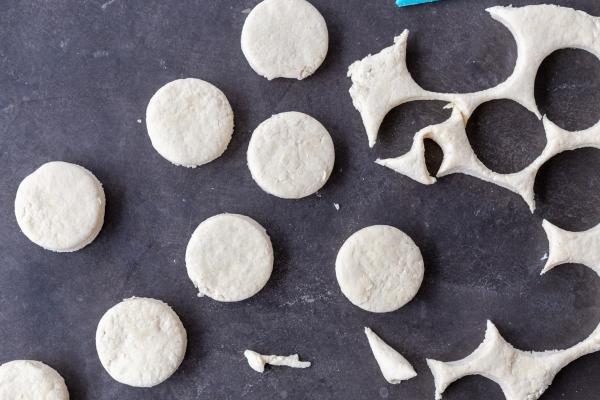 Additional Tips & Hacks
Here's a brief review and some additional tips and hacks to help you make your buttermilk biscuits extra great.
Keep the ingredients cold: It's extremely important to keep the butter and buttermilk as cold as possible for the entirety of the preparation. If possible, keep the dry ingredients cold, too. The colder everything stays, the more flaky and fluffy your biscuits will be.
Grate frozen butter: Grating instead of cutting butter is typically easier and faster, allowing for butter to stay colder for longer.
Don't twist the biscuit cutter: When cutting biscuits from the dough, firmly press down without twisting the cutter. Twisting seals off the edges of the biscuits and causes biscuits not to rise as high.
Place biscuits close together on a baking sheet: When the biscuits are placed closer together, they result in a taller rise. The top will become crispy while the sides remain soft.
Sift the flour: For even smoother and airier biscuits, sift the flour in a sifter or a wire mesh sieve.
Choose appropriate flour: Lower protein flour such as all purpose or pastry flour work best for biscuits. Bread flour is higher in protein and is not a good substitute as it will result in dense biscuits.
Personalizing Your Biscuits
Now that you have a solid foundation for a flakey buttermilk biscuit down, personalize your biscuits further with the following ideas:
Mix in herbs for a savory biscuit: Parsley, thyme, chives, and basil are popular herbs to add a savory flavor to classic buttermilk biscuits.
Add cheese. Grated cheddar cheese is a delicious addition to the biscuit dough, follow our recipe for cheddar cheese biscuits for this savory flair.
Brush the tops: Brush garlic butter or buttermilk to the top of the biscuits before baking to add color and flavor. Or try a honey butter topping after baking for extra sweetness.
Ways to Serve
Biscuits are so versatile and can be served in many different ways. For a sweet option, serve biscuits with raspberry jam, blackberry jam, or honey. If serving for breakfast, biscuits are a great side with eggs or Instant Pot egg bites, sausage, or our air fryer bacon.
Biscuits and gravy are a staple in the south, and the combination is so tasty. For a savory twist, serve biscuits with our old-fashioned beef stew gravy, mushroom gravy, chicken gizzards gravy, or with Instant Pot pork chops and gravy. These biscuits are a great way to sop up every bit of saucy goodness left on your plate.
Storing and Reheating Buttermilk Biscuits
Buttermilk biscuits are great to double up on and store for later. You'll always want to have these on hand. Here are a few storing and reheating tips to ensure the freshest outcome.
Room-temperature: To keep fresh for up to 3 days, store baked biscuits in an airtight container at room temperature.
Freezer: To freeze baked biscuits for up to three months, allow biscuits to cool to room temperature, then store in an airtight container. To freeze unbaked biscuits, place cut biscuits onto parchment paper and freeze for about an hour until solid. Once frozen, transfer to a freezer bag or airtight container and store for up to three months.
Reheat: To reheat, place baked biscuits on a baking sheet at 300°F for about 10 minutes. If reheating from frozen, bake straight from frozen, adding a few minutes to baking time.
FAQ
Why are my buttermilk biscuits not light and fluffy?
Common mistakes that lead to dense biscuits are: not using cold ingredients, over-mixing, or over-kneading the dough. Measuring ingredients such as flour incorrectly can also be a factor.
Should I sift flour for biscuits?
Most types of commercial flour sold today are refined and clump-free, so there is no need to sift flour. However, if you feel like the flour is not refined, or to further ensure smoother and airier biscuits, sift your flour in a sifter or a wire mesh sieve.
Can I use milk instead of buttermilk?
If you don't have buttermilk on hand, prepare your own buttermilk with just two ingredients. To make 1 cup of buttermilk, add 1 tablespoon of lemon juice or white vinegar, and fill up the rest of the cup with milk, preferably whole milk. Stir the mixture, and let it rest for 5 minutes.
Can I use self rising flour instead of all purpose flour to make biscuits?
It is best to stay with the type of flour the biscuit recipe indicates. Self-rising flour is a combination of flour, baking powder, and sometimes salt. However, if you do use self-rising flour, omit the salt and baking powder.
More Bread Recipes to Try
Recipe
These buttermilk biscuits are unbelievably soft, tall, flaky and buttery. Double up on the recipe, you won't regret it!
Nutrition Facts
The Easiest Buttermilk Biscuits (Extra Flaky)
Amount Per Serving
Calories 215
Calories from Fat 90
% Daily Value*
Fat 10g15%
Cholesterol 27mg9%
Sodium 263mg11%
Potassium 164mg5%
Carbohydrates 26g9%
Protein 4g8%
Vitamin A 325IU7%
Calcium 74mg7%
Iron 2mg11%
* Percent Daily Values are based on a 2000 calorie diet.