These super simple, 5 ingredient chicken cutlets are hit the spot good. Always tender & juicy, use them for everything from pasta to tasty chicken sandos.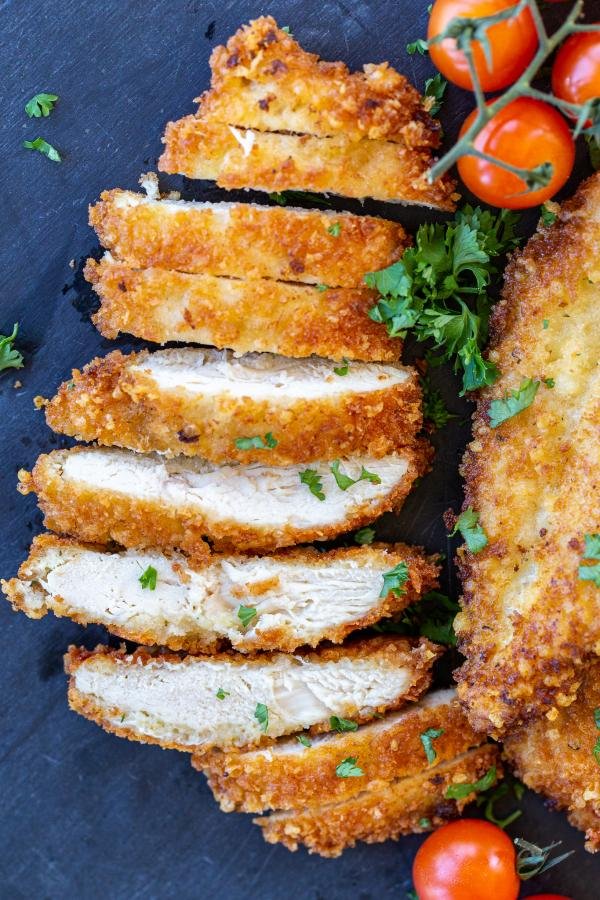 Chicken cutlets are one of the most versatile, all-American dishes on the planet. As a busy mom, I'm constantly trying to get enough protein on my kids' plates and these cutlets are always a crowdpleaser. With a super short ingredient list and some ridiculously easy prep, I'm confident you are going to fall in love with them too.
What are Chicken Cutlets?
Chicken cutlets feature pounded chicken breasts that are pounded thin, breaded, and pan-fried until crispy. You'll find them served at Italian-American restaurants as salad toppers, pasta toppers, or protein for a tasty sandwich. Much like fried chicken, they are kid-approved and super versatile.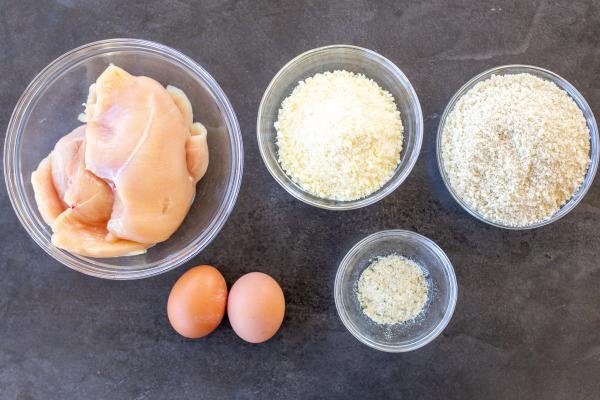 How to Whip Up Crispy Chicken Cutlets
With just 5 ingredients you likely already have hanging out in your kitchen, these cutlets come together in a pinch. Below, find a simplified overview of the recipe before you get started.
3 Pro Tips for the Tastiest Chicken Cutlets
Here you'll find 3 pro tips that will help you make the tastiest chicken cutlets on the planet.
Ideas for Serving Your Chicken Cutlets
If you're looking for ideas on how to serve these crispy chicken cutlets, the possibilities are endless. Below, find a handful of suggestions to keep you inspired.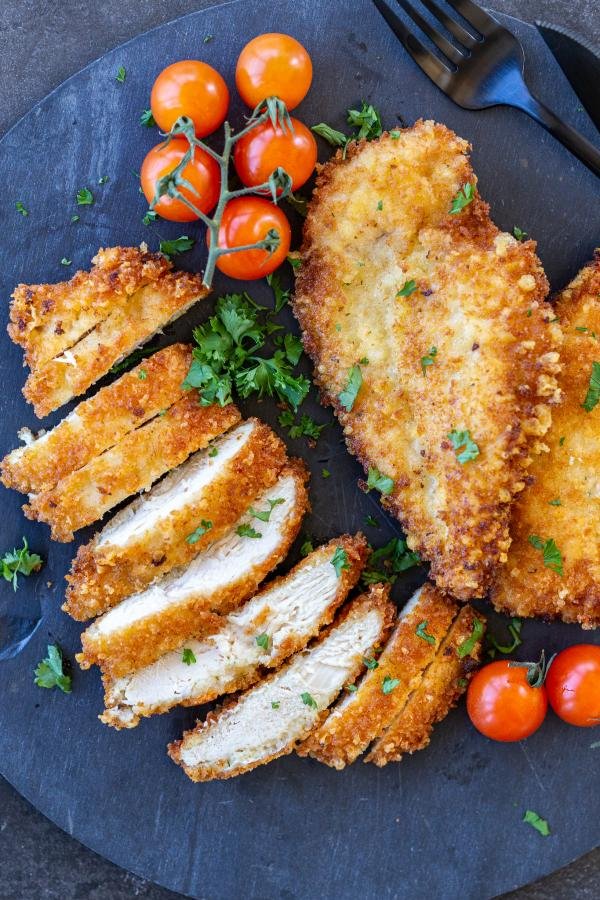 Ways to Store Leftover Chicken Cutlets
Whether have a couple of cutlets to store in the fridge or a batch you'd like to freeze, find all the best storage tips here.
Reheating Tip: The best way to reheat cutlets is in the oven or in an air fryer until crispy and warmed through. Avoid microwaving the cutlets, as fried food is prone to turning soggy.
FAQ
What is the difference between chicken cutlets and chicken tenders?
Chicken cutlets are boneless, skinless chicken breasts that have been sliced in half, pounded until thin, breaded, and pan-fried. On the other hand, chicken tenders are made from a cut from the beast meat called the pectoralis minor and are typically breaded and deep-fried.
What is the difference between a chicken cutlet and a fillet?
The difference between a cutlet and a fillet is that a cutlet is sliced in half and pounded thin before being fried, while a fillet is kept thick.
Why is my breading not sticking to chicken?
You're breading is not sticking to the chicken if your breasts have too much moisture. To prevent this, pat them dry with a paper towel before dunking them in the egg mixture and breadcrumbs.
How do you stop chicken cutlets from burning?
To prevent your chicken cutlets from burning, cook them on medium heat.
What kind of oil do you use to fry cutlets?
Use either olive oil or vegetable oil to fry your cutlets.
Other Crispy Chicken Recipes
Recipe
These crispy chicken cutlets are the definition of comfort food. Use them as a topper for salads or pasta, an entree, or protein for a sando!
Ingredients
3

large chicken breast

about 1.5 lbs

1/2

cup

parmesan cheese

grated

1 1/2

cups

panko crumbs

1/2

tbsp

garlic parsley salt

adjust to taste

2

eggs
Nutrition Facts
5-Ingredient Chicken Cutlets (Crazy Easy)
Amount Per Serving
Calories 242
Calories from Fat 63
% Daily Value*
Fat 7g11%
Cholesterol 133mg44%
Sodium 977mg41%
Potassium 476mg14%
Carbohydrates 11g4%
Protein 31g62%
Vitamin A 178IU4%
Vitamin C 1mg1%
Calcium 140mg14%
Iron 1mg6%
* Percent Daily Values are based on a 2000 calorie diet.