This pesto chicken recipe is a meal planner's go-to dish. It can be used in a variety of sandwiches, salads, or even with pasta, giving you a game plan for every meal this week!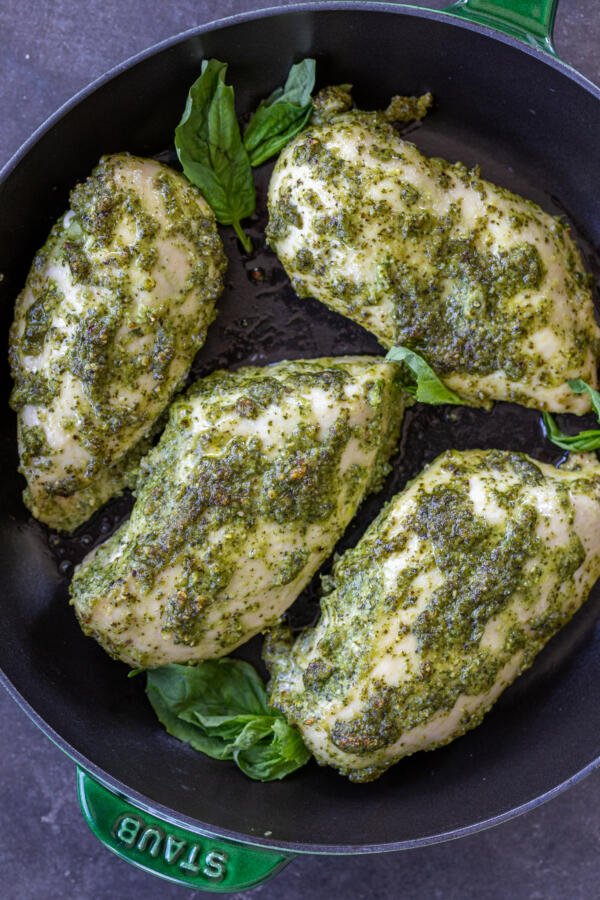 Pesto is a creamy, thicker green sauce that adds a bright and herby taste to any dish it's used in. It pairs great with chicken, making it taste fresh, herby, with a mild garlic flavor that everyone loves.
Baked pesto chicken is great for easy meal planning. Make a large batch in the beginning of the week and use the chicken for a variety of meals the rest of the week. You know what that means — more free time!
Variations of Pesto Sauces
Over time, various types of pesto have been developed, depending on availability of different ingredients. We like to use traditional pesto, but any variation will work well. Here are a few of the most common variations you may find at your local store.
Traditional basil pesto: This pesto is typically a green color and is made with fresh basil, olive oil, garlic, cheese, and pine nuts. This is the most common type of pesto and is the kind I make here.
Red pesto: This pesto is red in color, and is made with the addition of sun-dried tomatoes and/or roasted peppers.
Other "green" pesto: Countless variations of traditional pesto also have the signature "green" color, but have substitutions or additions that make it different from traditional, classic pesto. Read the label to find out what's inside and if it's a spin-off flavor that you will enjoy!
Pesto Chicken Video
Make Pesto Chicken in 3 Easy Steps
Pesto chicken takes only a few simple steps to make! It'll be ready before you know it.
Season the chicken: Season the chicken breast on all sides with pesto, salt, and pepper.
Arrange the chicken: Position the chicken breast pieces on a lined baking pan, leaving space between each piece.
Bake: Bake chicken at 400°F for 15-20 minutes or until internal temperature reaches 165°F.
Hot tip: If you desire an extra crispy outside layer, broil the chicken breast during the last few minutes.
Tips for the Most Flavorful Pesto Chicken
If you're a perfectionist, we have a few tips that will make your chicken better. Follow this list of techniques and get the most flavor out of your dish.
Use same-sized chicken breast pieces: For more even cooking, use the same sized chicken breast pieces. Is a piece too thick? Cut it horizontally to make it thinner. Or, briefly tenderize and make the pieces even by pounding the chicken with this meat mallet.
Pat the chicken dry: Pat the chicken breasts dry with paper towels before seasoning with pesto and spices. Seasonings adhere better to dry chicken breasts.
Keep it juicy: Chicken breasts vary in size, which means they vary in cooking time, too. Check the internal temperature of the chicken to ensure it is ready. Avoid overcooking as this can dry out the chicken. Chicken is done when internal temp reaches 165°F. Here's our favorite thermometer!
Allow chicken to cool: Once you remove the chicken from the oven, allow it to cool for a few minutes to lock in all the juice.
Add extra pesto: Save pesto on the side to use as a dip.
Substitute with chicken thighs: If needed, substitute the chicken breast with chicken thighs, although chicken breast is our preferred choice.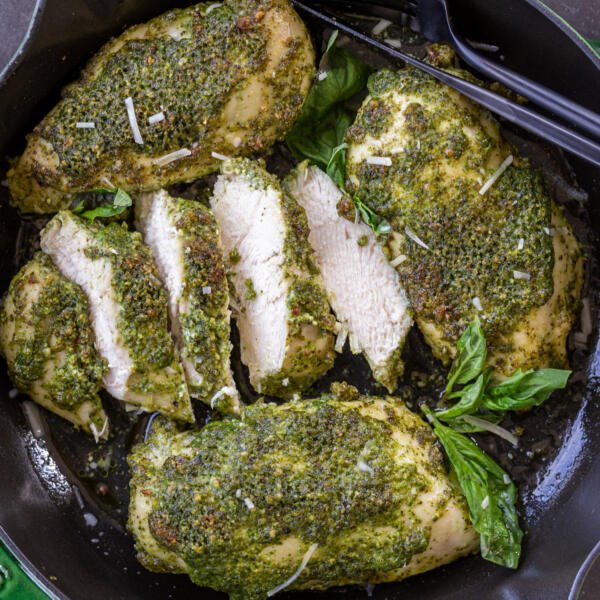 Ideas for Serving
The best part about pesto chicken is all the different ways to serve it. Here are our favorite ways to serve pesto chicken for a perfect weeknight meal.
Sandwich: For a bomb sandwich, place slices of pesto chicken on a baguette with mozzarella cheese, arugula, and more pesto.
Salad: Make a salad more filling by adding strips of chicken. Our favorites are Italian pasta salad, Caesar salad, or our ultimate garden salad.
Pasta: Add pesto chicken to pasta dishes such as broccoli mushroom alfredo, homemade pasta, or zucchini noodles. The chicken will add a fresh, bright pop of flavor to your pasta.
Grains – If craving grains instead of pasta, pair the pesto chicken with farro, quinoa, cauliflower rice, or buckwheat.
Sheet pan dinner: For a complete sheet pan dinner, add cherry or grape tomatoes, bell peppers, asparagus, onions, and any other vegetable in your fridge and cook with the pesto chicken.
Storing & Reheating
Pesto chicken is great for meal prep, as it keeps well in the refrigerator and is easy to reheat. Follow these suggestions for the best ways to store and reheat leftovers.
Refrigerator: To store for up to four days, refrigerate the pesto chicken in an airtight container. This will help keep it from drying out.
Freezer: To freeze for up to three months, place chicken in a single layer on a baking sheet lined with parchment paper and freeze. Once frozen, transfer chicken to a freezer safe bag and store.
Reheating: For best results, reheat in an air fryer or oven at 350°F until heated through. Alternatively, reheat the chicken using a skillet.
FAQ
Is it better to bake pesto chicken at a lower or higher temperature?
It is best to cook pesto chicken at 400°F. Cooking at a lower temperature can dry out the chicken. On the contrary, cooking at a higher temperature can burn the outside of the chicken before fully cooking the inside.
How do you bake pesto chicken without drying it out?
The key to keeping baked pesto chicken moist is to remove it from the oven once it reaches 165°F. Cooking it longer can dry out the meat. Also, let the chicken rest for a few minutes after baking to lock in the moisture.
Is pesto chicken considered healthy?
Chicken breast is an excellent source of lean protein. Additionally, the ingredients that make the pesto sauce are part of a heart-healthy Mediterranean diet.
More Amazing Chicken Recipes
Recipe
This pesto chicken recipe is a meal planner's go-to dish. It can be used in a variety of sandwiches, salads, or even with pasta, giving you a game plan for every meal this week!
Instructions
Nutrition Facts
Pesto Chicken Recipe (4 Ingredient)
Amount Per Serving
Calories 380
Calories from Fat 153
% Daily Value*
Fat 17g26%
Cholesterol 148mg49%
Sodium 1134mg47%
Potassium 846mg24%
Carbohydrates 3g1%
Protein 50g100%
Vitamin A 696IU14%
Vitamin C 3mg4%
Calcium 64mg6%
Iron 1mg6%
* Percent Daily Values are based on a 2000 calorie diet.