This recipe for white bean soup tastes just like it came from grandma's kitchen. Perfectly paired with crusty bread!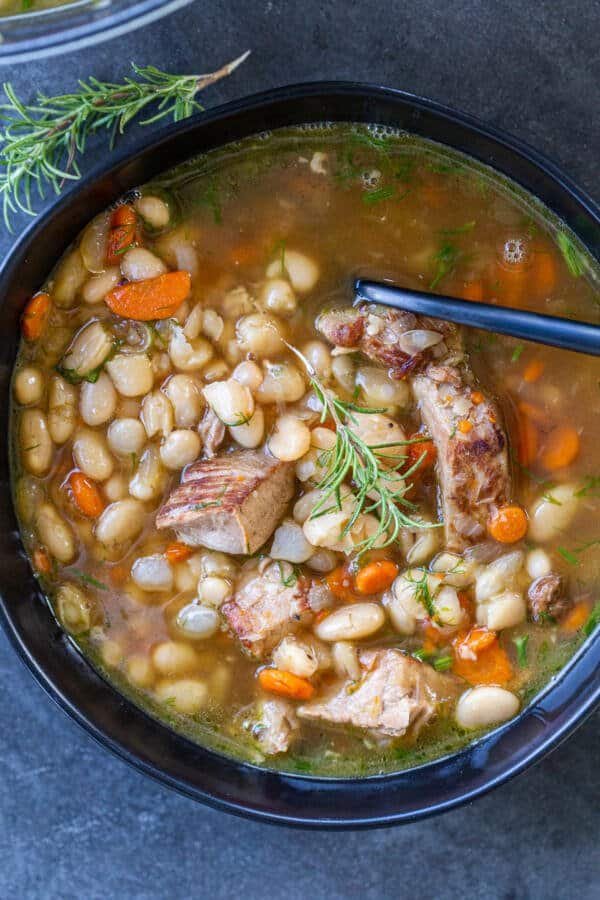 White bean soup is a healthy and hearty soup made with white beans, tender pork, and veggies. This recipe is pulled straight from my grandmother's cookbook and will surely take you straight back to your childhood.
Cooked low and slow, this recipe will send a wave of amazing, savory smells through your entire house. It's perfect batched for big parties or meal-prepped for quick lunches and dinners throughout the week.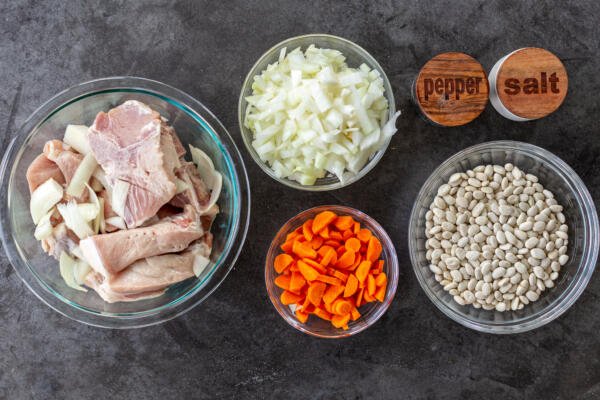 How to Make White Bean Soup
Making white bean soup only requires a handful of wholesome ingredients and a little slow cooking. Below, find an overview of the recipe before you dive in.
What kind of white beans should I use? There are so many different kinds of white beans – four to be exact. Cannellini beans, navy beans, and Great Northern Beans work best for this recipe.
Tips for Making the Best White Bean Soup
Below, find some tips and tricks to help you make the best white bean soup. It'll taste just like grandma's!
Don't skip marinating the meat overnight. Marinating the pork overnight will give it so much depth of flavor. Although not completely necessary, don't skip this step if you can help it!
Cook the soup low and slow. Cooking the soup on a low simmer allows the meat to get nice and tender. If you shock it with high heat, the pork will turn rubbery and the veggies will turn to mush.
Add extra water or broth as needed. As the soup cooks, the beans tend to soak up the liquid. Add extra water or broth as necessary to compensate.
Use fresh herbs versus dried. Fresh dill makes all the difference. Add it at the very end so you don't boil out its bright flavor.
Slow Cooker or Instant Pot Hack: Looking to "set it and forget it"? You can make this delicious soup in the slow cooker or Instant Pot. No matter which method you use, make sure to sear the pork and brown the veggies beforehand.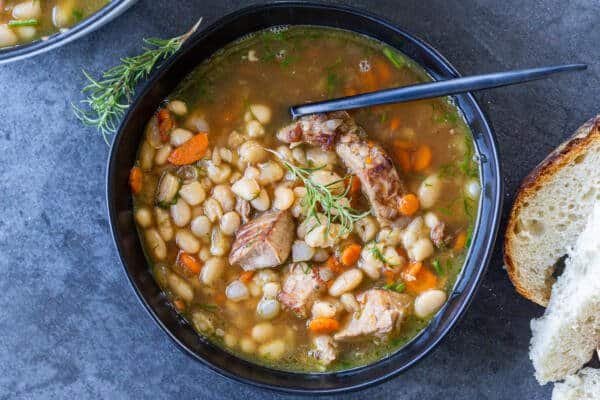 Serving White Bean Soup
Serve white bean soup for a light lunch or paired with a side for dinner. Like most hearty soups, it pairs well with fresh baguette or honey wheat bread. You can make it an even more well-rounded meal by serving it alongside a homemade caesar salad or Russian beet garlic salad.
Storing White Bean Soup
Refrigerator: Store leftover soup in an airtight container in the fridge. It should keep for up to a week. The kicker? The flavors will continue to develop as it sits in the fridge, making for tasty leftovers!
Freezer: To freeze leftover soup, allow it to first cool completely. Next, transfer it to a freezer-safe plastic bag or airtight container. It should keep for up to 3 months.
Reheating Tip: To reheat refrigerated white bean soup, warm it in a saucepan over low heat or zap it in the microwave. To reheat frozen white bean soup, thaw the white bean soup in the refrigerator overnight. Warm the same way you would refrigerated soup.
FAQ
Are Great Northern Beans the same as white beans?
Great Northern Beans are one of the four different types of white beans. The other three are cannellini, navy, and baby lima beans.
How do you thicken white bean soup?
There's no need to add any thickeners like flour or corn starch to white bean soup. The starch from the beans will naturally thicken the soup.
How long do I need to soak white beans?
If you're using dried beans instead of canned, you'll need to soak them in cold water overnight. Once softened, drain the beans in a colander. Next, boil them in salted water for 1-2 hours, or until al dente.
What cut of pork is best for white bean soup?
Pork shoulder is the best cut of pork for slow-cooked white bean soup. You could also use pork sirloin. Both are lean, yet full of flavor and made super tender when slow-cooked.
Can I use beef instead of pork?
Yes, you can use beef instead of pork. Opt for chuck roast or stew meat.
More Tasty Soup Recipes
Recipe
This recipe for white bean soup tastes just like it came from grandma's kitchen. Perfectly paired with crusty bread!
Ingredients
1

large onion

for marinade

1

lb

pork

1

large onion

for the soup

2

large carrots

1 1/2

cup

white beans

qt

boiled water

2

tbsp

salt

adjust to taste

1

tbsp

ground black pepper

adjust to taste

3

tbsp

dill

to garnish

2

bay leaves

optional
Nutrition Facts
Grandma's White Bean Soup (The Best)
Amount Per Serving
Calories 143
Calories from Fat 72
% Daily Value*
Fat 8g12%
Cholesterol 27mg9%
Sodium 1193mg50%
Potassium 301mg9%
Carbohydrates 9g3%
Protein 9g18%
Vitamin A 1713IU34%
Vitamin C 2mg2%
Calcium 36mg4%
Iron 1mg6%
* Percent Daily Values are based on a 2000 calorie diet.