Shatteringly crisp and juicy, these buffalo chicken wings are baked in the oven and drenched in a buffalo sauce. This one's for you, wing-lovers!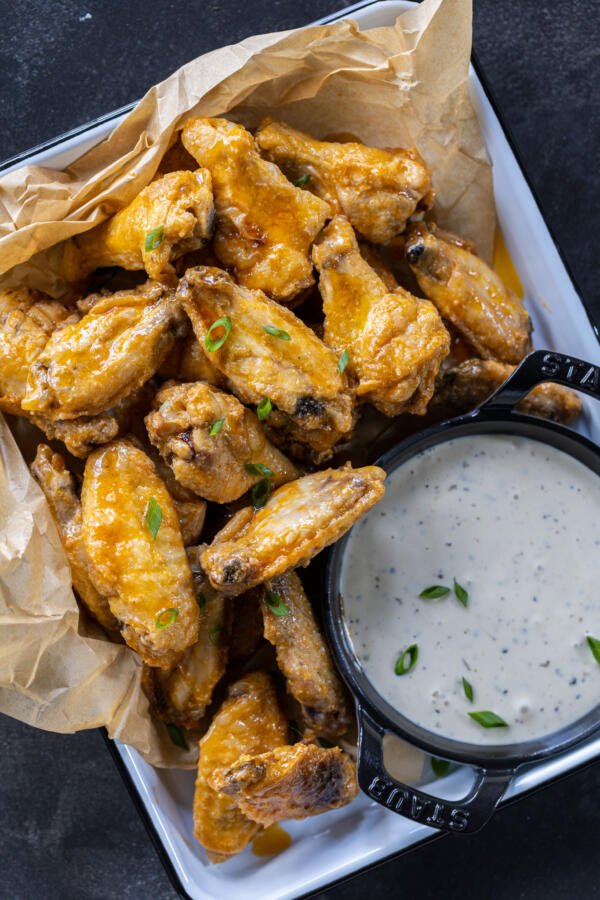 What Are Buffalo Wings?
Buffalo wings are chicken wings that are fried or baked, then coated in a buffalo sauce. Buffalo wings are differentiated from regular chicken wings because they are tossed in a unique blend of cayenne hot sauce, butter, and other seasonings. They are notoriously crispy on the outside and juicy on the inside.
Buffalo wings are believed to have originated in Buffalo, NY, at a restaurant called Anchor Bar. The co-owner created this dish for a group of her son's friends arriving late at night, and its popularity skyrocketed. Buffalo wings are one of the most beloved American game-day foods and fast foods to this day.
How To Make Buffalo Wings
Dry, season, bake, and toss — that's it! Follow these four easy steps to make the best baked buffalo wings.
Prepare the oven and pan: Preheat the oven to 450°F. Place a wire rack on top of a rimmed baking sheet lined with foil to catch the drippings.
Dry and season the wings: Dry the wings thoroughly with a paper towel. Season them with baking powder and garlic parsley salt.
Bake the wings: Place the wings on the wire rack. Bake for 20 minutes, flip, then bake for an additional 20 minutes.
Toss the wings in the sauce: Combine the sauce ingredients in a large bowl. Add the baked wings and toss to coat, then serve hot and enjoy!
Hot tip: Make your own garlic parsley salt by combining one tablespoon of salt, one teaspoon of garlic powder, and one teaspoon of dried parsley. Or get our favorite here.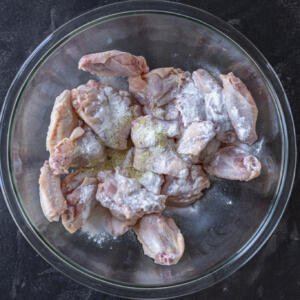 Tips for the Crispiest Buffalo Wings
Are you craving the irresistible crispiness of fried chicken wings, but without the deep-frying oil? We have a few tips to help you produce a comparably delicious baked version.
Dry the wings before baking. Drying the wings thoroughly with a paper towel results in a crispier skin. Dry wings also bake quicker than wet wings, allowing for a juicier inside.
Use baking powder. Baking powder is the secret ingredient to crispy baked wings. It increases the pH level of the chicken, which helps the skin dry out and get crispy faster. Baking powder also adds surface area to the wings for a distinguishable crust.
Bake the wings on a wire rack. A wire rack allows air to circulate around the chicken wings while they are baking, ensuring a consistently crispy outside.
Flip the wings halfway through baking. Flipping the wings guarantees an evenly crispy and golden brown crust. Use tongs to make flipping easier.
Serve the wings immediately. The longer the baked wings sit, the more likely they are to become soggy. Enjoy immediately after baking for maximum crispiness.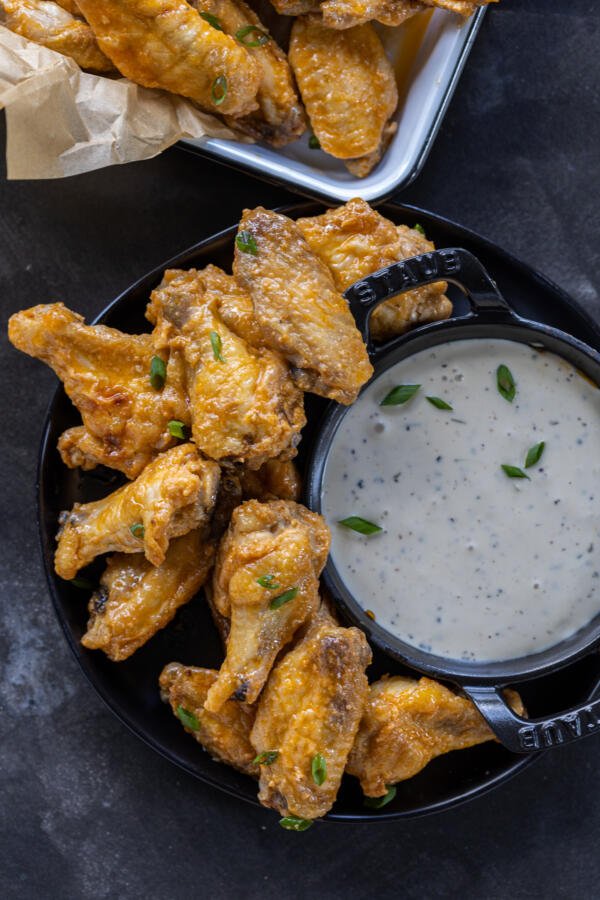 Customize Your Sauce
It's time to get creative! Adjust the spice level to your liking and experiment with different ingredients to create a deliciously addicting buffalo sauce.
Switch up the hot sauce: Use your favorite hot sauce — it can be anything! A few popular options include Tabasco, Cholula, and Sriracha.
Spice it up: Do you like your wings fiery hot? Heat things up with cayenne pepper, red pepper flakes, or freshly ground black pepper.
Make it sweet: Add in honey or extra brown sugar for a sweet contrast to the spice.
Add other flavorings: For an umami flavor, stir in a dash of worcestershire sauce. Go bold with a splash of white vinegar for more tang, or sprinkle in smoked paprika for a smoky flavor.
Ways To Serve
Buffalo wings are the perfect hand-held party food. If you're hosting a game-day lunch or get-together with friends, bring out these wings to make everyone happy. Serve buffalo wings hot with your favorite dipping sauce, like blue cheese dressing or homemade ranch dressing, along with celery sticks and baby carrots. Or, you can go even further and serve them with an entire crudites platter. The best sides for buffalo wings are air fryer french fries, sweet potato fries, or cheesy jalapeño poppers. Additionally, loaded potato skins or potato wedges pair wonderfully as well.
Storing & Reheating
Have you ever wondered what to do with your leftover buffalo wings but don't want them soggy? Let's look at the best way to store and reheat wings to keep their crisp.
Refrigerator: To store for up to four days, transfer the leftover baked wings to an airtight container or bag and refrigerate.
Freezer: To store for up to three months, freeze the leftover wings in a freezer-safe container or bag.
Reheating: To restore the most flavor and texture to the wings, reheat them in the oven. Place the wings in a single layer on a baking sheet and bake at 350°F for about 15 minutes, or until heated through. Broil the wings for an additional minute or two if you want a caramelized, crunchy exterior.
Hot tip: Let the wings come to room temperature before reheating for the crispiest result.
FAQ
Is it better to bake or fry wings?
It's better to bake chicken wings than to fry them because the skin turns out more caramelized and flavorful. Baking is also a healthier option because it uses less oil (and therefore has less calories) than frying.
How do you get the sauce to stick to the wings?
The key to getting the sauce to stick to the wings is using a dry rub before baking. The build-up of seasonings and baking powder creates a crust that holds onto sauce after getting crispy in the oven.
When should you put the sauce on the wings?
Toss the wings in the sauce right before serving to retain the wings crispy texture. If you're not planning to serve the wings immediately, hold off on saucing them until you're ready to eat.
How do you keep buffalo sauce from separating?
To keep buffalo sauce from separating, whisk the ingredients for the sauce together vigorously.
More Chicken Recipes
Recipe
Shatteringly crisp and juicy, these chicken wings are baked in the oven and drenched in a buffalo hot sauce. This one's for you, wing-lovers!
Nutrition Facts
Easy Buffalo Wing Recipe
Amount Per Serving
Calories 255
Calories from Fat 189
% Daily Value*
Fat 21g32%
Cholesterol 83mg28%
Sodium 450mg19%
Potassium 333mg10%
Carbohydrates 2g1%
Protein 15g30%
Vitamin A 356IU7%
Vitamin C 1mg1%
Calcium 100mg10%
Iron 1mg6%
* Percent Daily Values are based on a 2000 calorie diet.