These baked chicken legs only require 10 short minutes of prep time and they come out irresistibly juicy and tender. 100% kid-friendly and perfect for weeknights!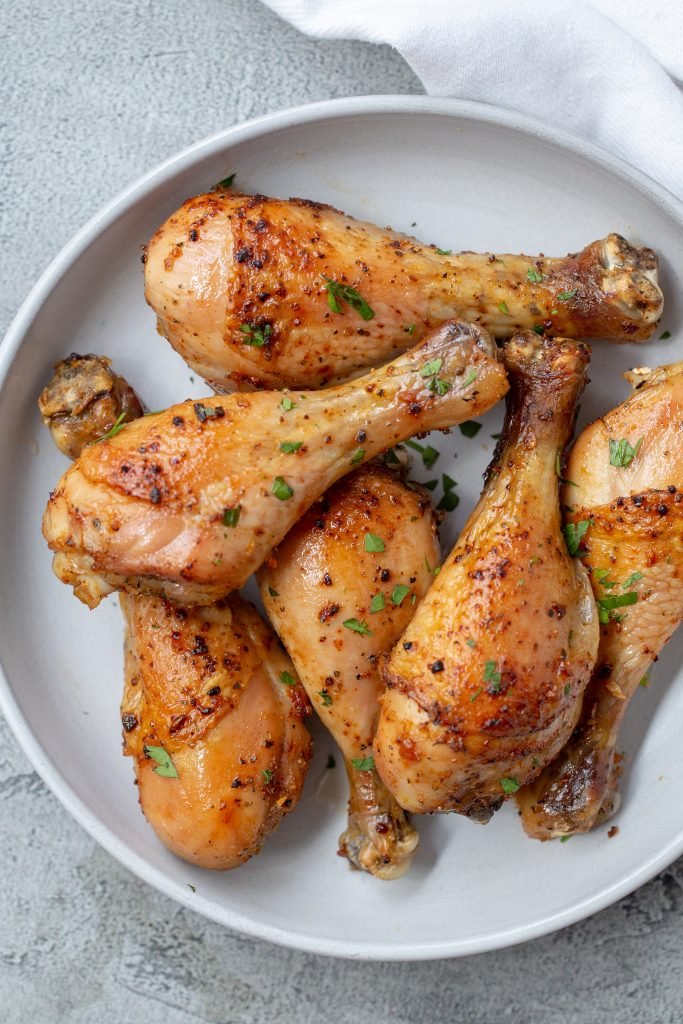 Everyone needs a go-to baked chicken legs recipe and this one has been our family favorite for years. I started making baked chicken drumsticks this way right after my husband and I got married and it was one of the first recipes of mine he raved about. These days, our two boys enjoy them just as much (especially when I serve them with some mashed potatoes). With a minimal ingredient list and a crazy easy cooking process, you're going to love them too!
Why Chicken Legs Take a Little Longer to Bake
If you've been cooking chicken in all its forms for some time now, you've probably noticed that chicken legs take a little longer to bake than other white meat cuts. This is because they have higher fat content and more density from the bones. For this recipe, they take about 40-45 minutes to reach a safe internal temperature of 165°F. That said, once you season them and pop them in the oven they require no fuss and are the ultimate "set it and forget it" kind of protein. Well worth the wait!
Air Fryer Hack: Short on time? Try out this recipe for air fryer chicken legs instead. If you don't have an air fryer yet, I'm obsessed with this model from Cosori.
Preparing Baked Chicken Legs
Preparing these baked chicken legs only requires 4 simple ingredients and some super simple prep. Below, find a simplified overview of the process before you get to cooking.
Preheat the Oven: First, turn the oven to 400°F.
Season the Chicken Legs: Using your hands, massage the seasoning onto all the chicken legs.
Bake the Chicken Legs: Assemble the chicken legs in a single layer on a baking sheet or baking dish (avoid stacking them, or the skin will not get crispy). Bake the chicken legs for about 40 minutes. Serve with your favorite side dish and enjoy!
3 Tips for the Tastiest Baked Chicken Legs
Here you'll find 3 pro tips to help you nail this chicken drumsticks recipe.
Rinse the chicken and pat it dry before baking. Once you remove the chicken from its package, rinse it under cool water in the sink (note: always sanitize your sink with disinfectant afterward). Next, pat the chicken dry with paper towels. Removing excess moisture will ensure you get extra crispy skin.
Use a meat thermometer to check doneness. Take the guesswork out of gauging the doneness of your chicken legs by investing in an instant read thermometer. If you need a recommendation for a good one, check out this brand (I've been using it for years). As a reminder, chicken legs are ready when the internal temperature reaches 165°F.
Spoon the juice over the chicken towards the end of cooking. Don't let all the delicious chicken juices that release during baking go to waste! About 5-10 minutes before the chicken legs are ready, spoon the juices over the top of them and pop them back in the oven. This will make them that much moister.
Different Seasoning Ideas for Chicken Legs
There are a million different seasonings and spices you can play around with when making baked chicken legs. Stick to the recipe as-is or check out the flavor combinations below to inspire you.
Garlic Lover's: Garlic powder (use as much as you'd like), onion powder, salt, and pepper
Spicy Honey Mustard: Mix 1/4 cup of melted honey with two tablespoons of mustard and a couple of pinches of chili powder
Lemon Pepper: Mix lemon juice with freshly cracked pepper and salt to taste
Italian Flare: Coat the chicken in dried oregano (or any other dried herbs of your choice), garlic powder, salt, and pepper
Ways to Serve Baked Chicken Legs
​For a comforting lunch or dinner, serve baked chicken legs alongside your favorite salad, grain, or veggie dish. A homemade caesar salad, quinoa, or creamy cauliflower rice are all great options. If you're on the hunt for a super kid-friendly meal, opt for air fryer french fries. For a heartier meal, serve with scalloped potatoes.
Best Practices for Storing Your Leftovers
To keep your chicken legs fresh for up to a week, keep them stored in an airtight container in the fridge. This will keep them from drying out and absorbing any smells lingering in your fridge.
Reheating Tip: The best way to reheat your chicken legs is either back in the oven or in an air fryer until warmed through.
FAQ
Should you bake chicken legs covered or uncovered?
Bake chicken legs uncovered for best results. This will allow the skin to get crispy.
Can you overcook chicken legs in the oven?
Yes, it is possible to overcook chicken legs in the oven. To prevent this, check the internal temperature about 40 minutes into cooking to air on the safe side.
Can you bake chicken legs from frozen?
You should always thaw chicken legs before baking them. If you're using frozen legs, pop them in the fridge overnight.
Do you need to line the baking dish or baking sheet?
There's no need to line the baking dish or baking sheet with aluminum foil or parchment paper. The chicken will release enough juices that it won't stick to the pan.
Other Chicken Recipes
Recipe
These baked chicken legs are the definition of comfort food. You'll love how they fall off the bone and pair with just about any side dish!
Instructions
Nutrition Facts
Baked Chicken Legs
Amount Per Serving
Calories 139
Calories from Fat 90
% Daily Value*
Fat 10g15%
Cholesterol 60mg20%
Sodium 927mg39%
Potassium 137mg4%
Carbohydrates 1g0%
Protein 11g22%
Vitamin A 183IU4%
Vitamin C 1mg1%
Calcium 7mg1%
Iron 1mg6%
* Percent Daily Values are based on a 2000 calorie diet.