This guide on grilled asparagus features two different methods for cooking the veggie over a gas or charcoal grill. Crazy easy year around!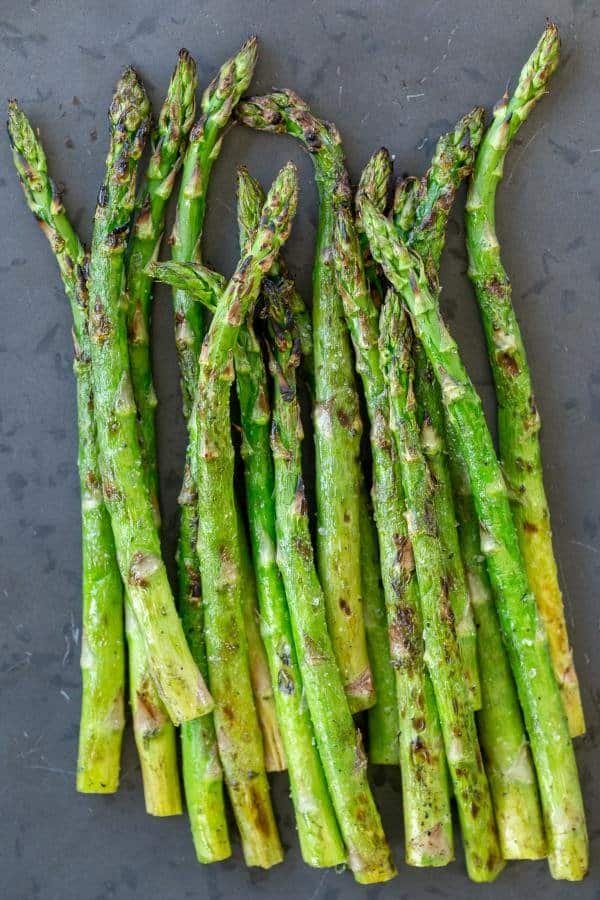 Obsessed with asparagus? Try our recipe for oven roasted asparagus or air fryer asparagus while you're at it.
Having a foolproof recipe for grilled asparagus not only opens the door to a quick and easy side dish, but also an ingredient that elevates everything from salad to pasta. In this guide, you'll learn how to grill the spears straight over the grill grates (hello, beautiful char marks!) or inside a foil packets (slightly steamed and smokey).
Guide on Cleaning & Trimming Asparagus
Before we get to grilling, let us first cover off on how to properly clean and trim asparagus.
Rinse the Asparagus: Wash the asparagus under cool running water.
Trim the Asparagus: Slice or snap off the woody, lighter-colored ends of the stalk.
Dry the Asparagus: Pat the asparagus dry with a paper towel and season as you wish!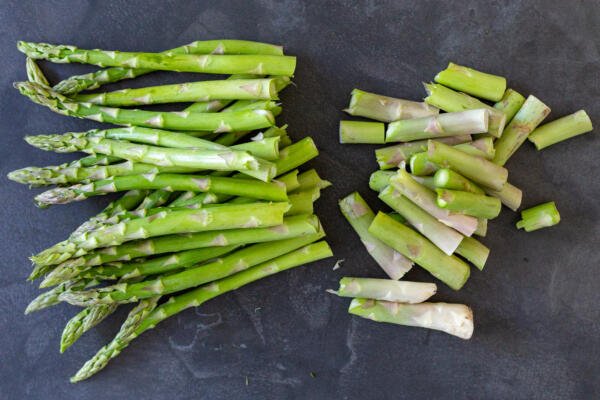 Making Grilled Asparagus on the Grill Grates
For the first method, we'll show you how to grill the asparagus directly on the grill grates for a nice char.
Trim the Asparagus: First, cut or snap off the rough ends of the asparagus stalks.
Season the Asparagus: Next, season the asparagus with avocado or olive oil and garlic parsley salt.
Grill the Asparagus: Preheat a gas grill to 400°F or get the coals in your charcoal grill nice and hot. Place the asparagus stalks diagonally across the grill grates and cook for 3 minutes on the first side. Flip the asparagus over and cook for an additional 2 minutes on the other side. Serve and enjoy!
Making Grilled Asparagus in a Foil Packet
If you prefer a softer, steamed asparagus stalk with no char marks, this method is for you.
Trim the Asparagus: First, cut or snap off the rough ends of the asparagus stalks.
Season the Asparagus: Next, place the asparagus stalks in the center of a large piece of aluminum foil and season them with oil or butter and garlic parsley salt. Fold the two longer sides of the foil together and tightly seal them together. Then, fold the ends into themselves, sealing tightly so the oil isn't able to seep out.
Grill the Asparagus Packet: Grill the asparagus packet for 15-20 minutes depending on your desired tenderness. Flip the packet it over with tongs halfway through cooking. Be ultra careful when removing and opening the foil packet, as it will be hot and full of steam!
Pro Tips for the Best Grilled Asparagus
​A couple of pro tips will help you get the most out of your grilled asparagus.
Use thick asparagus stalks if you're cooking on grates. Avoid using thinner stalks if you're grilling the asparagus directly on the grill grates. This will prevent the spears from falling through into the fire!
Avoid over flipping the asparagus. Avoid over flipping the spears or foil packet. If you're cooking on grates, over flipping can compromise the char marks. If you're steaming the asparagus in the foil packet, you'll increase the odds of tearing the foil.
Play around with different seasonings. This is a great baseline recipe, but feel free to tweak it with your favorite seasonings. Tack on some freshly cracked black pepper Add a squeeze of lemon juice or balsamic vinegar right after they come off the grill.
Hot Tip: Don't want to fire up the grill? Use a grill pan on your stove top instead.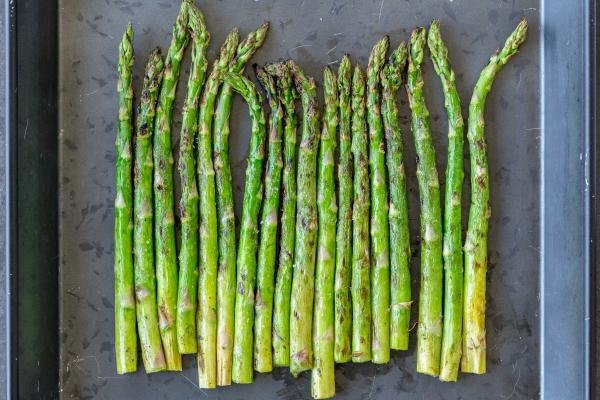 Ways to Serve Your Asparagus
There are so many different ways to use your grilled asparagus. Below, find a couple of options.
Hot Tip: Spruce up your asparagus by topping it with parmesan cheese or feta cheese right when it comes off the grill. Then, sprinkle on some roasted pine nuts or almonds for a nice nutty crunch.
All You Need to Know About Storing & Reheating
Have leftovers you want to stow away? Here's all you need to know.
Storing: To keep the asparagus on hand for up to a week, store it in an airtight container in the fridge.
Reheating: The best way to reheat grilled asparagus is in the oven until warmed through or in an air fryer (it will crisp up so nicely!).
FAQ
Should you blanch asparagus before grilling it?
There's no need to blanch the asparagus before grilling, especially if you want it to have a nice bite. Most of the time, blanching before grilling or baking just makes vegetables soggy.
Should you soak the asparagus before grilling it?
So long as you rinse the asparagus under cold water thoroughly, there's no need to soak it before popping it on the grill.
Why is your grilled asparagus soggy?
If you're cooking the asparagus in a foil packet, you'll want to make sure not to keep it on too long or else it will steam too much and turn soggy.
Should your grilled asparagus be a little crunchy?
Yes, ideally the asparagus will still have a slight crunch to it before you pull it from the grill. If that's not your thing, you can always keep it on a minute or so longer.
How long should asparagus be grilled on a hot charcoal grill?
Depending on the intensity of your fire, it will need to be grilled anywhere from 15-20 minutes in a foil packet or 5-8 minutes straight on the grates.
More Grilled Treats to Try
Recipe
Grilled asparagus is so much more than an easy side dish. Use it in salads, pastas, or soups to add a punch of smokey flavor!
Nutrition Facts
How to Grill Asparagus (Foil Hack)
Amount Per Serving
Calories 54
Calories from Fat 36
% Daily Value*
Fat 4g6%
Sodium 1746mg73%
Potassium 229mg7%
Carbohydrates 4g1%
Protein 2g4%
Vitamin A 857IU17%
Vitamin C 6mg7%
Calcium 28mg3%
Iron 2mg11%
* Percent Daily Values are based on a 2000 calorie diet.