This tomato peach burrata salad is as vibrant as it is tasty. Guaranteed to be your new favorite summer salad!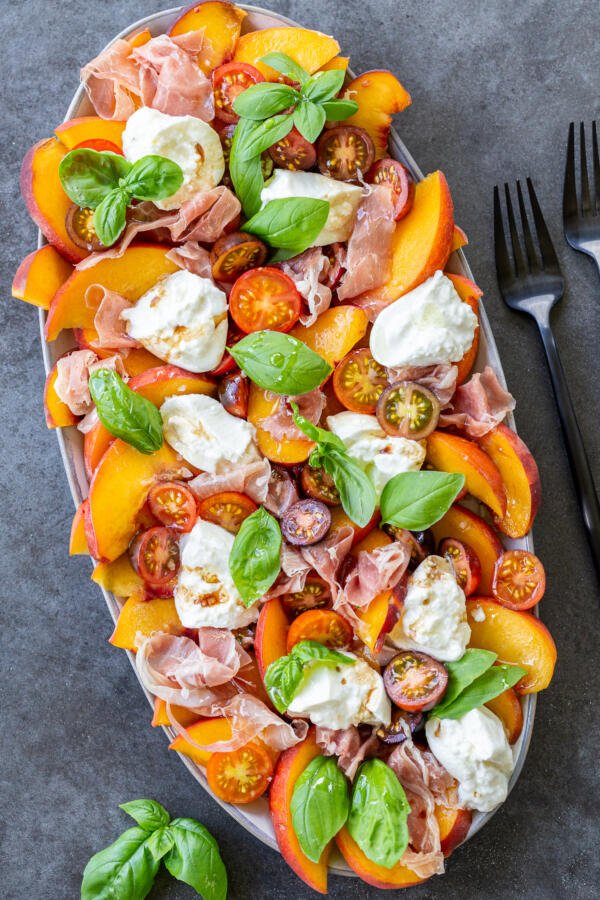 Tomato peach burrata salad is bursting at the seams with fresh stone fruit, creamy burrata, and juicy tomatoes. Although it looks like it can be served as the fanciest restaurant, it actually takes only 15 minutes to prepare. Whip it up for your next BBQ or get together and watch your guests' eyes widen!
If you've never used burrata cheese before, get ready to become addicted. It's a form of mozzarella cheese that comes in a semi-soft ball. Upon slicing into a piece of burrata, rich cream and curds ooze out. It's ridiculously flavorful and such a refreshing alternative to classic mozzarella!
How to Make Tomato Peach Burrata Salad
Making this tomato peach burrata salad is so simple, you can hardly even call it a recipe. Below, find a quick hitter overview of the process before you dive in.
Slice the Peaches and Tomatoes: Using a sharp knife, slice the peaches thinly and place them on a flat serving plate. Next, slice the cherry tomatoes in half and sprinkle them on top of the peaches.
Cut the Prosciutto & Burrata: Slice the prosciutto into small pieces and sprinkle it on top of the salad. Next, slice the burrata and sprinkle it on top.
Season and Serve: Season the salad with salt, oil, and balsamic vinegar and sprinkle whole basil leaves on top. Serve immediately and enjoy!
Hot Tip: Burrata is typically sold at higher-end grocery stores or specialty cheese stores. Whole Foods usually keeps it in stock.
Tips for the Best Burrata Salad
Below, find a handful of pro tips to help you make the best peach burrata salad.
Don't toss the salad. Burrata salad is best served on a flat plate with a drizzling of balsamic and oil. Refrain from tossing it so you don't break apart the delicate cheese and fruit.
Serve it right away. Only make this salad right before you plan to serve it. If it sits too long, it will wilt and turn soggy.
Swap in your favorite stone fruit. This salad is super versatile and can be made with virtually any stone fruit. Select your favorite and you can't go wrong! Apricots, nectarines, and plums all work great.
Use high-quality olive oil and balsamic. The flavor of this salad really depends on each ingredient being the freshest and most high-quality. Avoid olive oil and balsamic blends and opt for the pure stuff. It will make all the difference!
Season with freshly cracked pepper. If you like a bit of heat, finish the salad with a few cracks of pepper.
Serving Burrata Salad
Burrata salad is a wonderful side dish for your next BBQ or get together. The sweet and salty flavor pairs well with most grilled meats. Serve it alongside grilled lamb kabobs, ribeye, or tilapia.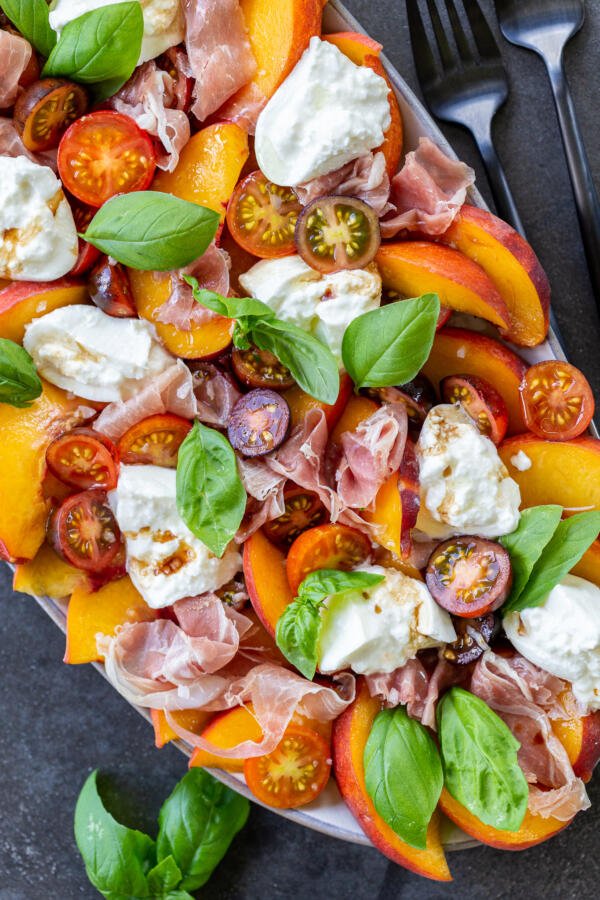 Making Burrata Salad in Advance
This peach burrata salad is best prepared moments before you plan to serve it. However, if you want to get ahead of the game, slice the veggies and fruit an hour ahead and only add the oil and vinegar when you're ready to eat.
FAQ
What fruit does burrata go well with?
The creaminess of burrata pairs perfectly with most stone fruit. It also compliments melons and berries well.
Can you eat the skin of burrata?
Yes, you can eat the harder outer skin of burrata.
How is burrata different from mozzarella?
Burrata is a form of mozzarella that features uncooked cheese curds and cream inside a semi-soft shell. On the other hand, Classic mozzarella is a semi-soft Italian cheese that's stringier and a bit less flavorful.
How long does burrata cheese last in the fridge?
Once you open the package, burrata cheese lasts for 5-7 days in the refrigerator.
Can I freeze burrata cheese for later use?
You should not freeze burrata cheese for later use. The delicate curds and cream on the inside of the shell do not thaw well.
More Tasty Salad Recipes
Recipe
This tomato peach burrata salad is as vibrant as it is tasty. Guaranteed to be your new favorite summer salad!
Ingredients
2

medium peaches

1

cup

cherry tomatoes

2

oz

prosciutto

6

oz

burrata cheese

10

basil leaves

3

tbsp

balsamic vinegar

1/2

tsp

salt

to taste

2

tbsp

olive oil

or avocado oil
Nutrition Facts
Tomato Peach Burrata Salad Recipe
Amount Per Serving
Calories 183
Calories from Fat 144
% Daily Value*
Fat 16g25%
Cholesterol 26mg9%
Sodium 261mg11%
Potassium 179mg5%
Carbohydrates 7g2%
Protein 7g14%
Vitamin A 522IU10%
Vitamin C 9mg11%
Calcium 160mg16%
Iron 1mg6%
* Percent Daily Values are based on a 2000 calorie diet.