These steak fajitas are made with tender strips of savory beef and sautéed veggies seasoned with our quick homemade fajita seasoning. Move over pizza night, hello Tex-Mex night!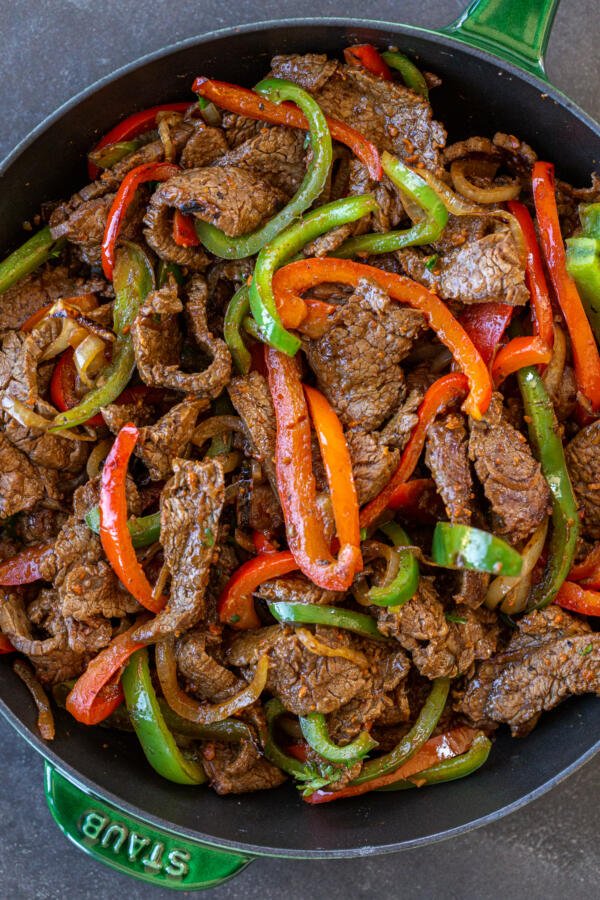 What are Steak Fajitas?
Steak fajitas are a version of the popular Tex-Mex fajita. A classic fajita is a combination of sautéed meat, peppers, and onions, most often served inside a corn or flour tortilla. In this recipe, the steak is seasoned with our crazy good fajita seasoning whose cast of characters include garlic powder, salt, chili powder, ground cumin, and more.
Steak Fajitas Video
Choosing the Best Cut of Steak for Fajitas
There are so many different cuts of steak that it can be hard to choose the best one for your steak fajitas. Here are five popular steak cuts that we've ranked from most to least preferred to help you determine the best option for your fajitas.
Ribeye: This popular cut is known for its rich, buttery flavor and tender texture. It's our favorite! We also like using ribeye to make ribeye in a cast iron skillet. If you have leftover meat from the cast iron ribeye, use it to make these fajitas!
Flank: Flank steak is very lean, but it can be tough if prepared poorly. This steak is best when allowed to marinate. We love it because of how lean it is. We often use flank to make carne asada, so split up the meat and make two separate dishes from one cut of meat!
New York strip: This cut has an intense, beefy flavor. It is simultaneously firm and tender, so it has a great bite and chew to it.
Skirt: Skirt steak is one of the most flavorful but fattier parts of the cow. Skirt steak absorbs the flavors of a marinade very well.
Sirloin steak: This cut is very lean, resulting in a less-tender, but still flavorful piece of meat.
How to Make a Steak Fajita
For uber quick steak fajitas, cut your steak into thin strips, julienne the peppers, and cut the onions. This recipe moves quickly, so it'll help to have these ingredients prepped before starting to cook!
Tips for the Best Steak Fajita
Don't settle for mediocre steak fajitas when you can achieve excellence. Here are tips on how to make your steak fajitas the best!
Serving Your Steak Fajita
As a Classic Fajita
Steak fajitas are classically served inside of corn tortillas or in homemade flour tortillas. Inside the tortilla, the steak and pepper mixture is topped with your choice of dip, sauce, or condiment. Let your family pick their favorite toppings from an array of options including sour cream, pico de gallo, creamy tomatillo dressing with fresh cilantro, guacamole, and/or salsa. Don't forget to squeeze in a little bit of lime juice for a citrusy tang and top with shredded cheese for added flair.
Transform Into A Burrito Bowl
Alternatively, transform your kitchen into Chipotle and serve your steak fajita as part of a burrito bowl. Use the same fillings and toppings as you would for a classic fajita with the addition of refried beans, cilantro lime rice, Mexican corn salad, or black bean and corn salsa. Who needs to go out to a restaurant when you can have it at home?
Make Ahead, Storage, and Reheating Tips
If you haven't tried meal prepping, these steak fajitas are the perfect start. Steak fajitas keep very well in the fridge or freezer and they reheat well (even in the microwave!) — making them a perfect make-ahead or meal prep option.
FAQ
Why are my steak fajitas tough?
The steak in steak fajitas can become tough if it comes from a tough or lean cut of beef, if the meat was cut in the wrong direction, or if it was overcooked. For a tender steak, always cut against the grain and avoid overcooking the meat as this dries it out.
What's the difference between fajita and taco seasoning?
Fajita and taco seasoning contain many of the same spices, except taco seasoning typically contains onion powder. In most cases, you can substitute one seasoning for the other.
Does the steak need to be marinated in steak fajitas?
Steak does not need to be marinated to taste good in steak fajitas. Simply season the meat with fajita seasoning right before cooking, or marinate the steak in the seasoning for at least 30 minutes prior to cooking for a stronger flavor.
Is the steak cut before or after cooking the steak fajita?
Typically, the steak is cut into long strips prior to cooking. This way, each strip gets a flavorful and crispy char on its edge.
More Mexican-Flavored Dishes
Recipe
These steak fajitas, crafted with our special seasoning and your choice of toppings, will easily wipe out your pizza nights. Who's up for a challenge?
Ingredients
3

lbs

steak

3

tbsp

Fajita seasoning

1

red bell pepper

julienned

1

green bell pepper

julienned

1

large yellow onion

2

tbsp

oil

olive or avocado
Nutrition Facts
Easy Steak Fajitas Recipe
Amount Per Serving
Calories 399
Calories from Fat 252
% Daily Value*
Fat 28g43%
Cholesterol 104mg35%
Sodium 166mg7%
Potassium 533mg15%
Carbohydrates 3g1%
Protein 35g70%
Vitamin A 635IU13%
Vitamin C 32mg39%
Calcium 18mg2%
Iron 3mg17%
* Percent Daily Values are based on a 2000 calorie diet.