These shrimp fajitas are packed with meat, veggies, and seasoned to perfection (hello Tex-Mex cuisine!). Even better, it's all made in one pan.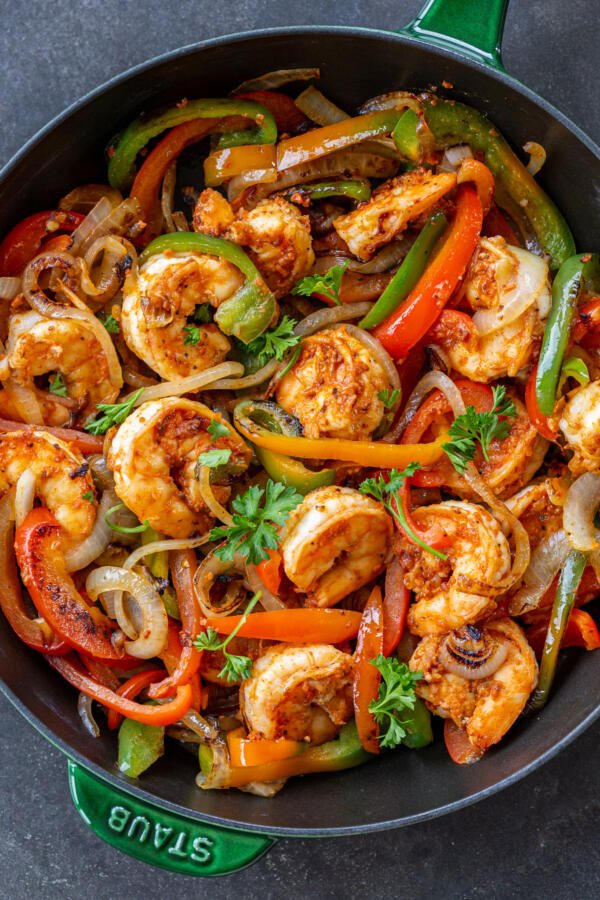 What Are Fajitas?
A classic fajita is a savory dish consisting of a combination of grilled meat (most commonly chicken, steak, or shrimp), peppers, and onions served in a tortilla. A shrimp fajita is a fajita that uses shrimp as the main protein. Fajitas are similar to tacos as they use similar seasonings and are wrapped in tortillas. However, fajita ingredients are almost always grilled, whereas taco ingredients (specifically the veggies) are often fresh/raw.
Fajita, literally translated as "little strips" in Spanish, is part of Tex-Mex cuisine. This type of cuisine is a blend of food and ingredients from the border regions between Texas and Mexico. Fajitas are said to have been first made in the US, but because of their strong Mexican flavor, they are considered a fusion dish.
How to Make Shrimp Fajitas
Before beginning to make shrimp fajitas, make sure the shrimp are fully thawed and patted dry with a paper towel. Then, prepare the remaining ingredients and sauté. Here's a quick overview of the process.
Season the shrimp: Season the shrimp with our crazy good fajita seasoning.
Cook the shrimp: In a preheated large skillet at medium-high heat, add olive oil. Cook the shrimp until light pink in color. Remove them from the pan and set aside.
Sauté the vegetables: Add an extra tablespoon of oil into the pan, then sauté the bell peppers and onions until soft and slightly golden.
Combine: Place all ingredients back into the pan and combine by stirring.
Hot tip: Transform this into a sheet pan shrimp fajita recipe by roasting the veggies in the oven at 425°F for 10 minutes. Then, add the shrimp and cook for an additional 6-8 minutes or until pink. That's it!
Shrimp Fajitas 101: Tips You Must Know
Even though this shrimp fajita recipe is easy to make and the fajitas will surely turn out uber tasty, go above and beyond by following these tips.
Buy frozen peeled/deveined large or jumbo shrimp: In general, frozen shrimp is best as it is usually frozen right away, preserving its fresh quality. For ease of cooking, buy peeled and deveined large/jumbo shrimp. Larger shrimp is harder to overcook compared to small shrimp. If you buy shrimp that still has the tail on, remove the tail prior to cooking.
Use raw shrimp: Raw shrimp have a better flavor compared to cooked shrimp. Also, it is easier to control doneness when using raw shrimp. If you use cooked shrimp, you may overcook the shrimp, making it rubbery. If using frozen raw shrimp, defrost in the fridge or in cold water.
Avoid overcrowding the pan: Allow room between shrimp when sauteeing in the pan. If shrimp are packed too tightly, they will cook unevenly. Cook the shrimp in batches, if needed.
Cook shrimp until just done: Shrimp is ready when it turns a light pink color, or once the temperature reaches 165°F. Avoid overcooking shrimp as this alters the taste and texture of the meat.
Marinate the shrimp (optional): For a boost of flavor, place the shrimp in the fajita seasoning marinade and allow shrimp to marinate for about 20 minutes prior to cooking.
Cut veggies equally: For even cooking, cut the veggies to approximately the same size.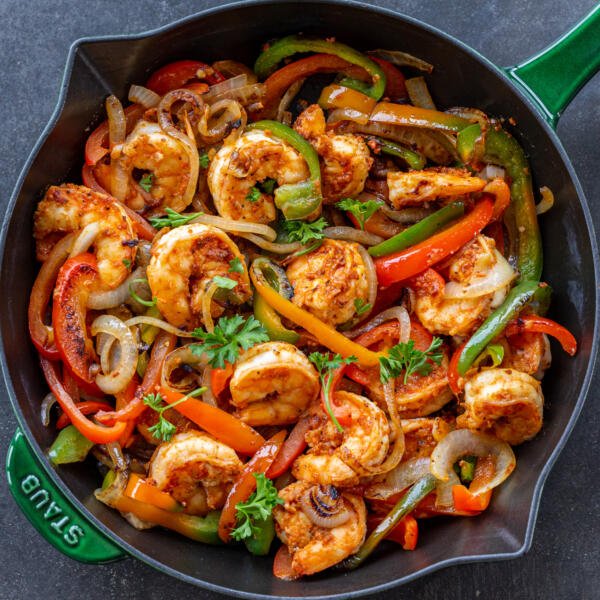 Serving Shrimp Fajitas
The Classic Way
The classic way to serve shrimp fajitas is in warm homemade flour tortillas (or corn tortillas) with a variety of toppings like sour cream, pico de gallo, creamy tomatillo dressing with fresh cilantro, guacamole, and/or salsa. Simply scoop a generous portion of the shrimp fajitas into a warm tortilla, add preferred toppings, squirt fresh lime juice on top, then wrap the tortilla up like a burrito.
Make a Burrito Bowl
If you want to skip the classic way and take a new path, serve the shrimp fajitas in a "burrito bowl". In a bowl, layer your choice of toppings over the shrimp fajitas. In addition to sour cream, guacamole, and tomatillo dressing, some other great options include refried beans, cilantro lime rice, Mexican corn salad, and black bean and corn salsa. Is your mouth watering yet?
How to Best Store and Reheat Fajitas
Shrimp fajitas are the most mouth-wateringly delicious when served warm and fresh off the stove. However, if you made a big batch, don't fret — these fajitas also keep well!
Refrigerator: To store up to three or four days, place fajita leftovers in an airtight container in the fridge.
Reheating: For the best reheated shrimp fajitas, use the stove or oven. Heat in a skillet or oven safe dish/pan over medium heat until warmed through. Avoid overheating as this can further cook the shrimp, making even the tastiest cooked shrimp turn rubbery.
Hot tip: Avoid freezing cooked shrimp fajitas. The texture and taste of the shrimp and veggies will change after thawing and reheating.
FAQ
What is the difference between a fajita and a taco?
A fajita consists of a grilled meat that is most often served on a tortilla with sauteed peppers and onion. A taco consists of a tortilla filled with meat and more fresh (un-cooked) ingredients like cheese and tomatoes.
What is the best kind of shrimp for shrimp fajitas?
Large, jumbo shrimp that are peeled and deveined are the best tasting and easiest to cook in shrimp fajitas. The large shrimp are harder to overcook compared to small shrimp. Buying peeled and deveined shrimp will also save a lot of prep time.
What is in homemade fajita seasoning?
Fajita seasoning contains several staple ingredients including chili powder, salt, paprika, and garlic powder. Other spices, such as cumin and onion powder, can be added for variety.
More Mexican-Inspired Recipes
Recipe
Are you craving Tex-Mex flavor but also want minimal clean up? These 30 minute one-pan shrimp fajitas are sure to make fajita night a weekly rotation.
Ingredients
2

lbs

large shrimp

peeled & deveined

3

tbsp

Fajita seasoning

1

red bell pepper

julienned

1

green bell pepper

julienned

1

large yellow onion

half rings

2

tbsp

oil

olive or avocado
Nutrition Facts
30 Minute Shrimp Fajitas (OnePan)
Amount Per Serving
Calories 167
Calories from Fat 54
% Daily Value*
Fat 6g9%
Cholesterol 191mg64%
Sodium 959mg40%
Potassium 274mg8%
Carbohydrates 6g2%
Protein 21g42%
Vitamin A 1084IU22%
Vitamin C 43mg52%
Calcium 89mg9%
Iron 1mg6%
* Percent Daily Values are based on a 2000 calorie diet.