This super simple recipe for fajita seasoning will ensure your pantry is always stocked. Use it for everything from typical fajitas to tacos & even potatoes!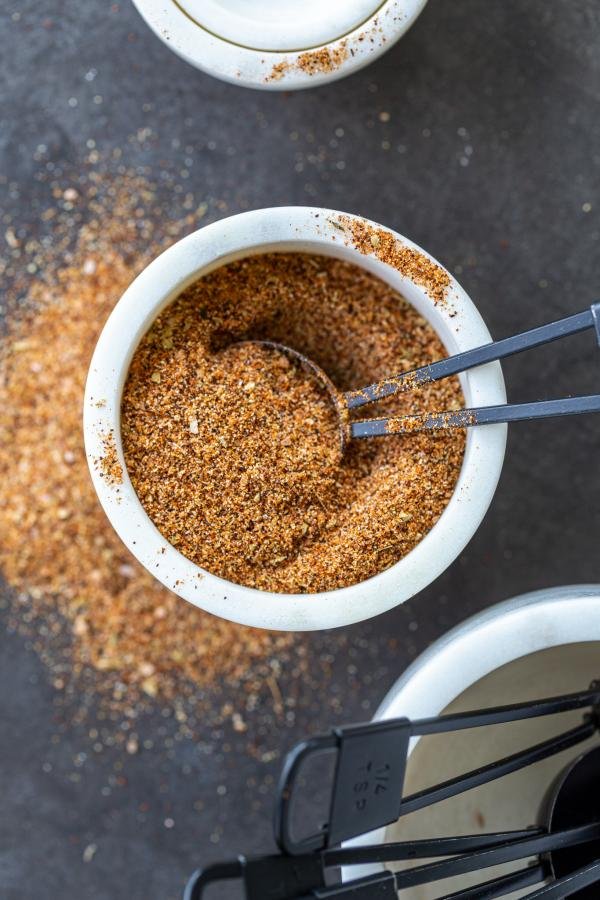 Making your own spice blends is such a game changer. While you can find awesome fajita seasoning mixes and packets at the grocery store, nothing compares to dreaming up your own. Why? You can customize the individual spices to your liking, control the quality and make the seasoning your very own.
The Spices that Make Up Fajita Seasoning
What exactly goes into making a homemade fajita seasoning mix? All you need is 7 simple spices that you already likely have hanging out in your pantry to make the sweet and spicy blend.
Chili Powder – Chili powder adds the necessary amount of heat. Feel free to increase the amount you use depending on the level of spice you can handle!
Ground Cumin – Cumin brings a slightly sweet earthiness. You'll find it in most Hispanic seasonings.
Garlic Powder – Garlic powder adds a zest and tang.
Sea Salt & Black Pepper – Salt rounds out the flavor of the blend, while black pepper adds a little more heat and depth of flavor.
Oregano – Like cumin, dried oregano is found in many Hispanic seasonings. It's a little sweet, a little spicy and bold.
Paprika – Paprika brings a mildly sweet flavor to the blend. It also adds a beautiful pop of color!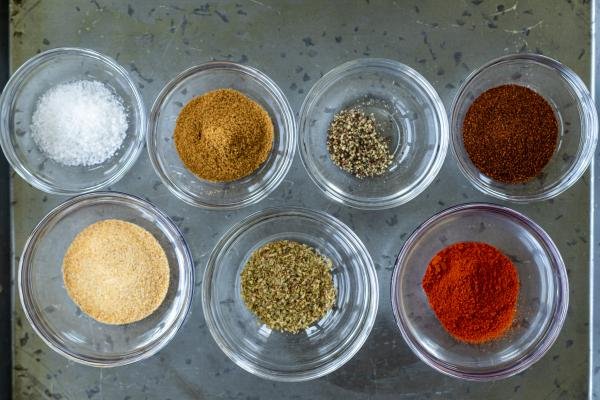 How to Whip Up Fajita Seasoning from Scratch
Making fajita seasoning requires one, simple step. All you have to do? Throw all the ingredients in a small bowl and stir to combine. After that, you can use the blend straight away or stow it away in a container for later use. If your dried spices have any lumps, use a whisk to break them down.
Hot Tip: No matter what recipe you're using this homemade fajita seasoning recipe for, a spritz of fresh lime juice is always a welcome addition and brings out all the flavors!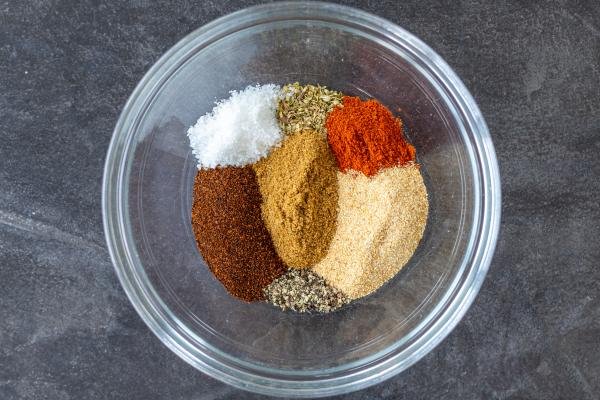 A Couple Handy Tips & Tricks
If you're just starting your journey with homemade spice blends, a few simple pointers will help you keep your pantry stocked and seasonings fresh.
Check the expiration date on your spices before using them. If they have gone past it, they will likely be dull in flavor!
Double or triple the spices. If you know you are going to use this seasoning a couple of times a week, double or triple the spice amounts to make a bigger batch.
Add cayenne if you like it extra spicy. If you love heat, add in 2 teaspoons of cayenne pepper powder to the mix.
Different Ways to Use Fajita Seasoning
While the obvious use of fajita seasoning is – you guessed it – fajitas, there are other ways to put this zesty blend to work. Here's a couple of our favorites:
Potato Dishes: Use the seasoning on everything from roasted potatoes to air fryer french fries to add a kick of flavor.
Rice & Beans: Up level an easy rice and beans dinner by stirring in the seasoning to the beans to taste.
Protein: Aside from skillet steak fajitas and chicken fajitas, you can use the seasoning as a marinade for air fryer shrimp, Instant Pot chicken breasts or for easy ground beef tacos.
Veggies: Fajita seasoning is also a great way to spruce up just about any veggie side dish. It works great on grilled bell peppers and onions or grilled zucchini and mushrooms.
Salsas & Sauces: Additionally, fajita seasoning is a quick way to add a ton of flavor to different salsas and sauces (think: enchilada sauce).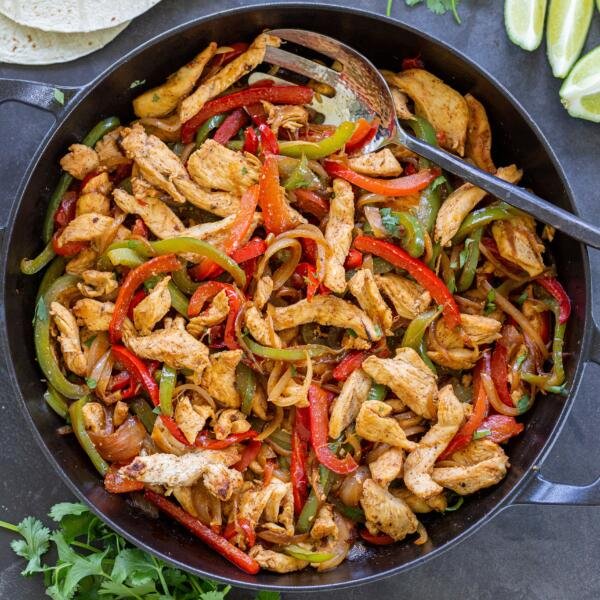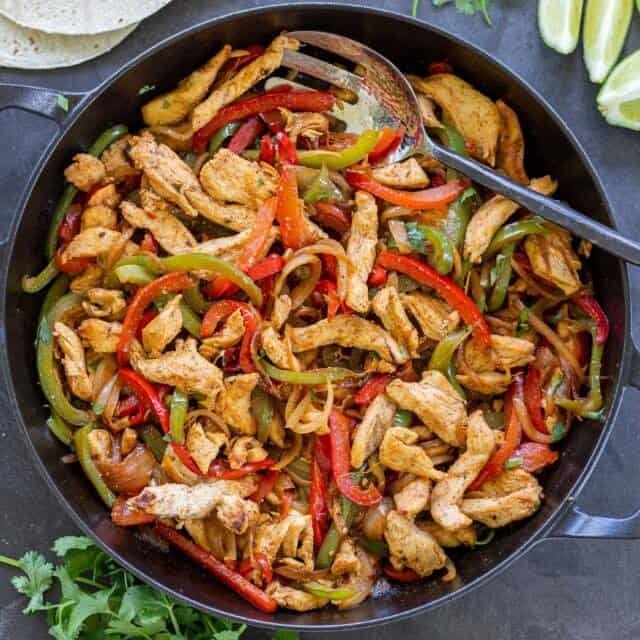 Making Fajita Seasoning Last in Storage
The last thing you want to do is put a dry seasoning blend into a jar that's damp, as this creates lumps and clumps. Before you transfer the seasoning blend in, make sure to wipe the container down thoroughly with a towel. When your spice blend is stored properly in a dry, airtight container, it will keep for up to 3 months! Also, keep the seasoning in a dry place like your pantry – the less humidity the better.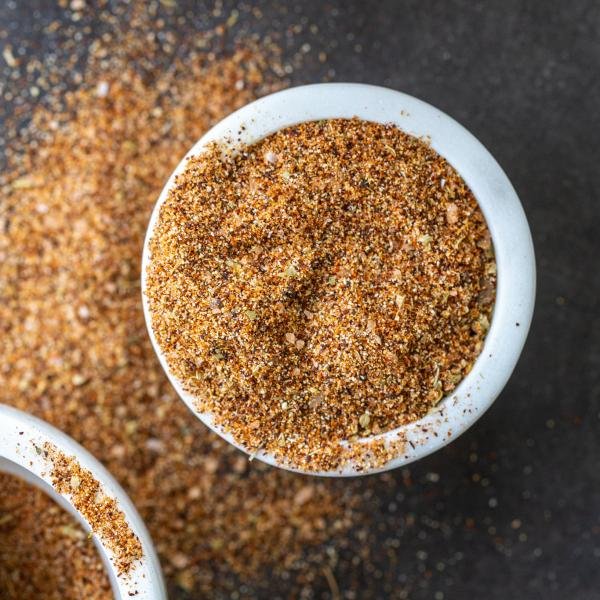 FAQ
Can you substitute taco seasoning for fajita seasoning?
In most cases, you can substitute taco seasoning for fajita seasoning. The only major difference between the two is that taco seasoning typically contains onion powder.
Is Tajin the same as fajita seasoning?
Tajin and fajita seasoning are not the same thing. Tajin is a store bought seasoning that contains similar spices but a ton of citrus. It's super tangy and is used to season everything from fresh fruits to savory dishes.
How much fajita seasoning should you use per pound of meat?
As a general rule of thumb, you'll want to use 2-3 tablespoons of fajita seasoning per pound of meat. You can adjust this in either direction depending on your specific taste buds.
More Fun Things to Make Homemade
Recipe
With this recipe for fajita seasoning, you'll wonder why you ever leaned on store bought varieties. All you need is 7 ingredients & an airtight container!
Instructions
Nutrition Facts
Crazy Good Fajita Seasoning Recipe
Amount Per Serving
Calories 39
Calories from Fat 9
% Daily Value*
Fat 1g2%
Sodium 1236mg52%
Potassium 210mg6%
Carbohydrates 7g2%
Protein 2g4%
Vitamin A 1736IU35%
Vitamin C 1mg1%
Calcium 65mg7%
Iron 3mg17%
* Percent Daily Values are based on a 2000 calorie diet.