Have you tried the Costco Chicken Bake? If you're obsessed with this food court legend, you have to try this copy cat recipe. Made at home in just 30 minutes!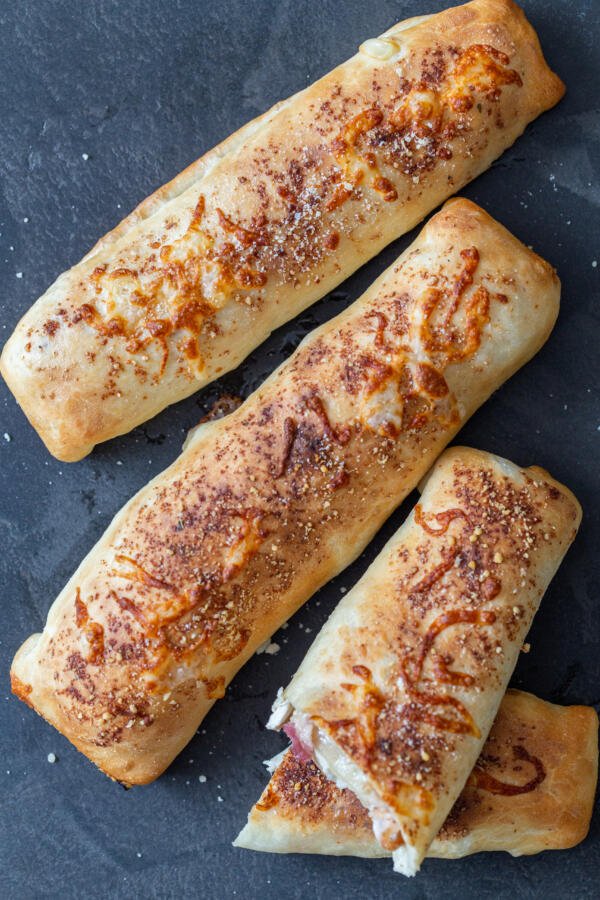 Costco Chicken Bakes are stuffed with bacon, chicken and a creamy dressing. While this combo has been beloved by Costco shoppers for years, you can switch up the ingredients to find a combination that fits your unique tastebuds.
Make a big batch of Costco Chicken Bakes with fresh and organic ingredients for healthier "frozen food". When a craving hits or you don't have time to make a homemade dinner, you'll be happy you have a couple hanging out in the fridge.
Tips for the Costco Chicken Bake
Pizza Dough – You can make pizza dough from scratch or pick up a pre-made dough from the store

Hot tip: Trader Joe's has a great dough in the refrigerated section. You can snag a plain dough or one that is packed with Italian herbs. Both will work great.

Chicken – If you have leftover rotisserie chicken hanging out, this recipe is the perfect way to make sure it doesn't go to waste. If you don't, plain grilled chicken or instant pot chicken will do.
Bacon Crisps – If you're in a pinch and don't want to fry bacon, buy some pre-made bacon bits from the store. We love using air fryer bacon for this recipe.
Cheese – Mozzarella cheese is our top pick, but you can use any shredded cheese that you like. Make sure you don't forget to add a sprinkle of parmesan cheese for that signature taste.
Sauce – Ranch or caesar dressing work great.
Flour – A high-quality all purpose flour will work great.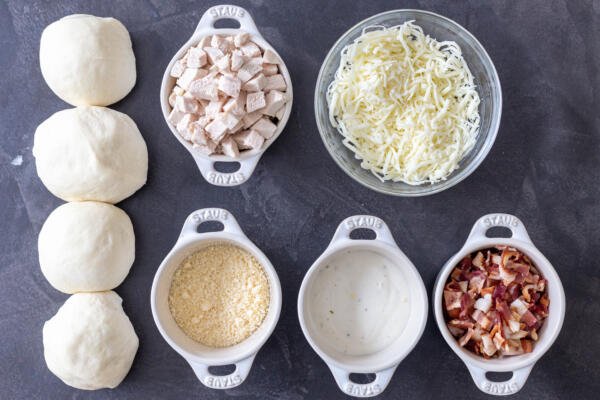 Note: You will need to either purchase or prepare pizza dough prior to making this recipe. When you make a full portion of pizza dough, you can double up the recipe and keep the remainder of the dough refrigerated for a different day. You can use it for garlic knots.
How to make Costco Chicken Bake
Roll out your pizza dough and slice into even pieces.
Spread the dressing over the dough.
Top it off with chicken and bacon.
Next, add a handful of mozzarella cheese, roll it up and sprinkle on some parmesan.
Bake at 415°F until golden brown and the cheese is ooey gooey.
Serving Chicken Bake
The Chicken Bake alone will fill you up. These things are hefty! But, if you want to round out your dinner a bit more, try pairing your Chicken Bake with:
Caesar Salad – Homemade caesar salad is way better than the bagged variety you've been eating. This one comes together lightning quick!
Garden Salad – A simple garden salad is always welcome at the dinner table.
Broccoli Cauliflower Salad – Broccoli and cauliflower slaw is full of crunchy veggies and tossed with a creamy dressing.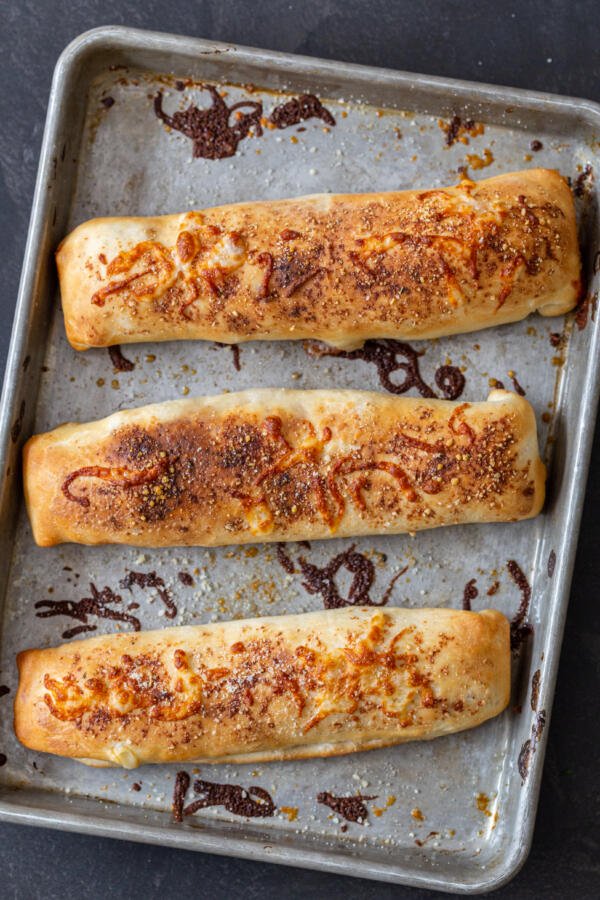 Can You Freeze Homemade Costco Chicken Bake?
You can freeze the Chicken Bake raw or after it has been baked. Either way, line a baking sheet with parchment paper and spread the Chicken Bakes across it. Pop the entire baking sheet in the freezer to allow the individual pieces to freeze entirely. Once frozen, remove and place in a freezer-safe bag.
To reheat your Chicken Bakes, follow these below instructions:
Frozen Raw: Thaw on the counter and bake according to the recipe instructions.
Frozen Baked: Thaw on the counter and then reheat in the oven for about 5 minutes.
Hot tip: Try not to microwave frozen Chicken Bakes to reheat. While tempting, microwaving will make the Bakes soggy.
More Similar Recipes
Pizza Recipe – Everyone needs a good pizza recipe in their back pocket.
Flatbread Pizza – Parmesan garlic flatbread makes for the tastiest pizza crust.
Pizza Rolls – This fun pizza appetizer is perfect for a kid's party.
Recipe
Have you tried the Costco Chicken Bake? If you're obsessed with this food court legend, you have to try this copy cat recipe. Made at home in just 30 minutes!
Nutrition Facts
Costco Chicken Bake
Amount Per Serving
Calories 571
Calories from Fat 369
% Daily Value*
Fat 41g63%
Cholesterol 101mg34%
Sodium 1223mg51%
Potassium 191mg5%
Carbohydrates 19g6%
Protein 30g60%
Vitamin A 480IU10%
Vitamin C 1.3mg2%
Calcium 399mg40%
Iron 2mg11%
* Percent Daily Values are based on a 2000 calorie diet.