Lusciously creamy with melty Parmesan and a punch of fresh garlic flavor, this Alfredo sauce will be your new go-to pizza sauce. White-sauce lovers, rejoice!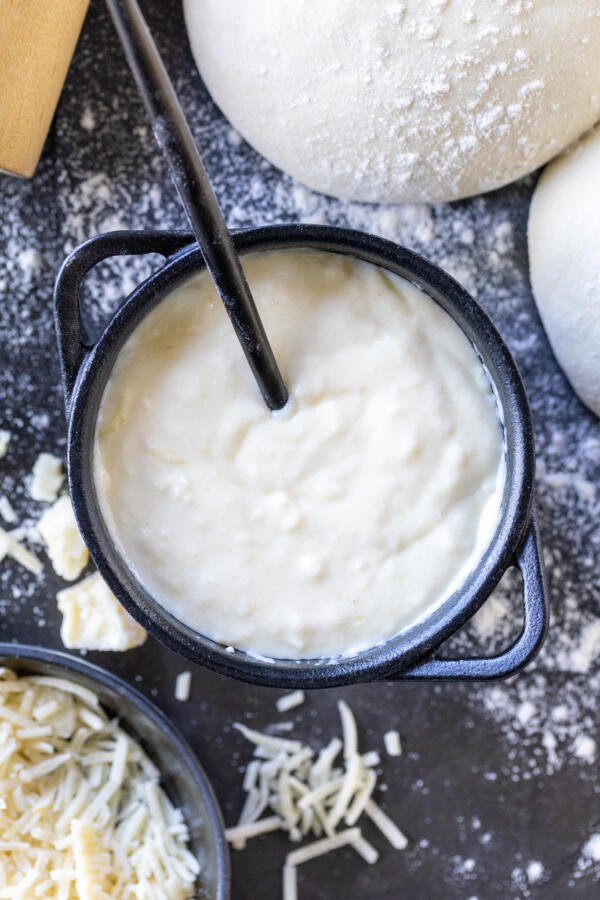 What Is Alfredo Pizza Sauce?
Alfredo pizza sauce is a white cheesy sauce used as a base for pizza. Unlike the usual tomato sauce, Alfredo sauce is composed of butter, milk, and flour and it has a thick and creamy texture. Sharp Parmesan cheese and fresh garlic are the prominent flavor notes in this otherwise mild-tasting sauce.
How To Make Alfredo Pizza Sauce
This pizza sauce is whipped up in 15 short minutes, so start your timer! Heat up a pan and whisk together the ingredients to create the dreamiest Alfredo sauce.
Prepare the pan: Melt the butter in a large pot over medium heat.
Sauté the garlic: Add the garlic and sauté until fragrant.
Add the flour and milk: Sprinkle in the flour and toast it for about a minute. Pour in the milk and cook until the mixture thickens, breaking up the clumps of flour with a whisk.
Melt in the cheese: Stir in the Parmesan cheese until it melts. Remove from the heat.
Use the sauce: Spread the sauce on your pizza and enjoy!
Hot tip: Adjust the garlic to your liking. If you believe there's no such thing as too much garlic (like us), add more! If you prefer a milder Alfredo, cut back.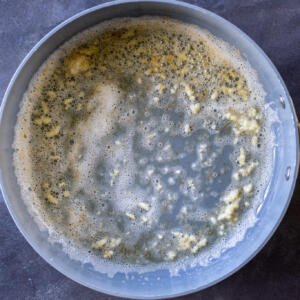 Seasoning Variations
Nobody likes a bland sauce, so we have a few suggestions to step up this Alfredo pizza sauce. Always remember to season to taste!
Salt: The amount of salt needed depends on the type of Parmesan cheese used. Start with a pinch and add more to taste.
Italian seasoning: This aromatic mix of oregano, basil, thyme, and rosemary does wonders for Alfredo sauce. Sprinkle in a teaspoon for classic Italian flavor.
Black pepper: Turn up the heat with a twist of freshly ground black pepper.
White pepper: White pepper is a popular addition to white sauces because it doesn't show visible specks like black pepper. Add in a pinch for a mild, earthy flavor.
Nutmeg: Nutmeg is a delicious and surprising addition to Alfredo sauce — slightly sweet with nutty undertones.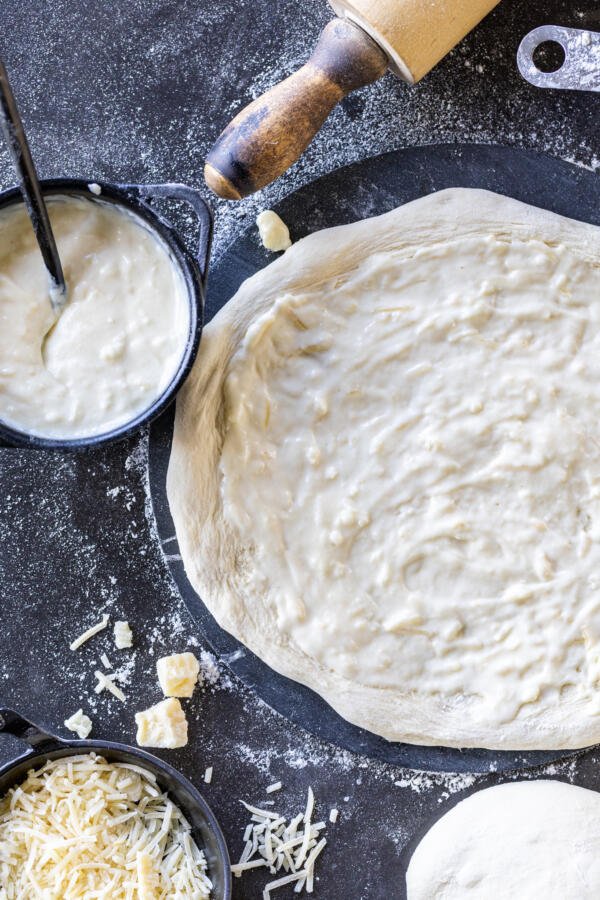 Tips for a Creamier Alfredo Sauce
There's nothing more indulgent than a perfectly creamy white sauce … mmm. Here are our favorite tips for producing a smooth and flavorful Alfredo pizza sauce.
Use high-quality ingredients. Alfredo sauce requires very few ingredients, so choose premium butter and cheese to get the most flavor out of your sauce. We recommend Irish butter and a block of Parmesan. Avoid pre-shredded cheese, as it contains starches that may inhibit melting.
Swap the milk for half-and-half. Half-and-half creates a slightly thicker and richer sauce, as it contains more fat than milk. For an even more indulgent experience, use heavy cream.
Lower the heat. Keep the heat on medium-low to avoid burning the butter and creating a lumpy sauce. Turn the heat down if you notice the sauce bubbling too much or smelling burnt.
Whisk constantly. This is the key to achieving a smooth sauce. Pour the milk in slowly and whisk vigorously to break up the clumps of flour.
Ways To Serve
Alfredo pizza sauce is absolutely delicious on a homemade pizza. Start by making an overnight pizza dough or sourdough pizza crust, then lather on your Alfredo sauce. Go classic with toppings like chicken, bacon, sliced red onions, and mozzarella cheese. For more veggie goodness, add spinach, tomatoes, and mushrooms. Finish off your pizza with a dusting of grated Parmesan and fresh basil leaves after baking, and there you have it — the perfect homemade pizza! For another flavorful option, try our mushroom flatbread pizza with a thick layer of Alfredo sauce. If you're not in the mood for pizza, this Alfredo sauce also serves as a tasty dip for cheesy breadsticks or air fryer zucchini fries.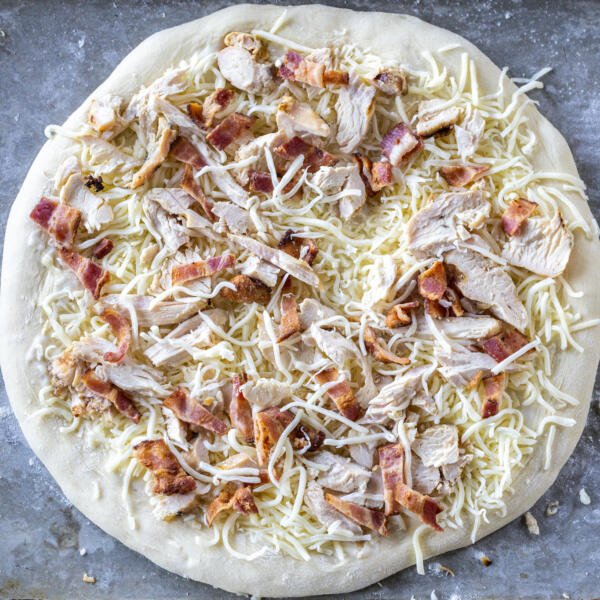 Storing & Reheating
Nothing beats fresh Alfredo sauce, but don't fret if you have leftovers that won't stay hot forever. Follow these storage and reheating tips to savor your delicious sauce again soon.
Storing: To store for up to four days, transfer the sauce to an airtight container and refrigerate.
Reheating: It's best to reheat Alfredo sauce on the stove, as this allows it to slowly warm through without the fat separating. Pour the sauce into a pan set over medium heat and stir slowly until it is warm.
Hot tip: Add a splash of water or milk to the sauce before reheating to restore its creamy, smooth texture.
FAQ
Is Alfredo sauce the same as white pizza sauce?
Alfredo sauce is not necessarily the same as traditional white pizza sauce, even though the ingredient profiles are similar. Alfredo sauce has a pourable consistency because it's usually paired with pasta, while white pizza sauce has a thicker spreadable consistency.
Is Alfredo sauce good on pizza?
Alfredo sauce is amazing on pizza! It adds a creamy texture and a rich flavor that complements an assortment of different pizza toppings.
Why is white sauce called Alfredo?
Alfredo sauce is believed to have been named after Alfredo Di Lelio, a Roman restaurant-owner who was acclaimed for his fettuccine Alfredo.
Other Sauce Recipes
Recipe
Lusciously creamy with melty Parmesan and a punch of fresh garlic flavor, this Alfredo sauce will be your new go-to pizza sauce. White-sauce lovers, rejoice!
Ingredients
3

tbsp

unsalted butter

3

garlic cloves

pressed

2

tbsp

flour

all purpose

1 1/2

cups

whole milk

1/2

cup

Parmesan cheese

grated
Nutrition Facts
Alfredo Pizza Sauce (White Sauce)
Amount Per Serving
Calories 98
Calories from Fat 63
% Daily Value*
Fat 7g11%
Cholesterol 21mg7%
Sodium 118mg5%
Potassium 82mg2%
Carbohydrates 4g1%
Protein 4g8%
Vitamin A 254IU5%
Vitamin C 0.4mg0%
Calcium 134mg13%
Iron 0.2mg1%
* Percent Daily Values are based on a 2000 calorie diet.