This 15 minute easy pizza quesadilla is loaded with mozzarella cheese, pizza sauce, and pepperoni encased in a crispy tortilla. It's a perfect meal, appetizer, or after-school snack.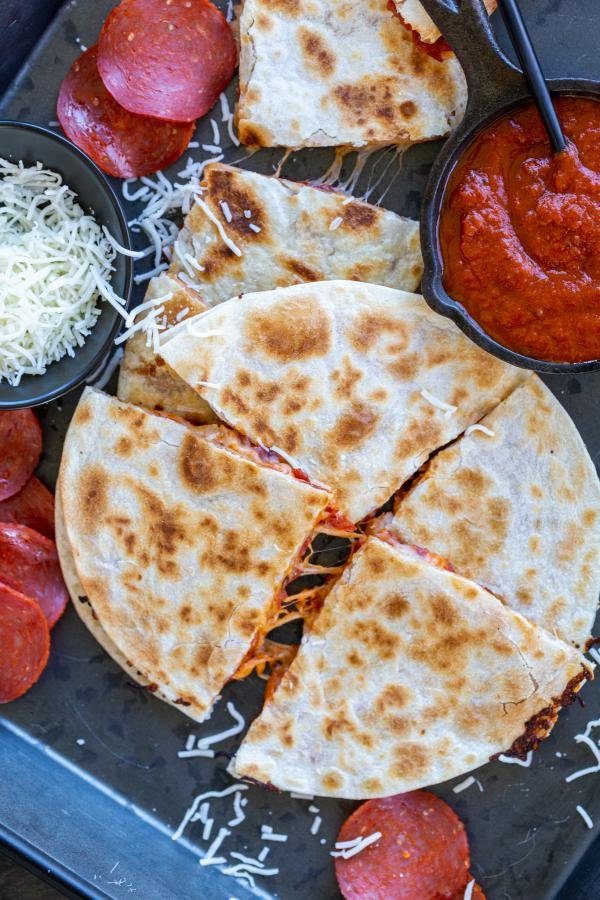 Quesadilla, literally translated as "little cheesy thing", is a tortilla folded in half and filled with cheese and/or a variety of meat or vegetables, like our chicken quesadillas. They are traditionally from Mexico, but are found on menus worldwide in large part due to how quick they cook, simplicity, and how easy it is to personalize to your own preferences. This 15 minute pizza quesadilla combines the taste and simplicity of a Mexican quesadilla with a classic American staple – pepperoni pizza.
How to Make Pizza Quesadillas
Pizza quesadillas are extremely simple and quick to make. You only need five ingredients, a skillet, and a hungry tummy to get them ready.
Cook pepperoni: Dice pepperoni into bite size pieces and cook on a skillet until crispy and golden.
Spread sauce: Spread pizza sauce onto tortilla.
Place toppings: Layer cheese and pepperoni on to pizza sauce.
Sauté: Place tortilla on pan. Fold in half and cook both sides until the quesadilla is lightly browned. Serve and enjoy!
What type of tortilla is best? Quesadillas are typically made with plain flour tortillas, but uncooked tortillas are a great alternative. You can also try gluten-free or whole wheat tortillas! For an even better taste, use our homemade tortillas.
Tips & Hacks for Pizza Quesadillas
We're not going to keep any secrets on making the perfect pizza quesadillas. Here are a few tricks you may not know.
Crisp the pepperoni: Crisp the pepperoni pieces for a satisfying crunch in each bite of quesadilla.
Layer the cheese: When adding toppings, place cheese on both sides of the filling to allow the quesadilla to better stick together.
Keep the skillet over medium heat: To avoid burning the quesadillas, sauté them over medium or medium-low heat.
Use a medium to large skillet: Use a skillet that is bigger in size than your tortillas. The quesadillas should fit well into the skillet to allow even browning.
Try this! Make your pizza quesadillas in a waffle maker! Spray the waffle maker, place one tortilla in the maker, add filling, and finally cover it with another tortilla. Close the waffle iron and wait for the cheese to start popping. This method will give you bubbly, cheesy pockets in your quesadilla. For more waffle maker hacks, check out our Waffle Hack video!
Pizza Quesadillas: Choosing the Right Toppings
These quesadillas are so versatile, they are guaranteed to please everyone. The toppings and fillings can be adjusted just like pizza toppings, making them satisfy even the pickiest eaters. Here are some ideas to get you started.
Change the cheese: Switch the mozzarella for any other cheese. Cheddar, monterey jack, and mexican blend cheeses are very popular in quesadillas. You can even mix cheeses if you'd like!
Add different meat toppings: If you like ham, bacon, or sausage on your pizza, you may like it in your quesadilla too!
Use fresh vegetables: Looking for ways to add more vegetables to your diet? Add your favorite vegetables such as diced bell peppers, onions, mushrooms, black olives, tomatoes, or spinach.
Season: Add seasonings directly from your spice drawer. Great options include garlic powder, chili powder, cumin, oregano, cilantro, and/or red pepper flakes.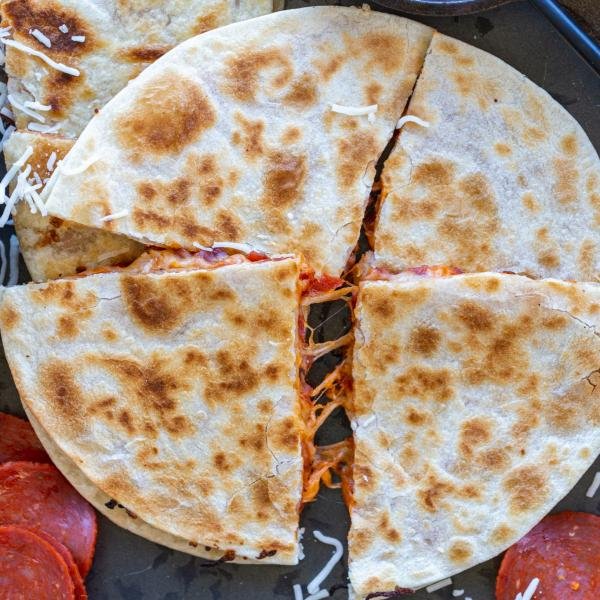 Everything You Need To Know About Serving
Pizza quesadillas are easily paired with a variety of side dishes or dips. Mix up the dishes to make it feel new each and every time.
Storing, Freezing and Reheating Pizza Quesadillas
Pizza quesadillas are great to enjoy anytime of the day. If you have leftovers or decide to make more for later, here are some storage and reheating tips.
Storing and Freezing
Refrigerating: To keep the quesadillas fresh for up to a week, store the leftovers in an airtight container in the fridge.
Freezing: For storage up to 3 months, freeze leftover quesadillas by placing them in a single layer on a baking sheet. Pop the entire baking sheet in the freezer. Once completely frozen, transfer quesadillas into plastic freezer bags.
Reheating
Quesadillas continue to taste great at room temperature or even cold (it's like eating cold pizza!), but if you want them warm, try these options.
Air fryer: Place quesadillas in an air fryer and fry until the tortilla is crispy again and cheese is melting.
Frying pan: Place a bit of butter on a pan and saute until warmed through and the tortilla is crispy.
Microwave: The quickest way to warm quesadillas is in the microwave, but be warned, the tortilla shell will likely be more soft than crispy if you use this method.
FAQ
What do you call a quesadilla with a pizza on top?
A quesadilla with a pizza on top is called a pizza quesadilla or a "Pizzadilla".
Why are my quesadillas soggy?
Quesadillas can become soggy if you use too much oil or butter when cooking. They can also become soggy after being refrigerated or frozen. To keep them crispy, serve quesadillas right away, or let them sit uncovered while you're waiting to serve.
Can pizza quesadillas be frozen?
Absolutely, pizza quesadillas can be frozen to enjoy later. However, the tortilla shell may not be as crispy on the outside after reheating compared to when enjoyed fresh. To freeze, place quesadillas in a single layer on a baking sheet and freeze the entire baking sheet. Once fully frozen, transfer quesadillas into plastic freezer bags.
What can I put in a quesadilla?
You can put almost anything in a quesadilla! The most popular cheeses are cheddar, monterey jack, mexican blend, and mozzarella. Meat options can include pepperoni, ham, bacon, sausage, chicken, and steak. For vegetables, add tomatoes, onions, mushrooms, peppers, or spinach. You can also add in any of your favorite spices, seasonings, or sauces.
How do you seal quesadillas?
The edges of the quesadilla will seal as the cheese melts. If a little cheese melts out of the quesadillas, it will fry in the pan and turn crispy and delicious.
Can I use a pizza stone to make quesadillas?
Yes, you can use a pizza stone to make quesadillas. Prepare your quesadillas as usual, and bake on a preheated pizza stone for a few minutes. For an even quicker way, use a waffle maker!
Similar Recipes
Recipe
This 15 minute easy pizza quesadilla is loaded with mozzarella cheese, pizza sauce, and pepperoni encased in a crispy tortilla. It's a perfect meal, appetizer, or after-school snack.
Ingredients
6

large flour tortillas

8

oz

mozzarella cheese

shredded

1

cup

pizza sauce

6

oz

pepperoni

sliced

3

tbsp

oil

avocado or olive
Nutrition Facts
Easy Pizza Quesadilla (Kid Favorite)
Amount Per Serving
Calories 420
Calories from Fat 279
% Daily Value*
Fat 31g48%
Cholesterol 57mg19%
Sodium 1099mg46%
Potassium 265mg8%
Carbohydrates 18g6%
Protein 17g34%
Vitamin A 432IU9%
Vitamin C 3mg4%
Calcium 246mg25%
Iron 2mg11%
* Percent Daily Values are based on a 2000 calorie diet.