This recipe for canned green tomato salad is the epitome of home canning made easy. Perfect as a spread or side dish!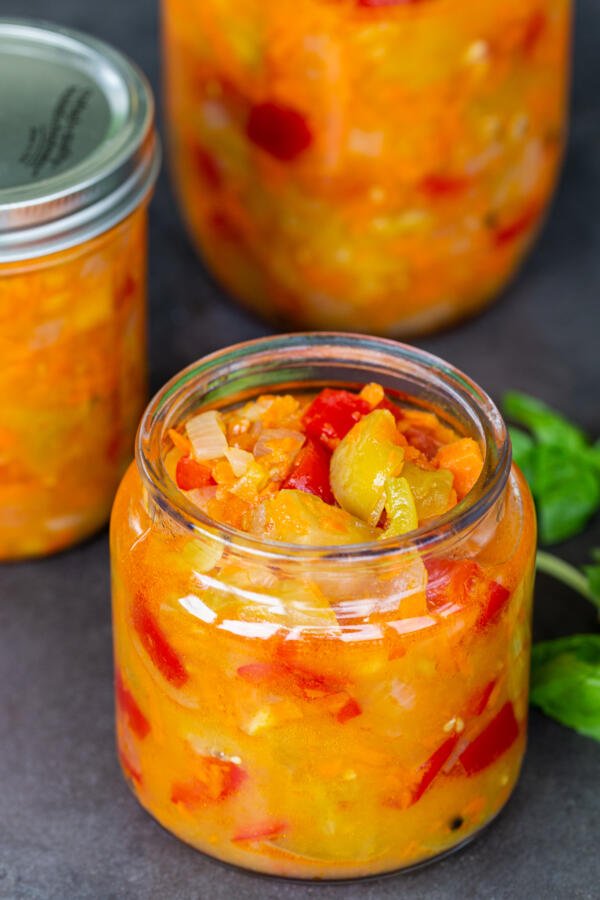 Canned green tomato salad is tangy, bright, and refreshing. Using this recipe, you'll get about 5 quarts to stow away for a rainy day. From using it as a spread for your next charcuterie board to slathering it on top of grilled meat, you won't have any problem finding ways to use it!
A few years ago, one of my Instagram friends shared this canning recipe with me. I was immediately intrigued by it, as I grew up eating tasty pickled green tomatoes from my mother's garden. This salad takes canning green tomatoes to the next level by adding carrots, red bell peppers, onions, and some simple spices.
The end result? A tasty, chutney-like spread that's perfect for so many different occasions. This is especially true for hectic weekday cooking, last-minute hosting, or holiday spreads (it goes amazing on Thanksgiving turkey!).
How to Make Canned Green Tomato Salad
Making canned tomato salad only requires a couple simple steps and a little patience. Below, find a quick overview of the recipe before you dive in and start canning.
Prep the Veggies: Using a sharp knife, dice the onions, tomatoes, and bell peppers into 2-inch cubes. Next, shred the carrots on the largest side of a standard cheese grater.
Sauté the Veggies: In a large pot, sauté the onions in a bit of oil. Next, sauté the carrots, followed by the bell peppers.
Add the Tomatoes & Marinade: Add the diced tomatoes to the pot, followed by the salt, sugar, vinegar, and black peppercorns. Allow the salad to simmer over low heat for about 15 minutes.
Sterilize the Canning Jars: To sterilize the wide-mouth canning jars, first wash them with hot water and antibacterial soap. In an oven preheated to 215°F, place the jars on the oven racks for about 15 minutes or until they are completely dry.
Fill the Jars: Pour the salad into the jars while it's still super hot. Seal the lids finger tight, turn the jars upside down, cover them with a towel, and let them sit for 4-5 hours to seal.
Tips for Making the Best Canned Tomato Salad
Below, find a collection of pro tips to help you make the perfect canned tomato salad.
Use the freshest tomatoes you can find. In-season, farmer's market tomatoes taste so much better than store bought. They also tend to be cheaper to buy in bulk!
Make sure the jars are completely sterilized before canning. You'll want to make sure you've washed the jars thoroughly in hot water and antibacterial soap. Then, allow them to completely dry out in the oven at 215°F to rid them of any excess moisture. This will be key to keeping bacteria out of your salad!
Use white distilled vinegar for the best taste. White distilled vinegar is the best for canning. In a pinch, you could use apple cider vinegar, but keep in mind it adds a little sweetness to the salad.
Serving Tomato Salad
You can serve canned green tomatoes as a small side salad or topper to your favorite protein or grain. It goes wonderfully on top of creamy mashed potatoes, buckwheat, quinoa, or steamed white rice. In terms of protein, you can place a dollop of it on top of grilled chicken, air fryer pork chops, or ribeye steaks. It's also a unique spread to serve alongside crackers or toasted bread on your next antipasto or charcuterie board.
Storing Canned Tomato Salad
Store canned green tomatoes in a cool, dry place for up to 3-6 months. For example, the bottom shelf of your pantry or cupboard. Once you open a jar, plan to keep it refrigerated and to use it within three weeks or transfer it to a freezer-safe plastic bag for freezing.
Similar Recipes To Try
Recipe
This recipe for canned green tomato salad is the epitome of home canning made easy. Perfect as a spread or side dish!
Nutrition Facts
Canned Green Tomato Salad
Amount Per Serving
Calories 175
Calories from Fat 81
% Daily Value*
Fat 9g14%
Sodium 880mg37%
Potassium 471mg13%
Carbohydrates 23g8%
Protein 2g4%
Vitamin A 7899IU158%
Vitamin C 77mg93%
Calcium 39mg4%
Iron 1mg6%
* Percent Daily Values are based on a 2000 calorie diet.