This salmon mushroom recipe features a tender fillet topped with thinly sliced mushrooms and a layer of grated cheese. Unique, savory, & so comforting!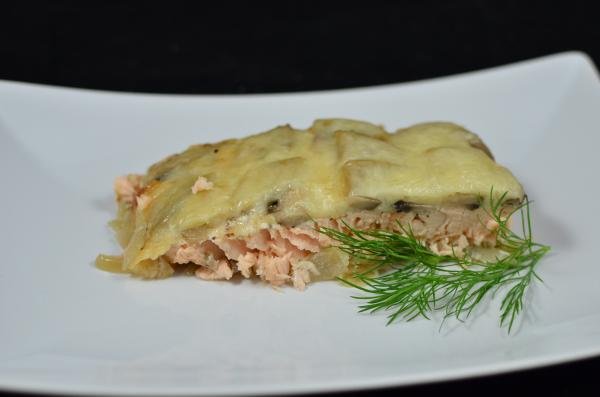 This salmon mushroom recipe is the definition of decadence. Each layer complements the next so well and it's entirely too easy to go back for seconds (and thirds!). Whether you're hosting a party for seafood lovers or just looking to add a unique salmon recipe to your regular rotation, you've found the right corner of the internet.
Different Kinds of Mushrooms to Use
For this salmon mushroom recipe, you'll need to use fresh sliced mushrooms. Here's our top picks:
Preparing this Cheesy Baked Salmon Mushroom Recipe
Preparing this recipe only requires 8 ingredients and a bit of mild prep before you let the oven work its magic.
Handy Tips to Nail this Salmon Bake
From our kitchen to yours, find our top 3 tips to help you nail this salmon mushroom recipe.
Ideas for Serving
For a well-rounded meal, serve the salmon mushroom recipe alongside mashed potatoes made with butter and heavy cream. If you're trying to go a bit lighter, serve the salmon on a bed of quinoa or buckwheat. It also pairs wonderfully with a classic garden salad.
Make-Ahead, Storing, & Reheating Tips
Not only can this salmon mushroom recipe be made a day in advance, it also reheats wonderfully.
FAQ
Should you bake the salmon covered or uncovered?
It's best to bake the salmon covered with aluminum foil to lock in the moisture and prevent the cheese from burning.
Is it better to cook salmon on foil or on parchment paper?
You don't need to lay aluminum foil or parchment paper down underneath the salmon. The juices from the onion will keep it from sticking naturally!
Can you skip the mushrooms all together?
Yes! You can skip the mushrooms. The cheese crust is delicious all on its own!
Can you use a different kind of fish?
Feel free to use arctic char or steelhead trout instead.
Other Tasty Seafood Recipes to Try
Recipe
This salmon mushroom recipe is cheesy, savory, and so moist. Crazy easy and baked in the oven until bubbly perfection, you'll be hooked on the first bite.
Nutrition Facts
Salmon Mushroom Bake Recipe
Amount Per Serving
Calories 307
Calories from Fat 171
% Daily Value*
Fat 19g29%
Cholesterol 94mg31%
Sodium 249mg10%
Potassium 652mg19%
Carbohydrates 2g1%
Protein 30g60%
Vitamin A 331IU7%
Vitamin C 1mg1%
Calcium 221mg22%
Iron 1mg6%
* Percent Daily Values are based on a 2000 calorie diet.