Make dinner spectacular with these spinach stuffed shells filled with three cheeses, frozen spinach, and marinara sauce. It's a five-star worthy dinner!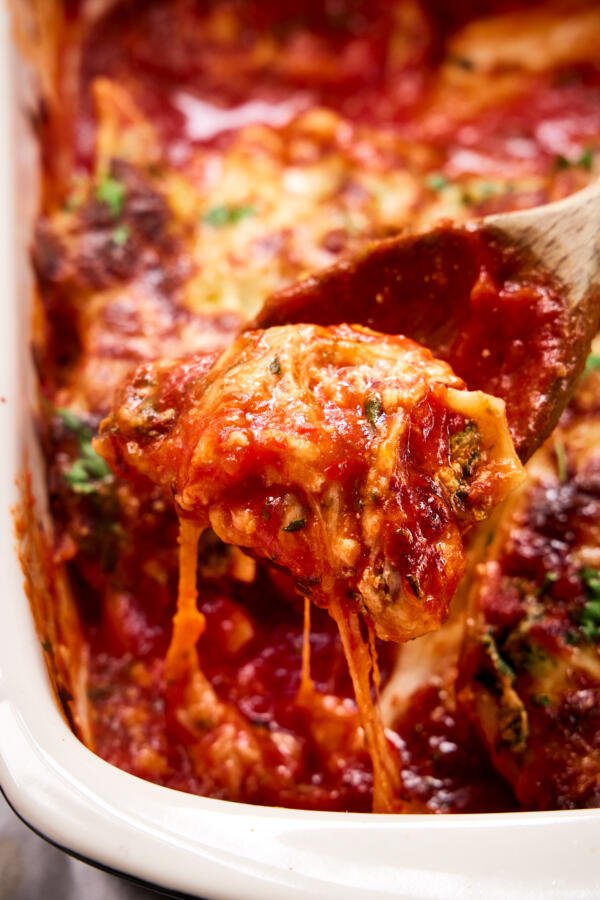 What are Spinach Stuffed Shells?
Spinach stuffed shells are a spin-off of Italian conchiglioni. Large shell-shaped pasta are packed with three different types of cheeses, seasoned with Italian seasoning, then baked in a savory marinara sauce. The spinach stuffed shells come out perfectly cheesy, filling, and comforting.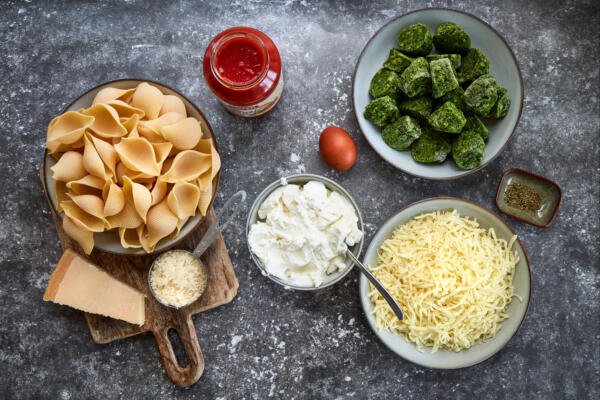 How to Make Spinach Stuffed Shells
Before assembling the stuffed shells, you'll need a boiling pot of water to cook the shells in, a large bowl, and a baking or casserole dish. To speed up the process, shred the cheese and thaw and squeeze out extra juices from the frozen spinach.
Cook the shells: Boil salted water and cook the shells al dente, or four minutes short of package instructions. The shells will cook further in the oven.
Combine the filling: In a large bowl, stir together the ricotta, parmesan cheese, one cup of mozzarella cheese, Italian seasoning, egg, and spinach.
Spread the marinara sauce: Spread 12 ounces of the marinara sauce on the bottom of a 9×13 baking dish.
Fill the shells: With a spoon, fill each shell with the spinach ricotta mixture and place it into the baking dish.
Top the shells: Top the stuffed shells with the remaining marinara sauce and mozzarella. Cover the dish with a lid or aluminum foil.
Bake: Bake at 375°F for 15 minutes. Remove the lid and bake for another ten minutes or until the cheese topping is lightly golden.
Hot tip: Place the shells seam up in the baking dish so the filling doesn't leak out.
Stuffed Shell Recipe Variations
For an even more exciting dish, change or add a few simple ingredients.
Add protein: For more meaty flavors, mix in cooked Italian sausage or ground beef to the filling.
Spice it up: Spice the shells up with a hint of heat. Add red pepper flakes to the filling.
Swap out the marinara: Replace the marinara sauce with our homemade alfredo sauce for an even creamier texture.
Substitute the shells: Instead of jumbo pasta shells, use jumbo tubes.
Change out the ricotta: If you're out of ricotta, cottage cheese is a reasonable substitute. When using cottage cheese, strain off as much excess liquid as possible. For an all-cheese stuffed shell recipe, try these cheese stuffed shells.
Garnish the tops: Garnish the stuffed shells with fresh basil or other fresh herbs for more flavor and a restaurant-worthy look.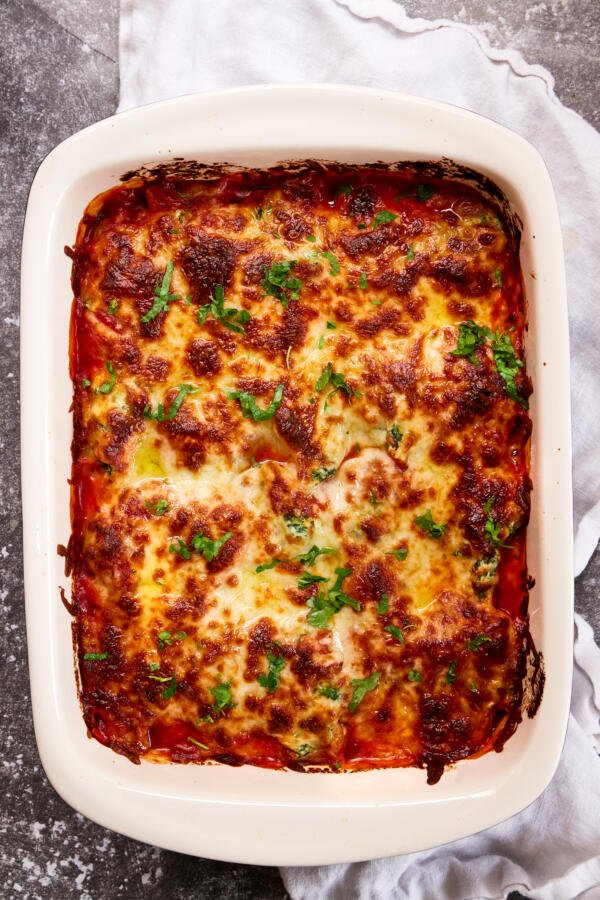 Tips from the Kitchen
We believe there shouldn't be any secrets when it comes to a good recipe. Here are our top tips for this spinach stuffed shells recipe.
Thaw and squeeze the spinach: Frozen spinach tends to have a lot of moisture, which makes the filling soggy. To avoid this, thaw and squeeze out as much excess liquid as possible from the spinach before mixing with the cheeses.
Avoid using fresh spinach: Similar to frozen spinach before it is squeezed, fresh spinach also has a lot of moisture. As it cooks in the oven, fresh spinach will make the filling soggy and more watery than desired.
Chop the spinach (optional): If you like little bits of spinach instead of whole leaves in the shells, chop the frozen spinach first.
Cook the shells al dente: Avoid overcooking the pasta shells. Cook them al dente, or until slightly firm. Drain the water and set aside until ready to stuff. Overcooked shells are hard to fill without falling apart.
Ways to Serve
Spinach stuffed shells check the box for the hearty and filling component to your meal — but to add more veggies to your diet, pair the shells with a side salad or plate of veggies. We love the simplicity of a caesar salad or fresh avocado salad. Or, to simplify it even more, make a simple and quick side of oven roasted brussels sprouts or baked parmesan asparagus. Then, add a side of (almost) whole wheat sourdough bread to finish up the meal!
Storage + Reheating
Stuffed shells taste the best when fresh, but leftovers are easily enjoyed for a few days when stored properly.
Refrigerator: Store baked shells for up to three to five days in the fridge. Allow the shells to cool after baking, then place in an airtight container into the fridge.
Freezer: To freeze uncooked shells, stuff them with the filling, place shells in a container, then freeze for about two hours. Once frozen, transfer shells into a zip-lock bag or freezer container. To freeze cooked stuffed shells, transfer to an airtight container and freeze for up to three months.
Reheating: To reheat a small portion, microwave it until warm. For larger portions, place them in the oven at 375°F and bake until warmed through.
Hot tip: To bake frozen shells, pour marinara into a baking dish, place frozen shells into the sauce, then bake.
FAQ
Why are my spinach stuffed shells soggy?
Stuffed shells can become soggy when the excess liquid in the spinach was not squeezed out, or if fresh spinach was used. Also, it is possible that the shells were overcooked or the ricotta cheese has too much liquid. Next time, strain the excess liquid from the ricotta cheese or remove it with a dry paper towel.
What's the difference between stuffed shells and stuffed manicotti?
Manicotti are long pasta tubes whereas stuffed shells typically use conchiglioni, a seashell-shaped pasta. Both types of pastas are often stuffed.
Do frozen stuffed shells need to be defrosted before baking?
Frozen shells can be baked straight from frozen or thawed in the refrigerator. When baking frozen shells, keep in mind it will take longer to cook.
More Pasta Recipes
Recipe
Make dinner spectacular with these spinach stuffed shells filled with three cheeses, frozen spinach, and marinara sauce. It's a five-star worthy dinner!
Ingredients
24

oz

jumbo pasta shells

15

oz

ricotta cheese

1/2

cup

parmesan cheese

shredded

3

cups

mozzarella cheese

shredded

1

tbsp

Italian seasoning

1

large egg

16

oz

frozen spinach

thawed and squeezed

24

oz

marinara sauce
Nutrition Facts
Spinach Stuffed Shells
Amount Per Serving
Calories 605
Calories from Fat 180
% Daily Value*
Fat 20g31%
Cholesterol 85mg28%
Sodium 866mg36%
Potassium 747mg21%
Carbohydrates 74g25%
Protein 32g64%
Vitamin A 7626IU153%
Vitamin C 9mg11%
Calcium 512mg51%
Iron 4mg22%
* Percent Daily Values are based on a 2000 calorie diet.