This salad features juicy pears and roasted walnuts tossed in a tangy balsamic vinaigrette. You'll be astounded at the impressive blend of flavors!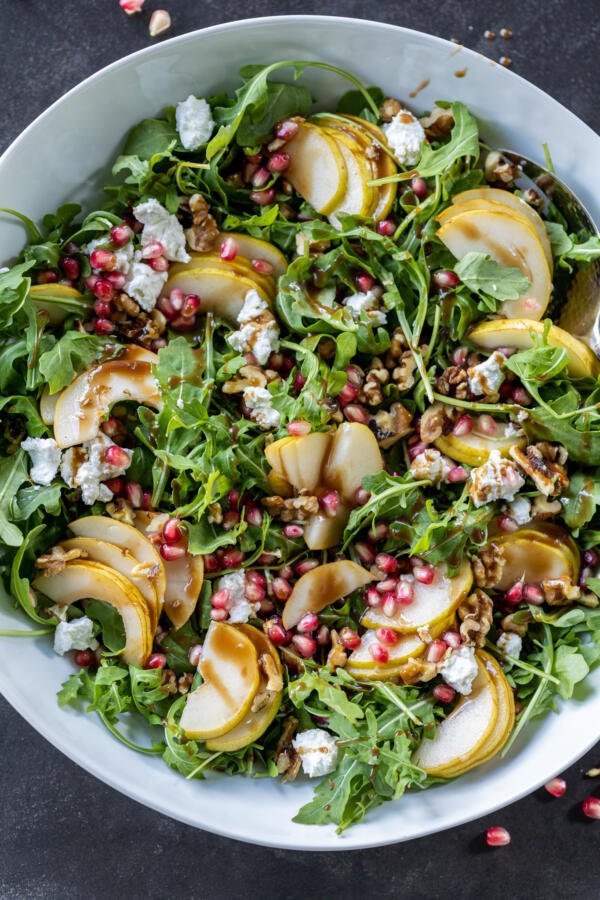 What Is Pear and Walnut Salad?
A pear and walnut salad is a simple and refreshing salad known for its combination of sweet pears and crunchy walnuts. Other common ingredients include arugula, pomegranate arils, and crumbly goat cheese. The flavors are beautifully brought together with a tangy balsamic dressing, resulting in an incredible array of flavors fit for a weeknight dinner or as part of a holiday spread.
How To Make Pear and Walnut Salad
This fancy salad is surprisingly simple to make. All it takes is to prepare the ingredients, make the dressing, and assemble it all together. Within 15 minutes, you'll be munching on a delicious salad!
Prepare the ingredients: Prepare the ingredients by slicing the pears easily with a mandoline slicer and deseeding the pomegranate (or buy prepared pomegranate arils). Chop the roasted walnuts and crumble the goat cheese into small pieces.
Make the dressing: Combine the balsamic dressing ingredients in a prep bowl and whisk together. Or, add the ingredients in a small jar with a lid and shake until well combined.
Assemble the salad: Assemble the salad by layering arugula, then the pears, walnuts, goat cheese, and pomegranate arils in a large bowl. Drizzle the dressing on top and toss to combine.
Hot tip: To save time and energy, buy pomegranate arils at the store instead of the entire fruit.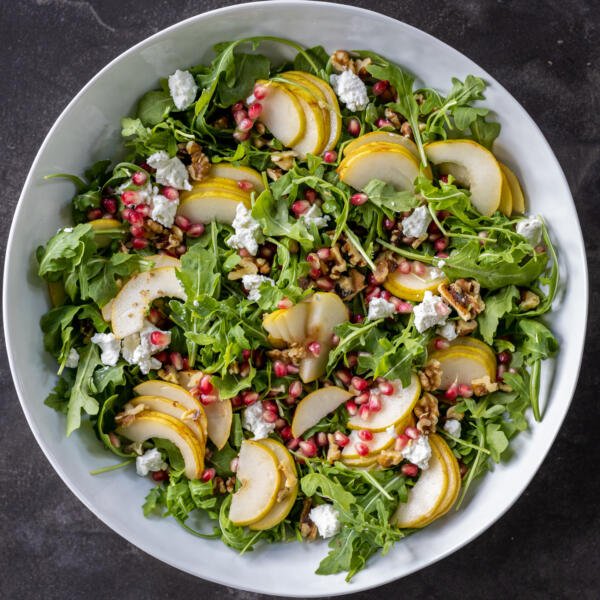 Tips for the Most Flavorful Salad
Every recipe benefits from a few tips to make it the best. Here are our tips to enhance your pear and walnut salad and leave you (and your family) coming back to make the salad regularly.
Toast the walnuts: For the best flavor, toast the walnuts in the oven or on the stovetop. In a preheated oven set to 350°F, roast them on a pan for seven to ten minutes and occasionally give them a good stir. Alternatively, use your stove to roast the walnuts in a skillet over medium heat for two to five minutes, stirring them a few times.
Use ripe pears: Pick ripe pears to use in the salad. Our favorites are Bartlett or Bosc pears for the juicy and sweet taste.
Dress and toss the salad right before serving: For the most crisp and fresh salad, toss the ingredients with the dressing right before serving. Otherwise, the salad may become more soggy than desired.
Tasty Ingredient Swaps
Are goat cheese or arugula not your thing? Swap a few ingredients to make the salad more in-tune with your personality without sacrificing flavor. See our recommendations for substituting ingredients without sacrificing any flavor.
Arugula: Swap the arugula with your favorite baby greens. Spinach, swiss chard, kale, or collard greens are tasty substitutions. Or, use a spring mix for extra flavor.
Goat cheese: Switch out the earthy taste of goat cheese for salty blue cheese or tangy feta.
Walnuts: Use pecans in place of walnuts if that's what you have on hand. Both types taste great with pears, and both are great roasted.
Pears: If you're not a fan of pears, substitute this fruit with delicious sweet apples.
Pomegranate: Swap the pomegranate arils for dried cranberries. Dried cranberries are also sweet and add a lovely pop of color.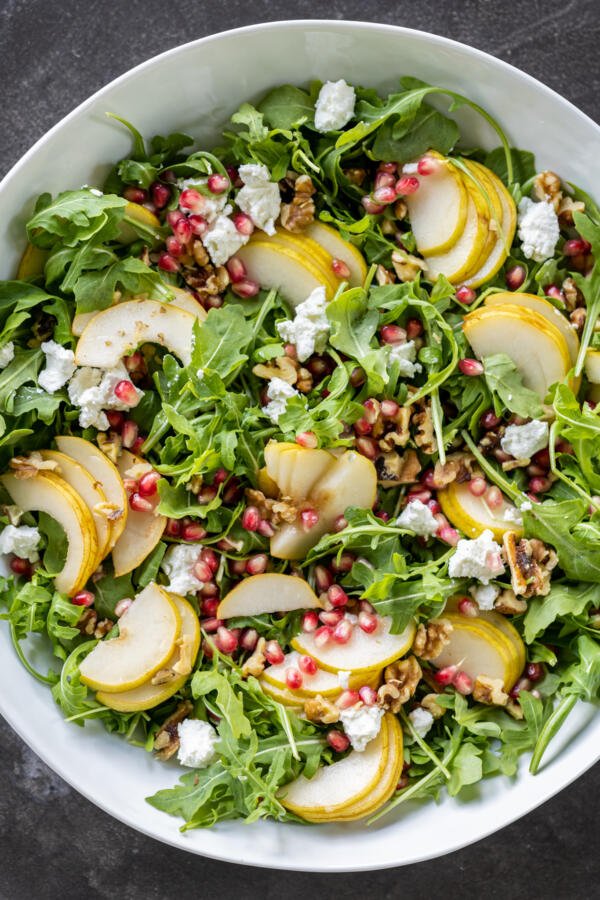 Serving Suggestions for Flavorful Combinations
This pear and walnut salad makes a lovely light lunch or dinner. For a dose of protein, add shredded chicken or chopped chicken breast to the salad. If you plan to host, this colorful salad will impress all of your guests. Serve it as a side dish with easy spatchcock chicken or ribeye steak made in the oven. To complete the meal, include a side of carbs like garlic mashed potatoes or creamed potatoes with herbs for a restaurant-worthy dinner. Five-star ratings, here we come!
Storing the Salad & Dressing
In case you want extra salad to save for later, keep the dressing and salad stored separately. Drizzle the dressing onto the salad right before serving.
Salad mix: Store the salad mix for up to three days in an airtight container in the fridge.
Balsamic dressing: Keep the homemade salad dressing stored for up to seven days in a closed jar in the refrigerator. Make sure to shake up the dressing before using it!
FAQ
What nuts go with pears?
Walnuts, pecans, or almonds complement the pears well in any pear dish, including pear and nut salad.
What is the difference between pear and walnut salad and Waldorf salad?
The difference between a pear and walnut salad and a Waldorf salad lies in the ingredients. A pear and walnut salad is primarily made of greens, pears and walnuts whereas a Waldorf salad consists of greens, celery, apples, walnuts and grapes tossed in a mayo dressing.
More Satisfying Salads
Recipe
This salad features juicy pears and roasted walnuts tossed in a tangy balsamic vinaigrette. You'll be astounded at the impressive blend of flavors!
Ingredients
10

oz

baby arugula

1/2

cup

roasted walnuts

2

large pears

2

oz

goat cheese

1

cup

pomegranate arils
Instructions
Balsamic Dressing
Nutrition Facts
Pear and Walnut Salad Recipe (15 Minute)
Amount Per Serving
Calories 180
Calories from Fat 126
% Daily Value*
Fat 14g22%
Cholesterol 3mg1%
Sodium 80mg3%
Potassium 231mg7%
Carbohydrates 12g4%
Protein 4g8%
Vitamin A 918IU18%
Vitamin C 8mg10%
Calcium 81mg8%
Iron 1mg6%
* Percent Daily Values are based on a 2000 calorie diet.