This arugula caprese salad is as delicious as it is bright and colorful. Just like a classic caprese salad with the addition of peppery arugula!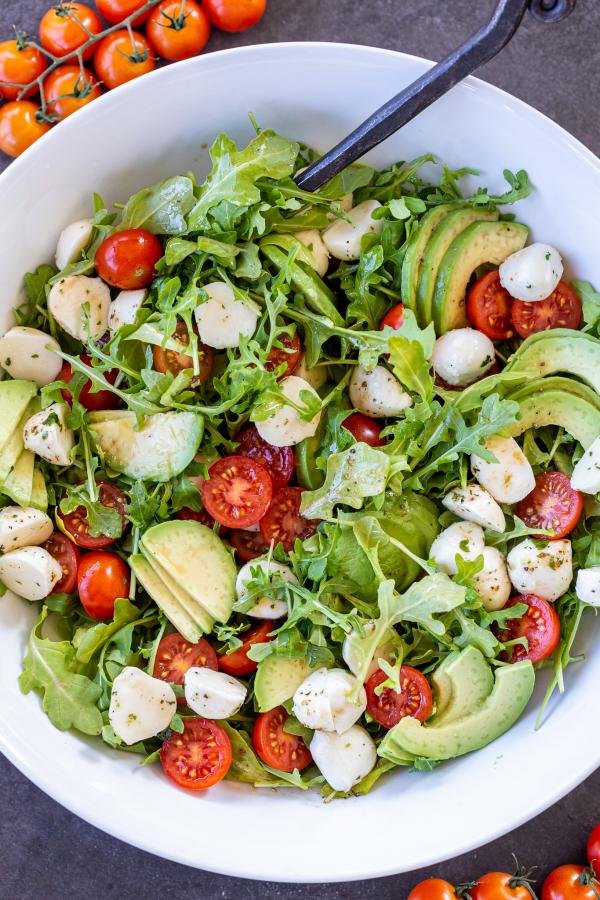 I'm obsessed with classic caprese salad. However, I find that it's a little tempting to want to eat serving after serving of the famous Italian appetizer. It's almost too easy to forget that you've eaten nearly a block of cheese to yourself! That's why I created this salad – to add a little greens to balance out the decadent mozzarella.
What's an Arugula Caprese Salad?
An arugula caprese salad contains all the usual suspects of a classic caprese (sans the basil) and lays them on top of a bed of arugula. Below, find a quick rundown of the flavor, texture, and time it takes to pull this salad together.
Flavor: This salad is a trifecta of nutty mozzarella and avocado, sweet tomatoes, and arugula. All three flavors are brought together seamlessly with a slightly sweet, slightly salty vinaigrette.
Texture: This salad isn't short on texture – you'll get forkfuls of creamy mozzarella and avocado, juicy tomatoes, and crunchy arugula.
Time: From prep to table, this salad only takes 15 minutes.
Assembling Arugula Caprese Salad
Assembling this arugula caprese salad is so simple you can hardly call it a recipe. Below, find a quick rundown of the recipe before you dive in.
Make the Dressing: Whisk the olive oil, honey balsamic vinegar, sea salt, black pepper, and lemon juice together. Set it aside.
Dice the Cheese & Veggies: Dice the mozzarella cubes and the avocados into thin slices. Next, slice the cherry tomatoes in half.
Assemble the Salad: Place the arugula onto a serving platter or in a large bowl and top it with the avocado, mozzarella, and cherry tomatoes. Drizzle the dressing on top and give the salad a good toss. Enjoy immediately!
Hot Tip: Tired of soggy salads? Invest in a salad spinner to wick off any excess moisture off your lettuce post-rinse – and fast. I've been using this one for years.
Ingredients for Arugula Caprese Salad
The key to a great arugula caprese salad is to use the freshest salad ingredients possible. Below, find a quick overview of the short ingredient list and a few helpful pointers for the grocery store.
Arugula – Fresh baby arugula adds such a nice subtle spice to the salad. If you don't like it, swap it out for spinach or your favorite salad greens.
Cherry Tomatoes – Cherry tomatoes are sweeter than full-size tomatoes and pop in your mouth when you bite into them. Opt for a multi-color variety to add more dimension to your salad. If you can't find cherry tomatoes, grape tomatoes will work just as well.
Avocado – Use a ripe, yet still firm avocado. If your avocados are super hard, place them in a paper bag with a couple of apples overnight. This magic trick will soften them right up!
Fresh Mozzarella – Use whole-packed fresh mozzarella or small mozzarella cheese balls.
Olive Oil – Use high-quality, 100% olive oil. Nothing compares to the taste over cheaper blends!
Balsamic Honey Vinegar – You can find honey-infused balsamic vinegar in most grocery stores or on Amazon. It's sweet and salty!
Lemon Juice – Fresh lemon juice adds just the right amount of citrus to the dressing.
Salt & Pepper – Add the salt and pepper to the dressing last and adjust to taste. If you like it a bit more spicy, add a few more cracks of pepper.
Pasta Salad Hack: Double up the dressing and toss the salad with your favorite pasta. Yum!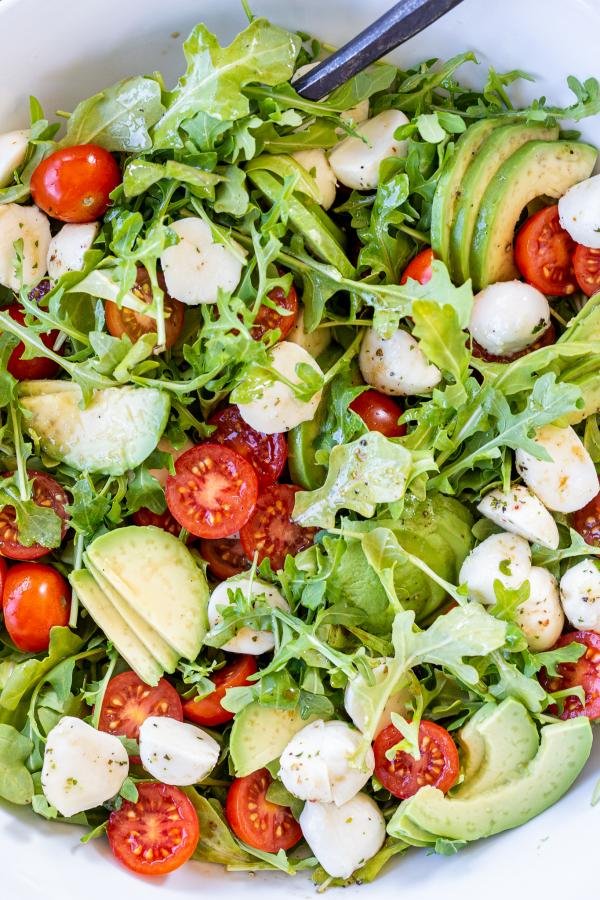 Tasty Proteins to Add
If you don't plan on serving this arugula caprese salad as a side, top it with your favorite protein for a filling meal. Below, find some tasty options to inspire you:
Storage Tips
Once the salad has been tossed, it should be eaten within 2-3 hours. If you'd like to keep it on hand longer, store the dressing in a sealable canning jar or airtight container and toss it only before you plan to serve. The dressing should stay fresh for up to two weeks when stored properly.
FAQ
What makes a caprese salad a caprese salad?
The key components of any caprese salad are tomatoes, basil, and mozzarella. But, like with this arugula salad, you can toss in other complimentary ingredients like prosciutto, olives, red onion, and beyond to get more creative.
What's the difference between bruschetta and caprese salad?
Bruschetta consists of tomatoes, basil, olive oil, salt, and pepper made into somewhat of a salsa-like consistency and served on bread. On the other hand, caprese consists of tomatoes, basil, and mozzarella made into either a stacked or tossed salad.
How should you slice the mozzarella for arugula caprese salad?
If you're using mozzarella balls, you can keep them whole or slice them in half. If you're using fresh brick mozzarella, slice it into bite-sized pieces.
How should you cut the tomatoes for arugula caprese salad?
If you're using cherry tomatoes, it's best to slice them in halves. If you're using bigger tomatoes, like romas or heirlooms, slice them into bite-sized pieces.
Other Tasty Salads to Try
Recipe
This arugula caprese salad is made with juicy tomatoes, creamy mozzarella, buttery avocado, and a tangy vinaigrette. Crazy easy and so good!
Ingredients
2

cups

arugula

2

large avocados

1

cup

cherry tomatoes

1

cup

fresh mozzarella cheese
Nutrition Facts
15-Minute Arugula Caprese Salad
Amount Per Serving
Calories 160
Calories from Fat 126
% Daily Value*
Fat 14g22%
Cholesterol 11mg4%
Sodium 168mg7%
Potassium 319mg9%
Carbohydrates 6g2%
Protein 4g8%
Vitamin A 379IU8%
Vitamin C 11mg13%
Calcium 88mg9%
Iron 1mg6%
* Percent Daily Values are based on a 2000 calorie diet.