These tuna melts consist of a slice of bread topped with a creamy mayo, tuna, veggie, and cheese mixture. Get ready for an easy and satisfying lunch!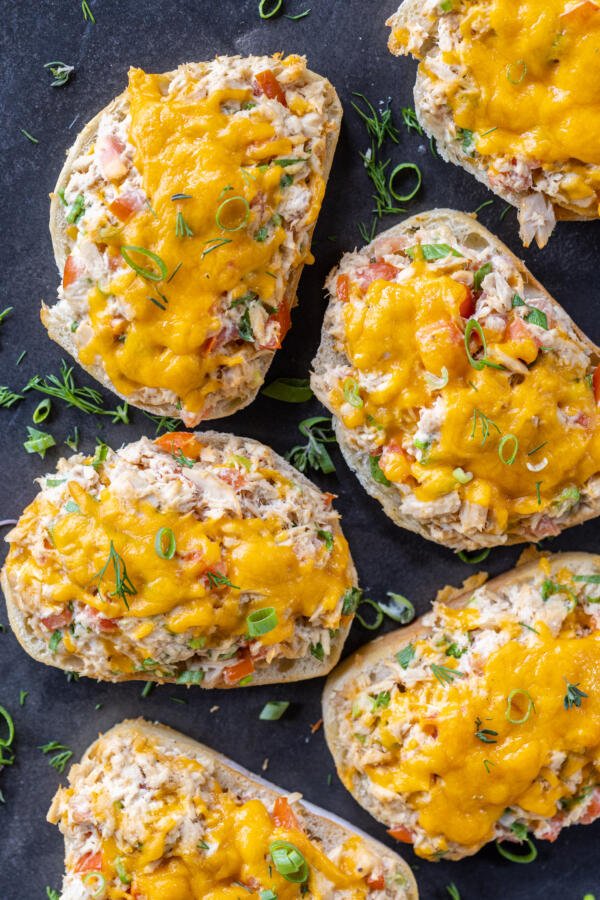 What Is a Tuna Melt?
A tuna melt is a sandwich, often open-faced, with the toppings spread on a single slice of bread. Its most popular topping consists of a canned tuna, veggie, and cheese mixture held together with mayo. These sandwiches are baked in the oven until they transform into a deliciously gooey, cheesy tuna melt.
How To Make Tuna Melts
Tuna melts are crazy easy to make. Start with a good quality tuna for optimal flavor. Our favorite is solid white Albacore (Kirkland Signature brand), sold at Costco.
Drain the tuna: Drain the liquid from the tuna and place it into a bowl. Break apart the tuna with a fork.
Combine the ingredients: Add all of the ingredients to the tuna. Mix until well combined.
Assemble the melts: Portion the tuna mixture onto each slice of bread to assemble the melts.
Bake: In a preheated oven at 400°F, bake for 5-10 minutes. Garnish with herbs and enjoy!
Hot tip: Prepare the tuna mixture a day before assembling the melts to save time!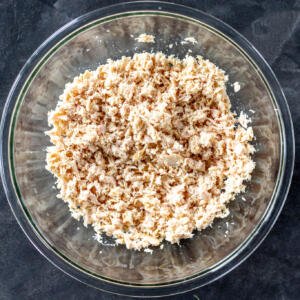 Open-Faced vs Closed Sandwich
Tuna melts are typically open-faced (meaning only one slice of bread is used); however, it's a personal preference whether to serve them open-faced or closed. Closed tuna melts require a second slice of bread.
If making a closed tuna melt, a great option is to make it into a "panini melt". Lightly butter the outside of the bread and use a panini press to grill the melts until they're golden brown in color.
What Bread Is Best for Tuna Melts?
Thick, crusty bread works best for tuna melts. The slices of bread should be thick to prevent soggy melts. For easy and clean slices, use a bread knife. Sourdough bread or easy dutch oven bread are great options along with french bread or sourdough sandwich bread. Sourdough english muffins also make an excellent sturdy base for tuna melts.
Hot tip: Swap the bread for halved bell peppers for a carb-free option. Bake at 400°F for 15-20 minutes or until softened.
Tips for Tasty Tuna Melts
Everyone loves a good tuna melt sandwich. Follow these tips to ensure flavorful, tasty melts.
Toast the bread: Toast the sliced bread before loading on the tuna mixture to prevent flimsy and soggy bread.
Broil the melts: For extra crisp melts, broil them for one to two minutes after baking. Be careful not to burn them!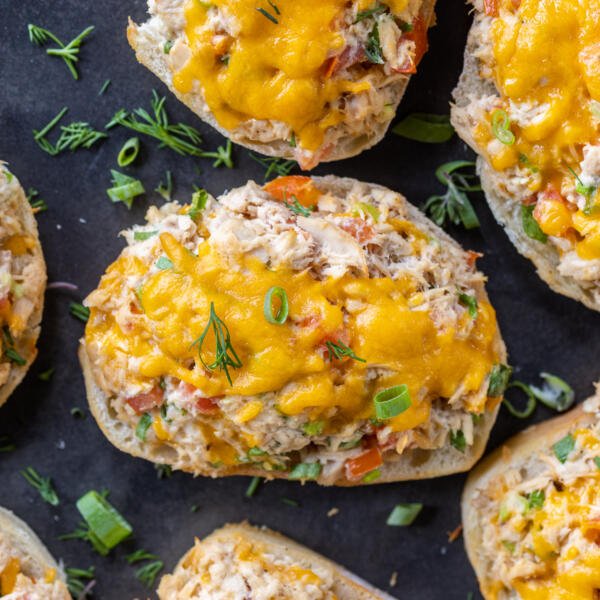 Tuna Melt Add-Ins & Substitutions
Tuna melts are made with simple ingredients that create a delicious melt. Feel free to add or swap the ingredients for a variation in flavor.
Cheese: Combine a few varieties of cheese for enriched flavor or swap the cheddar cheese with colby, provolone, or Monterey jack.
Veggies: Add chopped celery for a lovely crunchy texture. Swap the green onions for purple onions to add a pop of color and vibrant flavor.
Boiled eggs: Make a few hard-boiled eggs and use this slicer to easily cut the egg into pieces. Add to the tuna mixture for a protein-rich melt.
Herbs: Garnish the melts with chives or parsley for a fresh, herby flavor.
What To Serve With Tuna Melts
Keep it simple and serve the tuna melts with fruit, veggies, fries or chips. For a refreshing, light balance to the creamy melts, serve pickled cucumbers or a garden salad. Add air-fryer french fries or potato chips for a satisfying carby side. Pasta salads are also a perfect pair with melts — like our pesto pasta salad or Italian pasta salad.
Storage & Reheating
Store leftover tuna melts in the fridge in an airtight container. Eat them up within one to two days for optimal flavor and texture. Enjoy the melts cold, or reheat them in the toaster oven or oven at 350°F until heated through.
FAQ
What cheese goes with tuna?
Cheeses that tastes best with tuna are cheddar cheese, colby, provolone or Monterey Jack. These cheeses add mild flavor that balances well with tuna.
What is a tuna melt sandwich made of?
Tuna melt sandwiches are commonly made with seasoned canned tuna, veggies, and cheese mixed together with mayo. The tuna mixture is placed on top of a slice of bread and baked until hot and the cheese is melty.
What is a tuna melt?
A tuna melt is a tuna sandwich with cheese that is baked until the cheese is gooey and melted.
What goes well with a tuna melt sandwich?
Side dishes that taste great with tuna melts include chips, dill pickles, or salads. Besides garden salads, potato or pasta salads are also great options.
More Delicious Sandwiches
Recipe
These tuna melts consist of a slice of bread topped with a creamy mayo, tuna, veggie, and cheese mixture. Get ready for an easy and satisfying lunch!
Ingredients
21

oz

canned tuna fish

drained

1/3

cup

mayonnaise

1

large tomato

diced

6

oz

cheddar cheese

shredded

1/4

cup

green onions

chopped

1

tsp

salt

adjust to taste

1

tsp

ground black pepper

8

bread slices
Nutrition Facts
Tuna Melt Recipe (Extra Good)
Amount Per Serving
Calories 219
Calories from Fat 126
% Daily Value*
Fat 14g22%
Cholesterol 19mg6%
Sodium 638mg27%
Potassium 119mg3%
Carbohydrates 15g5%
Protein 9g18%
Vitamin A 354IU7%
Vitamin C 3mg4%
Calcium 202mg20%
Iron 1mg6%
* Percent Daily Values are based on a 2000 calorie diet.