This garlic bread sandwich is perfect for summertime picnics at the park or school lunches. Made with creamy avocado, deli meat, cheese, and fresh veggies!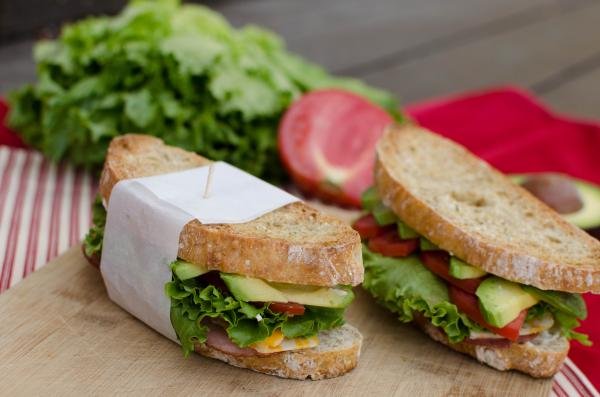 This garlic bread sandwich combines two childhood favorites together – sandwiches AND zesty garlic bread! It's the perfect snack to whip up when it's too hot to be in the kitchen all day or when you want to pack a filling treat for an outdoor adventure (hello, mid-hike yumminess!).
Different Kinds of Bread to Use
We love using classic sourdough or white bread for this recipe, but feel free to use your favorite brand. Or, if you're up to it, make either of these breads homemade:
Have a panini press griddle or toaster oven? You can make the garlic toast in it instead of the oven.
How to Make a Garlic Bread Sandwich
After you broil the garlic bread, making this tasty sandwich just requires some light assembly.
Broil the Bread: Slice the bread and season it with garlic salt and olive oil. Broil until golden brown.
Stack on the Fillings: Spread the bread with mayo on both sides. Top one slice with a couple slices of deli meat, followed by layers of cheese, tomatoes, avocado, and lettuce.
Assemble the Sandwiches: Place the other piece of bread on top (make sure the crispy side is facing up). Enjoy!
A Couple of Tips & Tricks for Sandwich-Making
A couple handy tips will help you make a deli-worthy sandwich.
Swap the garlic salt for fresh garlic. If you're a garlic lover and want the flavor to come through strongly, you can swap the garlic salt for marinated minced garlic or roasted garlic, a little salt, and olive oil.
Broil the bread right on the oven rack. To get the bottom a little crispy as well, broil the bread slices directly on the oven rack versus on a baking sheet.
Use thin slices of bread. For the best texture and a sandwich that's not too big to bite, use 1/4-inch thick bread slices.
Add in your favorite ingredients. Tweak the sandwich fillings with your favorite produce, pickled veggies and cheeses (like our homemade cheese). You can't go wrong!
Hot Tip: Add a sprinkle of parmesan cheese to the garlic toast before broiling for an extra punch of flavor.
Different Sides to Pair with a Garlic Bread Sandwich
Whether you're packing up for a picnic or making your kids' lunches for school, here are some tasty sides to pair with your sandos.
Olivier Potato Salad – This salty, Slavic-style potato salad is a refreshing spin on typical American potato salad.
Tomato Basil Soup – This tangy tomato soup can be stored in a soup thermos and packed away for outdoor fun.
Air Fryer Potato Chips – Skip bagged, deep-fried chips and make a batch of crunchy air fryer potato chips with your favorite seasonings.
Packing Sandwiches for Lunches & Picnics
There's a couple of different tactics you can use to keep your sandwich intact when packing it for lunches or picnics.
Aluminum Foil: If you want to keep the bread a little warm, wrap your sandwich tightly in aluminum foil.
Parchment Paper: Just like deli counters do, you can wrap the sandwich in a piece of parchment paper and secure it with a little tape.
Plastic Bag: A plastic bag is great for school lunches. Just make sure to choose a size that's similar to the sandwich so it doesn't fall apart or slide around.
Note: For best results, only assemble your sandwich 1 day in advance and store it in an airtight container in the fridge. Any longer and you'll up the chances of it getting soggy.
FAQ
What kind of cheese should you use?
Cheddar cheese or colby jack sandwich slices work best for this sandwich. If you're feeling fancy, you could also use fresh mozzarella, or goat cheese.
Should you broil the sandwiches on low or high heat?
Broil the sandwiches on low heat to air on the safe side. If you go high, just keep the oven door open and watch the bread closely.
What kind of deli meat works best?
We love using ham, but turkey, salami, pepperoni, or roast beef will work great as well.
Can you use garlic butter?
Absolutely! If you have a store bought variety go ahead and use it in lieu of the garlic salt and olive oil. Just don't use too much, or the bread will get too greasy. You can also whip some up homemade by mixing room temperature butter, minced garlic, and salt in a small bowl.
More Tasty Sandwiches & Handheld Recipes
Recipe
This tasty garlic bread sandwich couples two classics – zesty garlic bread and deli sandwiches! Pack them away for your next family picnic at the park.
Ingredients
2

oz

deli meat

ham, turkey, or salami

1

oz

cheese

sliced

1/2

tomatoes

sliced

1/4

avocado

1

oz

romaine lettuce

1

tsp

mayonnaise

1

tsp

garlic olive oil

1/2

tsp

garlic parsley salt
Nutrition Facts
Garlic Bread Sandwich (Crazy Good)
Amount Per Serving
Calories 321
Calories from Fat 216
% Daily Value*
Fat 24g37%
Cholesterol 50mg17%
Sodium 2049mg85%
Potassium 576mg16%
Carbohydrates 11g4%
Protein 17g34%
Vitamin A 3339IU67%
Vitamin C 15mg18%
Calcium 204mg20%
Iron 1mg6%
* Percent Daily Values are based on a 2000 calorie diet.