A trio of meats, crisp lettuce and tomatoes, and plenty of mayo — this club sandwich has all the classic components. It's a hearty and delicious lunch on-the-go!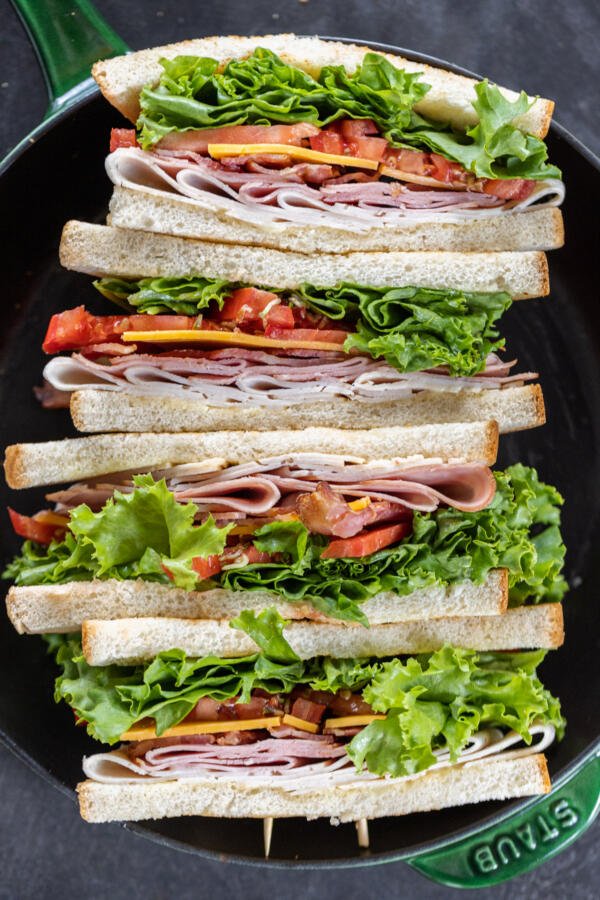 What Is a Club Sandwich?
A club sandwich is a sandwich composed of deli meat, bacon, lettuce, tomato, and mayo on buttery toasted bread. It's an American classic sandwich that originated in the 18th century clubhouses in New York. One unique twist of a club sandwich is the addition of a third slice of bread in the middle of the sandwich, although I omit it. Once assembled, the sandwich is cut in half and held together with cocktail toothpicks for serving. Depending on your preference, a club sandwich may be enjoyed warm or cold.
The Classic Club Sandwich Video
How To Assemble a Club Sandwich
Prepare the ingredients, get stacking, and serve! That's all it takes to assemble the best club sandwiches.
Toast the bread: Spread softened butter on both sides of the bread slices. Toast each slice on a preheated skillet until golden brown.
Cook the bacon: Prepare the bacon with our air fryer method or baking method for a large batch.
Prepare the veggies: Wash and dry the lettuce leaves and cut the tomatoes into 1/4 inch thick slices.
Layer the ingredients: Spread mayo on a slice of bread. Layer the ingredients to your liking, then top with another slice of bread and mayo. Repeat until you have used up all the ingredients.
Serve the sandwiches: Cut the sandwiches in half and enjoy immediately!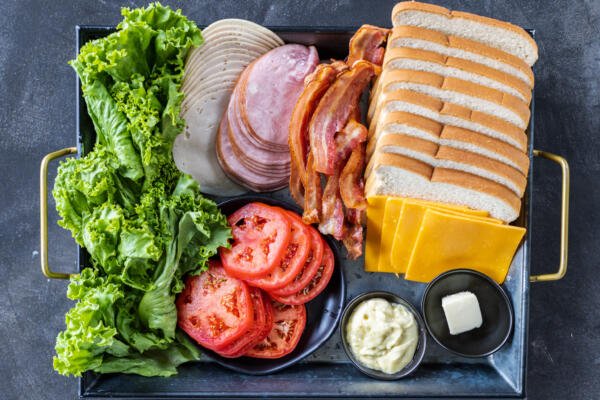 Ingredient Variations
Are you ready to break the rules? We've compiled a few ideas to help you make these club sandwiches your own. Go ahead and customize — we won't judge!
Bread: White bread is the typical base for club sandwiches, but swap it with whole wheat bread for a more complex flavor and healthy fiber.
Meat: Pile on sliced chicken for more protein, or go with roast beef for a burst of flavor. Instead of regular bacon, fry up turkey bacon for a less fatty option.
Cheese: Experiment with your favorite cheeses. Try pepper jack for a spicy hit or Swiss for a mild tang.
Veggies: Layer on sun-dried tomatoes, creamy avocado, or pepperoncini for flair. Use iceberg, romaine, or butter lettuce for a cool crisp.
Sauce: Sneak in a bit of mustard or aioli to take your sandwich to the next level.
Tips From the Kitchen
It's time to break the stereotype that sandwiches are boring. Follow these tips to make the most mouthwatering and fun club sandwiches.
Make your own bread. Fluffy, homemade bread is the key to a great sandwich. Our favorite bread for these club sandwiches is this white miche bread.
Buy freshly sliced deli meat. Ask for fresh slices at the deli counter of your local supermarket. The thicker, the better!
Season the tomatoes. Sprinkle salt and pepper over the tomato slices to bring out their sweet flavor.
Serve the sandwiches hot. Use hot and fresh bacon, deli meat, and toasted bread to make your club sandwiches extra delicious. Enjoy them immediately after assembling for the best flavor and texture.
Use cocktail sticks. To hold the sandwiches together once cut, skewer them through the middle with cocktail picks.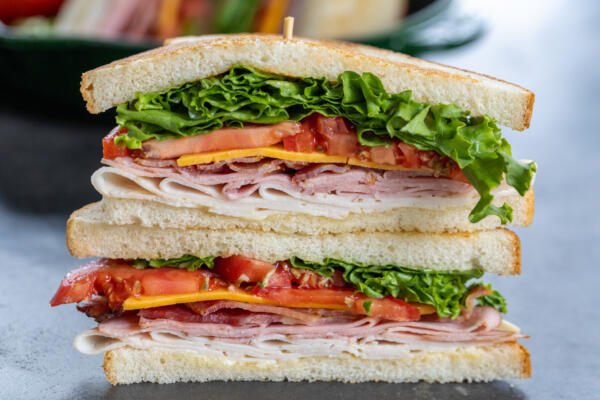 Ways To Serve
Club sandwiches are the perfect lunch pick-me-up. For classic diner vibes, serve the sandwiches with potato chips or french fries. Or, make your meal more filling by adding a warm bowl of tomato soup, or Caesar salad.
Making Ahead & Storing
Who doesn't love a loaded sandwich when they're hungry? Club sandwiches are ideal to pack for any outing — just don't forget to bring the cooler!
Making ahead: For a helpful time-saver, cook the bacon, prepare the veggies, and toast the bread in advance. When you are ready to eat, pull out your prepared ingredients and assemble.
Storing: Store leftover club sandwiches in an airtight bag or container in the refrigerator. They will keep fresh for up to three days, but we recommend eating them immediately for the best texture and flavor.
FAQ
What is the difference between a sandwich and a club sandwich?
A regular sandwich can be composed of anything, while a club sandwich must have toasted bread, deli meat, bacon, lettuce, tomato, and mayo. Club sandwiches also stand out from regular sandwiches because they typically contain three slices of bread instead of two.
Does a club sandwich need to have three pieces of bread?
A traditional club sandwich has three slices of bread, but it's not mandatory. The sandwich is just as delicious with only two slices of bread, and this is most often how we enjoy them.
Why is it called a club sandwich?
The name "club sandwich" was derived from 18th century clubhouses in New York. The exact origins of this sandwich are unknown, but several different clubhouses claim to be the inventors.
More Sandwich Recipes
Recipe
A trio of meats, crisp lettuce and tomatoes, and plenty of mayo — this club sandwich has all the classic components. It's a hearty and delicious lunch on-the-go!
Ingredients
8

slices

bread

4

tbsp

butter

salted or unsalted

4

tbsp

mayonnaise

8

oz

sliced turkey

8

oz

sliced ham

8

slices

bacon

cooked

4

slices

cheddar cheese

8

lettuce leaves

2

tomatoes
Nutrition Facts
The Classic Club Sandwich
Amount Per Serving
Calories 815
Calories from Fat 531
% Daily Value*
Fat 59g91%
Cholesterol 141mg47%
Sodium 2072mg86%
Potassium 810mg23%
Carbohydrates 33g11%
Protein 38g76%
Vitamin A 4610IU92%
Vitamin C 17mg21%
Calcium 256mg26%
Iron 4mg22%
* Percent Daily Values are based on a 2000 calorie diet.