This terrific egg salad sandwich is the perfect solution for a quick, nutritious meal. Make a large batch at the beginning of the week and you have a protein-filled meal that can be whipped up in no time.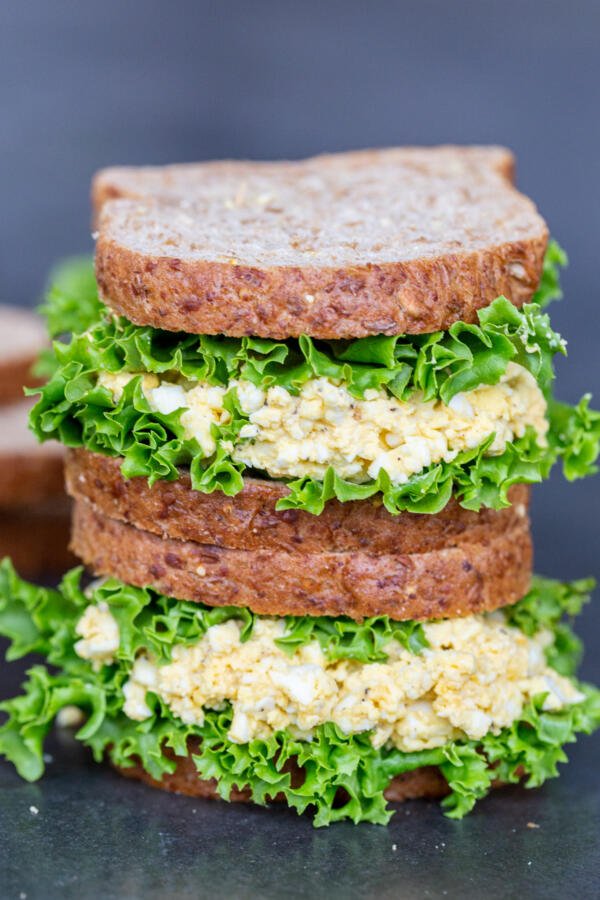 Assembling the Best Egg Salad Sandwich
To make an egg salad sandwich, the most important ingredient is — you know it! Eggs! Make sure to use hard boiled eggs and allow them to cool before peeling and mashing. In case you didn't know, eggs actually peel easier when allowed to cool in cold water or an ice bath. When ready to make the sandwich, follow these two simple steps.
Combine ingredients: In a large bowl, stir the mashed eggs, mayonnaise, and seasonings until well combined. Season to taste.
Assemble the sandwich: Place lettuce leaves on a slice of bread, then add a few spoonfuls of egg salad mixture. Top it off with another slice of bread.
Hot tip: If you are looking to use less mayo, use 2 tbsp mayo and 2 tbsp greek yogurt. Keep in mind the taste of the egg salad will be slightly different, so make sure to season the egg salad with more salt, black pepper, and mustard as needed.
Sandwich Variations
The best part of an egg salad sandwich is the endless amount of modifications you can make to it. If you want it for breakfast, add breakfast ingredients like bacon and tomatoes. For lunch or dinner, add chicken and pickled vegetables. Leave it as a simple classic egg salad sandwich or load it up — whatever your heart desires. Here are some ideas to get you inspired.
Add meat: For a breakfast-spin and an added crunch, add chopped bacon. Shredded chicken is also a great option!
Make it low-carb: Swap out the bread with lettuce boats for a low-carb option.
Spice it up: Add diced fresh jalapeño peppers, red pepper flakes, or dijon mustard (instead of yellow mustard) for a spicy kick.
Add pickled vegetables: We love adding a few bites of pickles, pickled onions, or jalapeño peppers for a slightly salty, sour taste. Or, add capers for a lemony tang.
Use fresh vegetables:Celery, onion, bell pepper, and tomatoes are wonderful fresh vegetables to add. Simply dice the veggies into small pieces and add to the egg salad! Don't forget to add a few slices of avocado, too!
Freshen it up with greens: For additional greens, add microgreens, green onions, or chives. To add more of an herb taste, sprinkle fresh dill or parsley on the egg salad.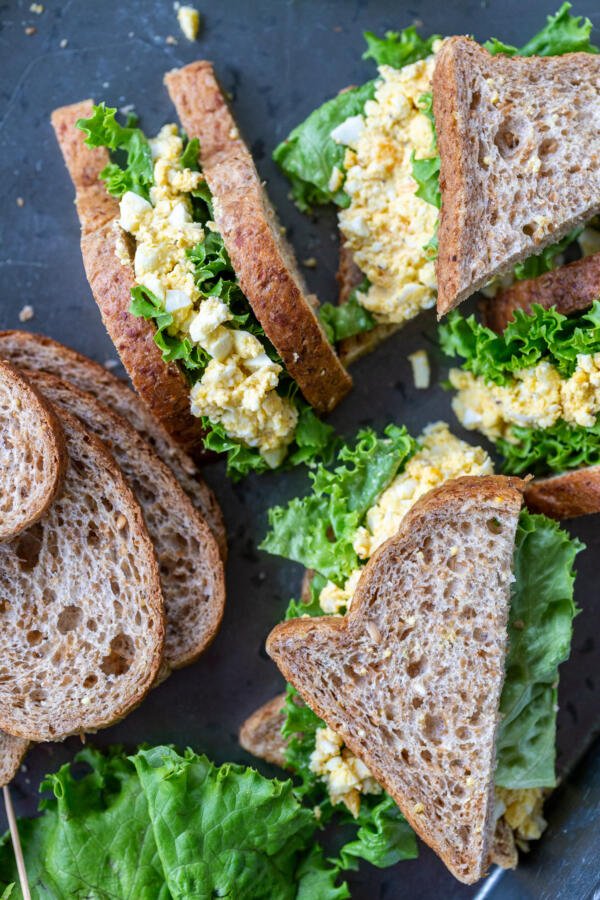 Tips for a Better Egg Salad Sandwich
For an egg salad sandwich that tastes and looks its very best, follow these short quick tips.
Hard boil the eggs: Make sure eggs are fully hard-boiled, which usually takes about 10 minutes of boiling time. Soft or runny yolks will ruin the consistency of the egg salad. If you have an air fryer, follow this guide to hard boil eggs without water!
Assemble before serving: Although the egg salad is great when prepared ahead of time, it is best to assemble the full sandwich right before serving. If assembled too early, the egg salad tends to make the sandwich bread soggy.
Use a great quality bread: The flavor of the bread is a huge part of what makes the sandwich great, so make sure to use a bread that you really enjoy. We loving using sourdough bread or no-knead bread.
Serving Suggestions
Feel free to use any bread you have on hand for an awesome egg salad sandwich. Some solid options are our classic white miche bread, (almost) whole wheat sourdough bread or no-knead bread for large sandwiches, or french bread for smaller sandwiches. If you are looking to stay away from bread, put your egg salad in a lettuce wrap!
If you're eating your egg salad sandwich as a snack, you may not be looking for a side dish. However, if you're serving egg salad as part of a larger meal, we have a few wonderful ideas for you. For breakfast, serve the sandwiches alongside a bowl of fruit or blueberry scones. If serving egg salad sandwiches for lunch or dinner, pair it with a bowl of chicken noodle soup, easy vegetable soup, and potato chips.
Make-Ahead and Storage Tips
The egg salad is a great make-ahead option because it will keep in the refrigerator for up to five days when stored in an airtight container. It is best not to freeze the salad as the texture of the mayo changes when thawed.
Avoid assembling the sandwich until just ready to serve to prevent the bread from getting soggy. If you are making the sandwich just slightly ahead of time, put the egg salad between layers of lettuce instead of right on the bread. This will help delay the bread from becoming soggy.
FAQ
Should you chop or mash the egg when making egg salad?
It is up to individual preference whether to chop, mash, or even slice the egg when making egg salad. Depending on how chunky you like the egg salad, prepare the egg the same way. If you like it creamy, mash the egg. If you like it chunky, chop the egg into large pieces.
Why is my egg salad so bland?
Egg salad can be bland if it does not have enough spices and seasonings. For best flavor, use fresh spices and seasonings as well as a good-quality mayonnaise. Season to taste as you mix the ingredients together.
How do I avoid a soggy egg salad sandwich?
To avoid a soggy egg salad sandwich, assemble the sandwich just before serving or eating. Alternatively, when assembling the sandwich, place the egg salad between leaves of lettuce instead of touching the bread. This will help the bread not turn soggy as fast.
More Easy Sandwich Recipes
Recipe
Are you always on the lookout for a quick, nutritious breakfast? Make an egg salad sandwich to kick off your morning with a quick and nutritious meal.
Ingredients
8

large eggs

hard boiled

4

tbsp

mayonnaise

1

tbsp

yellow mustard

1/2

tbsp

salt

adjust to taste

1

tsp

ground black pepper

adjust to taste

8

slices of bread

8

lettuce leaves
Instructions
Nutrition Facts
Egg Salad Sandwich (with Variations)
Amount Per Serving
Calories 385
Calories from Fat 198
% Daily Value*
Fat 22g34%
Cholesterol 333mg111%
Sodium 1406mg59%
Potassium 309mg9%
Carbohydrates 29g10%
Protein 18g36%
Vitamin A 4045IU81%
Vitamin C 9mg11%
Calcium 143mg14%
Iron 4mg22%
* Percent Daily Values are based on a 2000 calorie diet.