These chicken tenders are made by dipping chicken in a garlic-flour, egg, and parmesan panko mixture, then baking to crispy, golden perfection.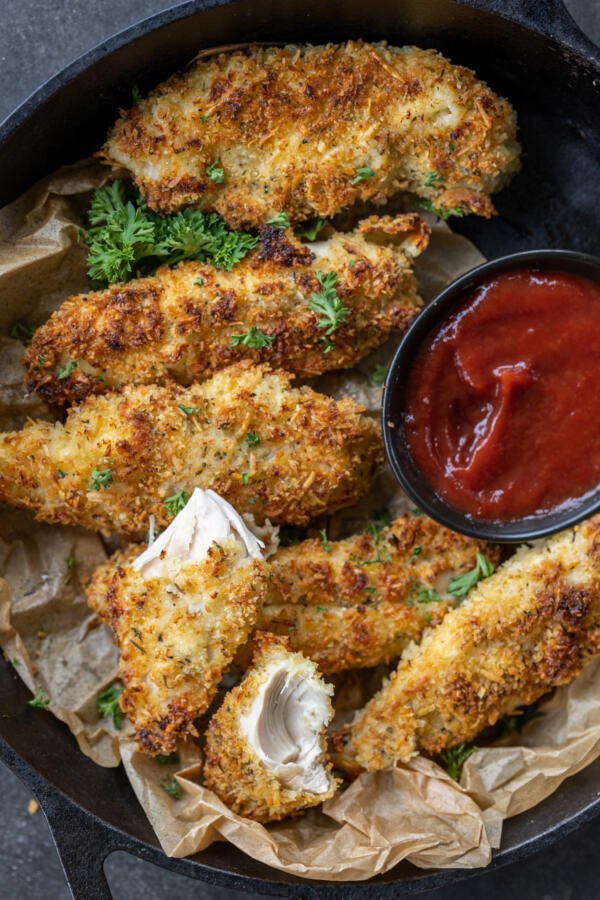 What are Baked Chicken Tenders?
Oven baked chicken tenders are strips of chicken tenderloin coated in a three-layer flour, egg, and parmesan-panko breading. They are crispy, protein-rich, and a satisfying snack or meal for all ages.
How to Bake the Chicken Tenders
This chicken tenders recipe makes the best homemade tenders — say goodbye to restaurant life! No need to go out when you can make them right at home!
Whisk the eggs: Whisk the eggs in a medium size bowl until smooth.
Combine the flour mixture: Combine the flour, garlic salt, and pepper in one plate.
Mix the crispy coating: Mix together the panko bread crumbs, parmesan cheese, and Italian seasoning in a separate plate.
Dip the chicken: Dip each piece of chicken in the flour mixture, followed by egg mixture, then the crispy panko coating.
Arrange tenders on rack: Arrange tenders in a single layer on a wire rack over a baking sheet.
Bake: Bake for about 20 minutes, turning halfway to evenly cook the tenders. They are ready when the internal temperature is 165°F. Use our favorite instant-read thermometer for the most accurate reading.
Hot tip: Make your chicken tenders even crispier by drizzling melted butter on top before baking.
Options & Variations
For some variety, change the flavor of your tenders with a few simple ingredient swaps.
Use chicken breast: If you don't have tenderloin, slice chicken breast into small chicken strips. You won't tell the difference!
Add your favorite spices: Add more flavor to the breading by using your favorite spices. Paprika, garlic powder, and onion powder are very popular. For a kick of heat, add cayenne pepper.
Tips for the Best Tenders
Oven-baked breaded chicken tenders are simple to make, but follow these tips to ensure the tenders are the best you've ever eaten.
Dry the raw chicken: Before dipping the chicken in the mixtures, pat each piece dry with a paper towel. This will help the coating to stick.
Bake on a wire rack: A wire rack is a must when baking chicken tenders. It allows air to travel all around the tender, making it evenly crispy on the outside.
Oil the wire rack: Spray the rack with cooking spray to prevent the chicken from sticking and for an easier clean up. This post shares our favorite oils including our preferred cooking spray!
Flip the tenders: Flip each tender over about halfway through baking to ensure it evenly cooks through and is at its optimal crisp.
Check internal temperature: Chicken tenders are ready when internal temperature reaches 165°F. Avoid overbaking tenders as they will be dry.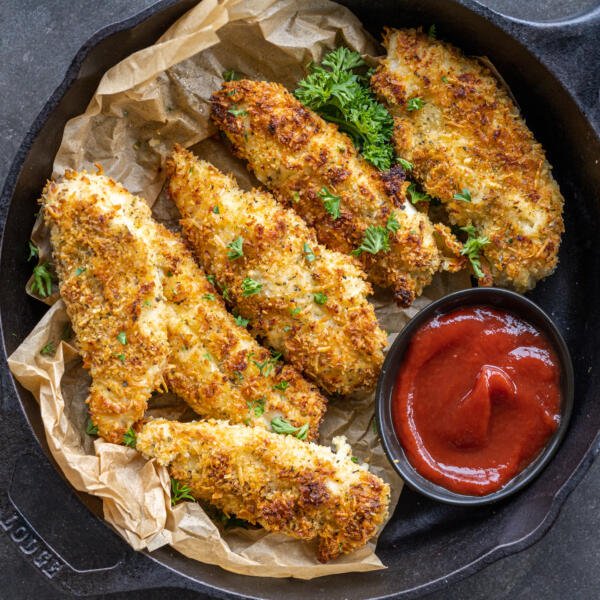 Serving Chicken Tenders
With a Dipping Sauce
Pair the chicken tenders with easy, simple finger foods and veggies such as fresh celery, carrots, and broccoli. Include a variety of dipping sauces to satisfy everyone's palate.
Honey Mustard: For a quick honey mustard dip, mix 1/3 cup mayonnaise, 2 tbsp dijon mustard, 2 tbsp honey, a splash of lemon juice, and salt/pepper to taste.
BBQ Sauce: Make it sweet or spicy — however you you like it.
Light Ranch Dressing: A homemade herby ranch great for both chicken and veggies.
Ketchup: Don't forget the classic taste of ketchup and chicken tenders!
Creamy Tomatillo Dressing: A creamy buttermilk dressing made with cilantro and jalapenos is perfect for tenders!
As a Side Dish
For a full meal, pair the baked chicken tenders with ranch roasted potatoes or air fryer french fries. To round out the meal, serve the tenders on top of a fresh homemade caesar salad, corn tomato and avocado salad, or ultimate garden salad.
Storing and Reheating Tips
Chicken tenders are a wonderful food to keep in the fridge, ready to go at a moment's notice. Store any extra chicken tenders and reheat as needed!
Refrigerator: To store for up to a week, place tenders in an airtight container into the fridge.
Freezer: To store for up to one month, separate cooked tenders between layers of wax or parchment paper and freeze in a ziplock bag or airtight container. Reheat frozen tenders at 415°F for about five minutes per side.
Reheating: For a quick reheat, microwave the tenders, but keep in mind they may not have the same crispy outer layer. To retain the crispy layer, reheat in the airfryer or in the oven at 415°F until warm.
FAQ
Is it better to bake chicken tenders at a lower or higher temperature?
Breaded chicken tenders will have the crispiest outside when baked at 415°F. Baking at a lower temperature will produce a less crispy exterior.
Can you bake chicken tenders without the breading?
Yes, you can bake chicken tenders without the breading, especially when watching your carbohydrate intake. Instead, season the tenders with your favorite seasonings for extra flavor.
Are chicken tenderloins and tenders the same thing?
Yes, chicken tenders and chicken tenderloins are two different names for the same cut of meat.
More Finger Foods
Recipe
These chicken tenders are made by dipping chicken in a garlic-flour, egg, and parmesan-panko mixture, then baking to crispy, golden perfection.
Nutrition Facts
Baked Chicken Tenders Recipe
Amount Per Serving
Calories 377
Calories from Fat 90
% Daily Value*
Fat 10g15%
Cholesterol 163mg54%
Sodium 925mg39%
Potassium 652mg19%
Carbohydrates 25g8%
Protein 44g88%
Vitamin A 271IU5%
Vitamin C 2mg2%
Calcium 250mg25%
Iron 3mg17%
* Percent Daily Values are based on a 2000 calorie diet.