This recipe for Russian canned fish in tomato sauce is as old school as it gets. The combo of white fish, tangy tomato sauce, & fresh veggies will hook you.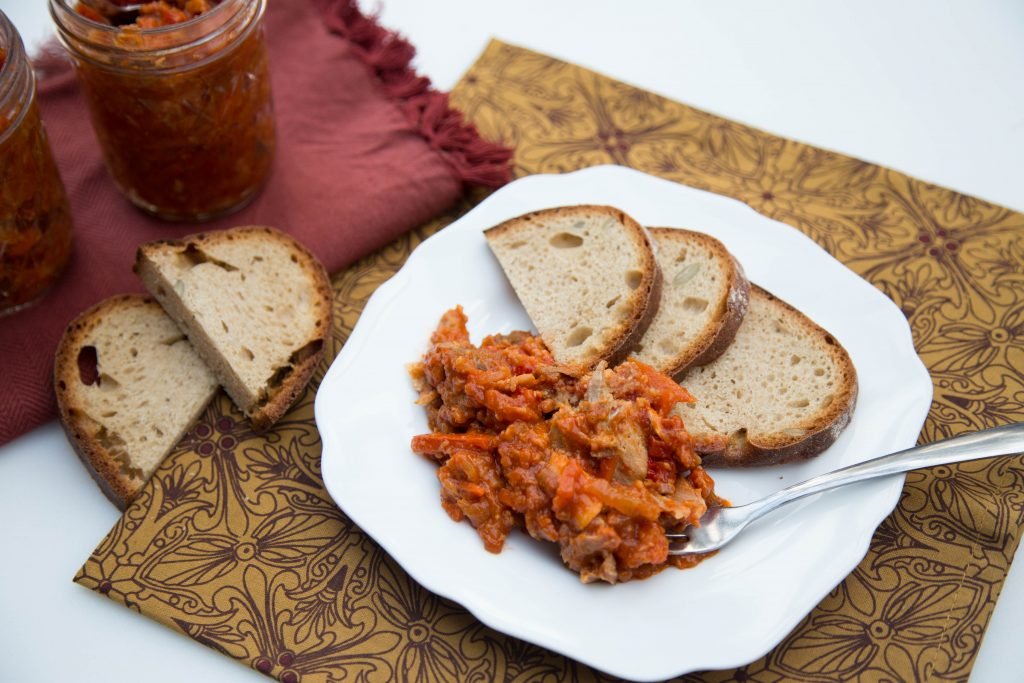 If you've ever shopped in a European specialty market, you've likely come across canned fish in one form or another. What started as a way to preserve food through the seasons turned into a dish that many folks from European and Slavic backgrounds simply crave today. Made in a Dutch oven or slow cooker, this stewed fish is great served hot or cold and is naturally quite healthy for you.
Note: You can use any fish you like for this recipe, including types with small bones (think: sole or trout). During the long cooking process, the bones will soften and disappear.
Making Authentic Russian Fish in Tomato Sauce
Making this classic Slavic fish dish really just requires you to throw everything in a pot and let the magic happen. It's that simple!
Prepare the Veggies: Slice the carrots into long strips and dice the bell peppers and onions into small cubes. Place all the veggies in the bottom on your Dutch oven.
Make the Breading: In a small bowl, combine the flour, salt, and sugar. Dip each piece of fish into the flour and place the fish fillets on top of the diced veggies.
Make the Tomato Sauce: In another bowl, stir the water, tomato sauce, ketchup, and oil together. Pour it over the fish.
Bake the Fish: Cover the Dutch oven with a lid and bake the fish at 350°F in the pot until the sauce begins to boil. Next, turn the heat down to 250°F and bake the fish on a light simmer for 4 hours. Enjoy hot or cold and store in a canning jar in your fridge for up to two weeks.
Hot Tip: Use a combination of green bell pepper and red bell pepper to add more complexity and flavor to the dish.
3 Tips for the Best Canned Fish in Tomato Sauce
A few solid tips will help you get the most out of this canned fish in tomato sauce recipe.
Cook the fish covered in the oven. Using a Dutch oven creates so much moisture in the fish and the lid plays a huge part in the outcome. Keep the pot covered throughout the entire cooking process for the best results.
Use any fish you like. Just about any firm white fish will work great in this recipe. From cod to halibut to mahi mahi, you can't go wrong. You can even use salmon if you'd like!
Add in your favorite spices and ingredients. There are a million and one different ways to tweak this recipe to your own tastebuds. A couple add-ins we love include lemon juice, olives, capers, garlic, parsley, red pepper, black pepper, or cumin.
Like a thicker sauce? Whisk in a couple of tablespoons of tomato paste to thicken it up a bit before baking.
Making this Recipe in a Slow Cooker
Don't have a Dutch oven or just don't feel like turning the oven on at all? Whip up this recipe in your slow cooker! To do so, prepare the ingredients as directed and pop them into the slow cooker pot. Turn the heat to high and let the sauce come to a boil. Next, turn the heat to medium or low and cook it for an additional 5 hours.
Serving Canned Fish in Tomato Sauce
Traditionally, this canned fish is served as a side dish or as an appetizer with rye bread. You can also spoon it on top of toasted, sliced baguette or serve it with your favorite crackers. If you're eating it as the main protein, serve it over rice, quinoa. buckwheat, or even pasta.
Storage Tips
There's two ways to go about storing your fish: 1) in the fridge fresh or 2) stored in a cool place properly canned. When stored in the fridge in canning jars, it will keep for up to two weeks. When canned, you can keep it on hand for up to a year.
FAQ
Can you make the tomato sauce a bit spicy?
Absolutely! Add some crushed red pepper flakes or a little jalapeno.
What kind of fish should you use?
It's truly up to you! You can use just about any skinned fish for this recipe.
What purpose does the flour serve in this recipe?
The flour helps to thicken up the sauce and give it a nice texture.
Can you substitute the fish for chicken or beef?
Technically, yes. But this recipe is really meant to tap into the flavors of fresh fish.
More Traditional Slavic Recipes to Try
Recipe
This canned fish in tomato sauce is as essential to Slavic cuisine as pelmeni or piroshki. A little sweet, a little salty, and just right!
Nutrition Facts
Russian Canned Fish in Tomato Sauce
Amount Per Serving
Calories 362
Calories from Fat 108
% Daily Value*
Fat 12g18%
Cholesterol 76mg25%
Sodium 3226mg134%
Potassium 933mg27%
Carbohydrates 31g10%
Protein 33g66%
Vitamin A 2856IU57%
Vitamin C 34mg41%
Calcium 44mg4%
Iron 2mg11%
* Percent Daily Values are based on a 2000 calorie diet.