This smoky bacon mac and cheese is gooey with melted colby jack and Gouda cheeses and full of savory bacon and dijon mustard flavor. It's gold medal worthy!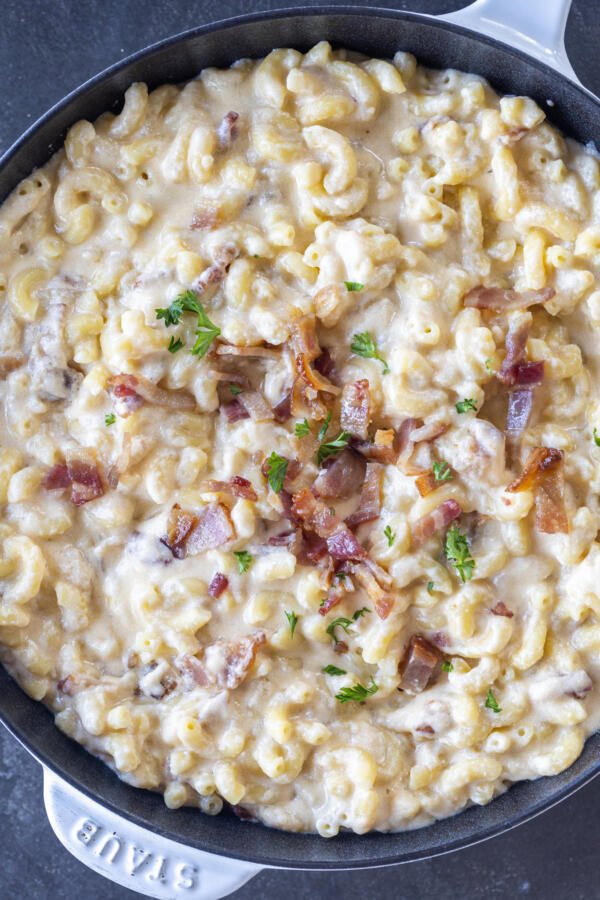 What is Smoky Bacon Mac and Cheese?
Smoky bacon mac and cheese is regular mac and cheese — upgraded in flavor. Smoked Gouda cheese, colby jack cheese, and crispy pieces of bacon are added for a cheesier and savory taste. The bacon adds a crisp crunch, while the cheeses melt into a drool-worthy pasta coating. Without a doubt, this is the best mac & cheese recipe you will ever have.
How To Make Smoky Bacon Mac and Cheese
Before starting on the mac and cheese, make the bacon and allow it to cool to a crisp. Resist the urge to snack on it while making the mac and cheese (we know — it's so hard!).
Cook the macaroni: Bring a large pot of salted water to boil, then add the macaroni. Cook according to package instructions. Drain the water.
Chop the bacon: Chop the bacon into thin strips, then set aside in a small bowl. We love this durable set of bowls for food prep!
Make the roux: Melt butter in a medium saucepan, then add flour and whisk to remove the clumps. Add in milk and half and half, then allow the mixture to simmer. Stir in the dijon mustard.
Add the cheeses: Add the two cheeses to the roux.
Combine the cheese and pasta: Combine the macaroni with the cheese and stir. Add in bacon pieces.
Hot tip: If you're out of butter, make the roux with bacon grease instead. It'll add more bacon flavor, but keep in mind, it may be less creamy.
Tips from the Kitchen
Mac and cheese is one of those dishes everyone loves, especially kids. Follow these tips to enjoy the very best mac each time you make (or bake) it.
Swap out the pasta: Who said mac and cheese has to use elbow macaroni noodles? When you don't have elbow macaroni, use any small macaroni in your pantry.
Avoid overcooking the pasta: Drain the pasta per package instructions to avoid overcooking. The pasta continues to cook slightly even after removing from the heat. Overcooked pasta tends to have a mushy texture.
Cook the flour: Flour works to thicken the cheese sauce, but if it's not cooked long enough, it'll taste raw. Make sure to cook the raw flour flavor out before adding the milk. It's ready when it starts to bubble a bit and smell nutty.
Use blocked cheese: Use blocks of Gouda and colby jack cheese. Freshly shredded cheese melts and tastes better than pre-shredded cheese.
Hot tip: Bake the mac and cheese! Put it into a baking dish, top with extra cheese, and bake in the oven for 15 minutes at 400°F. It's delicious!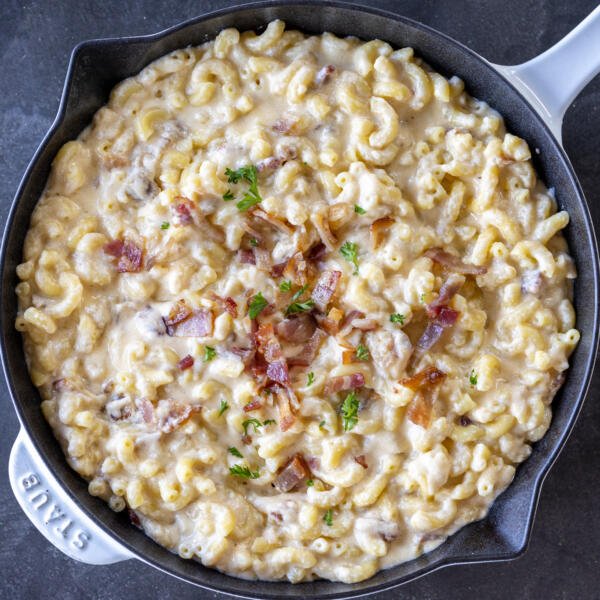 Mac and Cheese Add-ins
This mac and cheese is already a delicious spin-off of the traditional mac, but why stop there? Add in any of these extra ingredients or flavors to personalize and elevate your mac and cheese even further.
Ham: Substitute the bacon with slices of crispy deli ham. Use a good-tasting ham and you won't regret it.
Veggies: For more veggies (and a good way to get kids to eat more veggies), add steamed broccoli or peas.
Cheese: Try out a mixture of other cheeses including sharp cheddar cheese, mozzarella cheese, parmesan cheese, and monterey.jack cheese. Keep in mind the "smoky" flavor in this dish comes from the smoked Gouda cheese, so keep it in the mixture.
Hot sauce: For an extra kick of heat, add in a tablespoon of hot sauce.
Herbs: For a slight hint of herby flavor and for extra visual appeal, garnish the top of the mac with chopped parsley.
Seasoning: Change up the taste of the mac with your favorite seasonings. We love a combination of salt, pepper, paprika, garlic powder, and cayenne pepper.
Breadcrumbs: Add panko bread crumbs on top of your baked mac and cheese for a crisp topping. Sauté the bread crumbs with butter until they are golden brown, then sprinkle over the mac and cheese.
Ways to Serve
Mac and cheese is the classic side dish to a BBQ meal like grilled chicken thighs, BBQ ribs, or baked BBQ chicken. It's also great with a different protein like hearty lamb shanks. For a veggie pairing, serve the mac with a salad like tomato mozzarella salad with lettuce or 15-minute creamy cucumber salad. In case you want a simpler veggie side, make grilled asparagus, grilled corn on the cob, or air fryer brussels sprouts with bacon.
Storage Tips + Reheating
You'll want this mac and cheese for more than just one meal. Make a bit of a bigger batch and store the rest for your next meal (or two!). You certainly won't regret it!
Refrigerator: To store for up to five days, transfer mac to an airtight container and keep in the fridge.
Freezer: To store for up to three months, place cooled mac into an airtight container in the freezer. Thaw overnight in the fridge.
Reheating: To reheat the mac and cheese, pop it in the microwave to heat for a couple of minutes, warm it in a saucepan with butter over medium heat, or bake it at 400°F for 15 minutes.
FAQ
Do I have to use elbow macaroni for mac and cheese?
Make your mac and cheese with any small pasta you have on hand. Elbow macaroni, ziti, penne, or rigatoni are all great options.
Can mac and cheese be made ahead of time?
Yes, mac and cheese can be made ahead of time. It tastes the best when it is fresh; however, it can be prepared ahead of time, then warmed in the microwave, stove, or oven.
Why does my mac and cheese taste bland?
Mac and cheese may taste bland if the pasta water was not salted while cooking, too little cheese was used, or the cheese used did not have a good, strong flavor.
Other Pasta Dishes to Try
Recipe
This smoky bacon mac and cheese is gooey with melted colby jack and Gouda cheeses and full of savory bacon and dijon mustard flavor. It's gold medal worthy!
Ingredients
16

oz

elbow macaroni

1

cup

cooked bacon

chopped

3

tbsp

unsalted butter

1/4

cup

all-purpose flour

2

cups

whole milk

2

cups

half & half

1

tbsp

dijon mustard

2

cups

Colby Jack cheese

shredded

1 1/2

cups

Smoked Gouda

shredded
Nutrition Facts
Smoky Bacon Macaroni and Cheese
Amount Per Serving
Calories 489
Calories from Fat 252
% Daily Value*
Fat 28g43%
Cholesterol 90mg30%
Sodium 590mg25%
Potassium 315mg9%
Carbohydrates 35g12%
Protein 24g48%
Vitamin A 686IU14%
Vitamin C 0.4mg0%
Calcium 462mg46%
Iron 1mg6%
* Percent Daily Values are based on a 2000 calorie diet.