These slow cooker Beef Short Ribs are the ideal hosting entree. The Beef Ribs take a mere 15 minutes of prep, leaving the slow cooker to take over the rest of the hard work. Make these for your next dinner party!
This post is a collaboration with Beef. It's What's for Dinner. on behalf of the Beef Checkoff. I received compensation, but all opinions are my own.
What are Slow Cooker Beef Short Ribs?
Slow cooker Beef Short Ribs, sometimes called "Beef Ribs", are sauteéd Ribs that are slowly cooked in a Beef and red wine broth over six hours. The result is marvelously melt-in-your-mouth tender Beef Ribs. It's the premier protein entree for celebrating with friends and family during the holidays and beyond!
Cuts of Beef Ribs & Their Differences
There are two main types of Beef Ribs: short Ribs and back Ribs. Both types are tender and delectable when cooked properly, but they do have a few differences.
Short Ribs: In short Ribs, the meat is found on top of the bones. They are called "short" because they look like short pieces of rib bones encased in meat. This type is perfect for slow cooking because of the high fat content. Short Ribs are taken from two main areas of the cow (short plate and chuck) and referred to in terms of style of cut (english, flanken, trimmed, and untrimmed).
Back Ribs: The meat on back Ribs is found between the bones. This meat is lean and comes from the area just behind the shoulder. Back rRbs typically have less meat, but with the bone marrow, these Ribs make a phenomenal broth.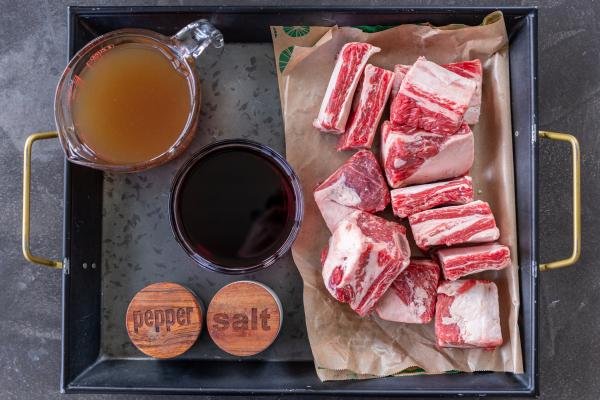 Beef Ribs Video
Making The Beef Ribs
Slow cooker Beef Short Ribs take a mere 15 minutes of hands-on prep, followed by a few hours of hands-off braising. It's the perfect dish to prep in the morning with confidence that a tasty dinner will be ready at the end of the day.
Brown the Beef Ribs: Preheat a large skillet on high heat, then brown the Short Ribs on all sides until they are golden brown.
Add the juices: Add the Beef broth, red wine, salt, and pepper to a slow cooker.
Cook the Beef Ribs: Add the browned Short Ribs to the slow cooker and cook on high for 6-8 hours or until the meat becomes fall-off-the-bone tender.
Simmer the drippings: Transfer the liquid Beef drippings from the slow cooker to a saucepan and make a tasty sauce or gravy. Serve over the Beef Ribs.
What Do I Do With the Beef Drippings?
The drippings that form after cooking in the slow cooker for six hours are liquid gold. Refine the liquid into a sauce or gravy to pour and serve over your Beef Ribs.
Use drippings to make a sauce. Transfer the liquid into a skillet and simmer for 15 minutes or until it reaches desired thickness. This sauce adds an incredible amount of flavor and extra moisture to the dish.
Make gravy with the drippings. Combine one tablespoon of butter and one tablespoon of flour in a pan. Stir and cook until the flour is lightly browned. Add the liquid drippings and simmer until it thickens into a gravy.
Tips for the Best Slow Cooker Ribs
These Beef slow cooker Ribs take an ordinary meal and make it an extraordinary experience. Follow these tips to capitalize on this dish's alluring flavor.
Brown the meat: Brown the meat to caramelize it slightly. This caramelized flavor permeates deep into the meat as it cooks. For best results, pat the Beef Ribs dry with a paper towel before browning.
Use a tasty red wine: Expensive wine doesn't necessarily mean better in this recipe. Use any tasty red wine you personally enjoy (sweet or dry).
Choose two-inch thick Ribs: When choosing Short Ribs, pick the ones that are two inches thick. These will have the most tender, juicy centers. Both boneless and bone-in Beef Ribs work great.
Add vegetables: Beef Ribs and simple seasonings alone will yield fantastic results. However, for a more diverse flavor and texture, add chopped carrots, celery, mushrooms, garlic, and/or onions.
Season more: Salt and pepper go a long way to flavor the Beef Ribs, but feel free to season more by adding a teaspoon of thyme or a couple of bay leaves to the slow cooker for more variety.
Measure the temperature: Beef Ribs are ready when they reach 160°F. Check the temperature with a meat thermometer. For more tender meat, keep it cooking in the slow cooker, but avoid cooking for too long or the meat may become too mushy.
Serve with fresh herbs: Rosemary and parsley pair flawlessly with Beef Ribs. Garnish the top of the meat with these fresh herbs for visual flair and fresh flavor.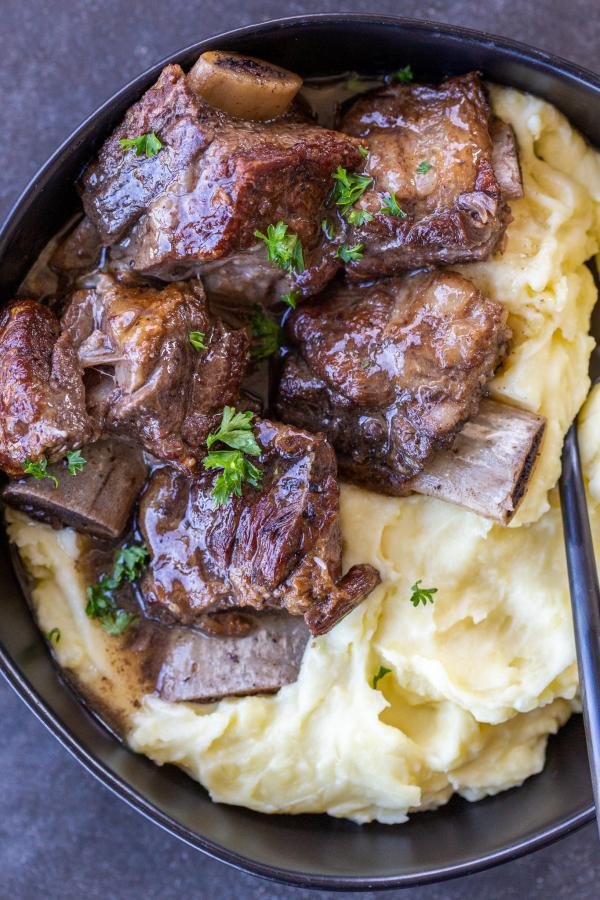 Serving Ideas
Serve the braised Short Ribs overtop a bowl of mashed potatoes, mushroom risotto, mashed cauliflower, rice, or egg noodles. Pour the dripping sauce or gravy overtop to add extra creaminess.
On the side, set out your favorite single or combined vegetable dishes like parmesan panko roasted veggies, sauteéd asparagus, roasted parsnips and carrots, beet salad with goat cheese, or roasted cabbage wedge salad. Complete your menu with a slice of toasted honey wheat bread, no knead dinner rolls, sourdough biscuits to dip into the dripping sauce/gravy. You'll be wiping your bowl clean!
Storing & Reheating Tips
In case of leftover Beef Short Ribs, store them properly by following these tips.
Refrigerator: To store for up to 3-4 days, place leftovers (including the sauce) in an airtight container in the fridge.
Freezer: To freeze for up to 2 months, freeze the Ribs in their sauce in a freezer safe container. Leave enough room for the liquid to expand as it freezes.
Reheating: To reheat from the fridge or freezer, place the short Ribs and sauce in a skillet and cover with a lid. Warm over low heat until Ribs are heated through.
FAQ
Can I make slow cooker Beef Short Ribs in a crockpot or pressure cooker?
Yes! Slow cooker Beef Short Ribs are meant to be made in a crock pot or slow cooker. If using a pressure cooker, use the slow cooker function.
How do I make slow cooker Beef Short Ribs ahead of time?
To prepare slow cooker Beef Short Ribs ahead of time, brown and sauté the meat the night before. Refrigerate the browned meat and then place in the slow cooker with the remaining ingredients when ready to cook. Or, fully cook the dish, then refrigerate and reheat when ready to serve.
Are there boneless Short Ribs?
There are both boneless and bone-in Short Ribs. Both are the same cut of meat, but boneless have had the bone removed. Both types can be used to make slow cooker Beef Short Ribs.
More Beef Recipes
Recipe
These slow cooker Beef Short Ribs consist of a combination of Beef, red wine, Beef broth, and simple seasonings that make an award-worthy tender rib dish.
Ingredients
4

lbs

Beef Short Ribs

cut into 3 x 2 inch pieces

3

cups

Beef broth

1

cup

red wine

1

tsp

salt

adjust to taste

1

tsp

ground black pepper

adjust to taste
Nutrition Facts
Slow Cooker Beef Short Ribs
Amount Per Serving
Calories 319
Calories from Fat 153
% Daily Value*
Fat 17g26%
Cholesterol 98mg33%
Sodium 734mg31%
Potassium 681mg19%
Carbohydrates 1g0%
Protein 33g66%
Vitamin A 2IU0%
Calcium 22mg2%
Iron 4mg22%
* Percent Daily Values are based on a 2000 calorie diet.