These bell peppers are filled to the brim with ground beef, rice, and veggies, then baked to perfection in a creamy, tomato-ey sauce. You're sure to be stuffed after this mouthwatering meal!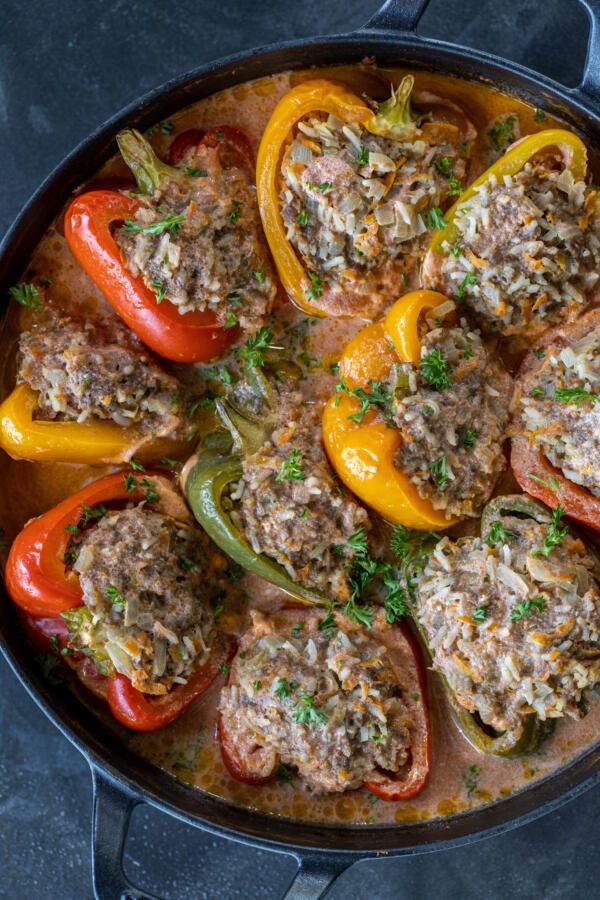 What Are Stuffed Peppers?
Stuffed peppers are halved bell peppers filled with a mixture of rice, meat, and veggies. This popular dish is enjoyed all around the world for its versatility. Most often, stuffed peppers are baked in the oven and enjoyed fresh or as leftovers.
In this stuffed peppers recipe, ground beef is the star — lending richness, savoriness, and heartiness to the filling. Rice, sautéed veggies, and beef are packed into the peppers. To ensure the peppers stay juicy, a mixture of tomato sauce, half & half, and chicken broth is poured into the pan before baking.
How To Make Ground Beef Stuffed Peppers
Looking for an easy-to-assemble and incredibly rewarding dinner? You've found it! All it takes is to create the filling, stuff the peppers, and bake!
Prep the peppers: Slice each bell pepper in half vertically through the middle of the stem. Remove the stem and seeds, then set aside.
Combine the filling: Sauté the onion and carrots. In a large bowl, mix together the rice, ground beef, seasonings, and sautéed vegetables.
Stuff the peppers: Spoon the rice mixture into each bell pepper half.
Bake: Place the stuffed peppers into a baking dish. Pour the tomato sauce, half & half, and chicken broth around the peppers, then cover with a lid or foil. Bake at 400°F for about 45 minutes. Enjoy!
Picking the Best Peppers
Bell peppers are ideal for making stuffed peppers because of their large size and mild flavor. At the grocery store, keep an eye out for these qualitieswhen choosing your peppers.
Color: For this recipe, we love using red bell peppers. Red bell peppers are the sweetest variety of bell peppers, as they are the most mature. Yellow and orange bell peppers are picked earlier, so they are slightly less sweet than the red variety — but still tasty! Green bell peppers tend to be bitter because they are still a bit underripe.
Appearance: Choose large and brightly colored peppers with green stems. Avoid peppers with bruised or shriveled skin, since these are signs of age or poor quality.
Texture: Buy peppers that feel heavy and firm to guarantee hearty stuffed peppers.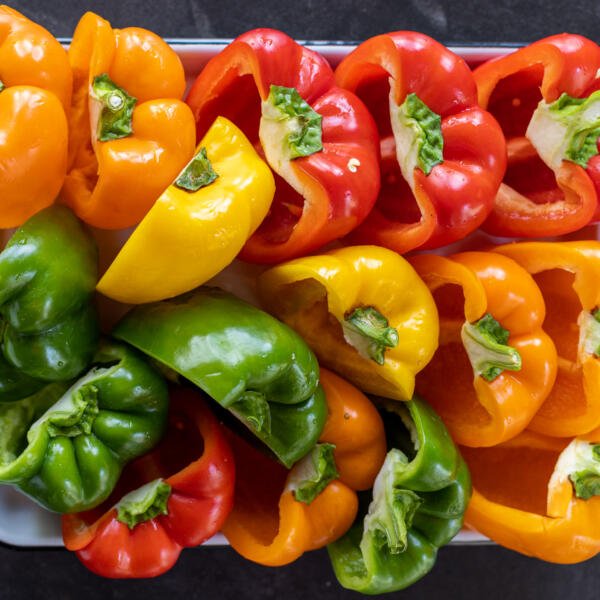 Parboiling the Peppers
Should you pre-cook the peppers before stuffing or leave them raw? Let's discuss the pros and cons of parboiling the peppers to help you make the best decision.
Pros: Pre-cooking the peppers is ideal for those who prefer soft cooked veggies. It tenderizes the flesh of the peppers and ensures they are melt-in-the-mouth tender.
Cons: Pre-cooking the peppers increases the likelihood of the stuffed peppers falling apart. Since the pepper's crunchy and firm texture is broken down, the stuffed peppers may be soggy.
Instructions: If you choose to pre-cook the peppers, bring a large pot of water to a boil and allow the peppers to parboil for 3-5 minutes. Remove the peppers from the water with tongs or a slotted spoon and allow them to cool before stuffing.
Ingredient Options
Customize these stuffed peppers to suit your taste or dietary preferences. Here are a few ideas to get you started.
Rice: We like long-grain basmati white rice for its nutty flavor and chewy texture. For a whole grain option, opt for brown rice or wild rice.
Seasonings: Add a sprinkle of Italian seasoning to the filling for an herbaceous aroma. Do you like the kick of fresh garlic? Sauté a few minced cloves along with the onion and carrots. For a smoky, earthy flavor, add a dash of cumin and chili powder to the filling.
Cheese: Top the stuffed peppers with shredded cheddar, Monterey jack, or mozzarella cheese before baking for a melty, savory experience.
Fresh herbs: Garnish the baked stuffed peppers with parsley, basil, oregano, or cilantro for a pop of color and freshness.
Tips for Juicy Stuffed Peppers
Do you want to wow your dinner guests with amazing stuffed peppers? Pay careful attention to ingredients, time, and technique to ensure this recipe turns out impressive.
Use high quality ingredients. Premium ingredients will take your stuffed peppers to the next level. Buy fresh produce and the best quality canned goods for maximum flavor. Choose ground beef with the highest percentage of fat, as more fat equals more flavor.
Watch the clock. Avoid baking the stuffed peppers for too long. This causes them to fall apart and become soggy.
Save the sauce. Feeling saucy? Pour the tomato pan sauce over the stuffed peppers after baking. This adds more juiciness and flavor.
Making Stuffed Peppers Ahead of Time
Stuffed peppers are a great make-ahead dish because they are so simple to assemble and absolutely delicious when reheated. Stuff the peppers and set them aside in the fridge for up to 24 hours. When you are ready to eat, pop the stuffed peppers in the oven and bake for a quick, fresh, and filling meal.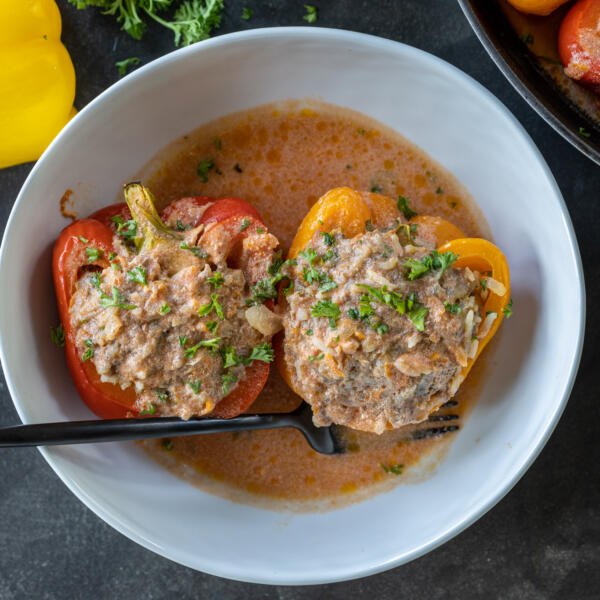 Ways To Serve
Ground beef stuffed peppers are a wholesome dish enjoyed at any time of the day. For a main course, serve them with plenty of sour cream and pan sauce. Veggie side dishes like roasted broccolini, garlic mashed potatoes, and mushroom bell pepper canapés pair wonderfully with stuffed peppers. To add more protein to the table, serve stuffed peppers with braised beef short ribs, Philly cheesesteak casserole, or classic kafta kabobs.
Storing & Reheating
Are you lucky enough to have leftovers? Store leftover stuffed peppers in the fridge or freezer, and pull them out to reheat whenever you get hungry.
Refrigerator: To store for up to four days, transfer the cooled peppers to an airtight container and refrigerate.
Freezer: To store for up to three months, place the cooled peppers in a freezer-safe container and freeze. Thaw the peppers completely before reheating for the best flavor and texture.
Reheating: For the best results, reheat stuffed peppers in the oven at 350°F for about 20 minutes. Looking for a quicker option? Reheat the peppers in the microwave until warmed through.
FAQ
Should you pre-cook the peppers before stuffing?
You may need to pre-cook the peppers before stuffing for some recipes with a shorter cook time. However, this recipe does not call for pre-cooking the peppers because they are covered with a lid and baked for 45 minutes. This allows the peppers to become soft and tender.
Are stuffed peppers healthy?
Ground beef stuffed peppers are loaded with protein, fiber, and other nutrients. Bell peppers contain many antioxidants and are low in calories, making them a great source of your daily nutrition.
Why are my stuffed peppers bland?
Stuffed peppers may turn out bland when they don't have enough seasoning or sauce. Make sure to add enough salt to the filling, and use a flavorful sauce and fatty ground beef for optimal flavor.
More Stuffed Pepper Recipes
Recipe
These bell peppers are filled to the brim with ground beef, rice, and veggies, then baked to perfection in a creamy, tomato-ey sauce. You're sure to be stuffed after this mouthwatering meal!
Nutrition Facts
Ground Beef Stuffed Peppers
Amount Per Serving
Calories 606
Calories from Fat 360
% Daily Value*
Fat 40g62%
Cholesterol 122mg41%
Sodium 1648mg69%
Potassium 956mg27%
Carbohydrates 30g10%
Protein 31g62%
Vitamin A 7445IU149%
Vitamin C 158mg192%
Calcium 104mg10%
Iron 4mg22%
* Percent Daily Values are based on a 2000 calorie diet.