These bell peppers are loaded with creamy orzo, pasta sauce, and ground beef, then topped with melty cheese for the perfect weeknight dinner. Let's get to stuffing!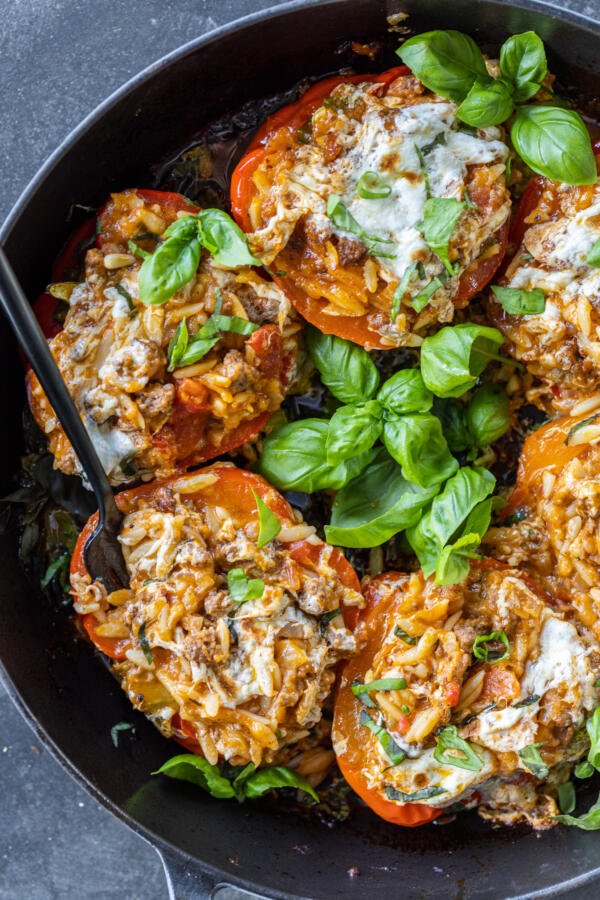 What Are Stuffed Peppers?
Stuffed peppers (also called pimientos rellenos) are a traditional Spanish dish consisting of halved bell peppers filled mainly with rice, meat, and tomato sauce. Almost every cuisine in the world has adapted this dish in their own way.
In this Italian stuffed pepper version, bell peppers are first hollowed out, stuffed with a filling, then baked until tender. A mozzarella and Parmesan cheese blend and marinara sauce deliver the classic Italian flavor. The peppers are sometimes parboiled before filling, depending on the cook's preference. Stuffed peppers are an easy and delicious meal for any time of day.
How to Make Italian Stuffed Peppers
This recipe is so straightforward, anyone can make it! Cook the filling, stuff the peppers, and bake — that's all it takes to put dinner on the table.
Prep the peppers: Slice each bell pepper in half vertically through the middle of the stem. Remove the seeds and set aside. Use a sharp knife when slicing bell peppers, here is our favorite set!
Cook the filling: Cook the orzo and set aside. Sauté the onion until translucent, then add the beef and cook until browned. Add the pasta sauce, orzo, and shredded cheese. Stir until well combined, then season with salt and pepper to taste.
Stuff the peppers: Spoon the filling into each pepper half. Top with mozzarella slices.
Bake the stuffed peppers: Place the peppers into a baking dish and cover with foil. Bake at 400°F for about 30 minutes. Enjoy!
Note: Parboil the peppers before stuffing for a softer texture. Bring a pot of water to a boil and cook the peppers for 3-5 minutes. If you like more crunch (we do!), stuff the peppers raw.
Choosing the Right Peppers: Look Out for This!
The most important component of making stuffed peppers is choosing healthy bell peppers. Bell peppers are the ideal choice because they are big enough to hold a substantial amount of filling, and they have a mild flavor.
Good signs: Look for large peppers with a bright color, firm texture, and green stems. The peppers should feel heavy.
Bad signs: Avoid peppers with bruises or shriveled skin, as this suggests poorer quality.
Color: Wondering which color to choose? We love red bell peppers because they are the sweetest. Yellow and orange peppers follow closely behind, while green bell peppers tend to be a bit bitter.
Hot tip: For a bell pepper substitute, use poblano peppers. They're meaty, slightly spicy, and able to hold a filling. Avoid using Italian sweet peppers as they are quite small, curvy, and not crisp.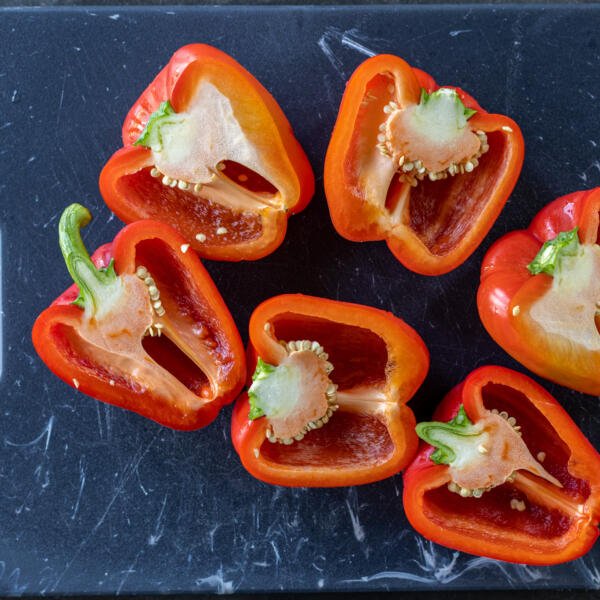 Flavor Variations
Stuffed peppers are incredibly customizable. Switch up the protein, carbs, cheese, or seasoning to suit your preferences.
Protein: Instead of ground beef, use ground chicken or ground turkey for a leaner (but still delicious) protein. Or, continue with the Italian theme and use Italian sausage for even more flavor. Looking for vegetarian options? Beans are a great source of protein.
Carbs: Swap out the orzo with basmati rice, bulgur wheat, or quinoa for a different texture.
Cheese: Try Manchego cheese for a Spanish flair, or play it safe with Monterey Jack for a mild flavor. Pepperjack, cheddar, and queso blanco are tasty Tex-Mex options.
Seasoning: Mix Italian seasoning into the filling for more Italian flavor. Add a sprinkle of red pepper flakes for a spicy kick. If you love fresh garlic, sauté a few minced cloves along with the onion.
Herbs: Herbs are also an amazing and healthy addition — add a dash of fresh basil, parsley, or cilantro for fresh flavor.
Tips for the Best Stuffed Peppers
Wondering how to make the juiciest and most flavorful stuffed peppers? Pay close attention to these tips from the kitchen.
Choose high quality ingredients. A good pasta sauce is the key to a delicious filling. Choose a sauce with minimal ingredients to guarantee quality. Make sure to pick premium block cheeses as well, since pre-shredded cheese contains starches to inhibit melting.
Use fatty meat. A higher fat percentage in meat yields greater flavor. Go with a 85% lean (or less) cut of ground beef for maximum richness.
Avoid overcooking the peppers. Baking the peppers for too long leads to soggy stuffed peppers. For the right texture, watch the clock and avoid adding extra liquids to the filling.
Season to taste. One of the greatest hacks of cooking is to taste along the way. Stuffed peppers are amazing with the right amount of salt, but overdo it and they'll be inedible. Start with a small pinch of salt and pepper, then adjust to taste. You may not need much seasoning since marinara sauce and cheese may already be seasoned well.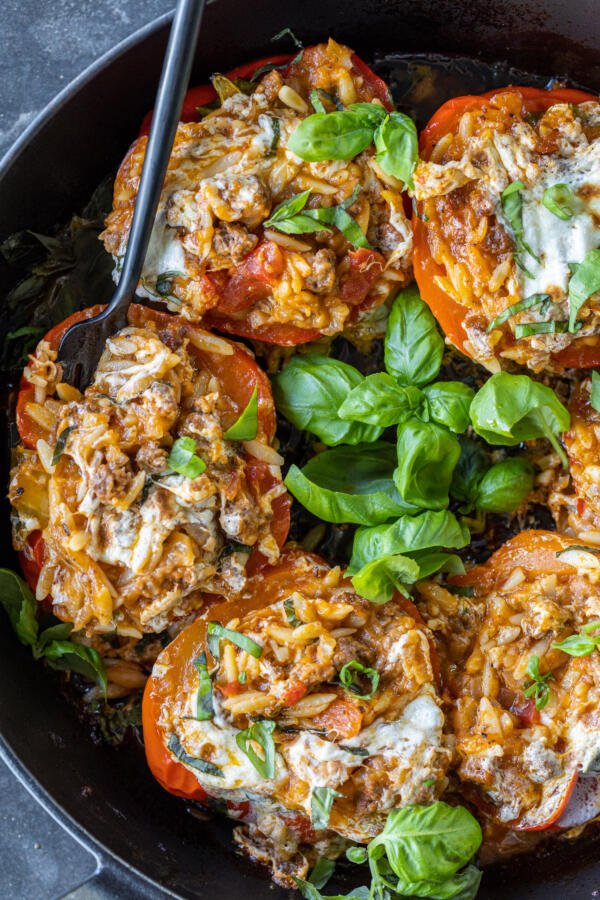 Making Stuffed Peppers Ahead Of Time
Italian stuffed peppers are an ideal make-ahead dish — easy and quick to throw together, and they have a rewarding flavor. Cook the filling up to three days in advance and store in the fridge until you are ready to assemble. Stuff the peppers, bake, and store in the freezer or fridge for an easily accessible meal.
Ways to Serve
Italian stuffed peppers are a tasty and filling main course meant to be shared. Serve them family-style along with prosciutto wrapped chicken, shrimp linguine, and a cabbage roll casserole for a hearty dinner. If you're looking for more veggies, add crispy baked parmesan asparagus, broccoli salad, and marinated tomatoes as flavorful side options. Sticking with the Italian theme? These stuffed peppers complement pasta bolognese and mushroom risotto wonderfully.
Storing & Reheating
Nothing beats fresh and hot stuffed peppers, but leftovers come in a close second place. Store your leftover peppers in the refrigerator or freezer, then pull them out and reheat when your appetite strikes.
Refrigerator: To store for up to four days, place fully cooled peppers in an airtight container and refrigerate.
Freezer: To store for up to three months, place cooled peppers into a freezer-safe container. Thaw overnight in the fridge before reheating.
Reheating: The best way to reheat stuffed peppers is by using the oven. Place the peppers in a baking dish, cover with foil, and bake at 350°F for 15-20 minutes. In a pinch for time? Pop the peppers in the microwave or air fryer until they are heated through.
Hot tip: Make sure your peppers are fully thawed before reheating for the most consistent results.
FAQ
Should the peppers be pre-cooked before stuffing?
It is not necessary to pre-cook the peppers before stuffing. If you prefer a softer texture, parboil the peppers before stuffing. For a crunchier bite, stuff the peppers when they're still raw.
Why are my stuffed peppers soggy?
The most common culprit of soggy stuffed peppers is overcooking. Bell peppers weep moisture when they are cooked too long, producing an unpleasant texture. Another reason for soggy peppers is an overly moist filling. Avoid adding extra liquids or too much sauce to the filling.
Are stuffed peppers healthy?
Stuffed peppers can be considered a healthy option depending on personal dietary needs. Bell peppers are a rich source of antioxidants, nutrients, and they are low in calories. The contents of the filling can be changed to suit individual preferences.
More Italian Recipes
Recipe
These bell peppers are loaded with creamy orzo, pasta sauce, and ground beef, then topped with melty cheese for the perfect weeknight dinner. Let's get to stuffing!
Ingredients
1/2

cup

orzo

3

large bell peppers

1

tbsp

oil

olive or avocado

1

large onion

chopped

1

lb

ground beef

85% lean

14

oz

pasta sauce

1

cup

Mozarella cheese

shredded

1

cup

Parmesan cheese

shredded

1

tsp

ground black pepper

adjust to taste

1

tsp

salt

adjust to taste

6

oz

fresh Mozzarella cheese

sliced
Nutrition Facts
Italian Stuffed Peppers
Amount Per Serving
Calories 505
Calories from Fat 297
% Daily Value*
Fat 33g51%
Cholesterol 102mg34%
Sodium 1317mg55%
Potassium 636mg18%
Carbohydrates 20g7%
Protein 33g66%
Vitamin A 2600IU52%
Vitamin C 82mg99%
Calcium 470mg47%
Iron 3mg17%
* Percent Daily Values are based on a 2000 calorie diet.