This creamy chicken pasta uses simple ingredients like chicken breast, butter, heavy cream, and parmesan cheese. It's sure to be a weeknight staple.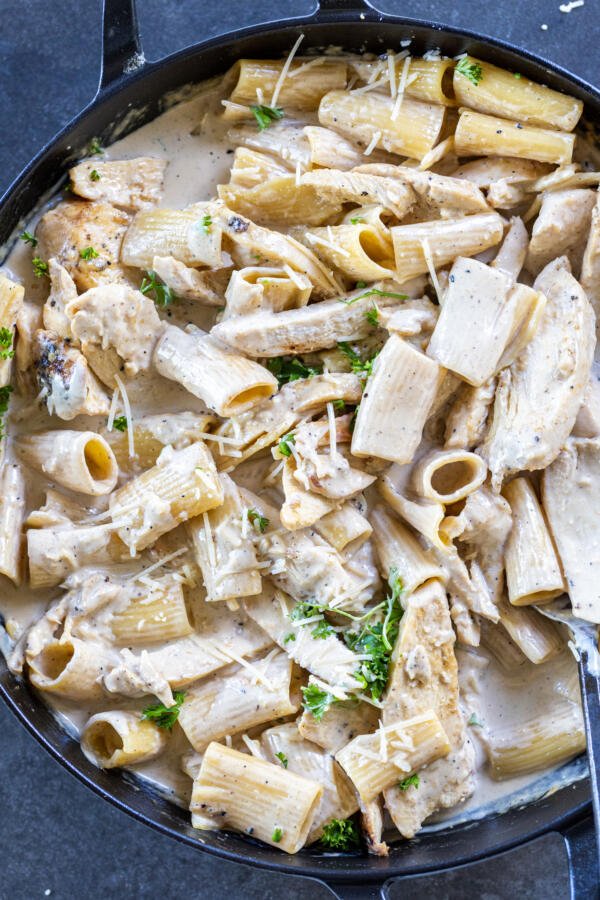 Our family loves this meal, especially on school and sports nights. It's fast, filling, and the sauce is our favorite — it never gets old! Plus, cleanup is a breeze because it's all done in one pan!
What is Creamy Chicken Pasta
Creamy chicken pasta is a one-pan dish consisting of sliced chicken and pasta tossed in a creamy and cheesy white sauce. It's a great "foundation" dish that adjusts easily to suit your flavor and ingredient preferences.
Most people assume creamy pasta dishes originated in Italy, but most white sauce or Alfredo dishes were actually made in America. This creamy chicken pasta is one of those dishes.
How to Make Chicken Pasta
Chicken pasta is the perfect one-pan meal for busy weeknights. With simple ingredients and easy steps, this creamy pasta takes a mere 30 minutes.
Cook the pasta: Cook the pasta according to package instructions. Drain and set aside, reserving one cup of pasta water for later.
Season the chicken: Season the chicken with garlic parsley salt.
Sauté the chicken: Sauté the chicken on a preheated skillet with olive oil until the chicken is golden brown. Remove, rest, slice into strips, and set aside.
Simmer the sauce: In the same skillet, add heavy whipping cream and garlic cloves. Bring to a simmer, then add parmesan.
Combine all ingredients: Add the pasta and chicken back into the skillet and stir to combine. Season to taste.
Hot tip: The creamy sauce may look very runny, making it seem like there's too much sauce. Don't fret! The pasta absorbs a ton of the sauce as it sits.
Pasta Additions
Different add-ins make this pasta your dream meal. Here are our favorites, but if you have more ideas, share them in the comments with us!
Mushrooms: Sauté sliced mushrooms with butter until they become golden brown, then add to the dish.
Spinach: Sauté fresh spinach until it becomes wilted, then add into the dish.
Peppers: Bell peppers are great additions to the pasta. Slice the peppers into thin strips, then sauté over medium high heat until soft and slightly charred.
Extra parmesan: There's never too much cheese! Top the pasta with an extra sprinkle of freshly grated parmesan cheese.
Artichokes: Add your favorite canned artichokes. Make sure to drain the juices from the can and chop the artichokes into bite size pieces. Stir in when adding in the pasta.
Cherry tomatoes: Sauté the tomatoes slightly with butter, then add to the pasta.
Protein: Instead of boneless skinless chicken breast, use chicken thighs for a juicier meat. Or, substitute the chicken with sliced sausage or kielbasa.
Fresh herbs: Garnish the pasta with fresh parsley or your favorite herbs.
Tips from the Kitchen
To ensure your chicken pasta tastes perfect every time, use these tips and tricks.
Reserve pasta water: Save a cup of pasta water to add back in when the sauce becomes dry. If you don't have pasta water, use chicken broth instead.
Cook pasta al dente: Cook the pasta until al dente, or "just firm". The pasta will continue to cook when it's added into the creamy sauce
Use high quality cheese: Choose a good quality parmesan cheese. A ton of flavor in this dish comes from the cheese. Most often, cheese blocks produce a better taste and melt better.
Rest the chicken: After sautéeing the chicken, let it rest for a couple minutes before slicing. This will help the chicken breast retain more juices.
Choose any pasta: We love to use rigatoni or penne pasta, but any type of pasta tastes great!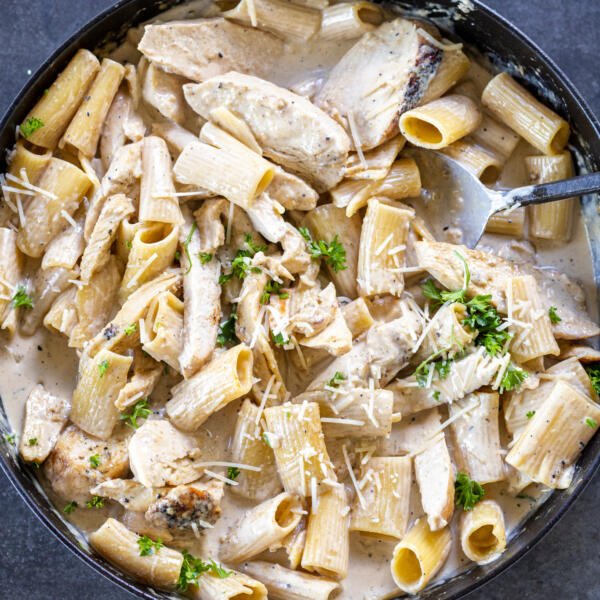 Ways to Serve
Serve your creamy chicken pasta with a side of salad. For more of a classic salad, make our broccoli cucumber and tomato salad or a garden salad. With such a simple and easy pasta dish, we like to make our salads a little fancier, so farro salad with lemon vinaigrette or roasted beet salad with goat cheese are the way to go.
Storage Tips + Reheating
As easy as it is to cook chicken pasta, it's even easier to store and reheat it to enjoy again later. Avoid freezing this dish as frozen pasta tends to become mushy.
Refrigerator: To store for up to four days, place cooled chicken pasta in an airtight container into the fridge.
Reheating: Reheat the pasta on the stovetop. If the sauce is too thick, add the reserved pasta water or a few tablespoons of chicken broth. Stir rapidly to thin out the sauce.
FAQ
Can I use milk instead of cream in pasta?
You can use milk instead of heavy cream in pasta, but the sauce will be much thinner. For a thick sauce, it is best to use heavy whipping cream.
Do they put meat in pasta in Italy?
In traditional Italian cuisine, meats are not put into the pasta dishes. Chicken pasta dishes are mainly an American spin on Italian cuisine.
More Delicious Pasta Dishes
Recipe
This creamy chicken pasta uses simple ingredients like chicken breast, butter, heavy cream, and parmesan cheese. It's sure to be a weeknight staple.
Ingredients
1/2

lb

pasta

rigatoni or penne

1

lb

chicken breast

1

tbsp

garlic parsley salt

2

tbsp

butter

3

cups

heavy whipping cream

3

garlic cloves

pressed

1

cup

parmesan cheese
Nutrition Facts
Creamy Chicken Pasta Recipe
Amount Per Serving
Calories 549
Calories from Fat 360
% Daily Value*
Fat 40g62%
Cholesterol 153mg51%
Sodium 1187mg49%
Potassium 375mg11%
Carbohydrates 24g8%
Protein 23g46%
Vitamin A 1514IU30%
Vitamin C 2mg2%
Calcium 219mg22%
Iron 1mg6%
* Percent Daily Values are based on a 2000 calorie diet.