There is nothing better than the taste of freshly blended basil pesto. It's creamy, flavorful, and perfect to use in so many different ways. Say no to canned and yes to homemade pesto!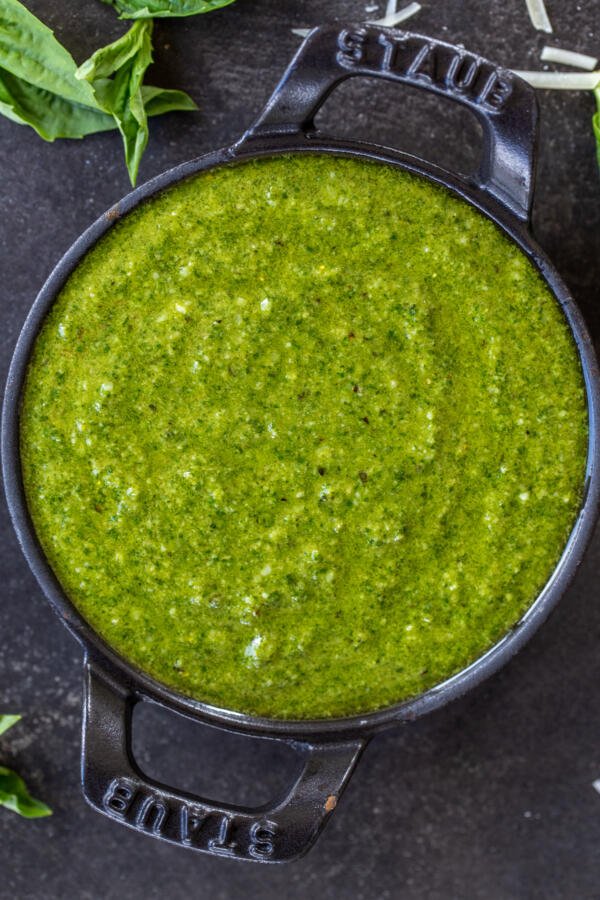 What is Pesto?
Pesto is a creamy green sauce that has a fresh and herby flavor. The primary ingredient in pesto is basil, which is blended together with other ingredients to make a smooth and rich sauce. Pesto is often used in pasta dishes, as a seasoning for chicken, or as a dip/spread over toasted bread.
Our homemade basil pesto is filled with vibrant flavor — better than any canned or grocery store versions we've tried so far. Plus, it comes together in a brief 10 minutes and is super easy to store to enjoy time and again.
Ingredients for Basil Pesto
Most people know what goes into popular sauces like marinara, but pesto may be a little more unfamiliar. There's no need for mysteries here, so here's a general overview of the ingredients that go into our basil pesto.
Basil: The star of the show here is basil. For the best pesto, use only the leaves of fresh basil.
Nuts: Pine nuts are the traditional choice in pesto, but walnuts can be used in a pinch.
Cheese: Good quality parmesan is key (a block of parmesan versus pre-shredded is preferred)! Vary the amount of parmesan added to the pesto to your own liking.
Oil: Quality extra virgin olive oil will make this pesto taste its best. To learn more about different types of oils, check out our oil guide.
Seasoning: What's any recipe without a little salt, black pepper, and garlic? Adjust these seasonings to your individual taste.
Flavor tip: If you like a hint of citrus flavor in your pesto, add two tablespoons of fresh lemon juice.
Basil Pesto Video
How to Make Basil Pesto
Make fresh pesto in less than 10 minutes with these easy steps! All you need is a food processor, silicone spatula, and mason jars to store the pesto in.
Combine basil and nuts: Using a food processor, pulse the fresh basil leaves and the pine nuts.
Add garlic and cheese: Add in garlic cloves and parmesan cheese and pulse. Scrape the sides of the food processor and pulse again.
Blend with olive oil: With the food processor on low, pour in olive oil and blend until the mixture is creamy, scraping the sides as needed.
Refrigerate: Season to taste and then refrigerate until ready to use!
Hot tip: Sometimes basil leaves taste bitter. If your pesto is bitter, add a little more salt, sugar, or lemon juice to counteract the bitterness of the basil.
Tips for Making Pesto
Pesto is loved for its freshness and versatility across many dishes. To make the most of your pesto, follow these tips.
Wash the basil well: Wash the basil very well in cold water. Avoid washing in warm water as this will wilt the leaves and affect the taste.
Dry the leaves: Use a salad spinner or dry the basil with a paper towel before blending.
Add in parsley (optional): Add fresh parsley for a slightly lighter pesto. Decrease the amount of basil equal to the amount of parsley you use.
Toast the nuts: For a toasted nutty flavor, toast the pine nuts or walnuts in a small pan over medium heat. Stir often until the nuts are fragrant.
Substitute the cheese: If you are out of parmesan cheese, use any Italian-style hard and salty cheese like parmigiano-reggiano, asiago, or grana padano. Avoid softer cheeses like mozzarella or brie as they will not taste or mix in correctly.
Ways to Use Basil Pesto
Like many sauces, pesto is incredibly versatile and can be used in a variety of different ways. Here are a few ideas to help you enjoy your freshly made basil pesto.
Storing
This recipe makes about six servings, so chances are, you will have leftovers to store away for later. Here are the best methods to store your pesto so it stays fresh for longer!
Freezer: To freeze for up to three months, freeze portions of pesto in an ice cube tray. Once frozen, transfer frozen cubes into a freezer bag. This allows you to easily thaw only as much pesto as you need.
Refrigerator: To store for up to a week in the fridge, transfer pesto into an airtight container or a jar. Sometimes, pesto may turn brown if exposed to too much air. Drizzle a small layer of olive oil on top of the pesto to prevent air from entering and oxidizing it.
FAQ
Where did pesto originate?
Pesto is said to have originated in Genoa, located in northwestern Italy.
Are there different types of pesto?
There are a few different types of pesto including traditional pesto (made with basil), red pesto (made with the addition of sun-dried tomatoes or roasted peppers), and other "green" pesto (made with spinach, arugula, cilantro, or other green ingredients).
How do I mellow out the basil taste in pesto?
If the flavor of basil is too strong, pesto can be mellowed out by cutting down or substituting the amount of basil. Baby spinach leaves are a good substitute as they have that vibrant green color but do not have a strong taste like basil.
What nuts are used to make basil pesto?
Traditionally, pine nuts are used to make basil pesto. Other common nut substitutions include walnuts, almonds, and pistachios.
More Sauces to Love
Recipe
This fresh basil pesto recipe is ready in 10 minutes and uses a blend of classic ingredients like basil, nuts, cheese, oil, and spices. Say yes to homemade pesto!
Ingredients
2

cups

fresh basil leaves

1/3

cup

pine nuts

2

large garlic cloves

minced

1/3

cup

Parmesan cheese

1/2

cup

extra virgin olive oil

1/3

tsp

salt

adjust to taste

1/4

tsp

ground black pepper

adjust to taste
Nutrition Facts
Fresh Basil Pesto Recipe
Amount Per Serving
Calories 235
Calories from Fat 225
% Daily Value*
Fat 25g38%
Cholesterol 4mg1%
Sodium 219mg9%
Potassium 79mg2%
Carbohydrates 2g1%
Protein 3g6%
Vitamin A 468IU9%
Vitamin C 2mg2%
Calcium 84mg8%
Iron 1mg6%
* Percent Daily Values are based on a 2000 calorie diet.