This simple, 3-ingredient baked salmon is smeared with nutty pesto & baked to flakey perfection. Serve it alongside your favorite pasta or vegetable dish!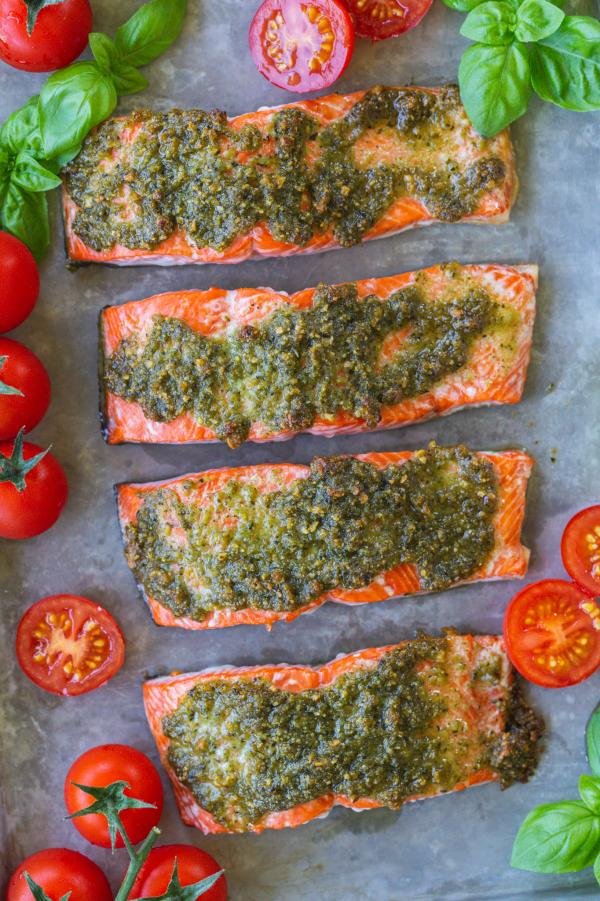 What if you had a secret weapon ingredient that could transform your salmon into a restaurant-quality dish? You do – and it's basil pesto! In this easy 3-ingredient baked salmon recipe, you'll use all the nutty, rich, and earthy flavors of the popular Italian spread to complement the slightly sweet flavor of fresh salmon.
What exactly is pesto? Pesto is an Italian pasta sauce and spread made with pine nuts, parmesan cheese, olive oil, lemon juice, garlic, and fresh basil. Here is our recipe for it!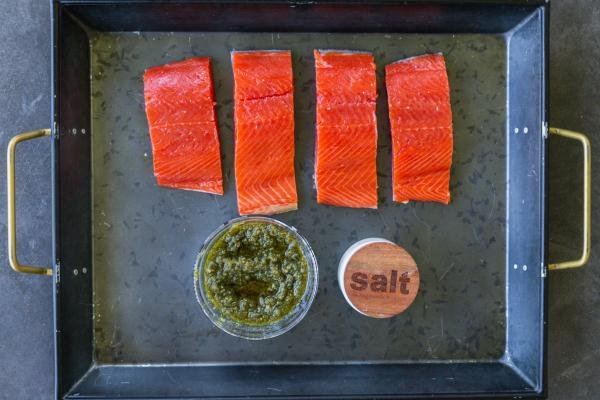 Making 3-Ingredient Baked Pesto Salmon
If you can spread pesto on top of salmon, you already have this easy recipe figured out. Hello, 5 minutes of prep time!
Prepare the Oven: First, preheat the oven to 425°F.
Prepare the Salmon: Next, slice the salmon filet into equal-sized pieces and assemble it skin-side down on a baking sheet lined with parchment paper.
Season the Salmon: Sprinkle the salmon with salt and add a few spoonfuls of pesto sauce to each piece. Use the back of a spoon to spread seasoning over the top evenly.
Bake the Salmon: Lastly, pop the salmon in the oven for about 12 minutes or until fully cooked and it's developed a nice crust. Enjoy!
Like it spicy? Add some roasted red pepper flakes to the tops of the filets.
Tips for Perfecting this Baked Pesto Salmon Recipe
Follow these 5 simple tips to ensure your salmon comes out of the oven perfectly flakey and moist. We've also thrown in a sheet pan meal tip!
Leave the skin on the salmon. Not only will the skin keep the salmon filets moist, but it will also protect the salmon from burning on the bottom.
Slice the salmon into similar-sized pieces. To promote even cooking, you must slice the salmon into as similar-sized pieces as possible.
Taste your pesto before adding salt. Some pestos are saltier than others, so make sure you give them a taste test before you salt the filets. Depending on the variety you use, you may need more or less salt or even none at all!
Don't overbake the salmon. Avoid overcooking your salmon at all costs, or else it will turn out super dry.
Add veggies to the pan. For an easy sheet pan meal, surround the salmon filets with cherry tomatoes, broccoli, asparagus, and bell peppers.
Remember! Your salmon will continue to cook as it cools on the hot baking sheet. Account for an extra 5-10 degrees from the resting!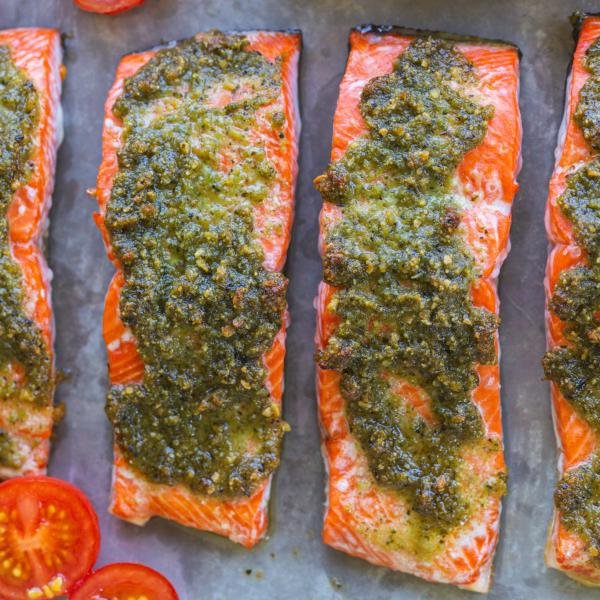 Bonus! Make Baked Pesto Salmon in the Air Fryer
If you have an air fryer and want to save a couple of minutes of cooking time on a busy weeknight, whip up this recipe in the air fryer instead. Need an air fryer recommendation? We love this one.
Prepare the Salmon: First, slice the salmon into even-sized pieces.
Assemble the Salmon: Next, lay the salmon in a single layer in the air fryer basket.
Season the Salmon: Sprinkle the salmon with salt and spread the pesto on the filets.
Air Fry the Salmon: Lastly, air fry the salmon at 425°F for 8-10 minutes depending on the thickness of the filet (there's no need to flip the filets halfway through cooking). Enjoy!
Ideas for Serving
If you're hosting guests for Italian night, this baked pesto salmon is a great protein to serve alongside fettuccine alfredo or with homemade gnocchi doused in alfredo. It's also a great topper for salads like a caesar or our quinoa kale and avocado. On weeknights, serve it as an easy main course paired with air fryer asparagus or roasted potatoes.
Storing & Reheating
To keep the salmon on hand for up to 3 days, store it in an airtight container in the refrigerator to prevent it from drying out. To reheat it, pop it in the oven in a baking dish covered with foil until warmed through. Alternatively, you can use an air fryer to bring it back to life.
Note: Avoid popping baked salmon into the freezer – it doesn't tend to thaw well and tastes dry upon reheating.
FAQ
Can you eat undercooked salmon?
You should not eat undercooked salmon unless you are eating high-grade, sushi-level salmon. All other kinds should be cooked to an internal temperature of 145°F.
How long does salmon take to bake at 425°F?
Salmon takes around 12 minutes to cook at 425°F. However, the cooking time can fluctuate slightly in either direction depending on how thick the filets are.
How do you bake salmon without drying it out?
The key to cooking salmon without drying it out is to bake it on high heat for a short period (typically it shouldn't take much longer than 15 minutes). The longer it bakes in the oven, the more prone it is to losing moisture.
Is baked salmon healthier than grilled?
When it comes to calories, neither baked salmon nor grilled salmon is healthier than one another. Both are great methods to control the amount of oil and fat you use.
How do you know if baked salmon is fully-cooked?
You'll know the salmon is ready when the internal temperature reaches 145°F. Other indicators include an opaque pink coloring and the flesh flaking easily with a fork.
More Tasty Salmon Recipes
Recipe
With just 3 ingredients, this pesto baked salmon comes out perfectly moist, flakey, and juicy every single time. Great served as a salad or pasta topper!
Nutrition Facts
Baked Pesto Salmon (Only 3 Ingredients)
Amount Per Serving
Calories 281
Calories from Fat 171
% Daily Value*
Fat 19g29%
Cholesterol 65mg22%
Sodium 921mg38%
Potassium 556mg16%
Carbohydrates 2g1%
Protein 24g48%
Vitamin A 670IU13%
Calcium 64mg6%
Iron 1mg6%
* Percent Daily Values are based on a 2000 calorie diet.