This mouthwatering lemon butter baked tilapia is infused with butter, lemon, and paprika flavors. It's a divinely tasty fish that takes a scant 15 minutes to make.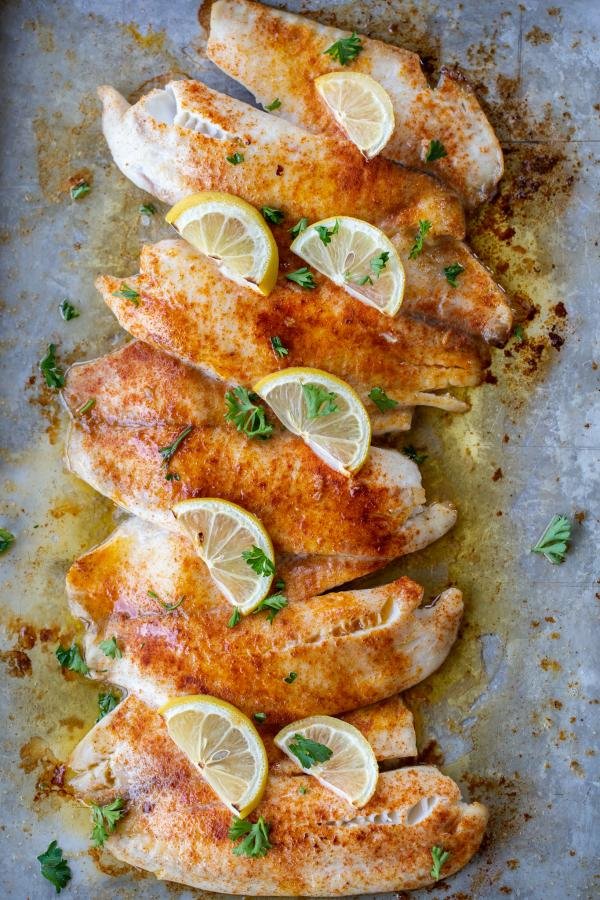 Do you have a whole tilapia instead of a fillet? Try our whole grilled tilapia. It's a fun dinner that the whole family is sure to love and enjoy.
What is Lemon Butter Baked Tilapia?
Lemon butter baked tilapia is a meat entree that consists of tilapia fish, perfectly seasoned with salt and smoked paprika. The fish is infused with flavor from slices of lemon and pieces of butter while cooking, making the fish moist and rich.
Tilapia is a species of freshwater fish that is originally native to the Middle East and Africa, but is now raised in fisheries worldwide. It is also widely known for its numerous health benefits — including being low in fiber, carbohydrates, and cholesterol, but high in protein. It is a highly popular fish due to its easy preparation, mild taste, and low price — making it perfect for lemon butter baked tilapia.
Here's a brief overview of what to expect when making this dish.
Make Baked Tilapia in 4 Easy Steps
Lemon butter tilapia takes only fifteen minutes to make, so there's no surprise there are only four steps to the entire recipe.
Using frozen tilapia? To quickly thaw frozen tilapia fillets, submerge the fillets in cold water for 30 minutes. When thawed, pat the fillets dry with a paper towel to help the seasoning stick better.
Tips for a Perfectly Baked Tilapia
The key to a restaurant-worthy fish is to make it moist and flavorful. Follow these tips to ensure your tilapia is absolutely perfect.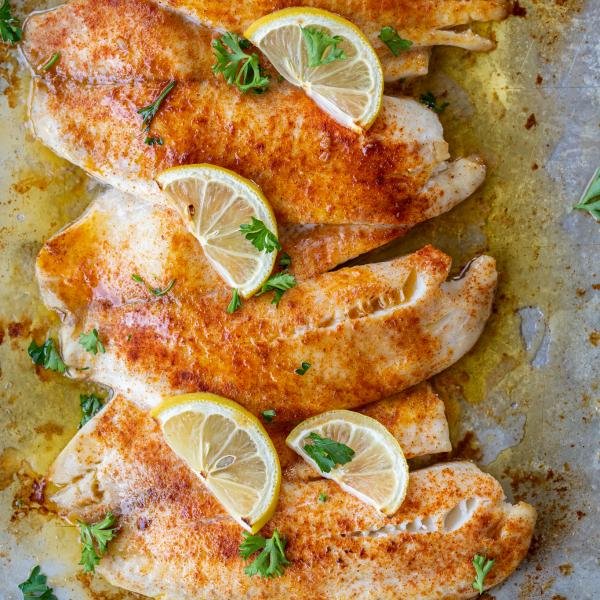 Preparing Lemon Butter Tilapia Ahead-of-Time
For best results, it is best to avoid baking the lemon butter tilapia until ready to serve. However, you can save time and prepare the fish ahead of time. Season and assemble the tilapia fillets with the butter and lemon topping, then refrigerate for up to a day. Remove it from the refrigerator and let it come to room temperature before baking.
How to Serve Baked Tilapia
Serve lemon butter baked tilapia with a side of carbs like basmati rice or parmesan risotto. For even more balance, add an array of your favorite fresh or cooked vegetables, such as the perfect veggie side dish or sauteed mushrooms. Alternatively, serve it with a fresh tomato mozzarella lettuce salad.
Storing and Reheating Lemon Butter Tilapia
This baked tilapia has the best flavor and texture when enjoyed right away. However, in case of leftovers, here are our top recommendations for storing and reheating to ensure the quality and taste remain great.
FAQ
Is it safe to eat tilapia daily?
Tilapia is considered one of the safest fish to eat due to low levels of mercury compared to other fish. Most sources agree that low-mercury fish like tilapia are safe to eat 2-3 times a week.
What are the different ways to make tilapia?
Tilapia can be made in a variety of different ways including oven-baked, grilled, and pan-seared. It's very versatile and can also be served in a multitude of dishes.
Why is my tilapia dry and chewy?
Tilapia, like many seafood, can turn out dry and chewy if overcooked. Tilapia is fully cooked when it is white in color, flakes easily with a fork, and internal temperature reads 145°F.
Should I flip tilapia when baking or sautéing?
Tilapia is a thin fish and cooks quickly in the oven, so there is no need to flip it when baking. When sautéing, flip the fish once to ensure both sides of the fish cook and and a crispy outer layer develops.
More Baked Fish Recipes
Recipe
Ingredients
3

lbs

tilapia fillets

1

tbsp

salt

1

tbsp

smoked paprika

1

lemon

sliced

4

tbsp

unsalted butter
Instructions
Nutrition Facts
Butter Lemon Baked Tilapia Recipe
Amount Per Serving
Calories 293
Calories from Fat 108
% Daily Value*
Fat 12g18%
Cholesterol 133mg44%
Sodium 1283mg53%
Potassium 739mg21%
Carbohydrates 2g1%
Protein 46g92%
Vitamin A 812IU16%
Vitamin C 10mg12%
Calcium 33mg3%
Iron 2mg11%
* Percent Daily Values are based on a 2000 calorie diet.