This roasted butternut squash is tossed with olive oil and flavored with garlic and parsley. It's perfectly tender with crispy caramelized edges … need we say more?
How To Roast Butternut Squash
Roasted butternut squash is ready in 30 short minutes with minimal prep time. Fire up your oven and let's get roasting!
Prepare the squash: Peel the squash using a vegetable peeler and trim off both ends. Cut it in half lengthwise and then spoon out the seeds. Lay the butternut squash on a cutting board with the flat side down and cut it into 1/4-1/2 inch thick slices.
Season the squash: Transfer the butternut squash slices to a lined large baking sheet and toss them with the olive oil and garlic parsley salt.
Cook the squash: Spread the squash slices into an even layer — you may need to use two sheet pans. Broil the squash for 10 minutes, then flip the pieces over and broil for an additional 5 minutes until the squash is fork-tender and the edges have browned.
Garnish and serve the squash: Sprinkle fresh parsley and any other garnishes of choice over the roasted squash. Serve hot and enjoy!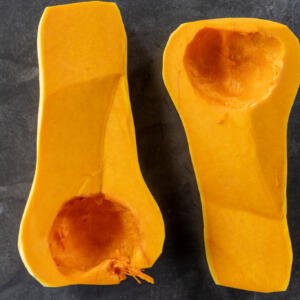 Choosing the Best Butternut Squash
Are you wondering which butternut squash to choose at the grocery store? Look out for these signs to pick the tastiest and healthiest squash.
Weight: Make sure the squash is heavy for its size — this is an indicator that it's ripe and delicious inside.
Texture: Check that the skin is thick and firm to the touch. Avoid squash with soft spots or bruises.
Appearance: You've got a winner if the squash has a dull, matte finish and a dark beige color. Leave the light-colored or shiny squash behind — they may not be ripe yet.
Hot tip: Buy pre-cut butternut squash to save time! It's usually sold as a bag of 1 inch cubes in the refrigerated produce section.
Flavor Variations
Pep up your roasted butternut squash with fresh herbs, savory spices, or a touch of sweetness. Here are a few rockin' flavor combos to inspire you.
Garlic butter: Infuse two tablespoons of melted butter with one tablespoon of minced garlic. Drizzle the mixture over the roasted squash right out of the oven for a burst of garlic flavor.
Herby and spicy: Sprinkle a pinch of your favorite fresh or dried herbs/spices over the roasted squash for a pop of color and flavor. Italian seasoning, thyme, rosemary, black pepper, and red pepper flakes are all delicious options.
Honey browned butter: Brown four tablespoons of butter on the stovetop until it smells nutty, then remove it from the heat and whisk in one teaspoon of honey. Drizzle the mixture over the roasted squash and enjoy the toasty sweetness.
Maple cinnamon: Swap the garlic parsley salt for one teaspoon of salt, 1.5 tablespoons of maple syrup, and 3/4 teaspoon of ground cinnamon. Toss the squash pieces with two tablespoons of olive oil and the cinnamon mixture, then cook as directed.
Cheesy: In the last ten minutes of baking, sprinkle freshly grated Parmesan cheese over the squash and allow it to melt for extra savory flavor.
Tips From the Kitchen
Do you want to take your roasted butternut squash to the next level? Start with these basic techniques to elevate the flavor and texture.
Cut the squash into slices or cubes. Use a sharp knife to chop the squash (flat side down) into your preferred shape and size pieces. Smaller pieces = less cooking time!
Avoid overcrowding the pan. Spread the pieces of squash in a single layer to ensure even roasting. Use two baking sheets if needed.
Use a fork to check doneness. The cooking time depends on the shape and thickness of the pieces of squash, so make sure they're fork-tender. If the fork easily pierces the squash and slides through, it's done.
Add more flavor with garnishes. This is a game-changer! Whether you add herbs, honey, or spices, a garnish is bound to make roasted veggies taste irresistible.
Ways To Serve
Roasted butternut squash is an easy and delicious vegetable side dish. Serve it hot and fresh with your choice of garnish (refer back to our flavor variations section for ideas!). For the main dish of the night, prepare air fryer pork chops, grilled chicken thighs, or Italian stuffed peppers. Are you meal prepping a lighter lunch instead? Pack roasted butternut squash along with a California sushi bowl, air fryer chicken tenders, or cucumber sandwiches.
Storing & Reheating
You've roasted the squash to perfection … now what? Follow these storage and reheating tips to get the most out of your leftovers.
Storing: Transfer the leftover roasted and cooled squash to an airtight container and refrigerate for up to four days. We don't recommend freezing the squash once it's cooked — the texture becomes mushy after thawing.
Reheating: For the crispiest results, reheat leftover roasted butternut squash in the oven or on the stovetop. Spread the pieces in a single layer on a sheet pan and heat for 5-10 minutes in a 350°F oven, or fry them in a pan with oil until sizzling. If you're short on time, reheat the squash in the microwave in 30 second intervals — but be aware the texture won't be as crispy.
FAQ
Should you peel butternut squash before roasting it?
It is not necessary to peel butternut squash before roasting it whole, since the skin is edible. However, it is advised to peel the squash if you're cutting it into smaller pieces to maintain consistency.
Why is my roasted butternut squash soggy?
Roasted butternut squash becomes soggy when it is overcooked. Pull it out of the oven as soon as it is fork-tender to avoid a mushy texture.
More Veggie Sides
Recipe
This roasted butternut squash is tossed with olive oil and flavored with garlic and parsley. It's perfectly tender with crispy caramelized edges … need we say more?
Ingredients
1

large butternut squash

2

tbsp

oil

olive or avocado

1

tbsp

garlic parsley salt

adjust to taste

1

tbsp

fresh herbs

chopped
Nutrition Facts
Roasted Butternut Squash
Amount Per Serving
Calories 41
Calories from Fat 45
% Daily Value*
Fat 5g8%
Sodium 1163mg48%
Potassium 4mg0%
Carbohydrates 0.04g0%
Protein 0.02g0%
Vitamin A 56IU1%
Vitamin C 1mg1%
Calcium 2mg0%
Iron 0.1mg1%
* Percent Daily Values are based on a 2000 calorie diet.