This ham and bean soup combines simplicity with exquisite flavor. It is a hearty and healthy soup with a perfect mix of vegetables and meat. Or as we like to call it – liquid gold.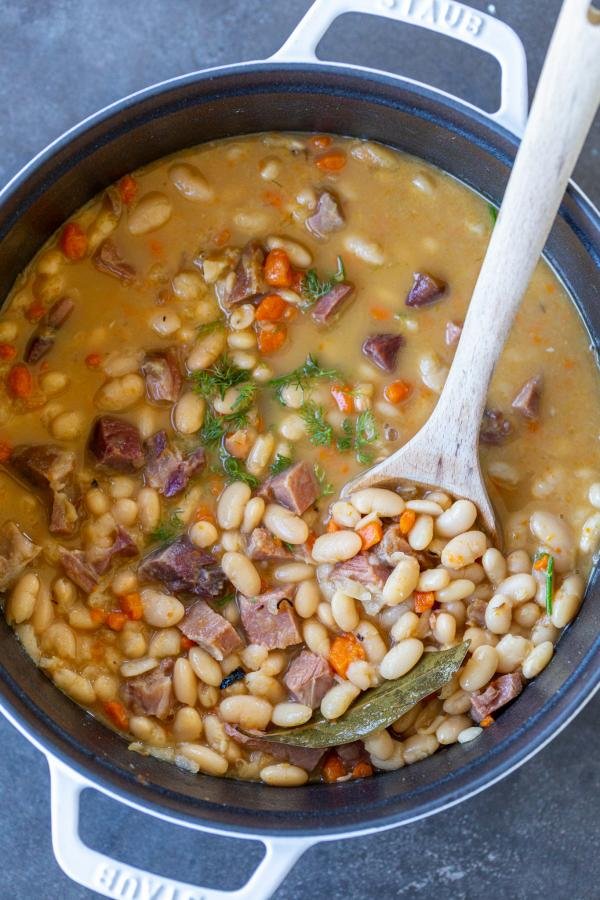 Whether you're looking to warm up your bones on a cold day, or you're looking for a crazy easy soup to use up leftover ham and beans, this soup has you covered. Just like our chicken lentil soup, it's a perfect family meal that is easy to make, inexpensive, and nutritious. What more can we ask for?
Ham and Bean Soup Ingredients: Let's Break Them Down
Ham and Bean soup uses a variety of ingredients for the perfect flavor profile. Here's an overview of each ingredient to get you better familiarized with the dish.
Carrots and onions: These vegetables provide an aromatic base that adds flavor to the soup.
Oil (avocado or olive): Use your choice of oil to sauté the vegetables.
Water: Water will be the liquid base of the soup. Alternatively, you can use chicken broth or vegetable broth. We recommend low sodium broths as the beans and ham tend to be salty. It's easier to add salt later if needed rather than dealing with an overly-salty soup.
Great Northern beans (dry): Dry Great Northern beans are the best choice to get a rich and flavorful soup, but navy beans, cannellini beans, and other dried beans are frequently used as well. Canned beans can be used in a pinch but may lack the same depth of flavor.
Bay leaf: Bay leaves are a frequent addition to soups and stews and add an extra layer of flavor.
Ham (bone in): Bone-in ham gives the fullest flavor; however, any type of leftover ham can be used as well.
Salt, ground black pepper: Add these seasonings to taste to complete the flavor.
Dill: Added at the end as a garnish, dill adds a slight fresh flavor and elevates the appearance.
How to Make Ham and Bean Soup
Ham and bean soup is crazy easy to make. The soup is done in just under two hours, with the majority of the time spent cooking on the stove. Preparation is quick, allowing you to step away as the stove does all the hard work.
Sauté vegetables: In a large preheated pot, sauté oil and carrots until lightly golden.
Add beans: Rinse beans under cold water and add beans, ham, and bay leaves to the pot.
Boil the soup: Add water to the pot and allow it to boil, then simmer until beans are fully cooked. This is where the majority of the cooking time is spent.
Cut ham: Remove the ham from soup and remove any bones, cutting the meat into bite sized pieces. Return to pot.
Season and serve: Season with salt and pepper and serve hot with a dill garnish.
Choosing the Right Type of Ham
Feeling overwhelmed by the different cuts and types of ham? You are certainly not alone. The good news is, you can use almost any kind of ham for a tasty ham and bean soup. Here's the rundown of the cuts and types of ham to get you started.
Types of Ham
Bone-in ham: Bone-in ham is the most flavorful cut. Bone-in options include the butt, shank or hock and either of these cuts will provide the absolute best flavor for this soup.
Semi-boneless ham: Semi-boneless ham is a good pick for this soup but won't have the same depth of flavor as the cuts mentioned above.
Boneless ham: This variety is most often used for sandwiches. It has the mildest taste due to the bones and fat being removed. However, if you're in a pinch and only have boneless ham on hand, it will still work for this soup.
Ham Substitutions
If you don't have any leftover ham, or don't eat ham, here are some great ideas to get you started.
Substitute with a different meat: Smoked pork sausage, chicken sausage, sauteéd and seasoned ground pork, bacon, leftover chicken or turkey are all great substitutions for ham. Cooking time may vary depending on the meat.
Mix meats: Combine your favorite meats together for a truly unique pot of ham and bean soup.
Tips for the Best Ham and Bean Soup
Here are some general tips to guarantee this is the best ham and bean soup you've ever made.
Cook carrots according to preference. To retain maximum chew in the carrots, add them towards the last 30 minutes of cooking time. To make the carrots softer, sauté them with the onions in the beginning.
Choose ham cut with more flavor. Bone-in ham gives the most flavor to the soup, but other cuts can work. Make sure you love the flavor of the ham you use because the majority of the flavor in the soup comes from the ham.
Skip out on soaking the beans. You don't need to soak the Great Northern beans for this recipe. Simply rinse and add them to the pot. However, if you prefer your beans to be soft and easily fall apart, soaking them overnight will help.
Apply salt sparingly. Depending on the ham, you may not need extra salt at all. Leave the seasoning to the end and adjust to your preference.
Puree beans to thicken the soup. To thicken the soup consistency, take a cup of the beans and blend with an immersion blender. Return to soup and stir. Alternatively, continue simmering the pot with the lid off until the liquid reduces.
Add water to thin the soup. To thin the soup consistency, add one extra cup of water or broth.
Hot Tip: Use dried beans rather than canned beans in this recipe. Canned beans may be a time-saver, but they lack the same depth of flavor as dried beans. Dried beans are also typically less expensive and have less sodium.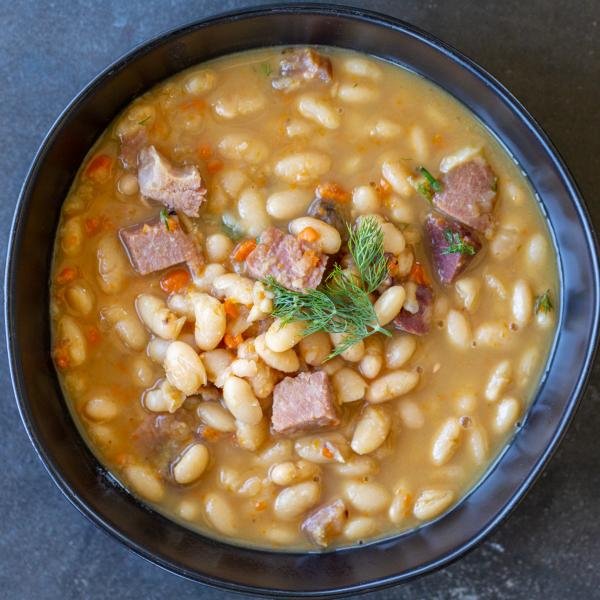 Other Additions to Ham and Bean Soup
Ham and bean soup is already nutritious with its abundance of vegetables including onion, carrots, and beans, but why stop there? Consider adding the following ingredients to make it even better.
Vegetables: Celery is a great addition to sauté with the onion and carrots in the beginning of the recipe. Spinach, kale, or frozen peas can be added toward the end of cooking as they tend to cook quickly.
Potatoes: Chop the potatoes into bite sized pieces and add to the boiling soup about 15 minutes before the end. Cook until potatoes are fork tender.
Seasonings: To add more pop of flavor, add fresh thyme, cumin, garlic powder, onion powder, or fresh parsley. To make it spicy, add red pepper flakes.
Serving Suggestions and Ideas
Serve ham and bean soup for lunch or paired with a side for dinner. Like other hearty soups, it pairs well with French Bread, cheddar biscuits, or Sourdough Bread. To make a classic soup and salad combination, serve it alongside Caesar Salad or Arugula Caprese Salad.
Storing and Reheating the Soup
One of the best things about Ham and Bean soup is that it gets better with time and stores and reheats perfectly. Cook a large batch once, and easily enjoy the dish over and over and … you got this!
Refrigerator: To keep leftovers fresh for up to five days, store them in an airtight container in the refrigerator. The flavor of the soup will actually improve during this period!
Freezer: Leftovers can be frozen for up to 3 months in the freezer. It's a great time to stock up on our favorite storage containers!
Reheating: Reheat on the stove top over medium heat, stirring occasionally to allow for even and complete warming. If reheating from frozen, heat on low until completely thawed. Increase heat as needed to desired temperature. Microwave can be used for refrigerated leftovers, but is not recommended for frozen soup.
FAQ
What spices are good for ham and bean soup?
For ham and bean soup, the basic spices are salt, pepper, and bay leaf. Most of the flavor actually comes from the ham as it cooks. Additional spices or dried herbs such as garlic or onion powder, cumin, or thyme would work well. Dill and parsley are great to use as a garnish.
What are the best beans for ham and bean soup?
Dried beans, including the Dried Great Northern beans, navy beans, and cannellini beans are the best beans to use when making ham and bean soup. By opting for dried beans instead of canned beans, your soup will have more flavor.
How do you thicken or thin ham and bean soup?
To thicken ham and bean soup, puree a small portion of the beans with an immersion blender, and add it to the soup to make it creamier. To thin the soup, add extra water or broth, as well as spices to compensate for the added liquid.
Should I put vinegar in ham and bean soup?
Vinegar is frequently thought to help reduce the "gassiness" that sometimes comes along with beans. Some cooks soak dried beans in a vinegar water solution. Others add a small teaspoon of vinegar to the soup to enhance the flavors. In our ham and bean soup, we prefer not to use vinegar since we like it as is. If you do add vinegar, add only a small amount.
Other Cozy Soups to Try
Recipe
Ham and bean soup uses simple ingredients to make a healthy, flavorful, and hearty soup. With a fast and easy prep, it is perfect for cold days or to satisfy your soup craving.
Ingredients
1

large onion

diced

2

large carrots

chopped

2

tbsp

oil

avocado or olive

6

cups

water

2

cups

Great Northern beans

dry

2

lbs

ham

bone-in

1

tbsp

salt

adjust to taste

1

tbsp

ground black pepper

adjust to taste

3

tbsp

dill
Nutrition Facts
Crazy Easy Ham and Bean Soup
Amount Per Serving
Calories 297
Calories from Fat 162
% Daily Value*
Fat 18g28%
Cholesterol 56mg19%
Sodium 1792mg75%
Potassium 448mg13%
Carbohydrates 10g3%
Protein 22g44%
Vitamin A 2052IU41%
Vitamin C 2mg2%
Calcium 39mg4%
Iron 1mg6%
* Percent Daily Values are based on a 2000 calorie diet.