Hawaiian poke bowls are refreshing, packed with flavor and super healthy. This dish will take your mouth straight to the islands!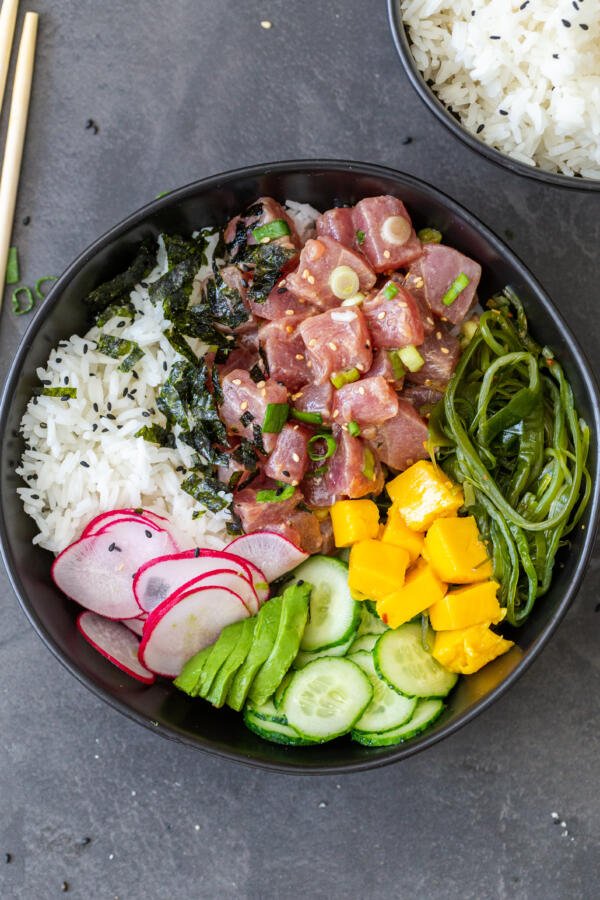 Hawaiian poke bowls are best made with the freshest ingredients you can find. Oftentimes, store bought versions are quite pricey. Making them at home means you save money without skimping on quality!
If you have ever been to Hawaii and experienced the joy that is a fresh poke bowl, you probably got hooked on the first bite. You're not alone. Poke bowl shops have absolutely swept the United States in the past decade and for good reason. They are incredible and cheaper than a night out for sushi.
What Is Poke?
Poke (po-kay) is a general term used for marinated raw fish. Typically cut into cubes and seasoned with soy sauce and onion, poke is a style that Hawaiians have been chowing down on for years. From salmon to tuna and beyond, nearly every fresh fish can be used to make it.
A poke bowl is like a deconstructed sushi roll. Typically, you customize it just the way you want at a poke shop, much like going down the sandwich assembly line at Subway.
Poke Bowl Toppings
Poke bowls are meant to be customized! Mix-and-match the following ingredients to make each bowl perfect: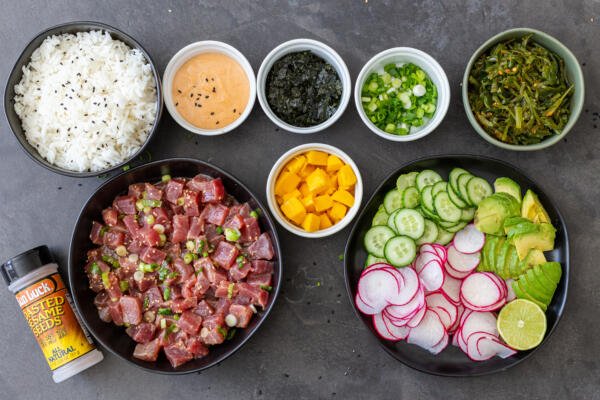 Hot Tip: If you're marinating your fish and you like it spicy, add fresh chopped jalapenos to your marinade.
Hot Tip: Head to your local Asian grocery store if you're having a hard time finding these ingredients.
Fish to Use in your Poke Bowl
Always buy sushi-grade fish for your poke bowls. All "sushi-grade" means is the same quality a sushi chef would use to make restaurant-quality rolls or nigiri. It's the freshest fish you can buy and perfectly safe to eat marinated or raw. If you can't find it at your local grocery store, pop over to a specialty fish market.
Poke Bowl Sauce
The sauce is the key in the poke bowl because it brings all the ingredients together. Here's a breakdown of the most popular poke bowl sauces: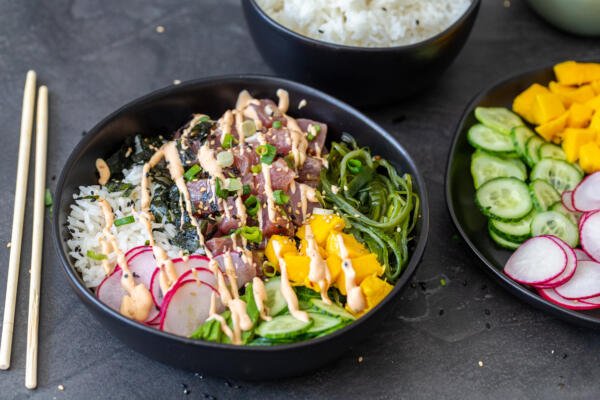 Other Seafood Recipes
Recipe
Hawaiian poke bowls are refreshing, packed with flavor and super healthy. This dish will take your mouth straight to the islands!
Ingredients
Instructions
Poke Marinade
Poke Bowl
Prepare all the ingredients for the poke bowls. You can leave it as a buffet style and everyone adds their own toppings or serve in individual bowls.
Note: All the toppings in this recipe can be adjusted to your own preference.
Nutrition Facts
Hawaiin Poke Bowl
Amount Per Serving
Calories 594
Calories from Fat 342
% Daily Value*
Fat 38g58%
Cholesterol 40mg13%
Sodium 839mg35%
Potassium 756mg22%
Carbohydrates 40g13%
Protein 26g52%
Vitamin A 2693IU54%
Vitamin C 35mg42%
Calcium 69mg7%
Iron 2mg11%
* Percent Daily Values are based on a 2000 calorie diet.