Our 10 best fish recipes will keep you inspired all year long. If you're new to cooking fish, you'll find some helpful tips to guide you on your tasty journey.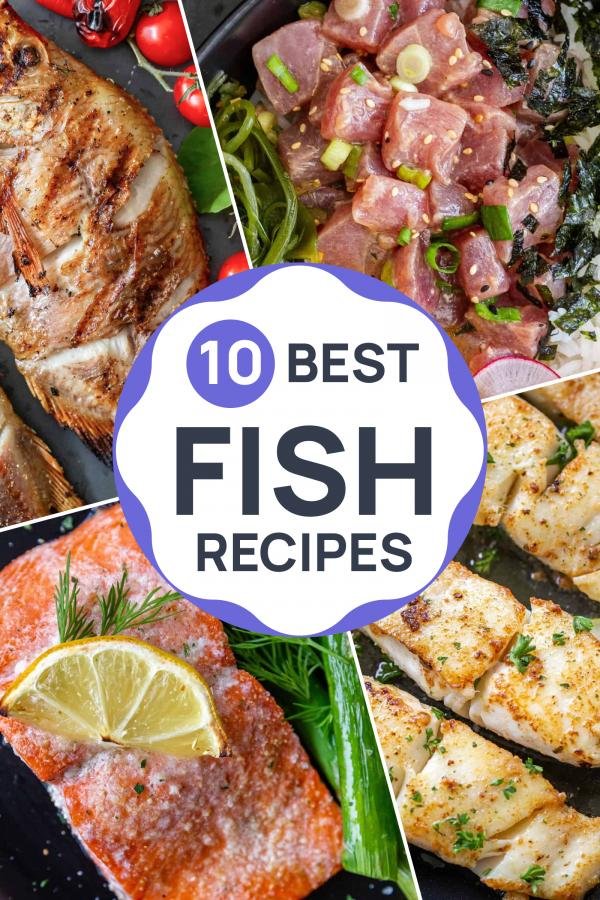 If you're a champion of a quick, healthy dinner, having a handful of crazy easy fish recipes in your back pocket is key. Not only does fish cook at lightning speed, but it's also healthy, low in calories, and full of nutrition. To help you stay inspired with your favorite swimmers, we've gathered our top, reader-approved recipes all in one place.
The Top Rule for Cooking Fish
From whole fish to fillets, there's a general rule you can live by when it comes to cooking fish. For every inch, you'll want to allow for about 8-10 minutes of cooking time. This can obviously vary depending on the appliance you're using (i.e. an air fryer that safely cooks food super fast), but when it comes to baking, grilling, broiling, and pan-frying you can pretty much count on this methodology to churn out great results.
A Great Fish to Try First
If you're just beginning to explore the wonders of fish, you might be pondering which you should try first. For many, the perfect "beginner" fish is either tilapia or cod. Both are flaky white fish with a relatively mild flavor. What's better? They can be substituted in almost any place that you would serve chicken. Let the adventure begin!
All the Different Ways You Can Cook Fish
Just like chicken, fish can be prepared in a million and one ways. Use this guide to help you choose the right fish for the right occasion.
Oven-Baked – Baked fish always comes out tender and juicy. From salmon to halibut to scallops, no fish doesn't take to this cooking method well.
Sautéed/Pan-Fried – A great method to tap into when you want a slightly crispy crust. Ideal for firmer fish, such as cod, halibut, shrimp, and scallops.
Broiled – The perfect method for cooking thicker cuts of fish, as they don't tend to dry out as fast as thinner fillets.
Grill – The all-time best method for cooking whole, skin-on fish. There's nothing like the balance of smoky flavor and slightly sweet fish.
Deep-Fry – A great method for nearly all white fish. Did someone say crispy fish tacos?
Poached – This process yields a melt-in-your-mouth texture, as the fish is cooked on a low heat with a bit of liquid (typically white wine, stock, a unique sauce, plain-old water, or even milk). Great for fish with firmer flesh, such as tuna, monkfish, and halibut.
Kitchen Tools for Your Favorite Fish Recipes
While you don't need a bunch of fancy, clunky equipment to make great fish, there a couple of tools that will make your life easier.
A Good Pan – We love this cast-iron pan for pan-searing and broiling fish. It's durable and so easy to clean.
A Fish Spatula – A good fish spatula will make flipping delicate fillets a no-brainer.
FAQ
Which fish are the mildest in flavor?
Tilapia, halibut, grouper, and cod are all considered mild and don't have as much "fishy" flavor as other varieties do. They're all delicate, sweet, and naturally buttery tasting.
Which fish is best for the oven?
There isn't any fish that's best suited for the oven. This method is great for pretty much any fish you can get your hands on.
What is the most popular fish to cook?
In America, the most popular fish to cook is salmon. It's mildly sweet, a little buttery, and extremely versatile.
What is the healthiest way to cook fish?
Poaching is the healthiest method, as it uses the least amount of oil and retains the most nutrients.
What fish is easiest to cook?
While all fish are quite easy to cook, salmon fillets are probably the most intuitive. You'll know it's fully cooked when it flakes easily and turns a slightly opaque pink color on the outside.
10 Must-Try Fish Recipes
Say goodbye to $15+ poke bowls for good and start making your own at home. They're healthy, so satisfying, and so easy to throw together. For a fun variation, you can swap out the rice for your favorite rice noodle tossed is a little sesame oil.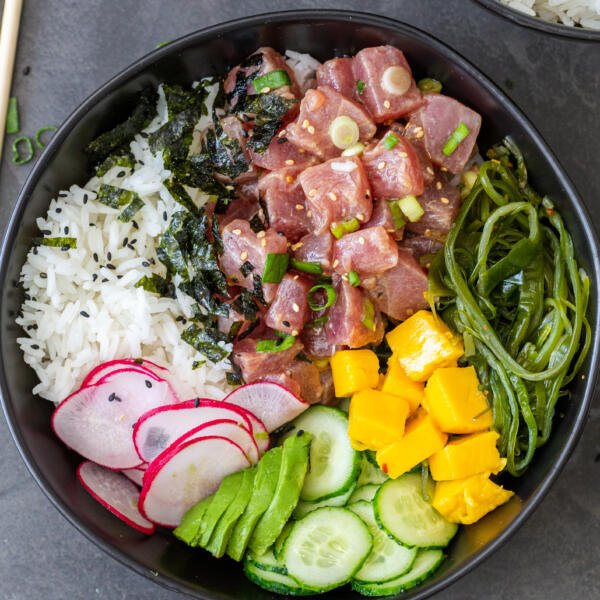 If you love crispy fish but don't want to deal with all the oil, this recipe is for you. Serve it on top of your favorite salad (a homemade caesar is always a good choice) or alongside rice and sautéed bell peppers.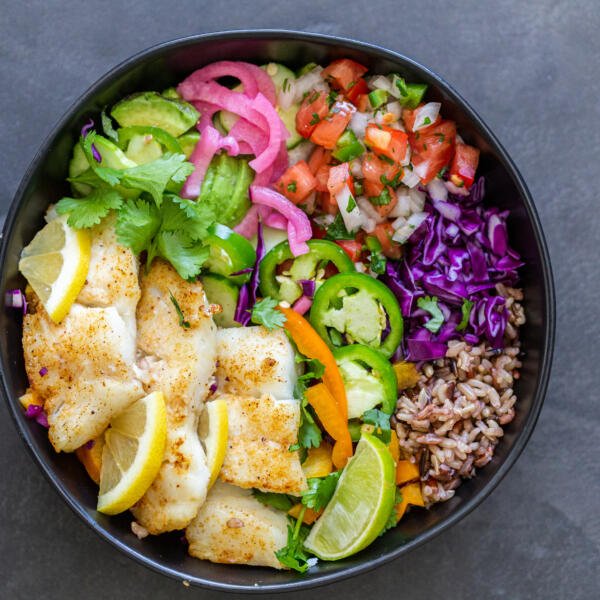 Another solid cod recipe for the history books! With just a simple seasoning of lemon juice, garlic parsley salt, butter, and fresh green onions, it's delicious in its simplicity. You can easily tweak the recipe with different herbs and spices like basil, thyme, paprika, or even lime juice (great for fish tacos).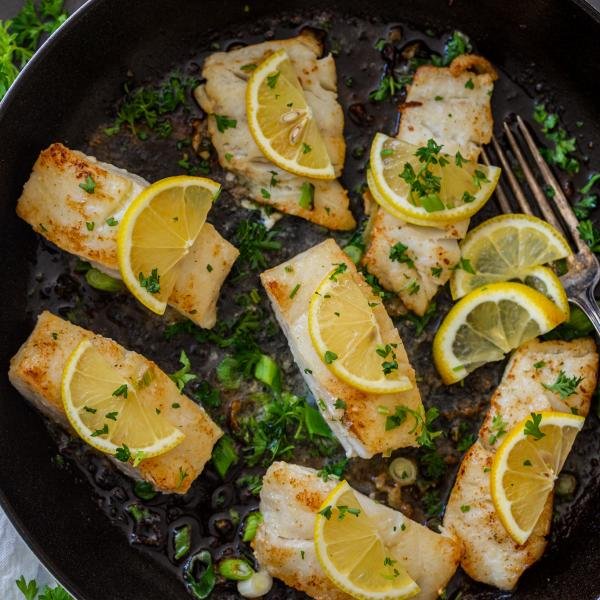 A classic Slavic soup of salmon, rice, potatoes, and vegetables. Toss in a healthy handful of fresh minced dill at the end to elevate the flavor and add a bright pop of color.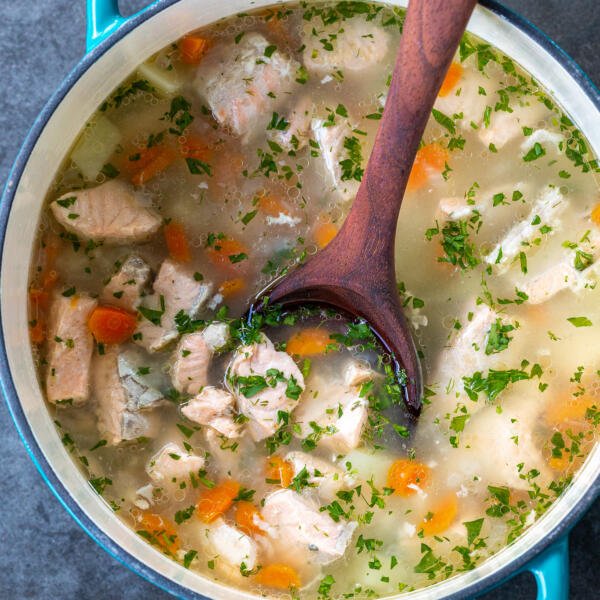 This baked cod is accompanied by juicy cherry tomatoes (they'll pop with flavor in your mouth!), sweet bell peppers, and fresh parsley. Bonus: All the delicious juices that form will baking make for the perfect sauce to spoon over white rice.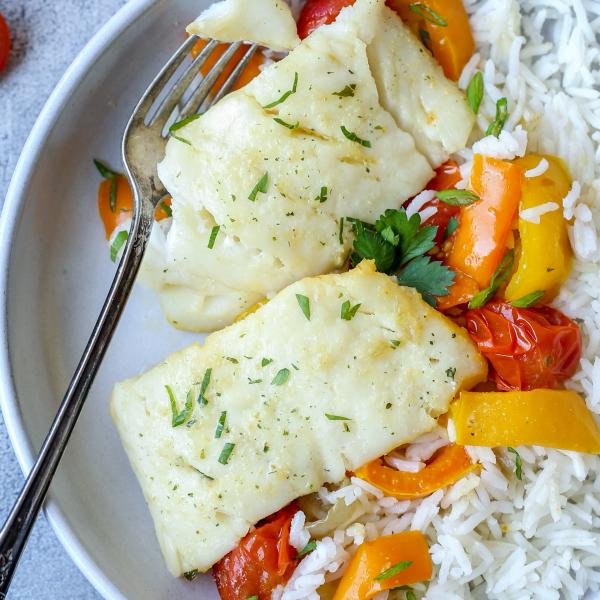 This simple oven baked salmon is made with garlic parsley salt, lemon, and butter. Serve it as an entree alongside your favorite veggies or sandwiched between buttery brioche for a quick salmon sandwich.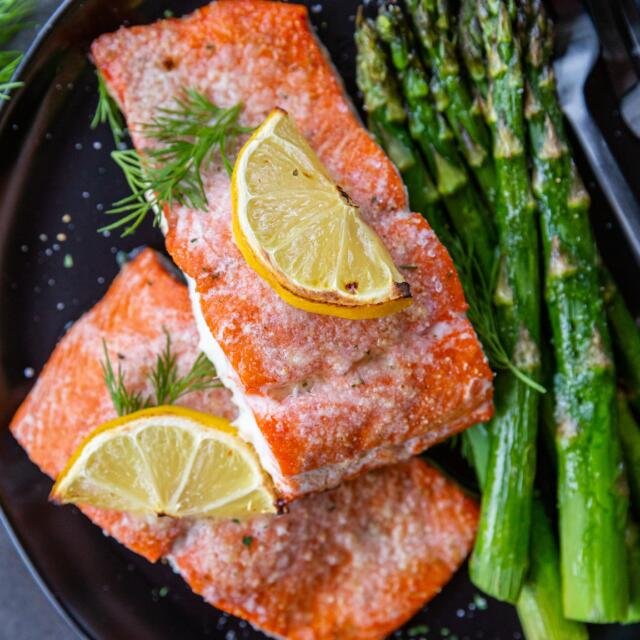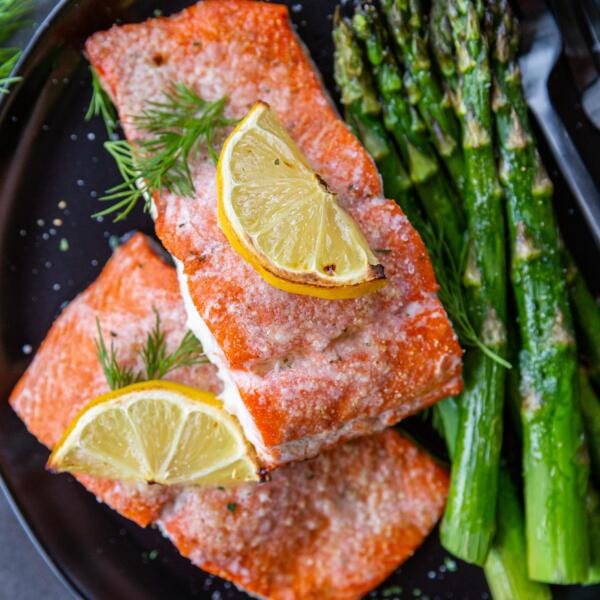 Bust out the grill and get ready to fall in love! This grilled tilapia is the perfect way to brighten up your weeknight rotation. With no foil necessary, you'll get a wonderfully smokey flavor that's contrasted by the bright lemon and dill. YUM!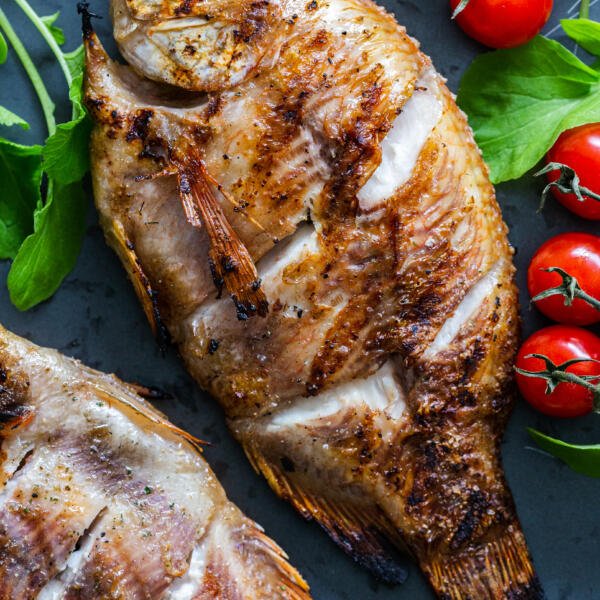 This easy air fryer salmon is tender, flakey, and perfect for everything from sandwiches to salads. With just four ingredients, you can easily get a healthy dinner on the table on a hectic weeknight.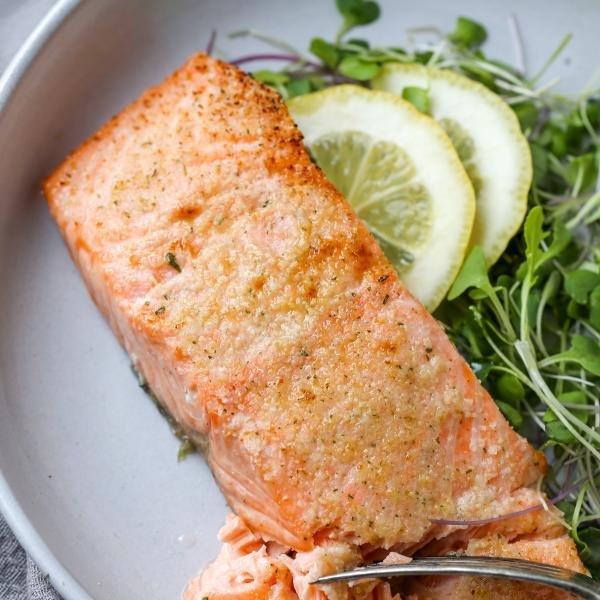 Another simple, mild white fish recipe that's as versatile as it is delicious. Suitable for a quick weeknight meal and fancy-tasting enough to serve to guests. Pair it with some bacon-wrapped asparagus or green beans and crispy smashed potatoes.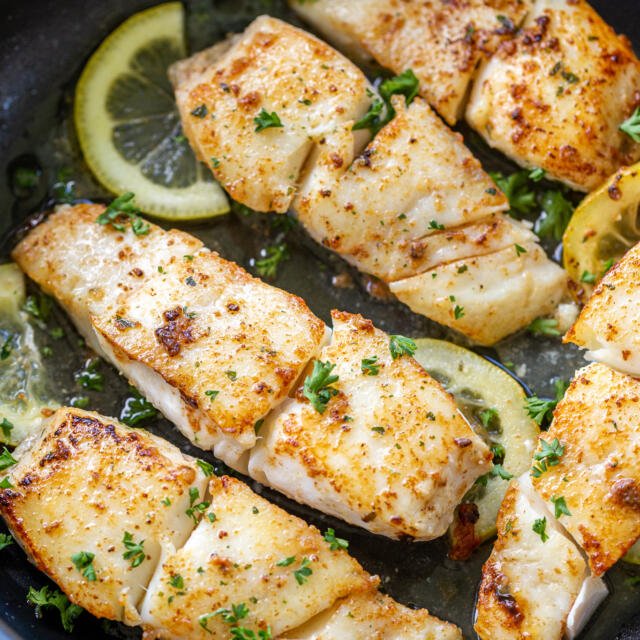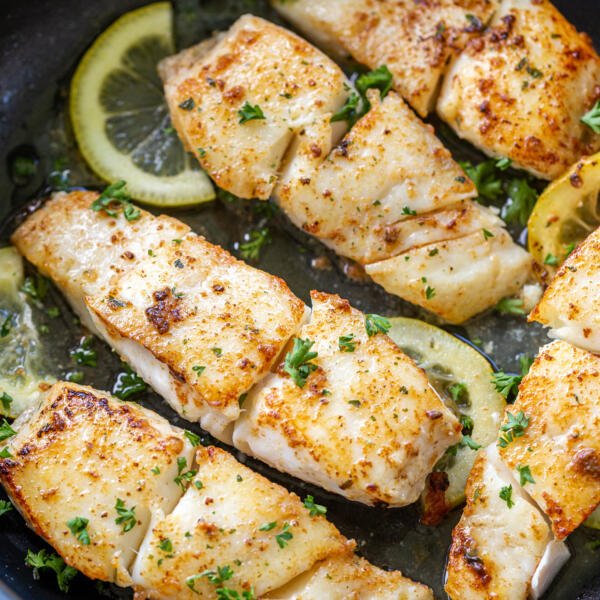 This panko fish is made with either mild-flavored swai or halibut. Pan-fried until crispy, it's the perfect accompaniment to air fryer fries (hello, fish and chips!) or sandwiched in between buttery baguette for a sandwich.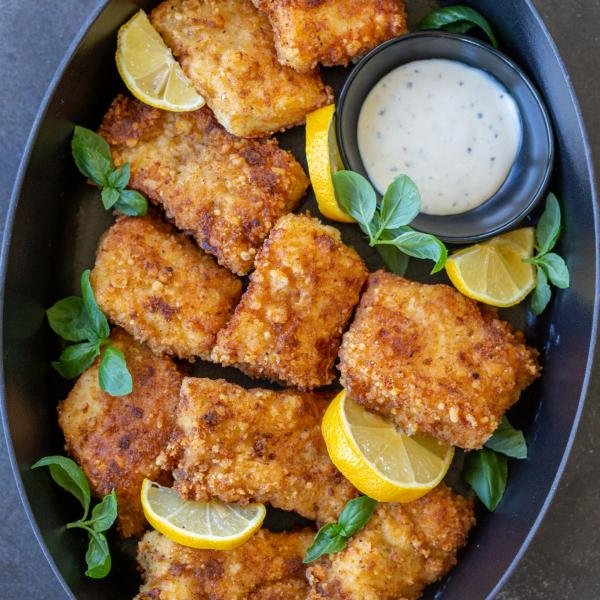 More Tasty Seafood Recipes