This Instant Pot chicken breast recipe is your new go-to for meal prep and quick dinners. Use it for everything from quick entrees to salad toppers to tacos!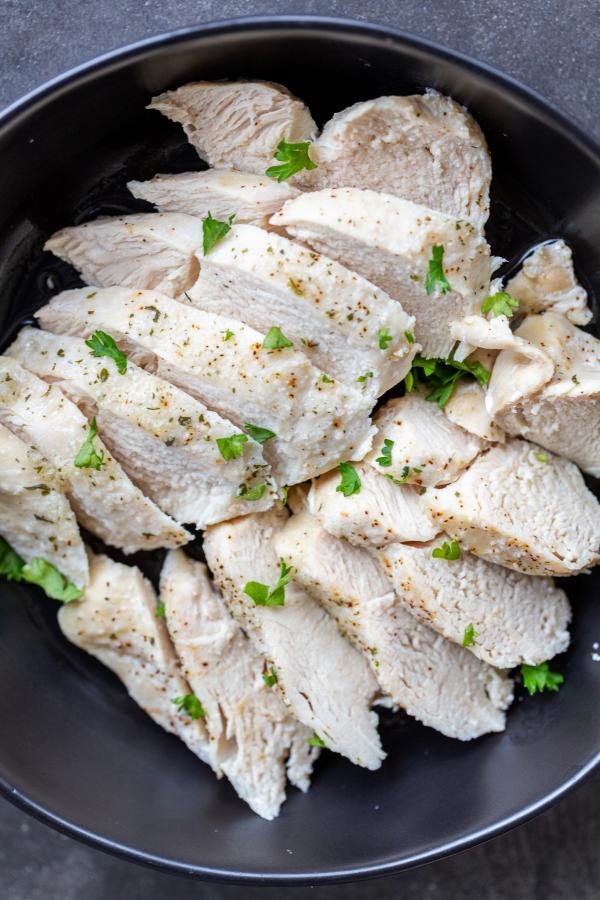 Making juicy chicken breast in the pressure cooker is such a game changer. All it takes is a little liquid, super simple seasoning, and under 30 minutes of total cook time. What's better? This recipe works with either fresh chicken breast or frozen chicken breast, so even if you don't have time to thaw your poultry you're golden.
How to Prepare Instant Pot Chicken Breast
This Instant Pot chicken recipe is perfect for those days when you want to "set it and forget it".
Prepare the Instant Pot: First, pour the chicken broth into the Instant Pot and place the trivet inside.
Season & Assemble the Chicken Breast: Then, season the boneless skinless chicken breasts with garlic salt on both sides and place it on the trivet.
Pressure Cook the Chicken Breast: Seal the lid and the pressure valve. Pressure cook raw chicken on high for 10 minutes and frozen chicken for 15 minutes. Allow the chamber to do a natural release for 10 more minutes. Quick release the remaining pressure and enjoy!
Pro Tips for the Best Instant Pot Chicken Breast
Follow these handy pro tips for juicy and tender chicken breast each and every time.
Assemble frozen chicken breasts in a single layer. While it's totally fine to stack raw chicken in the Instant Pot, you'll want to assemble frozen chicken breasts in a single layer to promote even cooking.
Always use whole breasts. To prevent the chicken from drying out or overcooking, always cook the breasts whole.
Use the broth for soup or gravy. Whatever you do, don't waste the broth that forms at the bottom of the pot! Pop it in a Mason Jar and stow it away in the fridge for up to a week or in the freezer for up to 3 months for quick soups and 5-minute gravy.
All the Ways to Use Instant Pot Chicken Breast
There are a million and one different ways to use your Instant Pot chicken breasts besides as an entree. Below, find some inspiration:
Sandwiches: Make quick chicken sandwiches by sandwiching a breast in between a brioche bun with cheddar cheese, crispy air fryer bacon, lettuce, tomato, and mayo.
Soups: Shred the chicken with a fork for quick chicken noodle soup or chicken gnocchi soup.
Chicken Salad: Slice up the chicken into cubes. In a small bowl, toss it with 1/2 bunch of diced green onion, 1/2 cup of mayo, a squeeze of lemon, a squirt of dijon mustard, salt, and pepper for a tasty chicken salad.
Wraps: Fill a chicken ranch wrap with diced or shredded chicken breast.
Tacos: Shred the chicken and nestle it in a corn or flour tortilla with salsa, guacamole, and a sprinkle of cilantro.
Casseroles: Shred the chicken and add it to cheesy zucchini and squash casserole for an easy one-pan meal.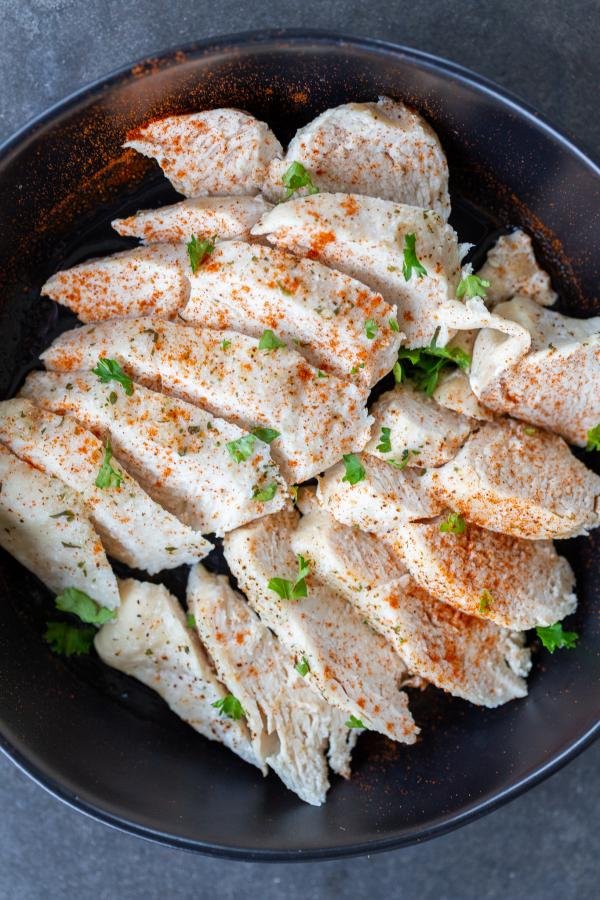 Different Spices for Instant Pot Chicken
Depending on how you plan to use your chicken breasts, tweak the seasoning and flavorings to fit the mood of your meal.
Lemon Pepper: Season the chicken with salt, freshly cracked black pepper, garlic powder, and lemon juice.
Asian-Style: Marinate the chicken overnight with 1/4 cup of soy sauce, 1 tablespoon of sesame oil, 1 tablespoon of sriracha, and sesame seeds.
Cajun Style: Season the chicken liberally with Cajun seasoning like Tony Chachere's.
Like it saucy? Give your cooked Instant Pot chicken breasts a quick sear in a pan over high heat until lightly browned on both sides. Next, toss them in honey mustard, teriyaki sauce, or BBQ sauce.
Storing, Freezing, & Reheating Tips
Having Instant Pot chicken on hand in the fridge or freezer makes for easy protein on the flu. Here's all you need to know about storing, freezing, and reheating it.
Storing: To keep your chicken breasts on hand for up to a week, store them in an airtight container in the refrigerator.
Freezing: To freeze the cooked chicken breasts, toss them in individual serving size freezer bags. To thaw, place in the fridge overnight.
Reheating: To reheat the chicken, cook it in a skillet with a little butter or oil over medium heat.
FAQ
Why are my Instant Pot chicken breasts so tough and rubbery?
Tough and rubbery chicken likely means you haven't cooked the chicken long enough. The Instant Pot is super forgiving, so feel free to let the natural release run 5-10 minutes longer if you wish.
Does cooking chicken longer in Instant Pot make it more tender?
Yes! The longer you let the natural release go, the more tender your chicken will be.
What internal temperature should cooked chicken be?
Chicken is safe to eat when the internal temperature has reached 165°F. If you're unsure if the chicken is cooked, check use an instant-read meat thermometer to take the guesswork out.
What can you use instead of chicken broth?
You can use vegetable broth or water if you don't have chicken broth on hand.
More Tasty Chicken Recipes
Recipe
If you're an avid meal prep fan or just someone who likes to set it and forget it, this Instant Pot chicken recipe has your name on it. Tender & juicy!
Nutrition Facts
Instant Pot Chicken Breast (Fresh or Frozen)
Amount Per Serving
Calories 261
Calories from Fat 54
% Daily Value*
Fat 6g9%
Cholesterol 145mg48%
Sodium 988mg41%
Potassium 871mg25%
Carbohydrates 1g0%
Protein 48g96%
Vitamin A 69IU1%
Vitamin C 5mg6%
Calcium 14mg1%
Iron 1mg6%
* Percent Daily Values are based on a 2000 calorie diet.