These wraps are loaded with chicken, bacon, and cheese, smothered in a creamy ranch dressing. It's perfect for a simple, yet delicious lunch!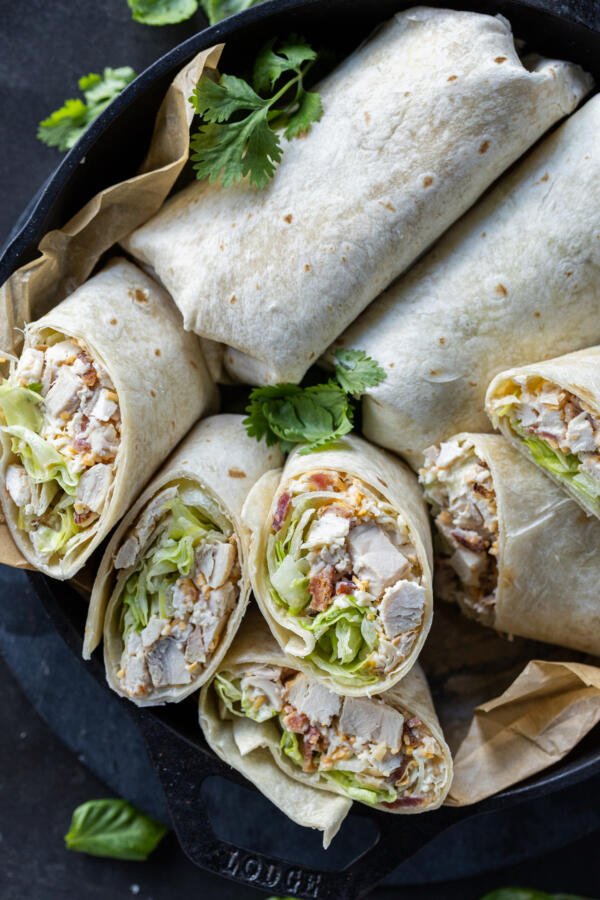 Chicken Options
There are a variety of chicken options to use for the filling in your chicken ranch wraps. Use what you have on hand for a quick meal, or whip up your favorite chicken for the tastiest wrap.
How to Make Chicken Ranch Wraps
This easy chicken wrap recipe is made quickly with a few delightful ingredients. Pack the wrap for work or school and you'll be counting down the hours till lunchtime!
Use your chicken of choice: Chop, slice, or shred the chicken of your choice into small pieces. Place the chicken into a medium size bowl.
Fry and chop the bacon: Fry the bacon using this easy oven method or make air fryer bacon quickly in the air fryer. Once cooled, chop the bacon and mix it in with the chicken.
Toss the mixture together: Toss the protein with the cheese and your favorite ranch dressing until well combined.
Fill and roll the tortillas: Place a tortilla on a flat surface. In the center of the tortilla, lay out of lettuce. Place the chicken mixture on top of the lettuce, leaving room around the edges. Fold in the two sides towards the center. Starting from the bottom, tightly roll up the wrap.
Serve and enjoy: Serve cold or cook both sides on a pan or panini press until golden brown. Enjoy!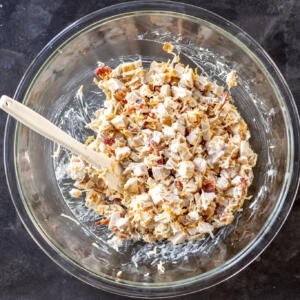 Useful Wrap Tips
Chicken bacon ranch wraps are totally easy to make, but sometimes getting a tortilla to stay in place takes a little finesse. Use these tips to ensure your wrap doesn't unravel.
Warm up the tortillas: Warm up the tortillas in the microwave or on a large skillet on medium heat to make pliable tortillas. This makes them easier to roll without breaking. I picked up this useful tip as a teen working at a fast food restaurant.
Use a toothpick: An easy way to hold the wrap together is to stick a toothpick through the center.
Wrap it in aluminum foil: Use aluminum foil to encircle the chicken wrap to secure it.
Avoid overstuffing: As tempting as it is, avoid overstuffing the wrap. Too much chicken mixture causes the tortilla to unravel.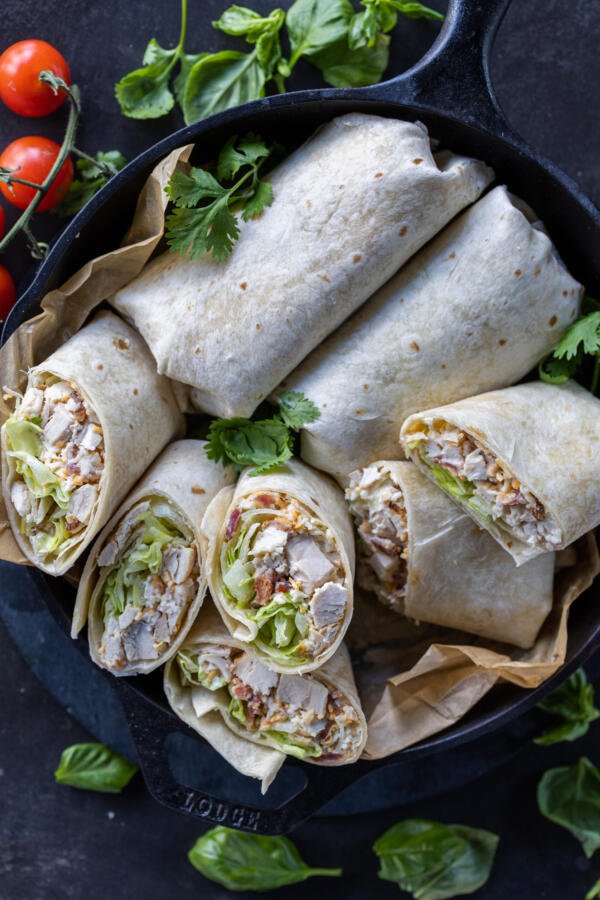 Wrap Add-ins
This wrap is full of delicious chicken and bacon that complements many other flavors. Get creative and make a few additions that will make your taste buds sing and dance.
Spices: Add fajita seasoning or red pepper flakes to the chicken mixture for a little heat.
Pickled veggies: Mix in pickles, pickled onions, or pickled jalapenos for an added burst of tangy flavor.
Fresh veggies: Add your favorite fresh veggies like cucumbers, tomatoes, avocados, etc. for added nutrients and tasty goodness.
Greens: Amp up your greens by adding romaine lettuce, spinach, or sprouts.
Cheese: Monterey jack, pepper jack, mozzarella, or cheddar cheese are great options to add for cheesy flavor.
Dressing: Add a splash of hot sauce to the ranch dressing for a spicy kick. Or, add honey dijon mustard for a sweet and savory flavor. Alternatively, add a splash of this addicting creamy tomatillo dressing.
Serving Ideas
Chicken ranch wraps are delicious and filling on their own. However, if you're looking for good side options, a simple serving of fruit and veggies is great. Or, take it up a notch and pair them with these appetizing side dishes.
Storage Options
Prepared chicken wraps and the chicken filling are best stored in the refrigerator for later use. Follow these tips to ensure freshness and optimal flavor.
Assembled wraps: Store the assembled wraps for up to a day in the refrigerator. Eat them up quickly to avoid them from becoming soggy.
Chicken ranch filling: Store a batch of chicken ranch filling for up to three days in an airtight container in the fridge. It saves time to have the chicken mixture ready to go when assembling the wraps and preparing lunch.
Other Tasty Lunch Recipes
Recipe
These wraps are loaded with chicken, bacon, and cheese, smothered in a creamy ranch dressing. It's perfect for a simple, yet delicious lunch!
Ingredients
3

cups

cooked chicken

chopped

1

cup

cooked bacon

chopped

1

cup

Mexican cheese

shredded

1/2

cup

Ranch dressing

2

cups

iceberg lettuce

chopped

6

large flour tortillas
Nutrition Facts
Chicken Ranch Wraps Recipe
Amount Per Serving
Calories 453
Calories from Fat 252
% Daily Value*
Fat 28g43%
Cholesterol 94mg31%
Sodium 886mg37%
Potassium 354mg10%
Carbohydrates 17g6%
Protein 31g62%
Vitamin A 287IU6%
Vitamin C 1mg1%
Calcium 187mg19%
Iron 2mg11%
* Percent Daily Values are based on a 2000 calorie diet.