Bayonne Ham Arugula Salad is easy to make, fresh tasting, and filled with varying textures. The best part of this recipe is the crispy Bayonne Ham that makes this salad impressive enough to serve for a dinner party or date night in. You can even prep the salad in advance to get dinner on the table faster.
We partnered with Bayonne Ham to show you how to make this Arugula Salad Recipe.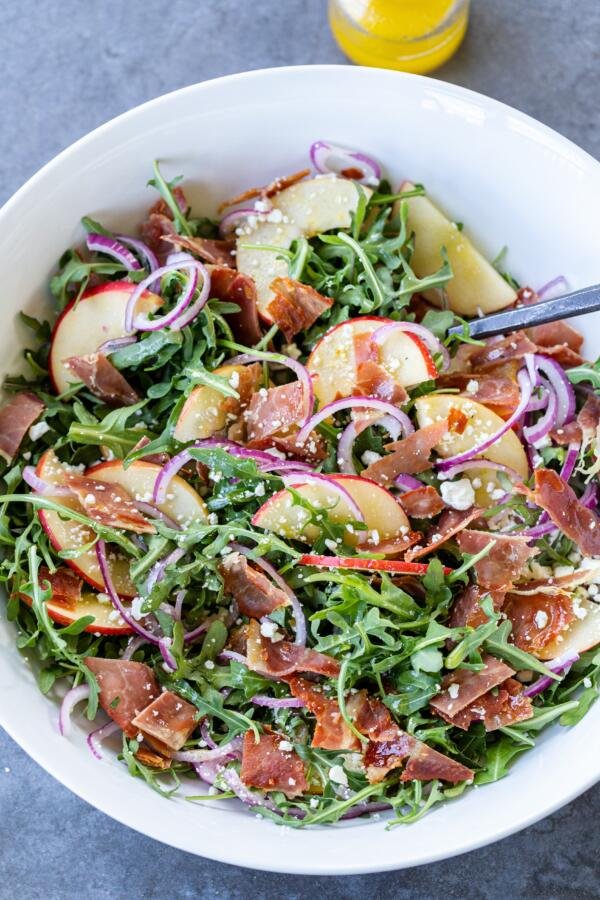 What Is Bayonne Ham
Bayonne Ham (sometimes known by its French name — Jambon de Bayonne) is cured ham, made in a very controlled process in a specific area of Southwest France. Bayonne Ham holds a Protected Geographical Indication certification, a seal which officially guarantees the origin of products from regions of history and tradition. Why is this important? you may ask. This certification guarantees the products quality and safety, by ensuring a strict and transparent process at every stage of production. Bayonne Ham maintains the same process that was used to make it over 1000 years ago, the very same way French king Henri IV had it served on his table.
Bayonne Ham is rich in flavor, combining a perfect balance of salt and the taste of fresh meat. The ham is chewy, with a delicate aroma and has a creamy, melt-in-your-mouth texture. It makes a great addition to garden salads, pizzas, pasta dishes, smashed potatoes, or incorporated on a charcuterie board.
What is in this Bayonne Ham Arugula Salad
The thing I love about this arugula salad, is that it's filled with many different textures. It includes the creamy goat cheese, crisp and juicy apple slices and sliced onions. But the star of this salad is the crunchy Bayonne Ham! By browning Bayonne Ham slices in a skillet, it gets deliciously crispy. You're going to want a piece of crispy Bayonne Ham with every bite!
Our salad has a homemade dressing that is made with lemon juice, olive oil, honey, salt and pepper. I love to mix up the dressing in a mason jar. Shaking in the jar helps to emulsify the vinaigrette much easier vs mixing in a bowl. If you make the dressing in advance, just give it a shake right before tossing with the salad.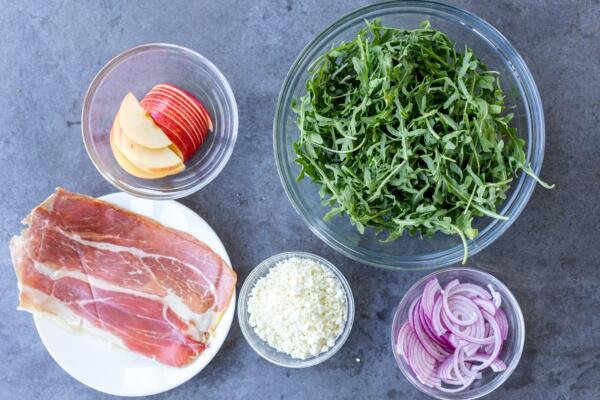 How to Make Arugula Salad
This arugula salad takes just minutes to make. Start by crisping up the Bayonne Ham (you can even do this in advance), then allow it to cool while you toss the salad and make the easy dressing. Here are the simple steps to making this arugula salad:
Crispy Bayonne Ham: Heat a skillet over medium-high heat and add the Bayonne Ham slices. Brown until they are crispy and set aside to cool.
Make Salad: Add arugula to a large salad bowl and top with apple slices, onion and crumbled goat cheese. Chop up the crispy Bayonne Ham and sprinkle over the top of the salad.
Mix Dressing: In a small mason jar, shake up the salad dressing ingredients until well combined. Drizzle over the salad and serve immediately.
Arugula Salad Variations
While arugula and Bayonne Ham are the highlight of the salad, the salad is so versatile and the variations are endless. You really can use whatever you have on hand. Here are some of our favorite variations for the arugula salad:
Fruit Choices – Fruits add a nice sweet and tart flavor to the salad. You can add peaches, berries, pears or fresh figs.
Cheese Options – Many cheeses go great in this salad, but my favorites are parmesan, sharp white cheddar, crumbled feta, asiago and mozzarella.
Leafy Greens – Arugula is my favorite in this recipe, but you can swap in baby spinach or spring mix for a milder flavor.
Veggie Options – The veggie options are endless! My favorites to add are cucumber, mushrooms, tomatoes, avocado and shredded carrots.
Grains – You can make a full meal with this salad by adding a small-shaped pasta like orzo, orecchiette or ditalini. Or, instead of pasta, you can toss in your favorite grain like quinoa or brown rice.
Nuts – I love adding nuts for that extra crunch! Our favorites are pecans, walnuts and almonds. For extra flavor, you can toast the nuts in a dry skillet over medium for a few minutes until lightly golden. Toasting nuts really brings out their flavor. You can toast the nuts several days in advance.
Making Arugula Salad in Advance
This arugula salad is an excellent choice to prepare in advance! The best way to prep is to get all of the ingredients and dressing ready, but wait to toss until serving. If you pre-slice the apple, just drizzle the slices with lemon juice to avoid browning. The crispy Bayonne Ham is best to add right before serving, so it says crunchy.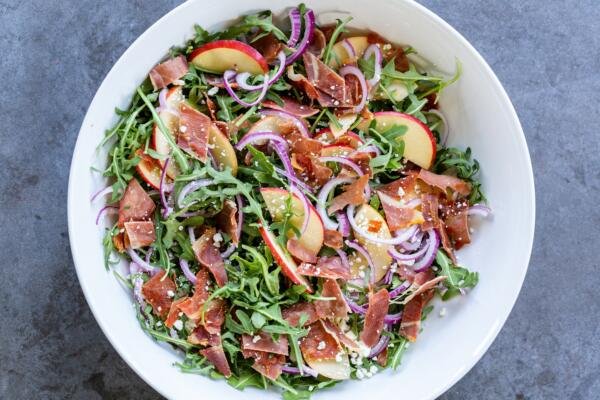 FAQ
Is this Bayonne Ham arugula salad good for you?
This Bayonne Ham arugula salad is very good for you! Not only is the arugula packed with nutrients (like vitamin A and K), but the Bayonne Ham is notable for its vitamin B content (particularly vitamin B1 which fights cellular ageing)! The easy dressing is olive oil based, which is a great source of healthy monounsaturated fats. The salad is filled with other healthy choices such as the apple which adds fiber as well.
Is arugula a superfood?
Arugula is a super nutritious superfood! Like other greens, it is very low-calorie, and low-fat. It is also chock full of calcium, iron, vitamin A and vitamin K. Vitamin A is essential for eye health, while vitamin K is known to be brain-boosting and great for healthy bones!
What goes well with arugula?
This arugula and crispy Bayonne Ham salad pairs well with so many dishes for a complete meal. It is delicious alongside almost any protein — such as these easy crispy baked chicken thighs or this cast iron ribeye, for a date night in. Or, serve with your favorite pasta for a fun dinner like alfredo pasta or the potato-based homemade gnocchi.
More Salad Recipes
Caesar Salad – Making a restaurant-style caesar salad at home is easy! The homemade dressing is simple to make and super creamy, but you can also use a store-bought option if you're in a pinch.
Arugula Tomato Avocado Salad – The perfect salad for your next summer BBQ! It's light, crispy, refreshing and tossed with an easy lemon vinaigrette.
Beet Arugula Salad – Beets add a beautiful color and sweetness to this salad that pairs perfectly with the arugula and goat cheese. We especially love serving this salad in the fall because of the cranberries, but it's delicious year round!
Fresh Avocado Salad – This lettuce-free salad is filled with fresh, crisp veggies and tossed with an easy lemon dressing. This salad is perfect for an outdoor summer meal!
Recipe
Arugula Salad is easy to make, fresh tasting, and filled with varying textures. The best part of this recipe is the crispy Bayonne Ham.
Ingredients
Salad
4

cups

arugula

1

medium apple

sliced

6

oz

Bayonne Ham slices

1/2

cup

crumbled goat cheese

1/2

purple onion

sliced
Nutrition Facts
Arugula Salad Recipe
Amount Per Serving
Calories 408
Calories from Fat 324
% Daily Value*
Fat 36g55%
Cholesterol 41mg14%
Sodium 533mg22%
Potassium 173mg5%
Carbohydrates 10g3%
Protein 11g22%
Vitamin A 382IU8%
Vitamin C 5mg6%
Calcium 52mg5%
Iron 1mg6%
* Percent Daily Values are based on a 2000 calorie diet.