These tasty shrimp quesadillas are packed to the brim with sautéed onions, bell peppers, and gooey cheese. Perfect for an appetizer or crazy easy dinner!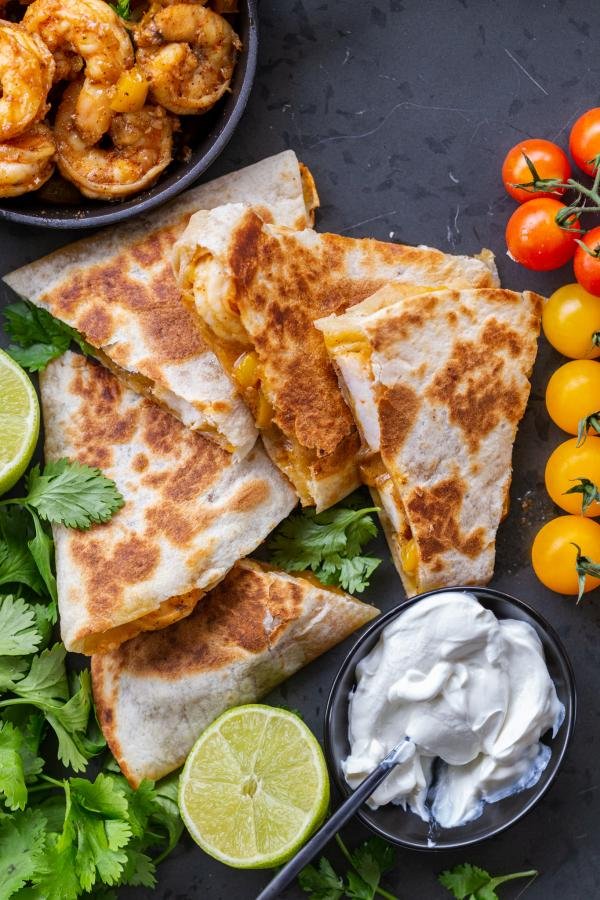 If you're a fan of gooey quesadillas and quick meals, these shrimp quesadillas deserve a spot on your table. These are somewhat fajita inspired and packed with sautéed onions and bell peppers, juicy, plump shrimp, and so much flavor. Serve them as a tasty appetizer or as the main dish with beans, rice, and other goodies. You can even make your taco seasoning homemade to take them to the next level.
How to Prepare Shrimp Quesadillas
Putting together these easy shrimp quesadillas only takes 15 minutes of total time and one large skillet.
Hot Tip: We love to cook our quesadillas in butter because it creates such a wonderful golden-brown crust. If you don't want to use butter, cooking spray or olive oil will do the trick.
Tips for Nailing this Shrimp Quesadilla Recipe
A handful of tips will help you to nail this simple seafood-packed quesadilla.
Serving Shrimp Quesadillas
From dips to tasty side dishes, here are a couple of our favorite ways to serve these steak quesadillas.
Garnish Suggestion: Serve the quesadillas alongside lime wedges and sprinkle fresh cilantro on top for a nice presentation.
Storing & Reheating Best Practices
To keep your quesadillas on hand for up to 3 days, store them in an airtight container in the fridge. As they sit, the cheese will harden and they will lose their crispy, fresh out of the pan crunch. To reheat them, place in the oven at 350°F just until the cheese is melted. You can also reheat them in an air fryer if you have one.
Hot Tip: Avoid microwaving quesadillas to reheat them – they just turn out soggy!
FAQ
What kind of cheese is best for shrimp quesadillas?
The best kind of cheese for shrimp quesadillas is shredded Mexican cheese because it tends to melt the best. However, you can use pretty much any other shredded cheese you like best. Avoid parmesan cheese, as it doesn't tend to melt very well and give you that gooey effect you're looking for.
How long does it take to cook a shrimp quesadilla on the stovetop?
It only takes about 2-3 minutes per side to cook a shrimp quesadilla on the stovetop over medium heat. This can vary depending on how hot your stovetop runs, so always be sure to check the tortilla by lifting it with your spatula to see when it turns golden brown before flipping it. It's easy to burn quesadillas, so pay close attention!
Can shrimp quesadillas be frozen?
Although shrimp quesadillas are best eaten fresh, you can freeze them for later. To do so, slice them into quarters and allow them to cool down completely. Assemble the quarters on a baking sheet lined with parchment paper and pop the baking sheet into the freezer. Once completely frozen, transfer the quesadilla pieces into a freezer-safe bag for up to 3 months.
Can you make shrimp quesadillas in the oven?
Yes, you can make shrimp quesadillas in the oven. That said, they won't get as crispy as they will in a pan on the stovetop, but this technique works great when you are cooking for a large group. Assemble the quesadillas in a single layer on a baking sheet and cook them for 5 minutes at 400°F on one side. Flip them over and cook them for 5-6 more minutes on the other side. Serve and enjoy!
More Mexican-Inspired Recipes to Try
Recipe
These tasty shrimp quesadillas are packed to the brim with sautéed onions, bell peppers, and gooey cheese. Perfect for an appetizer or crazy easy dinner!
Ingredients
1

tbsp

oil

olive or avocado

1

large bell pepper

diced

1

small onion

diced

1

lb

uncooked shrimp

peeled and deveined

2

tbsp

taco seasoning

2

tbsp

butter

2

cups

Mexican cheese
Nutrition Facts
Shrimp Quesadillas (Crazy Easy)
Amount Per Serving
Calories 347
Calories from Fat 180
% Daily Value*
Fat 20g31%
Cholesterol 141mg47%
Sodium 974mg41%
Potassium 224mg6%
Carbohydrates 20g7%
Protein 22g44%
Vitamin A 1198IU24%
Vitamin C 27mg33%
Calcium 337mg34%
Iron 2mg11%
* Percent Daily Values are based on a 2000 calorie diet.