Any Eastern European knows the comfort and joy that comes with potato pancake. It only takes a few ingredients (which you probably already have on hand) to create my rendition of this savory Slavic staple.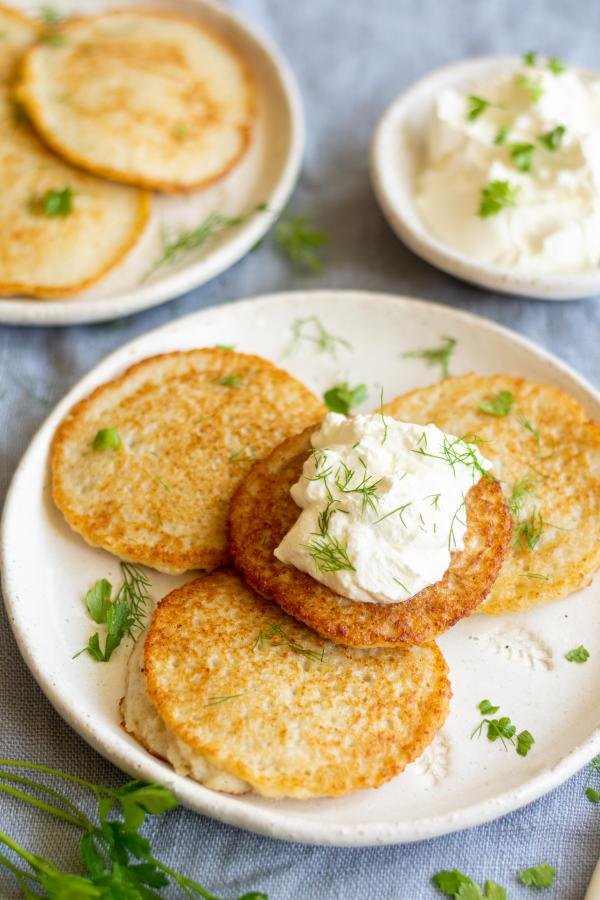 One of my fondest memories of growing up in Ukraine was preparing potato pancakes. After each potato harvest, my siblings and I would take turns grating potatoes for hours on end in anticipation of getting to sink our teeth into one of our favorite treats. When it came time for my mother to cook the pancakes, I would often ask her to fry mine a bit longer to make the edges extra crispy.
Nowadays, I save my children from hours of shredding (lucky them!) by using a food processor or blender. On lazy weekend mornings, I like to surprise the boys with potato pancakes and see their faces light up the same way mine did when my mother made them for me.
Are Potato Pancakes the Same as Latkes?
Often times latkes and potato pancakes are referred to as the same thing. However, they couldn't be more different! Here are the differences:
Potato Pancakes
Potato pancakes require you to grate potatoes on the smallest slots of your grater. This is more time consuming and results in a liquidy pulp. To speed things up, I use a blender or food processor. You then combine the potato pulp with eggs, onions and a dash of seasoning. The end result is similar to a traditional pancake – round, fluffy, and smooth in texture.
Latkes
Latkes require you to grate potatoes on the larger shreds. Typically, latkes are made with the same ingredients as potato pancakes, with the exception of the addition of flour or matzo. The end result is an irregularly shaped pancake that is crunchier in texture due to the larger shreds of potatoes.
Can You Make Potato Pancakes Ahead of Time?
Whether you are celebrating Hanukkah or just making potato pancakes for friends and family, you can make your life easier by preparing them ahead of time. Fry your pancakes up and let them cool down completely. Then, store the pancakes in an airtight container, separating each layer with parchment paper. When you are ready to serve the pancakes, preheat your oven to 350F and cook the pancakes for about 5 minutes or until they return to their deliciously crispy state!
If you want to freeze your pancakes for later snacking, store them in an airtight container, separating each layer with parchment paper. Freeze for up to two weeks. Reheat them at 400F for 10 minutes.
Can You Use Mashed Potatoes to Make Potato Pancakes?
If I am being completely honest, I think using fresh potatoes is the only way to have a traditional potato pancake. However, if you really want to use your leftover mashed potatoes to make potato pancakes, who am I to tell you not to? Because you probably used a lot of butter in your mashed potatoes, you will need to add an egg and a bit of flour (around ¼ cup) to prevent the butter from making your pancakes spread in the skillet.
Hot tip: When I have leftover mashed potatoes, I like to use them to make Piroshkis (a delicious Slavic-style pastry).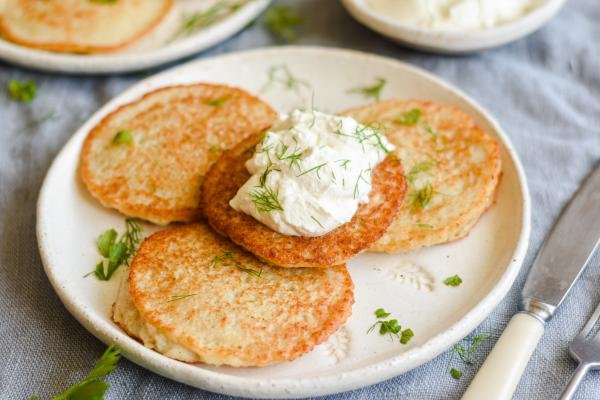 Tips for Making Potato Pancakes
After shredding your potatoes into a big bowl, drain the liquid out that gathers at the bottom. Removing this liquid will help them fry up better!
Start off by testing one pancake in your oil. This will give you a good idea of whether or not you need to turn the heat up or down on your skillet.
Invest in a frying rack (don't forget to put a paper towel underneath it!). This will help drain off the extra oil from your pancakes, keeping them crispy, not soggy.
Try to refrain from over-flipping your pancakes. You want them to develop an even crispiness on the outside. Fiddling with them too much will cause them to fall apart and become a mess. Patience is the key!
What Should I Serve Potato Pancakes With?
I must say I am a potato pancake traditionalist. I like to serve mine with a dollop of fresh sour cream or some milk.
Other Potato Dishes you Will Love
Recipe
This potato pancake recipe only requires a handful to create these staple Eastern European dish. Crispy, comforting, and so satisfying, they're a real treat!
Nutrition Facts
Grandma's Potato Pancakes Recipe (Eastern European)
Amount Per Serving
Calories 159
Calories from Fat 18
% Daily Value*
Fat 2g3%
Cholesterol 65mg22%
Sodium 745mg31%
Potassium 936mg27%
Carbohydrates 29g10%
Protein 8g16%
Vitamin A 95IU2%
Vitamin C 26mg32%
Calcium 79mg8%
Iron 7mg39%
* Percent Daily Values are based on a 2000 calorie diet.