This 5-minute tartar sauce is the ultimate dipping sauce to pair with a variety of seafood dishes. It's both tangy and creamy — you'll be addicted to it in no time.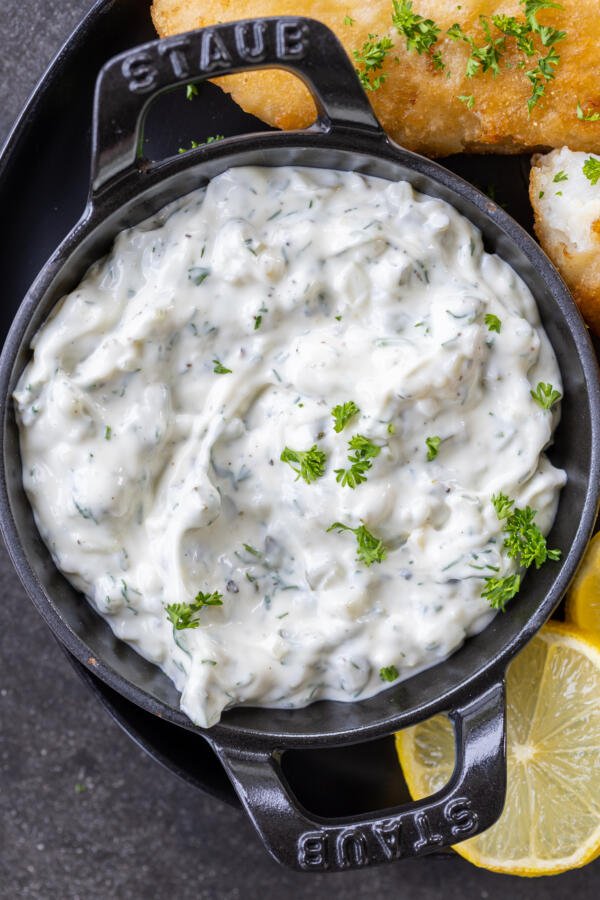 What is Tartar Sauce?
Tartar sauce is a chilled sauce made with a base of ingredients including mayonnaise, pickles, herbs, and lemon juice. It is most often paired with seafood dishes, but also tastes great with veggies and bread. It has a creamy and rich texture, with a compelling tangy flavor.
The exact origin of tartar sauce is hard to pinpoint, but a popular idea is that the sauce originated in Eastern France. It was first called "sauce tartare", named after the Tatars, who settled in west-central Russia.
Make Tartar Sauce in 2 Easy Steps
The hardest part (if you can call it that) to make homemade tartar sauce is dicing, chopping, and mincing the ingredients. Beyond that, it's a simple two-step process: mix and refrigerate.
Combine all ingredients: Stir all the prepped ingredients in a medium size bowl.
Refrigerate the sauce: Pour the sauce into an airtight jar and refrigerate.
Hot tip: If serving the sauce soon, aim to refrigerate for at least 30 minutes prior to serving. This will give the sauce time to chill and the flavors to fuse together. For even better results, make it a day ahead.
Tartar Sauce Tips
The trick to the best tartar sauce is to adjust it to suit your personal flavor preferences. Follow these tips to personalize it to suit your palate.
Use a great quality mayonnaise: Mayo is the flavor base of the sauce, so choose a high quality option.
Use lemon juice (per preference): Lemon juice is optional; however, we like the tang and brightness it adds.
Adjust the amount of onion: Onion is also optional. Use it if you like onion flavor. Adjust the amount to your preference.
Cut ingredients into small pieces: When preparing the ingredients, dice and mince the dill pickles, fresh dill, and onion as finely as possible. This will make the sauce creamier, with more evenly-dispersed flavor. For a chunkier sauce, cut the ingredients into slightly larger pieces.
Season to taste: Depending on the acidity of lemon juice and flavor of the mayonnaise, adjust the salt and pepper seasoning to taste.
Use fresh herbs when possible: As often as possible, use fresh herbs. Fresh dill yields the best taste, but frozen dill will work in a pinch.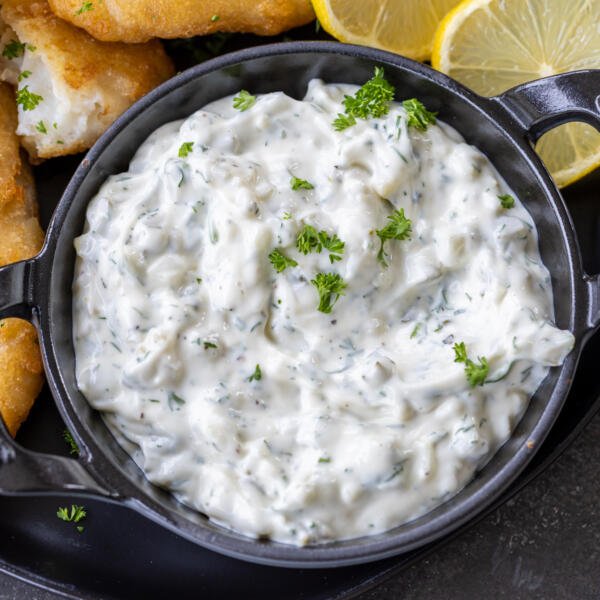 More Additions and Substitutions
Customize your sauce even further by adding a small amount of capers, dijon mustard, or horseradish. Popular substitutions include low-fat mayo or plain yogurt for the mayo and pickle relish instead of minced pickles. With all additions and substitutions, keep in mind that the flavor and texture may change slightly from the original version.
What Goes with Tartar Sauce
Once you've tasted this tartar sauce, you'll be searching for more ways to use it. Here are a few of our favorite ways to serve this sauce.
Best Storage Tips
Homemade tartar sauce will keep for up to 7 days when stored in an airtight container or jar in the refrigerator. We love using our favorite mason jars to keep it ready in the fridge at all times. Avoid freezing as the texture will change after being frozen.
FAQ
Are tartar sauce and tartare the same?
No, tartar sauce is a condiment made of mayonnaise, pickles, and herbs. Tartare is a food term that describes finely minced meat that is shaped into a patty and served raw.
Is cream of tartar in tartar sauce?
Cream of tartar is not an ingredient in tartar sauce. Cream of tartar is actually a white powder used in baking to stabilize egg whites.
Can I substitute tartar sauce with mayonnaise?
Mayonnaise is not a substitute for tartar sauce. Rather, mayonnaise is an important ingredient in tartar sauce. Tartar sauce has a more complex flavor because of other ingredients that mayonnaise does not contain.
More Dips, Sauces, and Dressings
Recipe
This tartar sauce is made with pantry staples like mayo, pickles, dill, onion, and lemon juice. Make it for a fresh, tangy sauce addition to your seafood!
Instructions
Nutrition Facts
5 Minute Tartar Sauce
Amount Per Serving
Calories 259
Calories from Fat 252
% Daily Value*
Fat 28g43%
Cholesterol 16mg5%
Sodium 527mg22%
Potassium 37mg1%
Carbohydrates 1g0%
Protein 1g2%
Vitamin A 58IU1%
Vitamin C 4mg5%
Calcium 12mg1%
Iron 0.1mg1%
* Percent Daily Values are based on a 2000 calorie diet.