This healthy tuna salad is bright, refreshing, and packed with protein. Made with greek yogurt, it has the perfect pop of tang!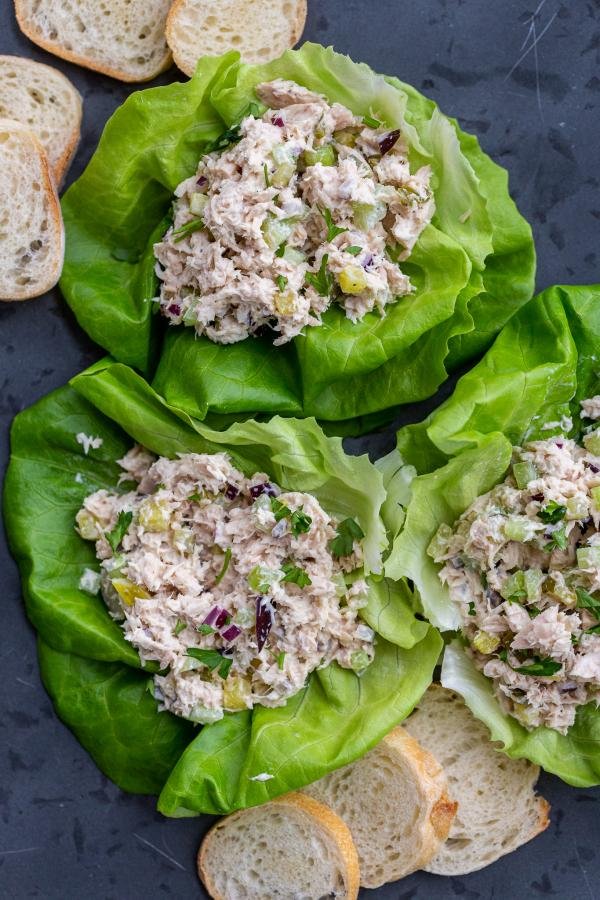 Everyone needs a solid healthy tuna salad recipe in their back pocket. My husband Tim and I will never be too old to pack tuna sandwiches along for picnics or weekend hikes! It's one of those true childhood comforts that always hits the spot. In this recipe, we lighten things up with a bit of greek yogurt for added tang and protein.
Canned Tuna 101: Picking the Right One
So, what's the deal with all the different kinds of canned tuna on the grocery store shelf? This quickhitter guide will help you pick the best can for your tuna salad.
Different Types of Tuna
White Tuna: White tuna is 100% albacore tuna and contains a higher mercury level than light tuna. It's a bit firmer in texture and has a overall milder taste (hence the phrase "chicken of the sea").
Light Tuna: On the other hand, light tuna is made of a combination of smaller tuna fish (skipjack, tongol, and yellowtail). It naturally has less mercury and a much stronger fishy flavor. It also has a pinkish hue to it.
Different Sizes & Styles of Canned Tuna
Solid: Typically on the pricier side, as the tuna comes in one big hunk.
Chunk: Chunk light tuna is a hodge-podge of different sized chunks.
Flake: Flake is the finest texture you can find on the shelf.
Types of Liquids Tuna is Packed With
Water (Recommended): Water packed tuna is said to contain more omega-3 fatty acids. It's also milder in flavor.
Oil: Olive oil and vegetable oil are common to packed tuna. You can use either, but be aware that the oil will bring additional flavor to the mix.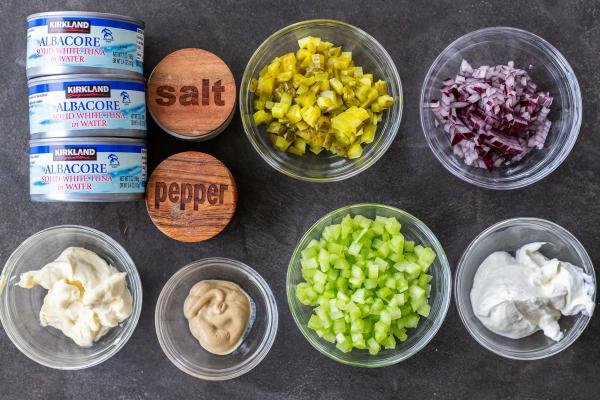 Assembling this Easy Healthy Tuna Salad
Before you get to assembling your salad, you'll want to make sure the can is drained of as much of the liquid as possible.
Break the Tuna Up: Next, place the tuna in a medium bowl and break up the bigger chunks with a fork.
Dice the Veggies: Dice the onion, celery, and pickles (we love using dill pickles!) into similar sides pieces. Add them to the bowl of tuna.
Assemble the Tuna Salad: Next, stir in the mayonnaise, plain greek yogurt, dijon mustard, salt, and pepper and stir to combine. Serve as you wish and enjoy!
Different Ways to Spice this Healthy Tuna Salad Up
Consider this tuna salad recipe the perfect base for you to tweak to your own taste buds. Find a couple of ideas to inspire you below:
Fresh Herbs: Parsley, dill, green onions, and chives are all great options and will add a pop of flavor and earthiness.
Avocado: If you want some added protein and healthy fats, stir in half of a ripe avocado.
Chickpeas: Add in a cup of chickpeas for added texture and fiber. If you're vegetarian, you can swap the beans in exclusively.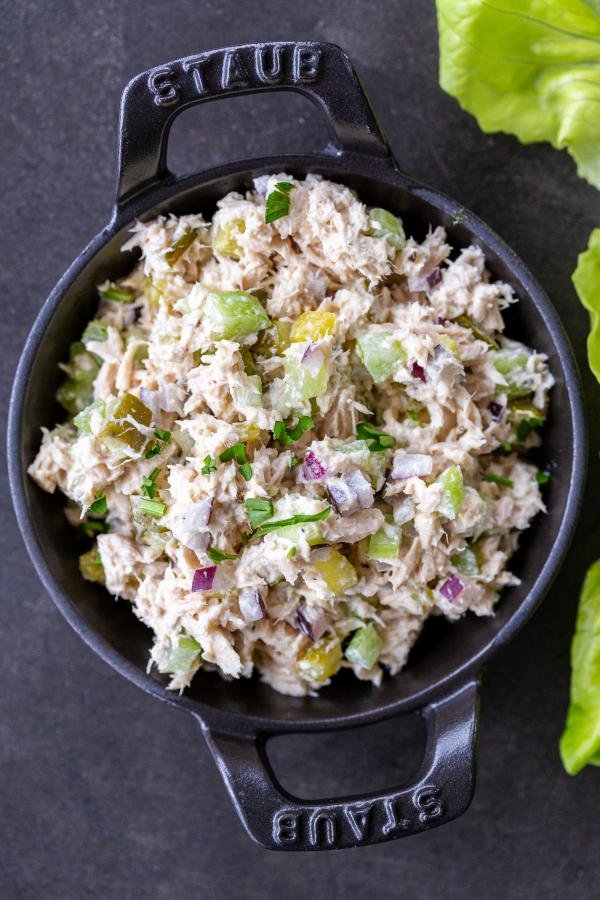 A Couple Ideas for Serving Healthy Tuna Salad
​There are a million and one different ways to serve this healthy tuna salad. Here are a couple of our favorites:
Low-Carb Lettuce Wraps: Tuck some tuna salad in a large leaf of romaine lettuce for a low-carb snack or meal.
Appetizer Tuna Salad: Serve the tuna salad as a dip alongside your favorite crackers or some air fryer potato chips.
Sandwiches!: Go the classic route and place a heaping pile of tuna salad in between two slices of bread (our recipe for white country bread complements tuna so well).
How Long Does Tuna Salad Stay Fresh For?
Tuna salad is best eaten within 2-3 days after assembling. To keep it fresh, store it in an airtight container in your fridge (this will also prevent the tuna from stinking up your fridge!).
FAQ
What can you use in tuna instead of mayo?
If you're not a fan of mayo, swap in olive oil, Miracle Whip, or all greek yogurt instead.
Is canned tuna bad for you?
There are plenty of high-quality canned tunas out there that are both healthy and affordable. Opt for low-sodium, water-packed, and wild-caught tuna when you can.
Can you use a different canned fish than tuna?
Canned salmon is a great alternative to canned tuna and will work seamlessly in this recipe.
Is tuna salad good for meal prep?
If you plan to eat your tuna salad within a couple of days, it's a great option for meal prep. Otherwise, we don't like to keep it on hand for more than 3 days.
Similar Recipes to Check Out
Recipe
This healthy tuna salad is perfect for salads, sandwiches, and so much more. You'll love the pop of tang from the greek yogurt!
Nutrition Facts
Healthy Tuna Salad (Crazy Easy)
Amount Per Serving
Calories 261
Calories from Fat 108
% Daily Value*
Fat 12g18%
Cholesterol 68mg23%
Sodium 1432mg60%
Potassium 367mg10%
Carbohydrates 3g1%
Protein 35g70%
Vitamin A 121IU2%
Vitamin C 1mg1%
Calcium 57mg6%
Iron 3mg17%
* Percent Daily Values are based on a 2000 calorie diet.