This baked gnocchi is covered in a creamy marinara sauce and topped with fresh mozzarella, parmesan cheese, and fresh herbs. You'll devour it in no time!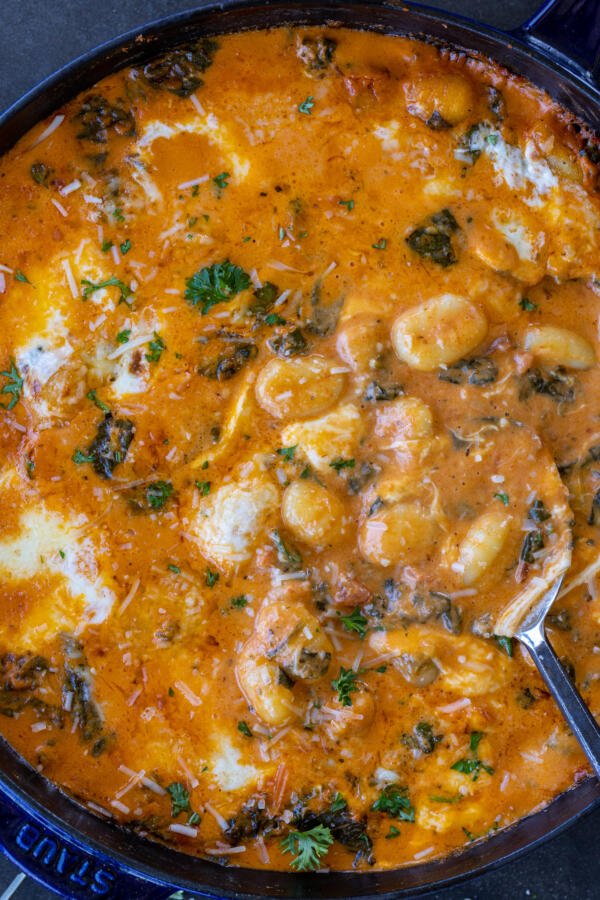 What is Creamy Cheesy Baked Gnocchi
Creamy cheesy baked gnocchi is a main course entree consisting of gnocchi baked in a creamy tomato-based sauce and mixed with fresh spinach and a cheesy topping. Gnocchi are a type of pasta that consist of soft, fat, and chewy dumplings. They are most popular in Italian cuisine.
Creamy Cheesy Baked Gnocchi Video
How to Make Baked Gnocchi
Baked gnocchi may sound fancy and difficult to make, but there's actually nothing to it. There are only four steps between you and a delicious Italian-inspired dinner.
Simmer the sauce: In a deep oven-safe skillet or pan, combine pasta sauce and heavy cream and bring to a simmer.
Stir in the gnocchi: Add gnocchi and spinach and stir. Cook until spinach is slightly wilted.
Top it off with cheese: Layer parmesan cheese and freshly sliced mozzarella cheese on top.
Bake: Bake at 400°F for 15 minutes. Garnish with fresh herbs.
Hot tip: Use frozen spinach when needed, but keep in mind it may taste slightly different compared to fresh spinach. Thaw and squeeze all the extra liquid out before adding to the dish.
Tips for the Best Gnocchi
There may be only four steps to this simple recipe, but follow these tips to make the tastiest version of cheesy creamy baked gnocchi.
Use a high quality pasta sauce: The pasta sauce gives this dish a lot of flavor, so use a good quality one. We love using our homemade marinara sauce.
Grate the parmesan fresh: Use a high quality parmesan cheese and grate it fresh for the best flavor.
Chop spinach evenly: Cut spinach into similar sized pieces for even texture and flavor.
Add herbs along with spinach: In addition to using herbs as a garnish, mix in a portion with the spinach for extra flavor.
Season with more spices: When using a mild pasta sauce, consider adding additional seasoning such as Italian, salt, pepper, garlic powder, or onion powder. If the pasta sauce is highly flavorful, skip the extra spices.
Make your own gnocchi: Skip the store-bought gnocchi and easily make your own delicious potato gnocchi at home.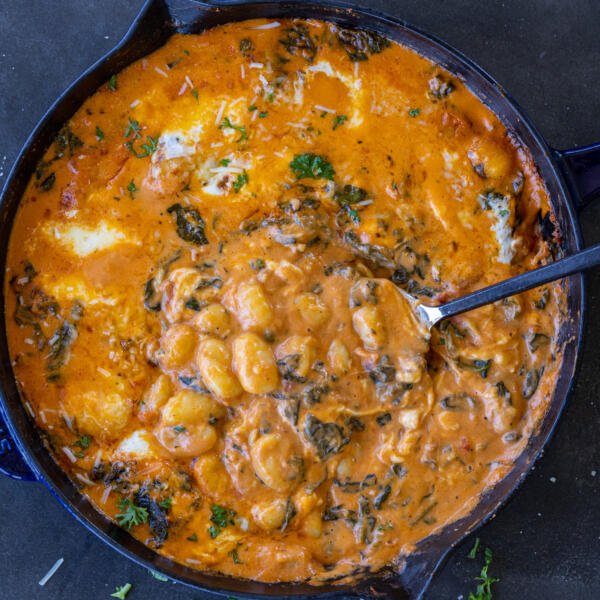 Additions & Substitutions
Customize this cheesy baked goodness with more goodness using these additions or substitutions.
Protein: Add a protein like italian sausage, turkey, chicken, bacon, or ground beef to the dish for extra heartiness. Brown small pieces of your choice of meat in the pan with olive oil prior to mixing with the cream sauce.
Cheese: Swap out the mozzarella cheese for a different easy-melting cheese like cheddar.
Spice: Add crushed red pepper flakes to the cream for a little heat.
Veggies: Up your veggie intake with grape or cherry tomatoes. Add just before putting it in the oven.
Serving Creamy Cheesy Baked Gnocchi
Nothing pairs better with creamy cheesy gnocchi like Ukrainian garlic bread or easy garlic knots. Then, to top it off, add a side salad like broccoli cauliflower salad, bacon brussels sprouts salad or a refreshing Caesar salad. To add more meat to the entree, make a side of delicious parmesan crusted chicken or homemade kielbasa sausage.
Storage & Reheating Tips
When you find yourself with leftovers, refrigerate and reheat to safely enjoy your baked gnocchi for a few days. Avoid freezing as cooked gnocchi turns mushy after being frozen.
Refrigerator: To store for up to three days, keep leftovers in an airtight container in the fridge.
Reheating: To quickly reheat a small portion, heat leftovers in the microwave. To reheat a large portion, place leftovers back into the oven at 350° and heat until warmed through.
FAQ
Does store-bought gnocchi need to be pre-cooked?
No, whether your gnocchi is the shelf-stable or frozen variety from the store, it will warm and cook in the marinara sauce in the oven
When is gnocchi fully cooked?
Gnocchi is fully cooked when the texture is similar to a doughy pasta. It will be soft and easy to chew.
What happens when gnocchi is overcooked?
When gnocchi is overcooked, it turns into a mushy consistency. However, this is more likely to happen with boiled gnocchi rather than baked.
More Pasta Recipes
Recipe
This baked gnocchi is covered in a creamy marinara sauce and topped with fresh mozzarella, parmesan cheese, and herbs. You'll devour it in no time!
Ingredients
16

oz

pasta sauce

1

cup

whipping cream

16

oz

gnocchi

shelf stable or frozen

2

cups

spinach

chopped

1

cup

grated parmesan

8

oz

fresh mozzarella cheese

sliced
Nutrition Facts
Creamy Cheesy Baked Gnocchi
Amount Per Serving
Calories 461
Calories from Fat 252
% Daily Value*
Fat 28g43%
Cholesterol 89mg30%
Sodium 1162mg48%
Potassium 377mg11%
Carbohydrates 35g12%
Protein 19g38%
Vitamin A 2248IU45%
Vitamin C 8mg10%
Calcium 400mg40%
Iron 4mg22%
* Percent Daily Values are based on a 2000 calorie diet.